7 Best Org Chart Software in 2022 (Ranked By Experts)
Ever caught yourself confused about the best org chart software to use for your company's structure? Not to worry, I created this article just for you.
But, let's have some fun before we proceed. What do Bees, Apple Inc., Coca Cola, and Ants all have in common? The answer is quite simple – A clearly laid out and understood organizational structure.
Having a well-laid-out structure might not seem like a big deal, but it plays a huge role in every organization's success.
However, the type of chart you employ depends on your company's modus operandi, so we won't bother ourselves with that topic in this text. We'd mainly focus on the best platforms for you.
I didn't just think up these platforms. No. I took out time to reach out to some business owners I know just to find out which org chart software they fancy and why.
As a result, I've compiled this list to help you choose the best software to suit your needs. I've indicated who/what type of company or business each software would fit, unique features that make them unique, and what it'll cost you to get started.
That's said, let's get right into it!
What is the best org chart Software in 2022?
Wondershare OrgCharting
OrgCharting is created by Wondershare Technology, which was recognized as a "Challenger Brand" in the Future Tech Awards category at CES 2022.
Wondershare is known for its creative genius and they've not disappointed us in its organizational chart software.
What's your organizational structure like? Is it flat, hierarchy, or a matrix? With OrgCharting, you don't need to worry about drawing shapes and stressing about where to place them. You can simply select a diagram from the vast library of chart templates and edit as you please.
In addition, there's also a broad selection of appealing themes available to keep your chart looking professional. You can choose your preferred font and color schemes that best represent your brand.
Key Features:
Supports bulk upload of employee data from CSV, XLS, or TXT files to generate professional org charts.
Resynchronize an already existing chart with a new data source by simply clicking a button.
Export your chart as presentation slides, Doc file, image, or HTML link for easy accessibility and viewing.
Pricing
OrgCharting offers one-time licenses for their software based on the size of your organization.
Here's a rundown of the products.
OrgCharting 100 for small businesses: $145.00
OrgCharting 500 for medium-sized organizations: $245.00
OrgCharting 1000 for medium or large-sized organizations: $450.00
ChartHop
What if you could visualize and analyze data about your employees based on preset metrics and KPIs? Well, no need to wish such a tool into existence, it's already here, and that's what Charthop is all about.
Launched in 2020 by Ian White, Charthop was built to track and keep up with swift organizational changes. Ian's Charthop saves you from dealing with spreadsheets or slides when an employee leaves your company or when a prospect joins the team.
In addition, this software allows you to store changes you've made in the past. So, after three to four years, you can look back at your structure and see how it has changed over the years.
That said, Charthop is a game-changer in the org diagram space (if such a thing exists). The platform takes org diagrams beyond just what we thought it could be, giving us data-driven insight to make better "people decisions."
Key Features:
Access to simple, yet interactive, data that's easy for anyone in your team to view and understand.
Offers employee profiles and org charts with additional features like performance reviews, headcount planning, and much more.
Seamless integrations with your existing work tools like Slack, Namely, Google, and others to give you more value.
Advanced security measures to keep your company data safe and secure.
Pricing
Charthop offers some fixed subscription plans and a custom plan for really big companies. Here's a summary of their packages.
Note*: All packages are billed per employee and billed annually.
ChartHop Build – $3.50/month
ChartHop Grow – $7.00/month
ChartHop Scale – $10.00/month
ChartHop Enterprise – Custom pricing
Microsoft Visio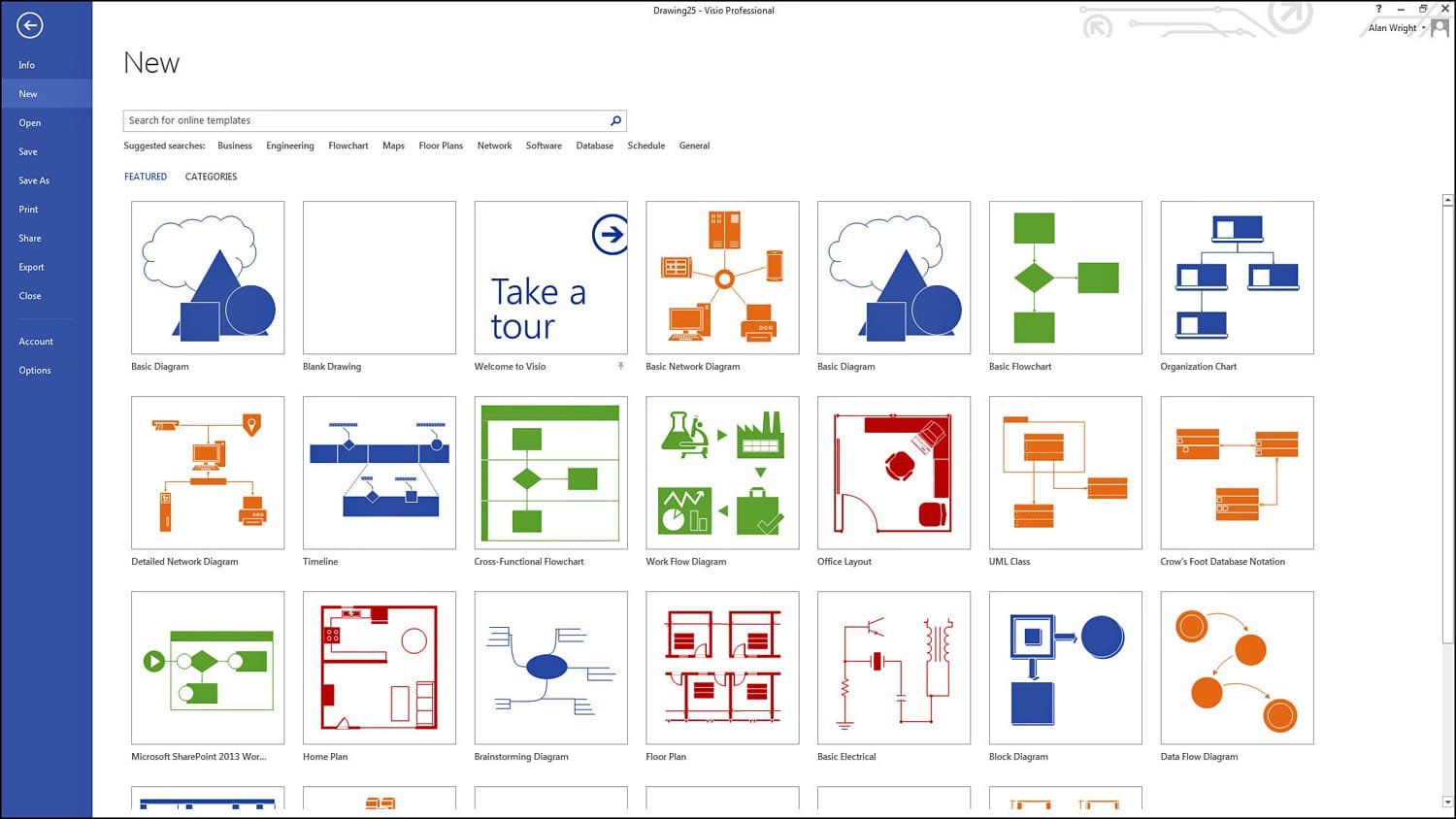 Creating an org chart shouldn't feel like rocket science, nor should you have a degree in CoralDraw to get the hang of it. Microsoft understands this deeply and they've put in a lot of work to ensure Visio is easy for anyone. Irrespective of your background or skill set.
Interestingly, this tool wasn't created specifically for organogram charts. You can create floor plans, workflows, and other informational diagrams with this powerful tool.
So, what comes in the box? Microsoft Visio makes things easy for you by providing dozens of org chart templates to get you started. That's not all, Microsoft also offers ready-to-use diagrams for workflows, flow plans, and other charts.
How easy is the platform? Well, it's 'drag and drop' easy to use. And when you're done with your design, you can save it as an image or export it as an HTML web page.
After creating your chart, you can share it with your team or stakeholders by email. Or, you can simply save it to a SharePoint folder where it can be accessed by everyone on your team.
Key Features:
Easy collaboration. Visio allows you to create your organizational chart with other members of the team in real-time. Minimize errors by having collaborators co-author the diagram with you.
Import data from an external source easily. If your organization is large, manually hand-inputting everyone's information would be a nightmare. Instead, import information from a database and get started.
Create your diagrams from anywhere at any time with the web version of Microsoft Visio, or work from a desktop app; you choose.
Add hyperlinks to shapes or levels of your structure that direct viewers to email addresses, websites, or other information sources.
Pricing
You can pay for a month's subscription, or you make a one-time purchase to own the Microsoft Visio license. Here's what the pricing looks like.
For Subscription:
Visio Plan 1 – $5
Visio Plan 2 – $15
For one-time purchase:
Visio Standard – $369.99
Visio Professional – $719.99
Freshteam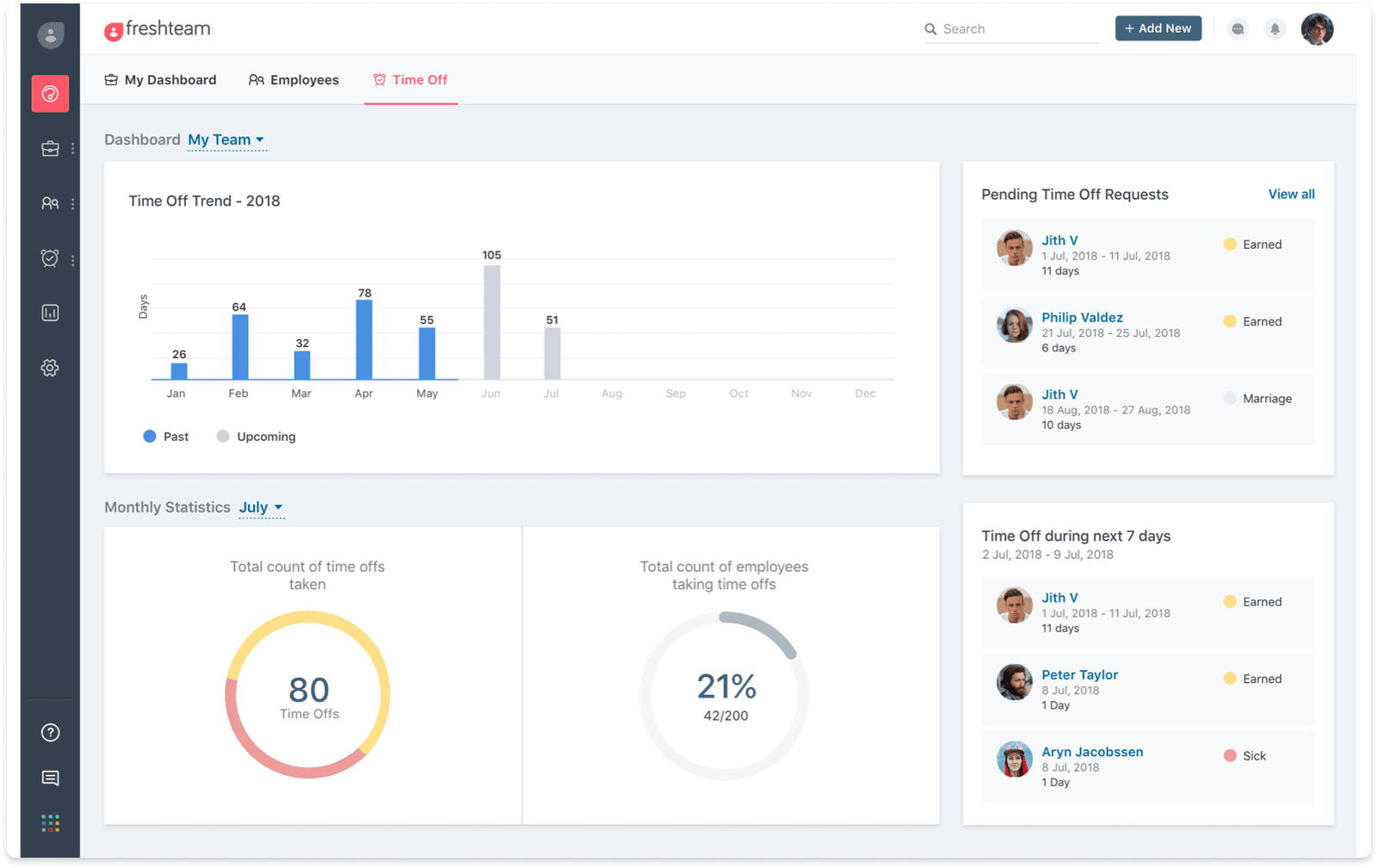 If you need an org chart software that'll produce a good organizational chart and perform other HR services, then Freshteam is worth considering.
I'd provide a little backstory. So, Freshteam was created by its parent company FreshWorks, which penetrated the industry in 2010. FreshWorks have grown over the past decade and has earned for itself a spot on the NASDAQ select market.
Freshteam is quite similar to ChartHop, in the sense that they are both focused on HR functionality than Microsoft Visio, which is focused on diagrams and workflows.
So, you can map out your company's structure, store and view employee information, manage onboarding or new staff, and more with Freshteam.
Let's highlight some of the unique features of the software.
Key Features:
Quick access to employee information including contact information, placement and role in the org structure, date of employment, and other information you might need.
Convenient mobile app that is compatible with Android and iOS devices.
Increase productivity with the 'Time Management' tool to track sign-in and sign-off of employees, with features to also track paid and unpaid leaves and leave requests.
Create workflows for the recruitment and onboarding process. Also, set different policies for different office locations or departments in your establishment.
Pricing
Like other platforms we've mentioned so far, Freshteam also offers subscription plans to suit your company size. But, unlike the others, this platform charges a "platform fee."
Here's what their pricing looks like;
Monthly

(Billed per employee)

Annually

(Billed per employee)

Free

$0

$0

Growth

$1.20 + $75 platform fee/month

$1 + $59 platform fee/month

Pro

$2.40 + $119 platform fee/Month

$2 + $99 platform fee/month

Enterprise

$4.80 + $203 platform fee/month

$4 + $169 platform fee/month
Creately
Intel, Netflix, and even NASA use Creately to design a "visual workspace" for their staff. This platform probably has more focus on interactive visuals than any org chart software mentioned so far.
So, what can you do with Creately? Obviously, you can create some stunning org charts with this platform; they even allow you to add images and custom texts to your designs.
However, there's so much more you could do with the platform. It doesn't matter if your staff works in-house or remotely, Creately's cloud-based system allows seamless collaboration within teams or departments with numerous integrations that make communication easier.
According to Creately, "speed is a feature." That said, you can create shapes, customize, include text, and edit whatever you need quickly.
Key Features:
Over 50 specialized shape collections to draw any type and style of an organization chart that represents your brand.
Develop concept maps, storyboards, and other insightful diagrams for various aspects of your business.
Export and share your diagrams or charts in multiple file formats.
Collaborate with teammates to work on the same diagram at the same time.
Pricing
Creately's subscription plans are similar to ChartHop. Here's what it looks like;
Monthly

(Billed per user)

Annually

(Billed per user)

Free

$0

$0

Personal

$6.95/month

$4/month

Team

$8/month

$4.75/month

Enterprise

Custom pricing

Custom pricing
Lucidchart
There's no point creating a chart if it's too complex to understand. Neither is it productive to create charts with software offering tools that are not easy to use. As the name implies, Lucidchart offers its platform as a means to "clarify complexity."
Interestingly, Lucid goes head-to-head with Microsoft Visio on their platform pointing out how their diagramming tools are easier to understand and use than Visio. But, we aren't here for a "vs." article so I'd focus on giving objective descriptions of each software based on my research.
You might ask, "what makes Lucidchart unique?" Well, all the features offered by this platform are built around simplicity. Some diagramming software offer tools that may require some time to get used to. But, everything is easier with Lucid.
Key Features:
Advanced diagramming tools for intuitive designs, suitable for beginners and pros.
Easy integrations with widely-used productivity tools.
Multi-person editing on the same diagram, with indicating cursors to show who's working on what.
Runs smoothly on Mac, Windows, and Linux operating systems.
Pricing
Like most org chart software mentioned so far, Lucidchart employs a subscription payment model. Here's the pricing in detail:
Individual – $7.95 billed per user/month
Team – $6.67 per user/month
Enterprise – Custom pricing
Furthermore, Lucidchart offers a free, but limited, version of their platform to everyone. There are no limits to the number of diagrams you can create; however, the number of objects per diagram is limited.
Visme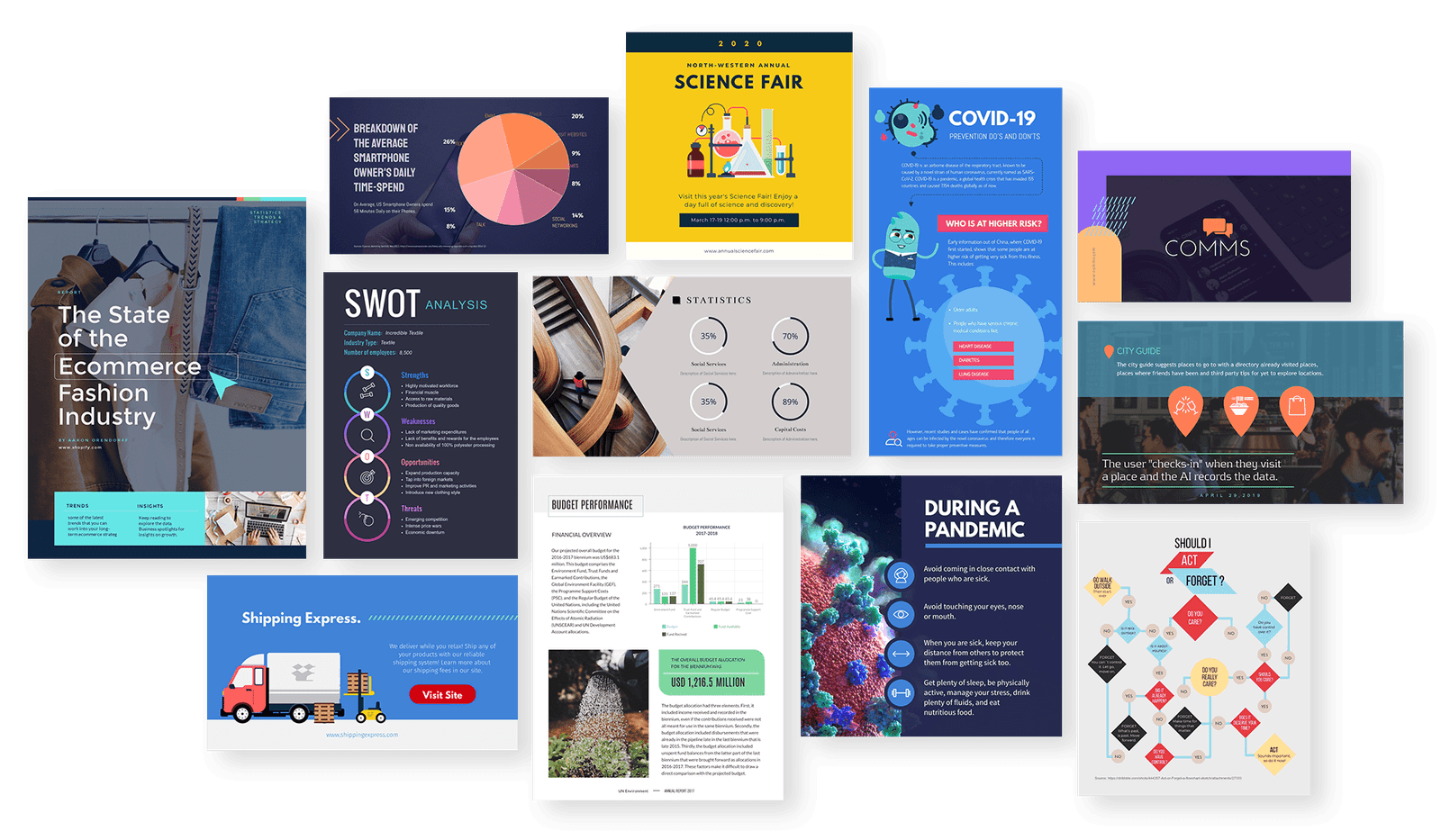 Last on our list, but definitely not the least, is a platform called Visme. This design software shares a lot of similarities with Canva; however, this platform is more brand-centric. Meaning most of their services focused on boosting the marketing efforts by brands, creating a workspace to help create engaging visuals. That said, Visme wasn't primarily built for charting. It can do a lot more, and it does it quickly too.
With Visme you can create specially branded documents, engaging presentations, short animation and videos, infographics, and even social media posts. The company aims at creating a workshop to cater to your branding and strategy needs.
Key Features:
Provides a free learning center with detailed videos to help anyone learn and understand how to make the most from the platform.
Well-stocked templates library for charts, infographics, presentations, and other visuals.
User-friendly platform, suitable for professionals and anyone who doesn't know how to use a crayon.
Pricing
Visme also adopts a subscription-based payment mode like every other org chart software we've mentioned till this point.
The available subscription plans are as follows:
Monthly

(Billed per user)

Annually

(Billed per user)

Basic

$0

$0

Personal

$25/month

$15/month

Business

$49/month

$29/month

Enterprise

Custom pricing

Custom pricing
Other Org Chart Software Worth Mentioning
There are lots of other impressive diagramming and collaborative software asides from those mentioned in this guide.
Here are other platforms I think you might like if you'd like more options.
Monday.com
Canva
Pingboard
Built for Teams
Organimi
Gliffy
Things To Consider When Buying An Org Chart Software
If you've made up your mind to pay for an org chart software, then there are things you need to consider before paying for a platform. Here are some essential points you should consider before making a buying decision.
Company Size
Are you a solopreneur, a team of five, or do you run a large organization? The size of your team matters because most diagramming software (especially subscription-based) offers different packages based on company size.
If you're a large organization with over 500-1000 employees, you'd probably need to contact the software company for an enterprise package. So, based on your company's size, the service provider would give a custom fee based on your needs.
In some cases, you might have a company of about 5-10 employees, but you know your company still has the potential to grow.
In such a case, some might choose to go for a higher package due to that "growth potential." But, you don't necessarily have to do so.
It'll be better if you choose a package that suits your company's current size. And if there's a sudden need to expand, you can easily contact the software provider for an upgrade to suit a rapidly growing organization.
Security Measures
Your company's data is very important, and using any platform means you're trusting them with your personal details and that of everyone in your organization.
Also, if you use other features offered by most of these platforms, it means you'd be storing your business strategies, workflows, and other essential information on the platform's cloud servers.
For that reason, you need some form of assurance that your data won't fall into the wrong hands. You need the assurance that only authorized personnel are able to access sensitive information at all times.
This is why you have to check the level of security measures utilized by any platform you hope to use. Before you make a buying decision, ensure you have an affirmative answer to this question: "Can I trust this company with my data?"
And if your answer is yes, then you can go on to consider other factors before you purchase a license to the software or subscribe to their services.
Ease of Use
If you need to go through lengthy tutorials and lots of practice to start using a platform, then I don't think that org chart software is for you (unless, of course, you don't mind learning new things).
You're probably busy, and the other individuals may also have their hands full. So, it's best for everyone if your diagramming and visualizing tool won't require a steep learning curve to get started.
That's said, in times of doubt, choose the easier platform.
What's good about having complex features you'd never use?
Additional Features
I understand your focus right now is simply getting good diagramming software to create an organizational chart. However, these tools highlighted in this post can do so much more than create org charts.
What other features would boost productivity in your establishment?
If you're an architectural firm, you can create plans or make engaging visuals of your complex systems for easy comprehension.
Marketers working remotely can brainstorm using storyboards, mind maps, and other intuitive tools to help promote their brand.
Your HR department can effectively manage employees and create workflows for recruiting new members.
Content marketers on your team can create engaging social media posts, short videos/animations, and fun infographics with some of these tools to keep your customers engaged.
Budget
Well, like most organizations, your final decision would probably be based on what it'll cost you to provide any of the available org chart software for your team.
Perhaps, you may have to compromise, going for a cheaper alternative because you don't have the finances for a more expensive one. It's perfectly fine.
However, you should ensure you pick the cheaper alternative that's closest to what you'd like to have. That way, you won't be missing out on too much. You'd have just enough to get the work done without making a dent in your bank account.
Frequently Asked Questions About Org Chart Software
What does an org chart look like?
The usual organizational chart resembles a pyramid. High-ranking executives at the top, with lines extending down through middle management and finally to employees at the lower levels. This pyramid-looking org chart hierarchical model.
However, it is important to mention that not all businesses operate using the hierarchy structure.
What do org charts do?
An organizational chart depicts the roles, responsibilities, and relationships among people within an organization. It is a visual representation of the internal structure of a company.
What are the types of org charts?
There are up to seven (7) types of organizational structures adopted by many companies. They are; Hierarchical, Network-based, Geographical, Team-based, Divisional, Horizontal, Functional, and Matrix org structures.
What Microsoft software makes organizational charts?
Microsoft Visio platform was specifically created by Microsoft for designing engaging visuals, including organizational charts. Notwithstanding, you can also create some simple org charts with Microsoft Excel.
Why is an organizational chart important?
By understanding the reporting structure, employees can ensure that managers properly delegate tasks and responsibilities to their teams. Additionally, organizations that use actionable Organizational Charts have many other benefits that improve productivity in the work environment.
Summing Up
There you have it! Seven of the best org chart software at the moment. What software best suits your brand's needs? Well, I hope this content has provided you with some insight into what software to choose.
The use cases of organizational charts cut across different divisions of your organization. And it's interesting to know that one platform is enough to provide collaborative tools across different work teams, to increase results.
So, consider your needs as an organization and pick software with the right features, that's easy to use and is within your budget.