7 Best AI Face Swap Apps in 2023 (Free and Paid)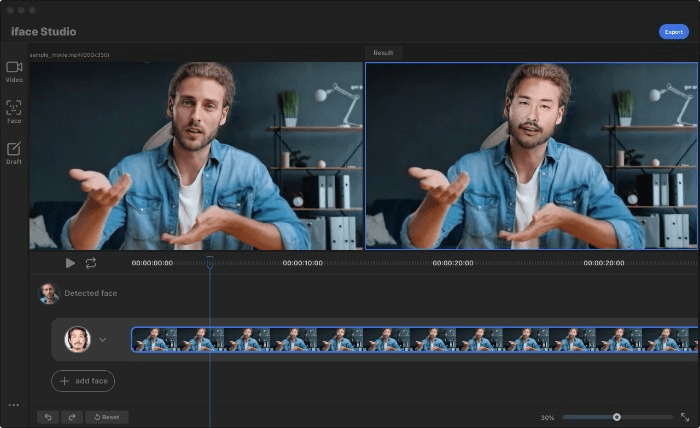 Ever wanted to change faces while watching videos or browsing photos? The 7 Best AI Face Swap Apps are here to care for all your face swapping needs. With these apps, you can easily swap faces for photo and video collaboration requests.
The face swapping technology uses the power of Artificial Intelligence (AI), so you won't have any difficulties changing faces in images and videos.
The best thing about the app is that it can be partly free, even when used to create or watch ads! No need to pay anything to try most of them. Additionally, it features high-end security protocols, so no one will ever know where your images/videos are coming from or going. You can trust them with your data!
Download any of the apps now for free on Google Play Store or Apple store, and start having fun today!
What is a Face Swap App?
An AI face swap app is a photo-editing app that allows a person to bring images of two faces together and make gender swaps from one picture to another. For example, the app can take a woman's face in one picture and apply it to a man's body in the other.
It is possible to upload photos into the gallery or make live face swaps in real time using technology such as face magic. The result brings out an exciting blend of face images that can be fun to show off with friends.
What is Face Swapping?
Face swapping is a great art form that allows us to create entirely new facial expressions and a face morph with our faces. Through software tools and image manipulation, we can create images that will enable us to bring life to our presentations with friends and family.
A program such as FaceSwap data helps create art quickly and easily with a different background and style. Face swapping has enabled us to create images with a unique perspective on our traditional portrait image, leading to entertaining artwork that all can enjoy, especially when your family visits.
What Are the Best Face Swap App?
Many AI face swap apps stand out, but few stand out above the rest. IPhone owners are fortunate to have some of the best face swap image makers at their fingertips. With these apps, users can transform into someone else's face and surprise their friends or swap faces with someone nearby for a funny selfie!
You can swap faces with a friend using the app and upload photos from your camera reel or paste images from a website.
The best face swap app for iPhone owners is undoubtedly user-friendly, offers professional quality results, and has an extensive range of features. It may take trying out a few after downloading them to determine which app suits you best, but it will surely be worth it for those fun memories captured with friends and family!
We introduce Pixble: the revolutionary new way to edit your photos! With Pixble, you can automatically swap the faces in your pictures without the hassle of advanced photo editing.
Using high-tech artificial intelligence, Pixble will detect any face in your picture and re-map it with another of your choice while still maintaining the original image's quality.
The powerful AI Faceswapper will map even rotated and tilted images for a more accurate result every time. Plus, you get full-sized photos from our Faceswapper, which removes so much stress from resizing later.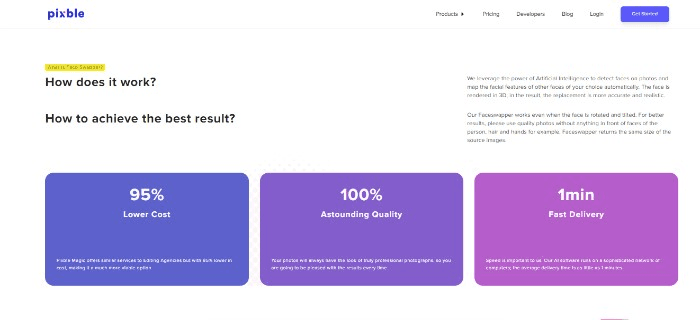 Not only does Pixble redefine photo editing and put hours back into your day, but it's also totally free! What are you waiting for? Get started swapping those faces with Pixble today and experience hassle-free photo editing like never before!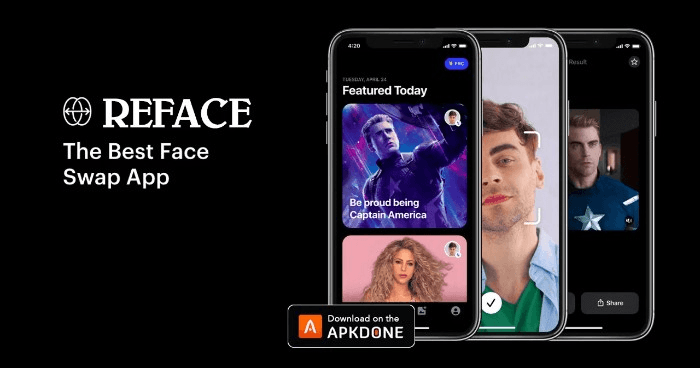 Introducing Reface – the ultimate way to express yourself and make an impact with your unique identity. With Reface, you can make realistic face swaps and let your personality take centerstage in any video, gif, or image with its revolutionary Pro version.
Modernize your look daily with the ability to switch between different faces in mere moments. Plus, work with a global team of content creators to find amazing effects that showcase your style and match the vibes of any situation.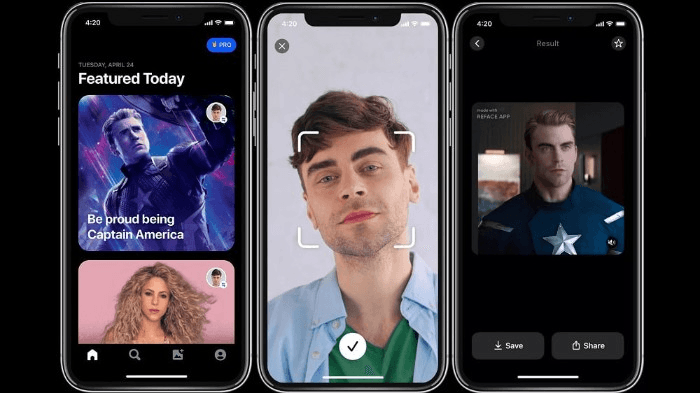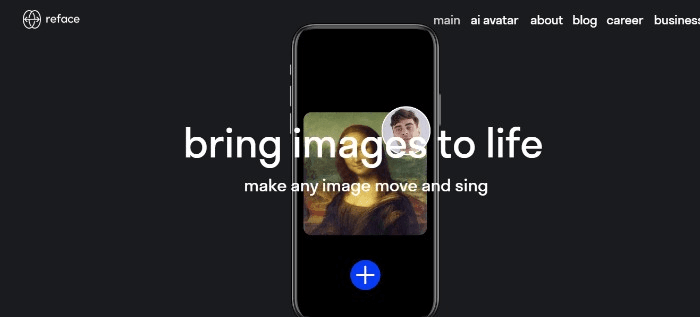 When it comes to standing out from the crowd, Reface is leading the charge. This AI and ML-based startup allows you to have unlimited self-expression and personalized content creation – far more than swapping faces – while also pushing fashion's new frontier. It's never been easier to unleash your inner artist, so what are you waiting for? Start channeling your creative energy today with Reface!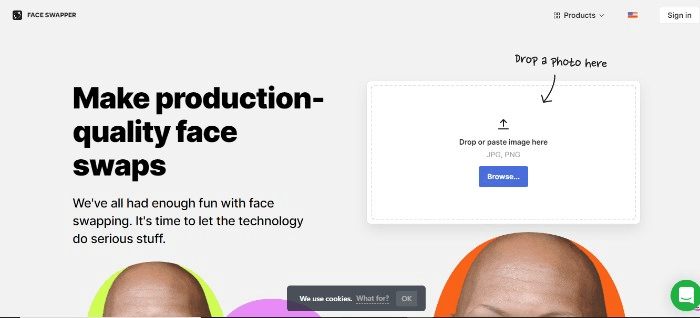 Are you bored with everyday selfies and looking for something new and exciting? Look no further than the incredible ICons8 Swapper – the only face swap app that offers natural gif face swaps of any celebrity.
With the revolutionary app, users can easily swap one person's face with another's in a matter of seconds, creating high-quality images with just a few simple clicks.
The website also offers unlimited swapping if you choose an annual plan so that you can explore your creativity as much as possible! You'll also love our multi-swap feature, which allows users to replace several faces in a single photo.
To top it off, ICons8 Swapper offers the most effective resolution for face swap on the market: 1024px. So why wait? Check out ICons8 Swapper today and save yourself time and effort while creating unique projects!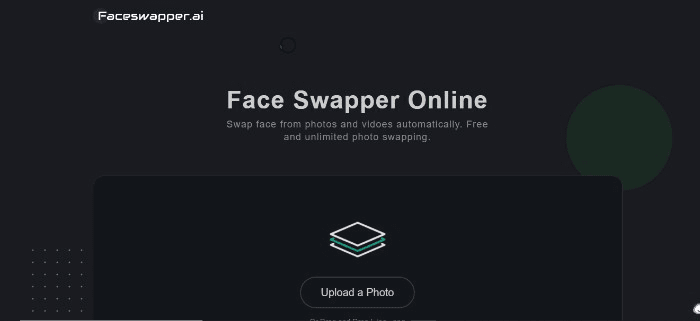 Are you looking for a fun and creative way to mix up your photos and videos? Face Swapper is the perfect tool for you! Our innovative app can automatically swap faces from photographs and videos, letting you make amusing results. Have siblings swapping faces in the same scenario, or animate yourself with any face you like – the endless possibilities!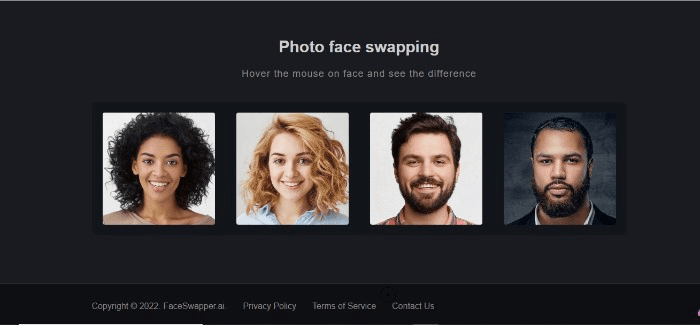 We assure you of complete data protection when using Face Swapper. All information remains private and secure with us – we do not collect any of your biodata, nor will we use it for other purposes. So why wait? Download Face Swapper now and let the endless possibilities begin!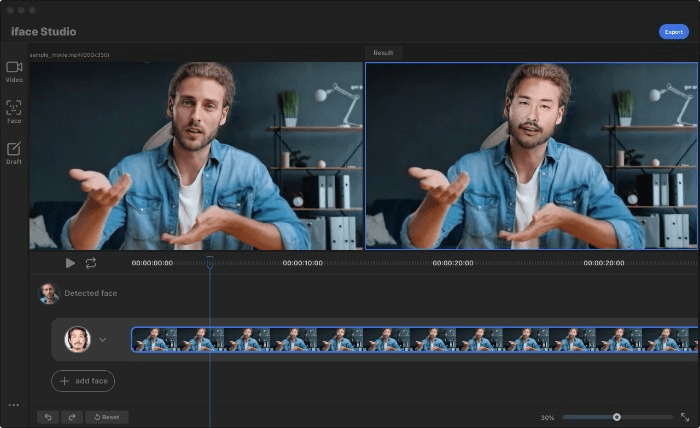 Are you looking for a fun and easy way to spruce up your photos? Check out iFace! With our AI-powered facial recognition software, you can easily make fun and realistic 3D reconstructions of faces to add to your photos.
The iFace swap face feature works better on the site and can be used to fix pictures or make important hilarious gifs.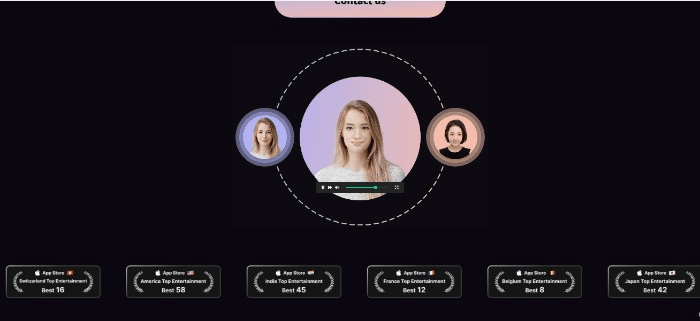 If you're looking for a laugh or want to make a profound statement, iFace is the perfect tool. Best of all, it's free to use for the first few days!
With Photofunia, you can add a unique and personal touch to your photos, making them stand out from the rest. You can create a fantastic photo collage in just a few seconds with the face swap tool, absolutely free.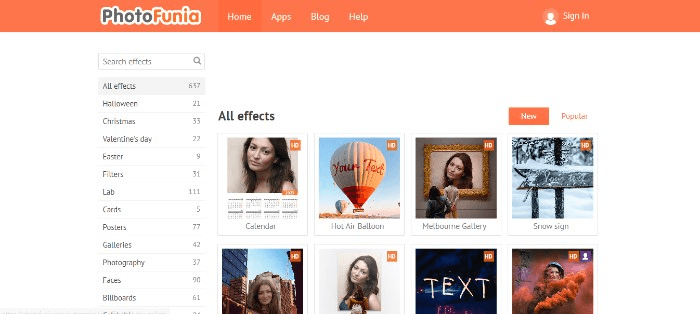 With its easy-to-use interface, anyone can use Photofunia with ease. You're done by just picking your desired effect and uploading your photo! You can save your creation, email it to your family, or share it on a social networking site. With Photofunia, you can turn any ordinary photo into a work of art.
Welcome to Revosoft-CopyReplace – the world's best camera AI face swap technology! Forget about expensive Photoshop software and hours spent in front of a computer – this new app allows you to replace faces with just a few clicks. From funny family moments to paid portrait shots, drag and drop your images, choose the perfect facial features, and layer on multiple faces for incredibly realistic photos.
With advanced editing tools, unlimited face combinations, celebrity photo overlays, tiled masks, and more – Copy Replace Face is the perfect tool for phone photography enthusiasts looking to make their photos stand out!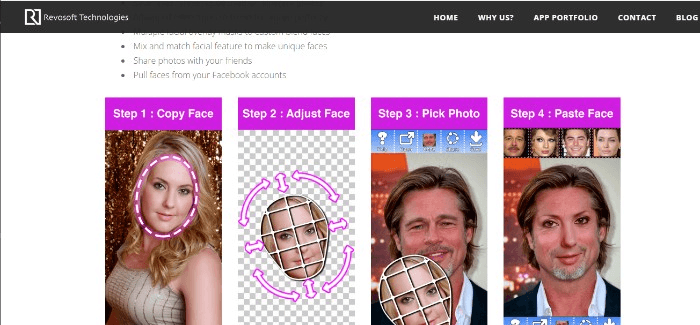 And with easy integration with your phone camera roll or Facebook accounts, it has never been easier to share moments with family. Try Copy Replace Face today and take your phone photography game to the next level!
Revosoft-CopyReplace Pros
Revosoft-CopyReplace Cons
What is the Importance of an Online Based Face Photo Editor
Nowadays, it is essential to have a video face photo editor. With this app, you can paste video gallery data onto your faces.
This app also allows you to take high-quality images of your faces.
How do I make a Swap Face video?
Making a face swap video is easy and fun! All you need is a face swap app and some friends. You can find face swap apps for free on websites like YouTube. The quality of the face swap will depend on the quality of the photos you use.
If you want to face swap with a famous person, find good-quality photos of their face. Once you have the face swap app and some good-quality images, follow the instructions on the app to create your face swap video.
Conclusion
While you may not need an AI face swap for your next big project, they're still a lot of fun. And who knows, playing around with one of the best AI face swap apps will help you fine-tune your creator or photo editing skills. So why not give it a try? You might be surprised at how much fun you have.