25 Best Photo Organizing Software of 2022 (Free Picture Manager)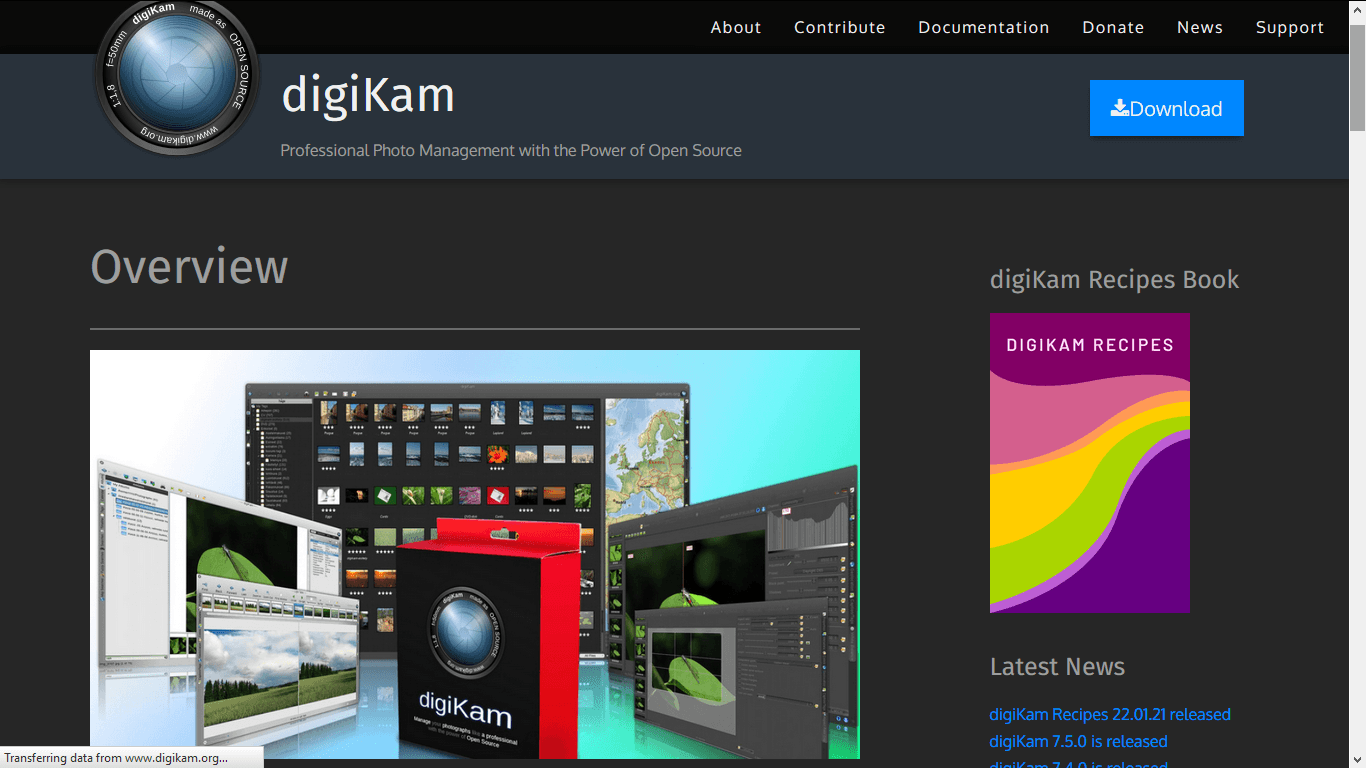 A photo organizing software can be a great way to sort any image you take into folders, based on the location, date, or people you were with.
Either with our phones or cameras, we take more photos now than ever. We do capture beautiful memories to look back on, but they often get lost in the thousands of pictures we take and we may never see them again.
So, whether you are a professional or amateur photographer, it's ideal that you streamline the photo process and maintain a productive workflow. And one important component in maintaining a productive workflow is organizing your photos. Also, if you're looking for a way to organize family pictures, photo organizing software could lift the burden off your shoulder
A professional photographer might click over a hundred or thousands of images in a session, and culling out the best photos from such a list of images can be an arduous task. Hence, managing this task and organizing digital images has become a priority for creative professionals. However, good photo organizing software will make your task easier.
What's Photo Organizing Software?
Photo Organizing Software is also called Photo Management Software and it's an application or software used to manage a large number of images, thereby improving a photographer's workflow and productivity.
The primary function of a photo organizer is to edit the tags of the photo. Photo management software can help in the mass deletion of images and allows you to move photos around. Also, photo organizers have other features such as thumbnail preview that allows you to find photos easily and sort them more quickly and efficiently.
Photo organizing software also allows users to directly upload photos to social media, emails, and print photos – some software allows for video organization as well as resizing photos.
Why is Photo Organizing Software Important?
If you're an expert photographer, taking over a hundred photos per session consecutively for a month will require you to sort those photos to get the best ones to represent your portfolio.
Perhaps you take photography as a mere hobby, or enjoy taking pics with your kids, sooner enough, your device will run out of space as the images build up, without finding the photos you liked best. However, the good news is that you can organize and categorize your images easily with the help of photo organizing software.
The software grants you access to search photos in a much simpler way. Features such as 'renaming' further simplify photo storing and searching. The 'batch delete' feature also allows you to delete multiple photos at once to save yourself time.
This feature is particularly useful for those who need to quickly sort and share photos, or for those who take a large volume of photos regularly. Photo organizer is a software that allows you to print and share photos on social media, and owing to this, you can advertise your business more easily.
Another significance of photo management software is that you can access the software with your mobile phone(s), and you can share, edit, and backup photos through mobile apps.
Lastly, some photo organizers can allow you to organize videos too. This way, you can gather all your media in a single place and group them based on their tags, which is great for both professionals and amateurs.
How to Choose the Best Photo Organizing Software?
To get the best photo management software to organize your photos, you must look out for certain features. There are a few different features to check out to ensure it's going to perform as you would like.
Ability to Organize
The primary and biggest feature of photo organizing software is its ability to organize photos. This includes the ability to add tags, create photo albums, move photos, and sort photos based on their date, time, and location.
When choosing your photo organizer, ensure it makes the organization of photos easy so you don't have to spend the whole day sorting through images when taking them off your camera.
Space
Space is a vital feature to check out for in photo organizers. Storage capacity may be less of a problem for amateurs. But, as a professional photographer that takes multiple and high-quality photos per day, you need software with large storage space.
Resorting your photos to a different software after running out of space may be frustrating as you won't be able to organize them together.
Search Capability
The ability to organize photos is one thing, but to find a specific photo amid several other photos is another. When choosing your photo organizer, you should go for the software that allows you to search for any photo based on its name, tag, color, label, rating, type, or size.
Delete Function
We take a lot of photos and you'd agree with me that it's not all the photos we would like to keep. Some may be blurry, underexposed, out of focus, too dark, or not nice to look at. Hence, the best photo organizer should allow you to delete multiple photos simultaneously without wasting much time.
Most photo organizers have this feature, so if you're not pleased with the large number of photos you snapped, you can easily erase them without any hassle.
Ability to Store Video
Photos and videos are closely related, so it makes a lot of sense to choose the photo management software that can store and organize video in the same way it organizes photos. You should be able to move, rate, tag, and sort the videos into folders so you can easily locate them later.
Photo organizers that can organize videos are particularly useful to keep media taken at a certain time together in one folder or under a single tag.
Sharing and Exporting Features
Another feature to check out for in photo organizing software is the sharing and exporting options. You should choose the software that allows you to share your photos via email or text if you're using a mobile app. Also, you should choose the software that allows you to export your photos to a printer so you can print your photos at any time.
Some organizing software can let you export your images to social media, which is excellent for you to market your business online.
Photo Editing
Sometimes, our photos need a little editing to make them look more appealing, such as adjusting the brightness, contrast, color, exposure, saturation, or shadow. The adjustment to make depends on you as a professional photographer.
But it's ideal to choose the photo organizer that allows you to edit images so you don't need to export the images to an external editing application or software. This will allow you to have all your images in a single place and organized.
Mobile App
Lastly, you should choose a photo organizer that has a mobile app. Mobile phone is handy, and we tend to have our mobile phones with us the most time. We also believe the world is at our fingertips with our mobile phones. Therefore, it's more suitable to choose a photo organizer that has a mobile app so you can sort, organize, and edit your photos wherever you are.
List of the Best Photo Organizing Software of 2022
All the photo management software are not the same; some have features that are more suitable for users than others. However, to help you choose the best photo organizer, we've curated a list of the 25 best photo organizing software of 2022 that you can rely on. These photo organizers are selected based on their features, functions, and credibility. They include:
ACDSee Photo Studio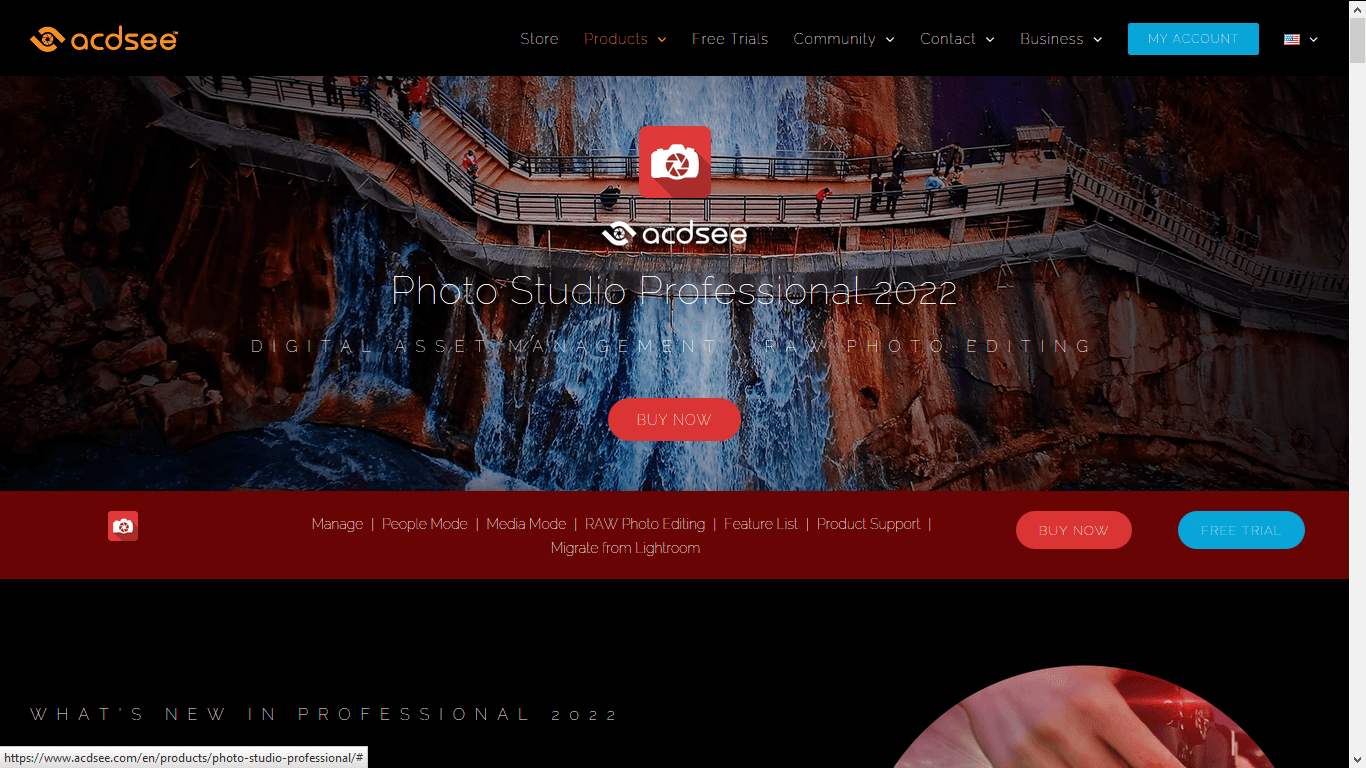 ACDSee Photo Studio is another photo organizer that supports up to 86 different file formats including RAW, JPG, PSD, and TIFF. This software allows you to organize images based on dates, keywords, locations, categories, ratings, and color labels, so you can easily search for them.
This software offers advanced editing tools, such as rotating, resizing, exposure adjustment, renaming, red-eye removal, and does not affect the quality of the image after editing. Meanwhile, you can also edit multiple photos at once to increase your productivity.
digiKam Photo Manager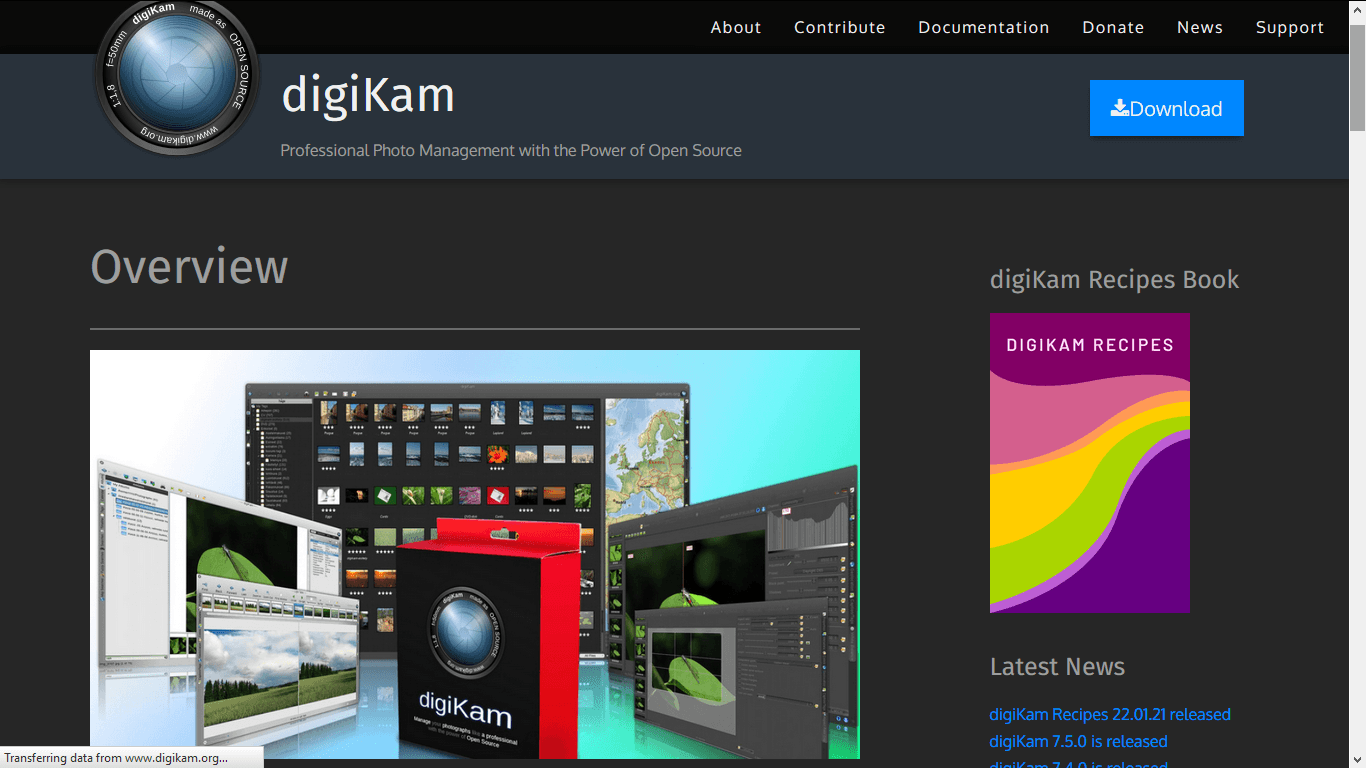 This is an open-source photo organizing software that can hold up to 100,000 images. This software can process JPEG and RAW images, and its source code is readily available and anyone can develop it. This allows you to tailor and streamline the software to your needs.
digiKam Photo Manager allows you to sort images into different folders and sub-folders, and you can add a comment, serving as a reminder for editing or sorting in subsequent time. digiKam Photo Manager can help you find duplicate images and gives you the option to rename and resize your photo and publish the photos on social media.
Google Photos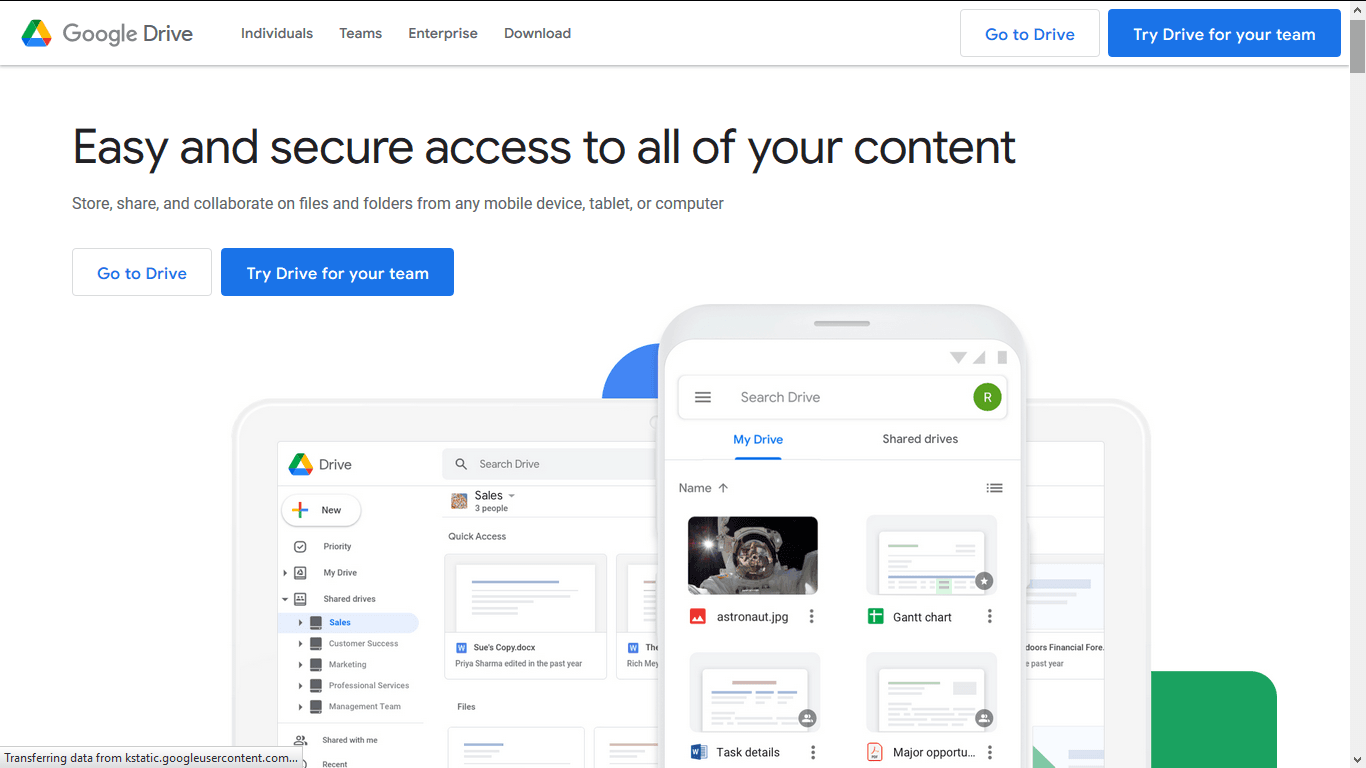 Google photos is an excellent photo organizer for beginners. This software allows you to backup your images and you can access them with your mobile phone or PC at any time. Google Photos is easy to use. It organizes your photos once uploaded and you can search for the photo using the search tool and relevant keywords.
This photo organizer gives you unlimited free storage for high-quality images with reduced file sizes, or 12 GBs of free storage when you upload the full resolution images.
Adobe Bridge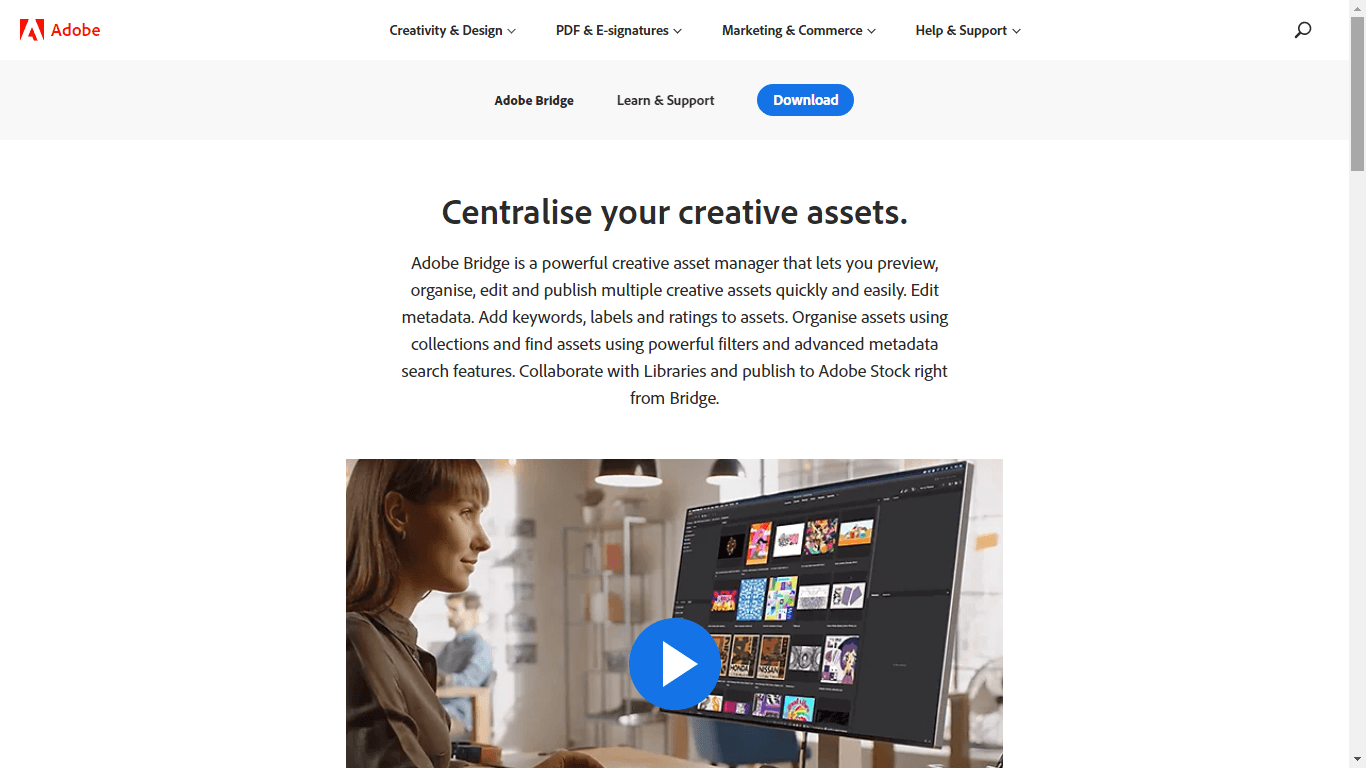 The first software on our list is Adobe Bridge. This photo organizing software is excellent, especially for users of other Adobe applications such as Lightroom and Photoshop. Adobe Bridge allows you to import, edit, preview, organize, and publish images, along with their thumbnails and metadata, for multiple images simultaneously.
Also, this software gives you the option to add a watermark to their photos and you can create an Adobe website directly from Adobe Bridge. With Adobe Bridge, you can batch export or rename your images and the software is collaborative with multiple libraries. This allows you to publish your photos directly to Adobe Stock.
Phototheca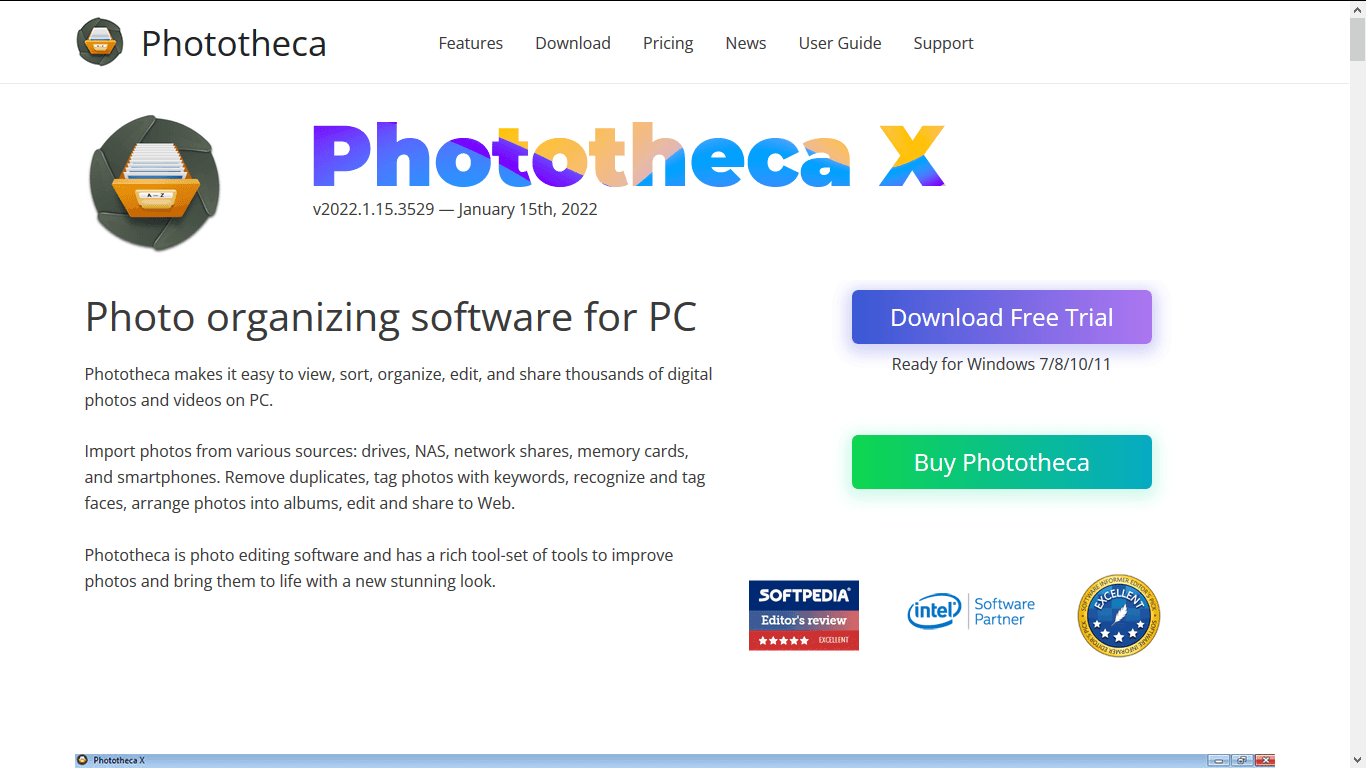 Phototheca is a great photo organizer that allows you to view, edit, organize, and share thousands of photos and videos. The software comes with extra tools that automatically detect and remove duplicate images while keeping the original images secure.
With Phototheca, you can import photos from your camera, hard drive, PC, or mobile phone, and sort them into folders based on people, locations, and keywords. Another exciting feature about the software is the ability to fix incorrect time stamps and password protection for your files.
Also, it offers 56 high-quality photo filters and many viewing options such as zoom-in, zoom-out, and full-screen mode.
Apple Photos
This photo organizer is available to Mac users, and if you're an Apple user, Apple Photos is a great software to sort and organize your photos. The software can also process RAW files and videos and organize your photos easily and ensure that all your photos are in a single place.
The interesting feature about Apple Photo is that it can recognize objects, faces, and scenes, so you can search images by objects or use the combination of some search terms to locate a specific image. You can also create slideshows of memories based on time and location with this software.
In addition, it supports iCloud and can automatically import your photos into your Mac.
Apowersoft Photo Viewer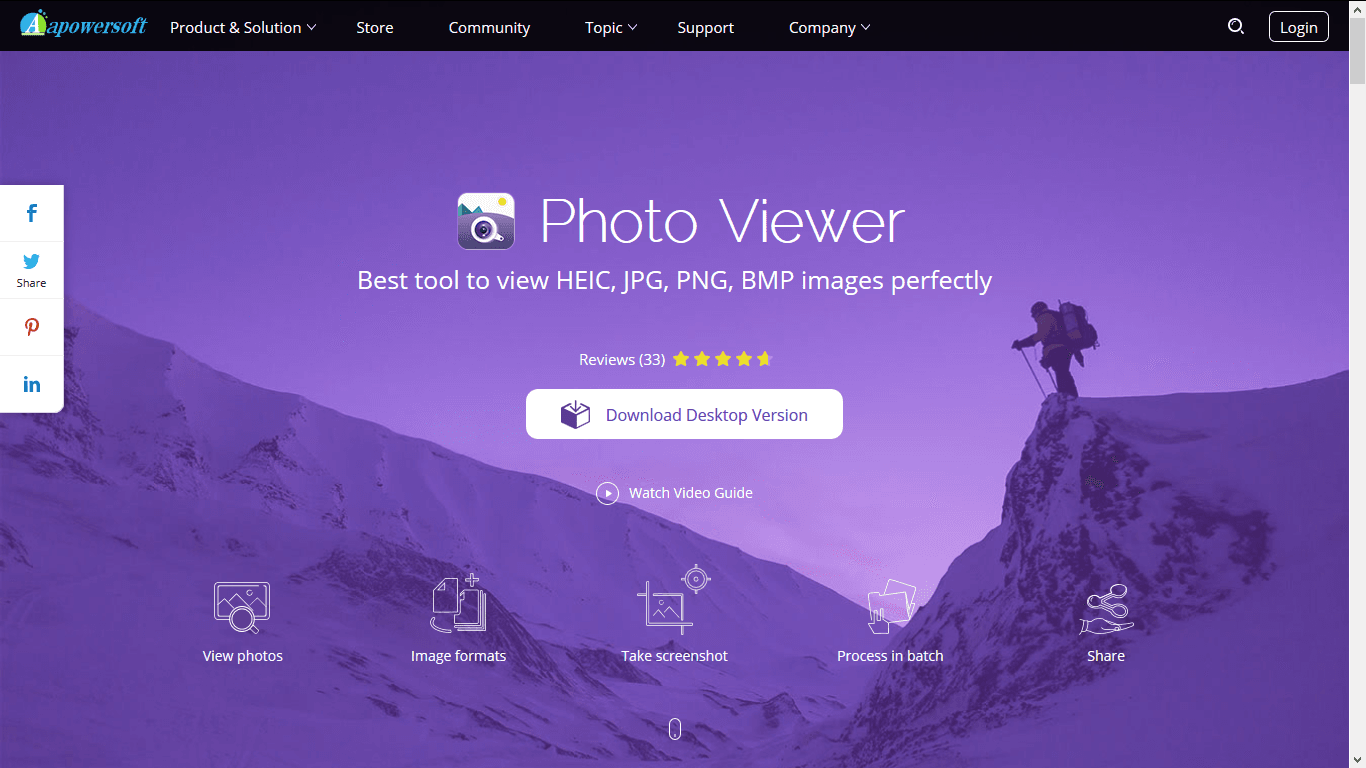 This is one of the easiest and fastest photo organizers that take a few seconds to upload images. Apowersoft Photo Viewer supports various image formats such as HIEC (HEIF), CDR, RAW, PNG, PSD, JPG, BMP, and TIFF. Although this software does not have the most advanced organizing tools, it offers excellent editing tools and allows you to take a screenshot of images.
With this software, you can also make changes to the metadata of the images. It also enables you to share photos on social media and it provides free cloud storage where you can view your uploaded images at any time.
Magix Photo Manager
Magix Photo Manager is another incredible photo organizer on our list. The software has a simple interface, ideal for photographers at all levels. The software allows you to edit both photos and videos, and you can import photos from different sources, including online cloud services, hard drives, cameras, and mobile phones.
This photo organizer offers basic photo editing options such as color correction, image sharpening, auto-enhancing, and can automatically detect duplicates, low quality, or blurry photos. It also allows you to create a panorama effect that will automatically align and blend into one unified image from eight individual images.
Furthermore, you can create a slideshow with background music and transition effects, and you can also burn photos onto a CD or DVD.
CyberLink PhotoDirector 10 Ultra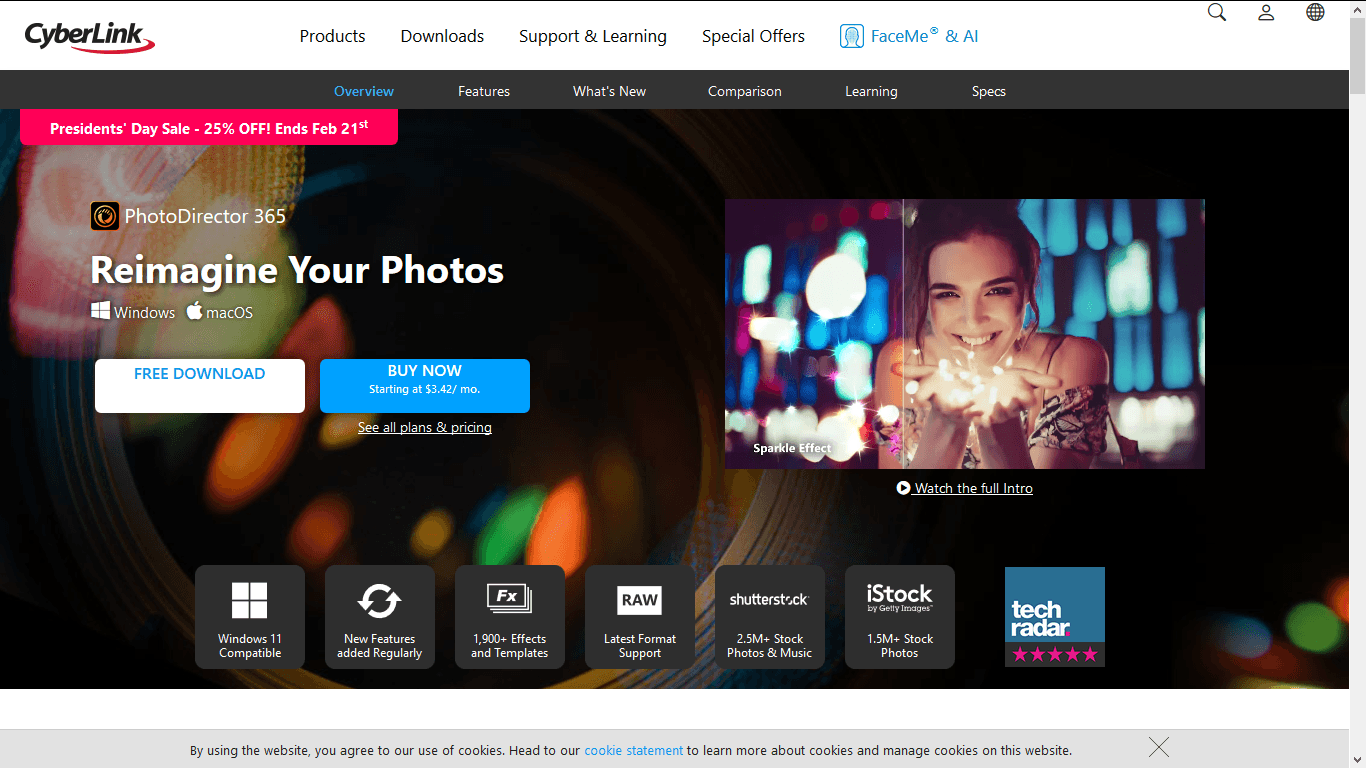 CyberLink PhotoDirector 10 Ultra is a photo organizer that works on both Mac and Windows. It has a simple interface which makes it more suitable for both beginners and professionals. The software allows for editing both videos and photos, and you can organize and search your files based on keyword, color, date, and location.
An interesting feature of this software is the 'Video to Photo Face Swap,' which allows you to grab a photo directly from a video, and then swap a face in the photo. This feature is useful for photographers who work in professional settings, such as weddings, where they need to deliver perfect photos urgently.
Corel PaintShop Pro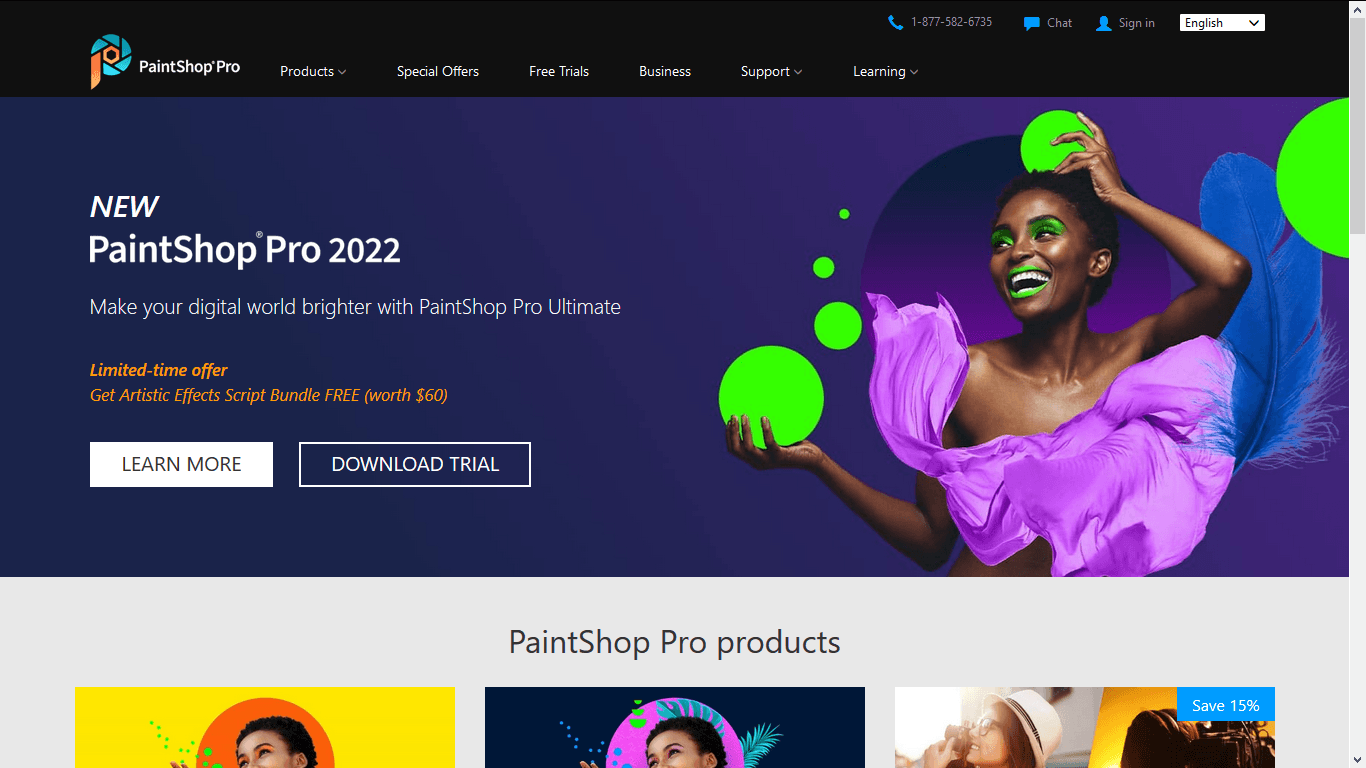 This software is specially designed for those who love editing photos. It's available on Android OS and Windows desktop and it supports all the main photo file types, including JPEG, RAW, PNG, GIF, TIFF, and RAW. Corel PaintShop Pro offers great editing properties such as color manipulation, HDR images and object removal, paintbrushes, pencils, and eraser.
Corel PaintShop Pro offers free online storage and regular reminders to back up your photos to keep them protected.
On1 Photo RAW
On1 Photo RAW is a fully-featured editing program and it's one of the best software to organize photos. This software has solid cataloging tools that are used to organize photos efficiently, such as batch renaming, ratings, tags, etc. you can also add keywords and metadata like information to the images directly.
On1 Photo RAW is an ideal choice for professionals who have to deal with tons of images. Also, the software enables users to use the dual-mode of the software for browsing or editing. Another amazing feature of this software is that you can view photos based on editing history – each image can be set back based on the previous adjustments.
Adobe Lightroom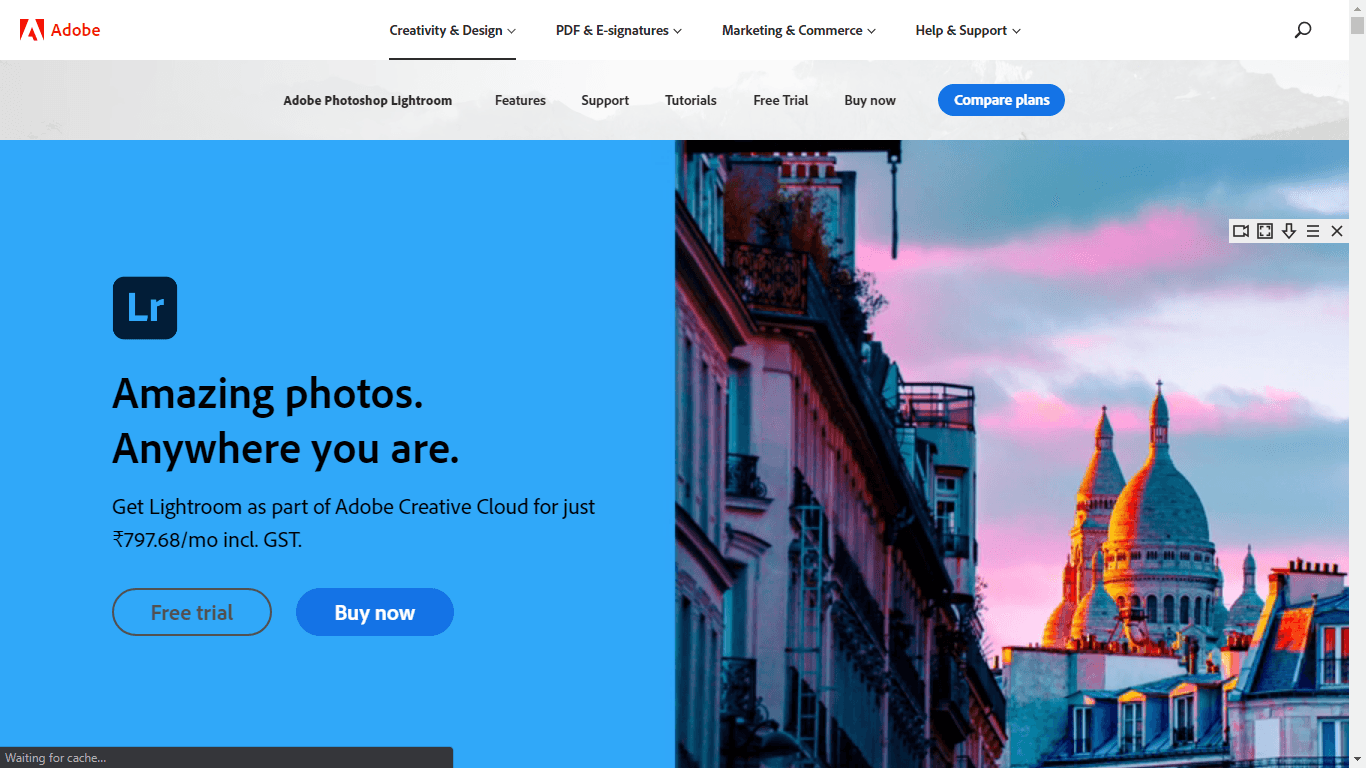 Another photo organizer from the Adobe Family is the Adobe Lightroom. It's one of the best photo organizers on market. Aside from editing images, Adobe Lightroom can be used for photo management and storage.
With Adobe Lightroom, you can place imported photos into folders and sort the images. It also allows you to add tags, captions, keywords, and other metadata to photos. Adobe Lightroom is a cloud-based software that allows you to access your photos both on your mobile phone and PC wherever you are.
The cloud feature allows you to save editing adjustments while preserving the original images and changes in the same photo.
StudioLine Photo Basic 4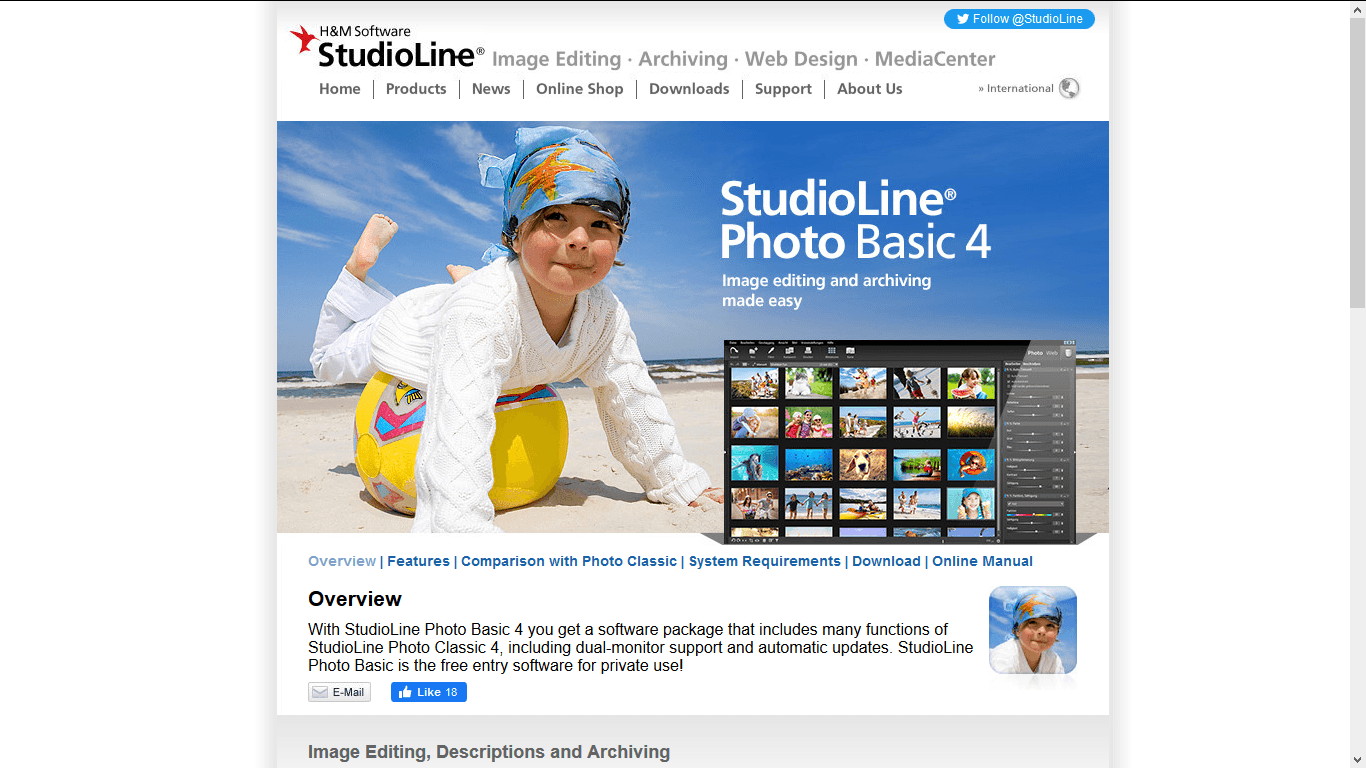 This is one of the best free photo organizing software for Windows that allows you to organize images by adding tags, comments, and GPS coordinates. You can import images from PCs, cameras, or scanners, and you can export images to CDs and DVDs.
StudioLine Photo Basic 4 offers great editing tools which enable you to crop, adjust exposure, rotate, adjust the tone, remove red-eye, and add effects to any image.
Zoner Photo Studio
Zoner Photo Studio is a unique photo management software with four sections: Manager, Develop, Editor, and Create. The Manager section allows you to organize photos based on titles, dates, GPS location, color labels, etc. The Editor section allows you to adjust your images with the brightness, hue, and contrast features.
The software also provides 35 filters to help edit your photos and you can use masks and layers to toggle effects on and off. Zoner Photo Studio also allows you to rename, add notes, and back up your photos.
Furthermore, this photo organizer has a free 20GB of cloud space that allows you to access your photos anywhere.
XnViewMP
XnViewMP is a great photo organizing tool excellent for those who have images in multiple different formats. This software supports over 500 image formats and allows you to change the image resolution in batch to save time.
Even though XnViewMP cannot automatically organize photos, it enables you to edit metadata and add tags to images in batch. This will allow you to quickly filter and sort your images into a folder. It also allows you to locate duplicate images and remove them in batch as well.
Nomacs
Nomacs is an open-source photo organizing software that can be modified to suit your requirements. However, the software is compatible with Windows, Mac, and Linux, and it allows you to organize photos with categories and keywords.
One of the amazing features of this software is its ability to display photos from a zip file or a Microsoft Office document. Like many other photo management software, Nomacs offers basic editing tools that enable you to adjust contrast, tone, brightness, and exposure.
Mylio
Mylio is a free photo organizing software designed with an application useful for organizing photos, videos, and other files. It's compatible with Mac, iOS, or Windows devices and does not require an internet connection. Mylio allows you to upload up to 25,000 photos and you can link up to three devices to your account.
When using Mylio, it allows you to sort your photos by date, so you can easily search any photo with a date. It also has a facial recognition option that'll automatically separate photos based on people's faces, as well as editing features that include batch editing and filters.
Picktorial
This is software that does not only organize photos, but it's also a great software for those who require excellent editing tools. Picktorial is available only for Mac users, and it allows you to sort photos into folders easily. This software has many custom presets with comparable editing that displays your photo before, during, and after editing.
Also, you can edit the metadata of each of your photos, and you can look back over the adjustment you've made using the 'history panel' icon. Other editing features of this software include brushes, color correction, smoothing tools, frames, and gradients.
Pictomio
Pictomio is a free photo organizing software that allows you to organize and sort your photos as well as transform your photos into 3D images. The software has three parts: a photo browser, a slideshow editor, and a slideshow viewer.
Pictomio features among photo organizers that can sort photos by topic, date, category, or rating, and easily locate the photos with a filter drop-down menu. Although the software can house bugs and glitches, it's great for slideshow presentations that can be viewed in 3D, which will make your photos cool and unique.
FastStone Image Viewer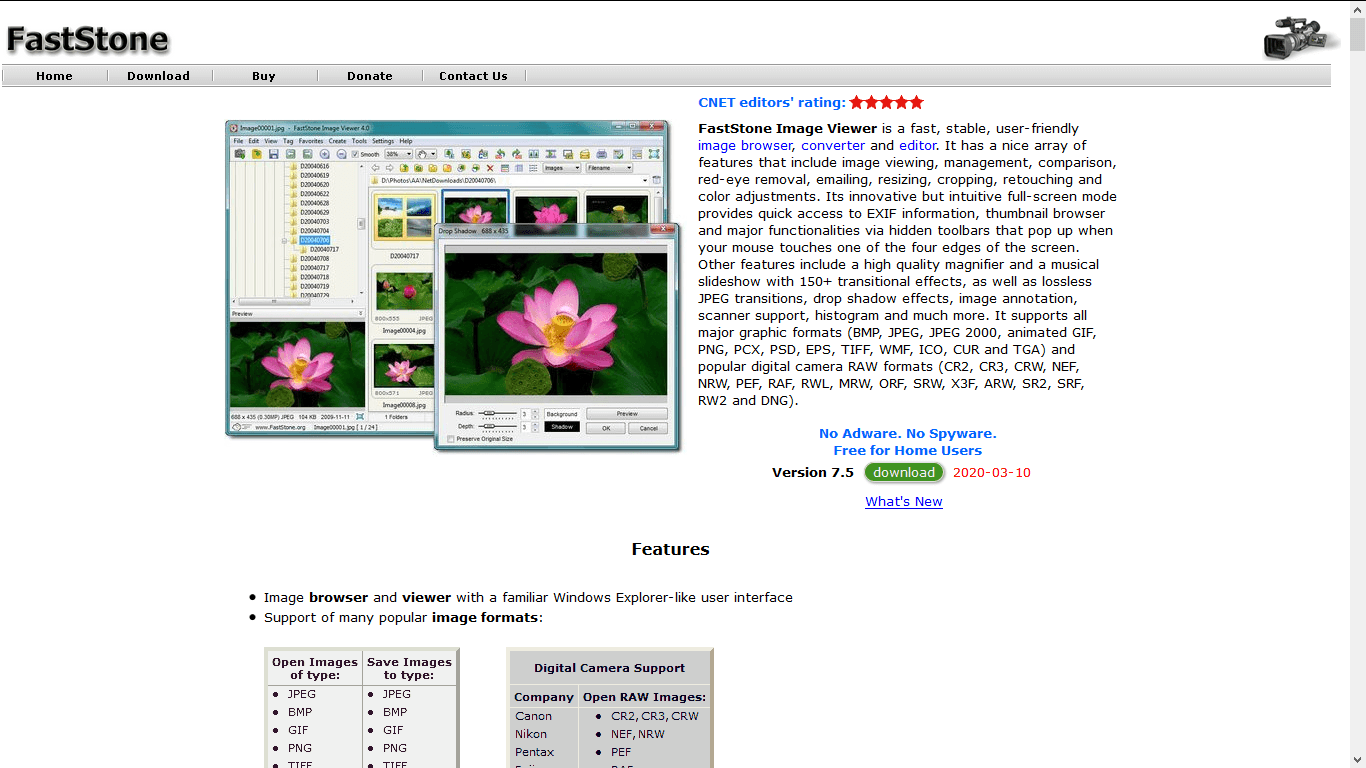 This software is one of the famous free photo management software available for both Mac and Windows. With FastStone Image Viewer's extensive tagging system, you can easily organize and rename your photos for quick sorting. Also, you can simply view thumbnails to search through the photos and you can convert your images into PDF, GIF, PNG, and JPEG.
Although FastStone Image Viewer may not be the ideal software for those who love to heavily modify their photos, it offers great editing tools for beginners. However, the FastStone company has three sub-products to further edit and organize your photos, they include FastStone Screen Capture, FastStone MaxView, and FastStone Photo Resizer.
JetPhoto Studio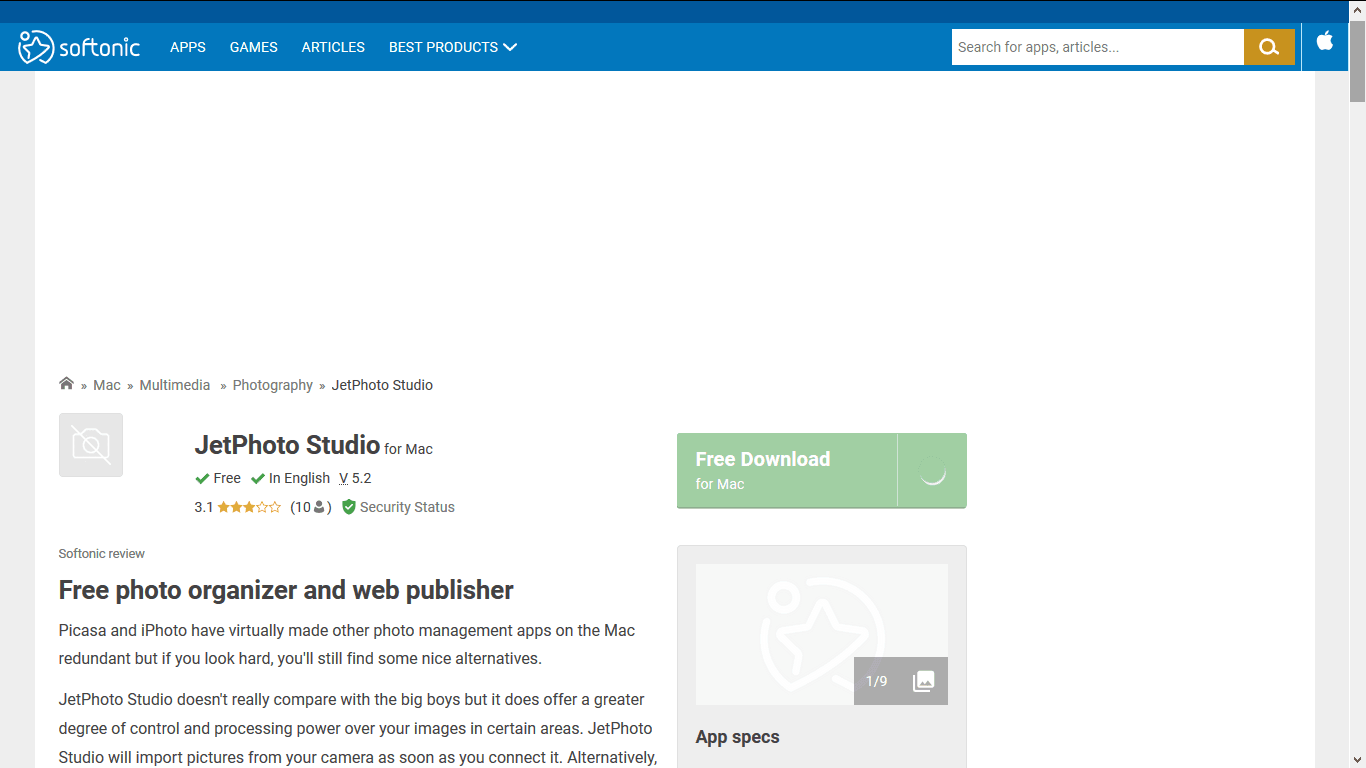 JetPhoto Studio is yet another amazing photo organizer you can edit and organize your photos with. With the JetPhoto Studio software, you can create a Google Map gallery, that can help you track your photos. The software also enables you to organize your photos and sort them into folders.
Even though the JetPhoto Studio software does not support cloud storage, it allows you to share your photos to places such as Flickr and the JetPhoto Server where you can access your photos at your convenience.
PicaJet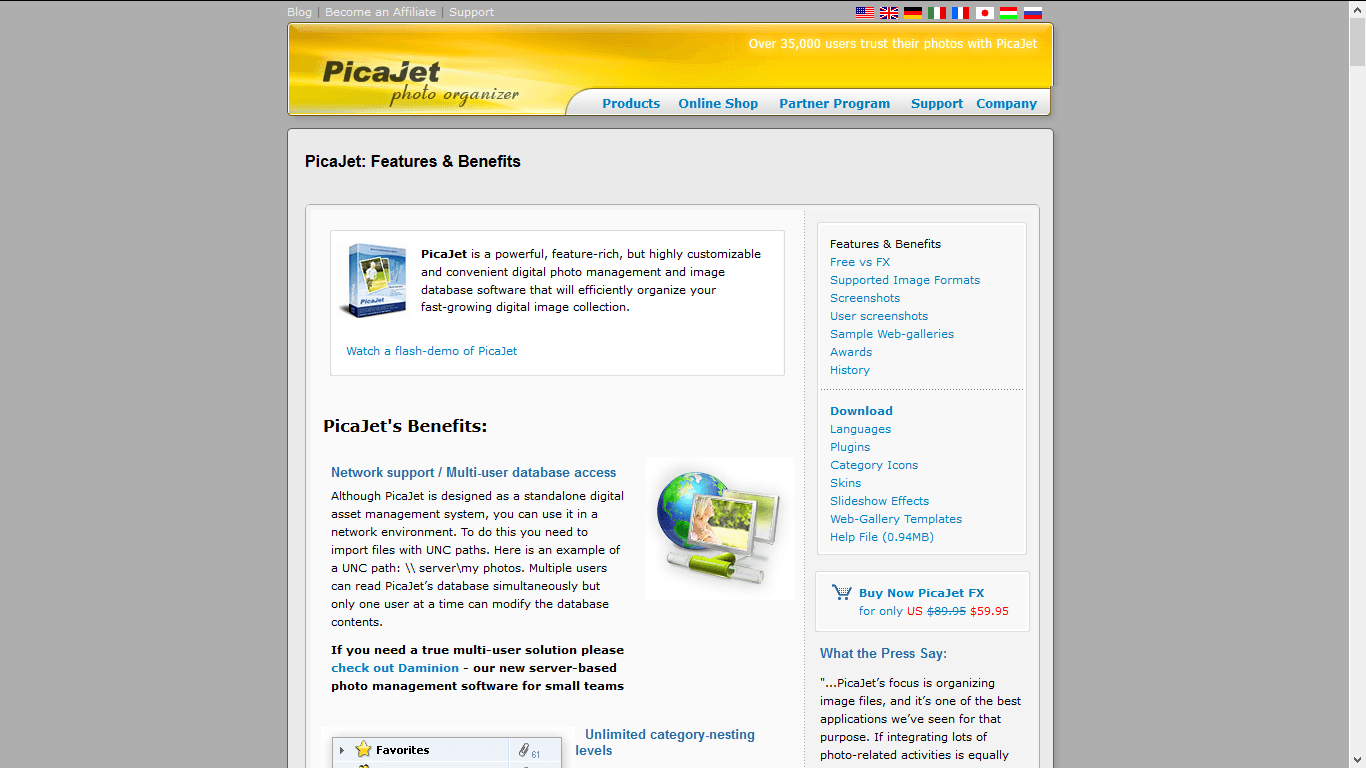 Another photo organizer on the list is the PicaJet. This software supports over 60 image files and image formats, including PNG, GIF, TIFF, JPEG, RAW, and BMP. It also supports and can play all major video formats such as AVI, MPEG2, and MPEG4, which makes it a suitable software for those that want to sort multiple types of media in a single place.
PicaJet gives multiple users access to photos simultaneously using their servers but it's only one user that can modify the content database at a time. Like many other photo organizers, PicaJet has great editing tools, including red-eye removal, sharpening, cropping, and color correction.
IrfanView
IrfanView is a photo organizer with a user-friendly interface and supports a large number of files. While this software may not be the best photo organizer, IrfanView has many amazing features, including viewing photos with thumbnail and has preview options.
IrfanView photo organizer is designed with a batch scan interface and batch image conversion, as well as a multifunctional image editor that allows users to crop, draw, blur, sharpen adjust and straighten images. This software also allows you to add watermarks, create slideshows, and burn your photos into CDs.
PhotoQt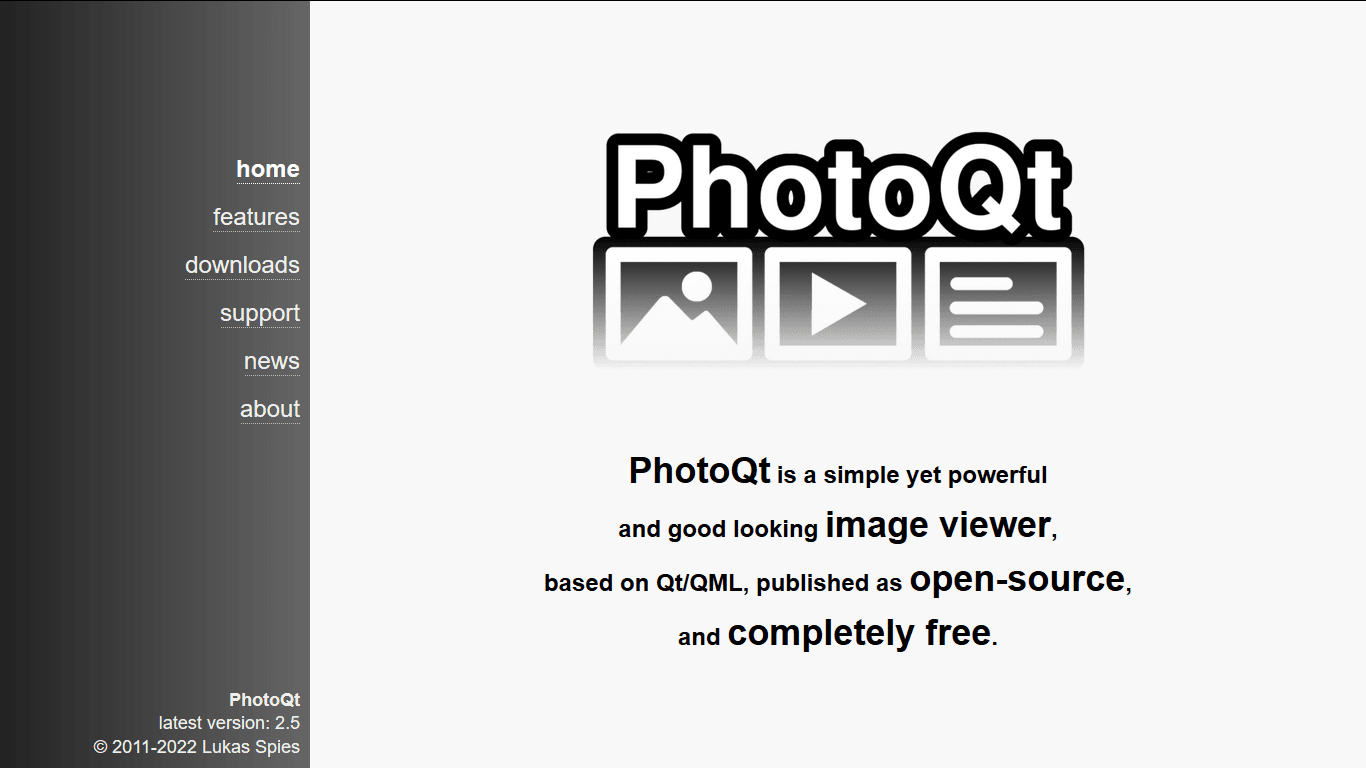 PhotoQt is another open-source photo organizing software available for users to edit and organize photos. The software is very easy to use and it supports both photos and videos editing. An amazing fact about this software is that it can convert images between formats and offers a slideshow feature for simple viewing.
Another feature of PhotoQt is the touchscreen control making it suitable for iPad users. Also, it has keyboard and mouse shortcuts for easy navigation. You can upload your photos online with this software and it has a face tagging option that enables you to sort your photo by face.
PixFiler
PixFiler, formerly known as PhotoArchiver, is an easy-to-use photo management software. The software works with RAW files and you can upload your images from your camera, hard drive, mobile phone, or scanner, and then organize the images with categories, keywords, dates, and ratings.
PixFiler has an option to view images in a slideshow, and it can alert you upon detecting any duplicate files so you can delete them and save storage space. Note that PixFiler only allows for rotating and resizing images only as it doesn't come with great editing abilities.
Wrap Up
To wrap it up, photo organizers are excellent tools for beginners and professional photographers who want to create and organize photos for personal use or business.
We strongly believe that the list of the best photo organizing software listed in this article will improve your understanding of how to successfully sort and edit photos to produce your desired result.
To help you further, we're recommending four photo organizers that are user-friendly and have some amazing features, and they include: