Credit Repair Cloud Review (Repair Your Credit Score in 2024)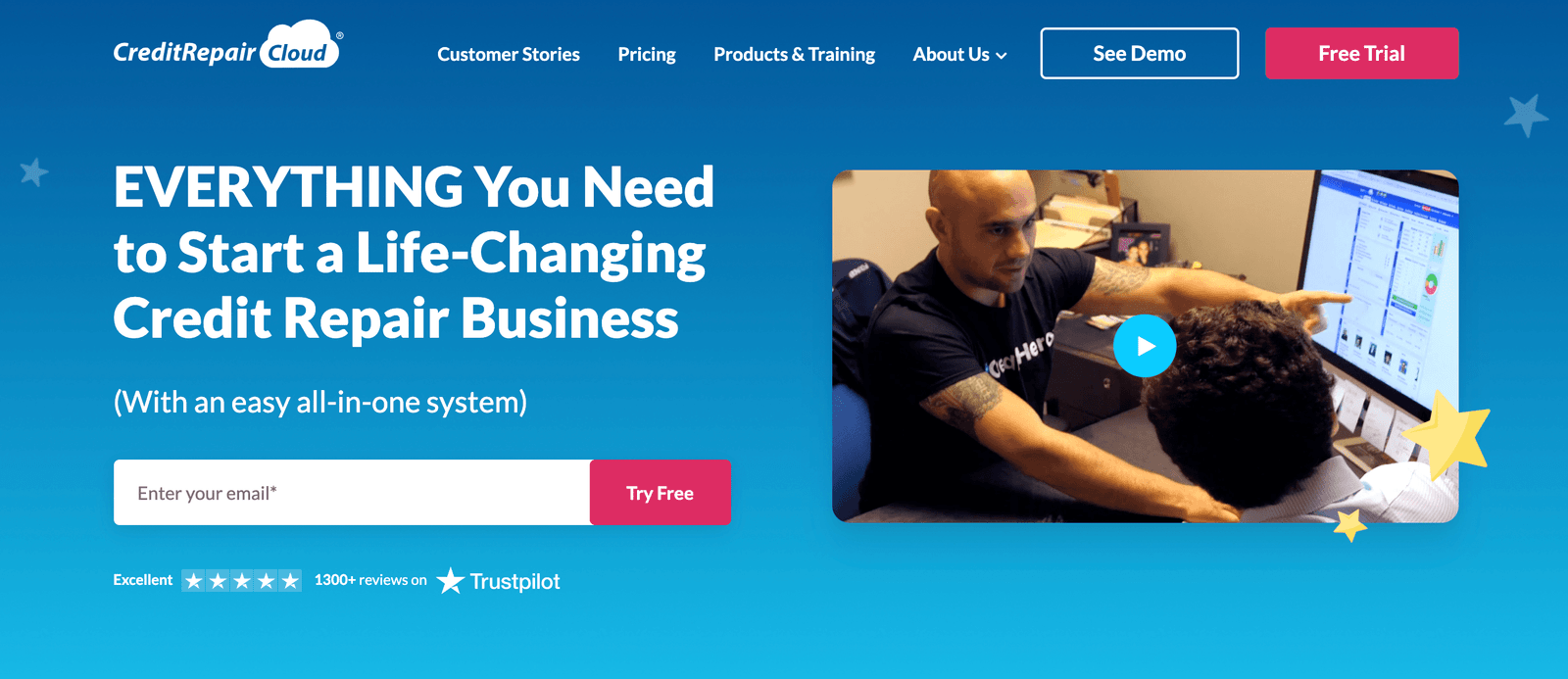 If you work in the credit repair industry, you've most certainly heard of Credit Repair Cloud, and if you haven't, you should have a look at their website.
Using this software can assist you in automating around 80% of the credit repair process, allowing you to expand and scale your business more quickly.
Let's keep things as straightforward as possible… While there are many other types of credit repair software available to select from, and many of them claim to be #1, you'll see why Credit Repair Cloud is the best credit repair software for starting, growing, and scaling your credit repair business in this article.
What's the greatest part? Using Credit Repair Cloud's tools and training, you may start your own lucrative credit repair company in as little as a few months.
If you want to get the best of this review, it will do you more good to stay glued to this article and read through every line as we have curated every bit of it to answer your questions about cloud repair cloud and why it is our best choice for this review.
What Is Credit Repair Cloud?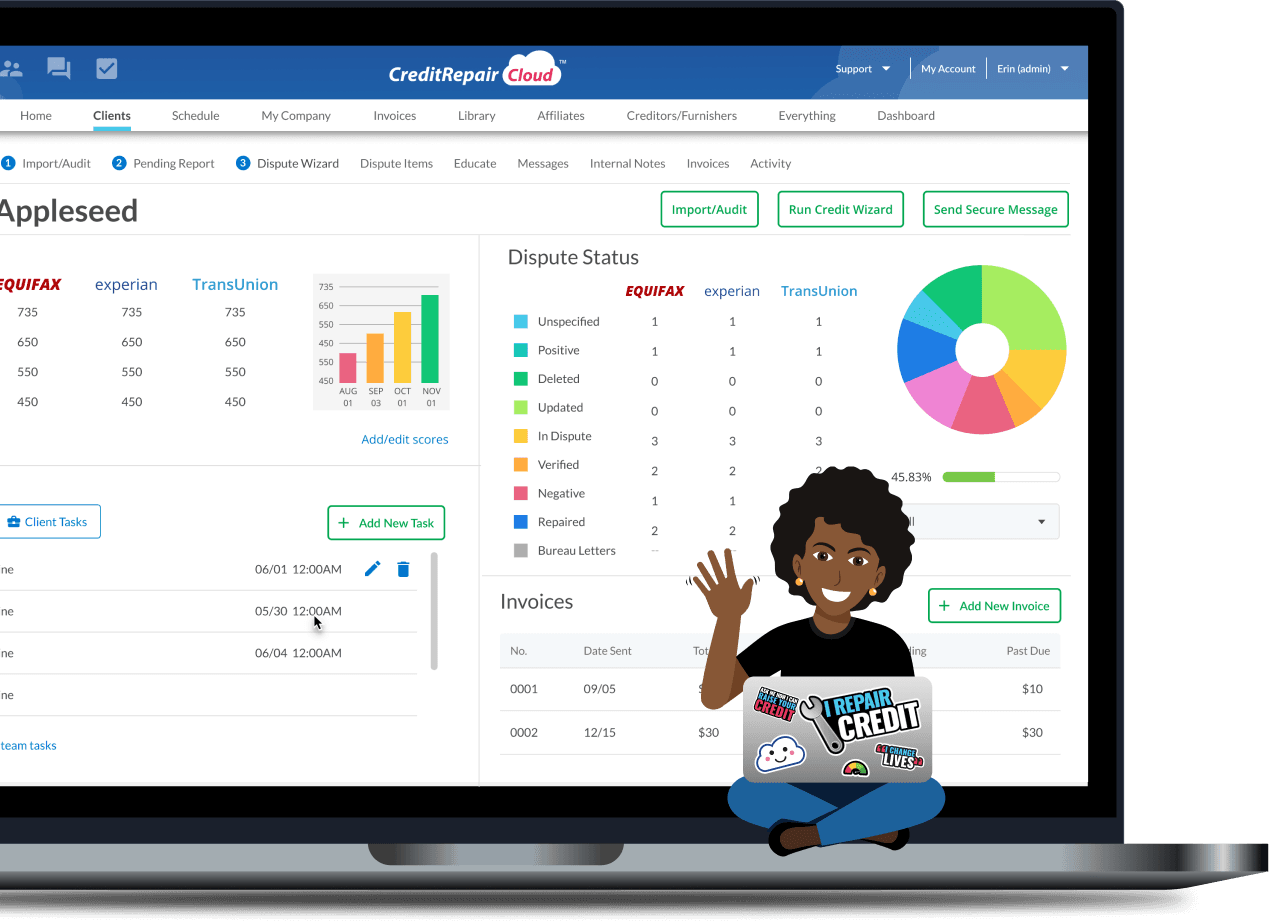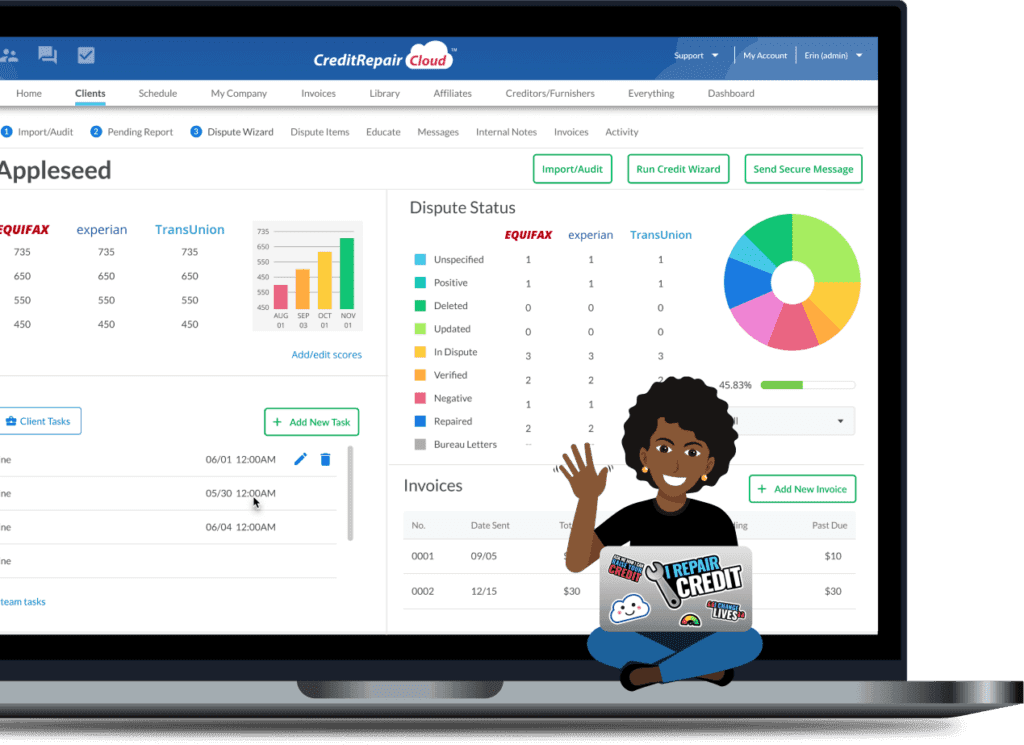 After pulling his hair out trying to repair his own credit, Daniel Rosen founded the first Credit Repair Software (Credit-Aid) in Silicon Beach, California in 2002.
He saw a demand for this sort of program, which enabled him to become the industry's largest credit repair software provider.
Many well-known credit repair companies now utilize Credit Repair Cloud to assist their customers in improving their credit.
Credit Repair Cloud is a credit repair platform that allows you to establish, develop, and expand a business from your home or office.
This program allows you to upload credit reports at ease with a press of a button and helps you send out dispute letters in bulk which saves you hours and hours of effort.
Without Credit Repair Software, businesses would have probably needed to hire dispute processors and admin support, but this allows businesses to save money and scale even faster. It works in combination with any Customer Relationship Management (CRM) system and enables you to mend the credit of organizations and people.
You can either start, run, and grow your own profitable credit repair business, or you can add a whole new source of income to your current business. It's software that makes this possible.
If you have an internet connection and a computer, Credit Repair Cloud can help you start, grow, and scale your business from anywhere in the world. Using this software, you can send out dispute letters in bulk, which saves you a lot of time.
You can also upload your credit report with just one click.
If you look at TrustPilot now, CRC is in the Inc. 5000, and it has 4.9/5 stars.
Author Credentials
Paul Aroloye is an SEO expert, with 9 years experience in writing articles and blog posts on digital technology such as Credit Repair, Bitcoin, etc.
Who are the users of Credit Repair Cloud?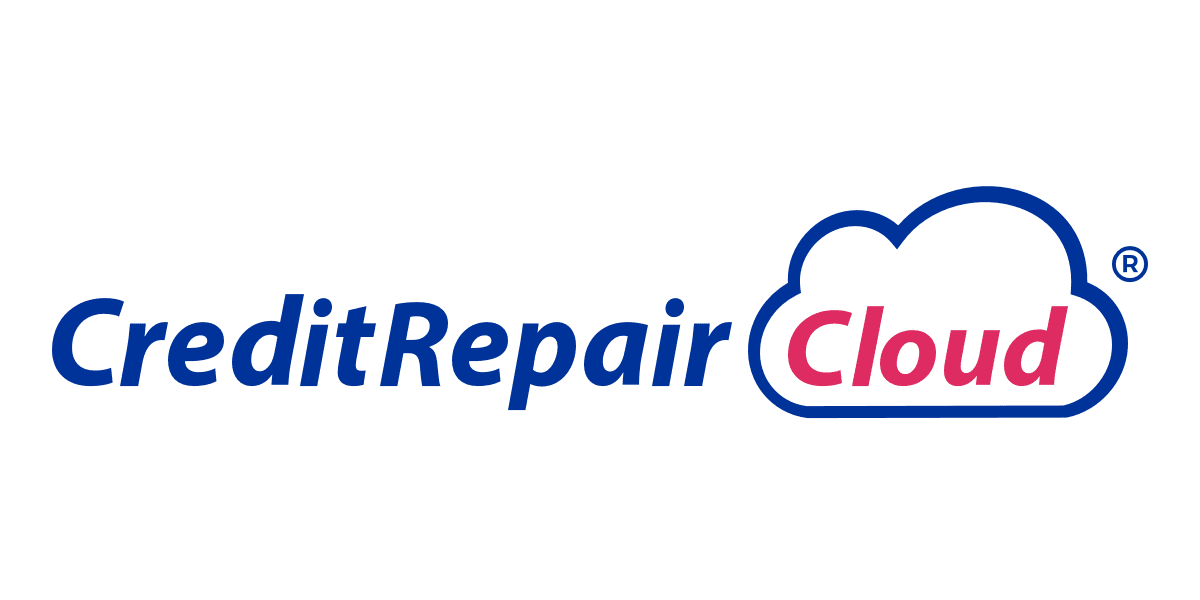 Learning the process behind the Credit Repair Cloud can not only help you fix the problem, but it can also provide you with a new full-time job or side hustle.
Basically, anyone who wants to create a legitimate business and earn money while assisting others in repairing their credit may do so with this service.
Even though you had no prior financial background, starting an online business of this format isn't much of a big deal as you don't need a degree.
In order to become accredited as a credit repair dispute expert through the credit hero challenge, all you have to do is to take the first step in establishing an online credit repair firm.
Credit Repair Cloud is a powerful resource for realtors, loan officers, auto dealers, entrepreneurs, and financial counselors, among other professions and industries.
If you are a realtor, you may find this program useful because you operate in the industry of assisting buyers and sellers with their real estate transactions. If your client wants to refinance or buy a home, he or she will need a strong credit score.
When your client's application is denied, you will be able to work with them to improve their credit score and get them back to the closing table. The same may be said about automobile dealers.
You want your client to get authorized for the lowest interest rate possible, and you want to provide outstanding service to your prospective clients.
If you never gave this a thought before now, it's high time you did.
What is the cost of Credit Repair Cloud?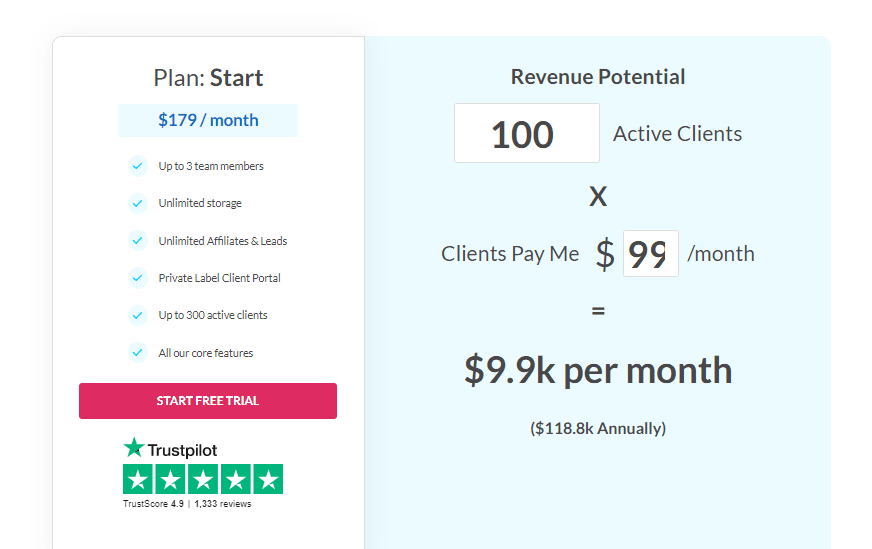 Credit repair cloud comes with four distinct subscription plans.
Start Plan: $179/month (The cheapest plan to start and the best plan to start)
Add up to 3 employees.
Access to core features to train you.
Unlimited storage and affiliates.
Up to 300 active clients.
All dispute letter templates.
Grow Plan: $299/month (best for users who need more active clients)
Option to add up to 6 employees.
Serve up to 600 active clients.
All core features.
Scale Plan: $399/month (Best for those who are scaling fast)
Option to add up to 12 employees or team members.
Unlimited affiliates, leads, and storage
All the core features
Easily provide service up to 1200 paying clients
Enterprise Plan: $599/month
Those who are successful in the stage of your business
You can add up to 24 employees or team members.
Unlimited storage, affiliates, and leads
Incredible part! You can provide services to a maximum of 2400 high-paying clients.
And of course, all the core features are also included in this package.
Why Credit Repair Cloud is our Best Pick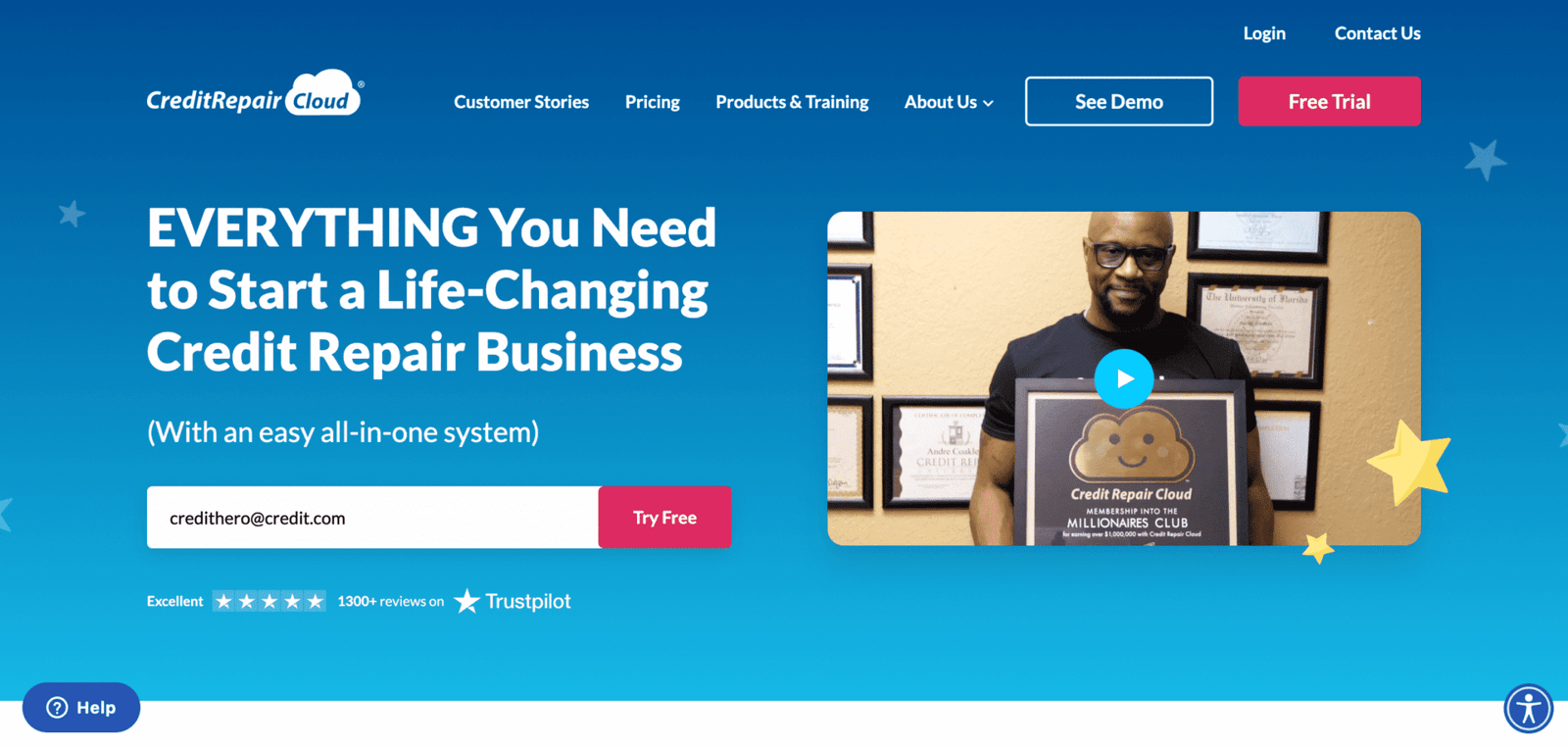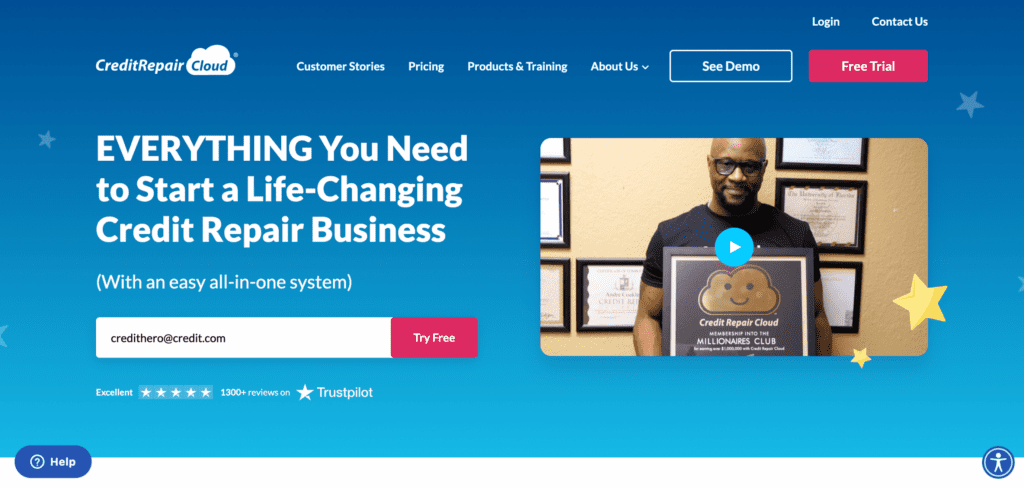 Credit Repair Cloud has helped over 19,000 active users start a credit repair company and has fixed over 9 million credit report items, with 42 of them becoming millionaires.
You can take your credit repair company to the next level with the credit repair cloud by using the same software and training as multi-million dollar credit repair companies.
Not only that, but you can improve your customers' credit scores FAST for house, automobiles, or personal loan approvals.
Credit Repair Cloud provides the following services:
a free podcast to learn more about the credit repair business
free book about credit repair solutions
generate credit audits with 1 click
the Credit Hero Challenge which is a 14-day comprehensive course that teaches you all you need to know to start your own business.
Credit Repair Cloud Software – Their robust software makes it simple to start and expand a credit repair business. Guess what? You can try it free for 30 days!
a 6-week training program to help you grow your business.
Credit Repair Expo — a once-a-year credit repair event where you may hear from industry professionals and meet people who make seven figures.
How to Make Money from Credit Repair Cloud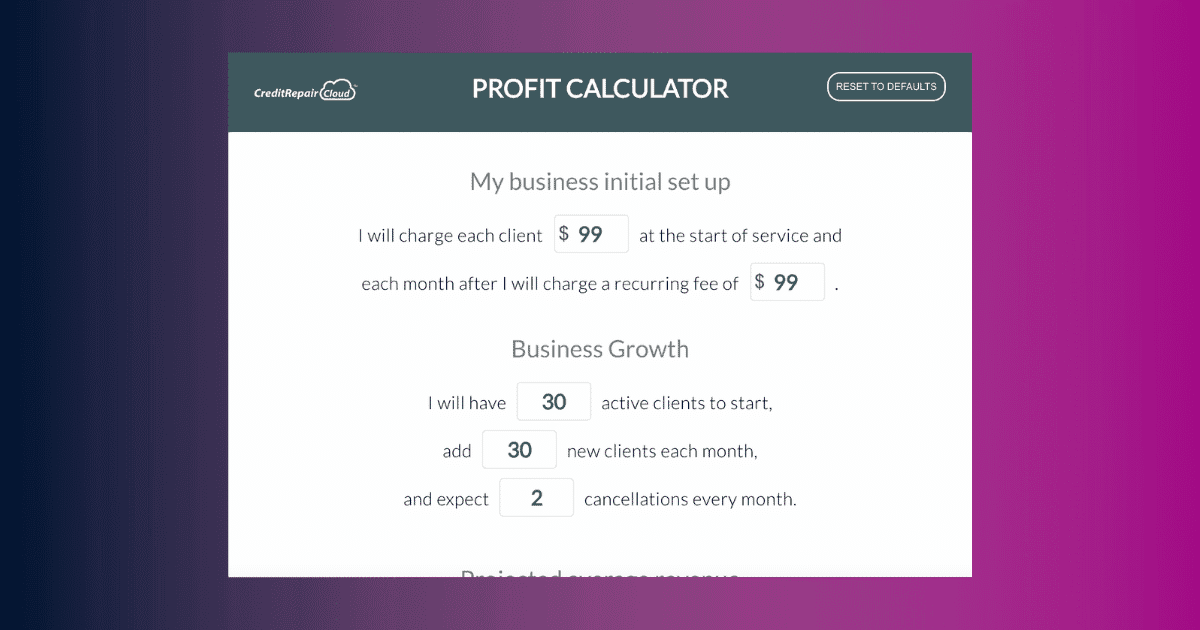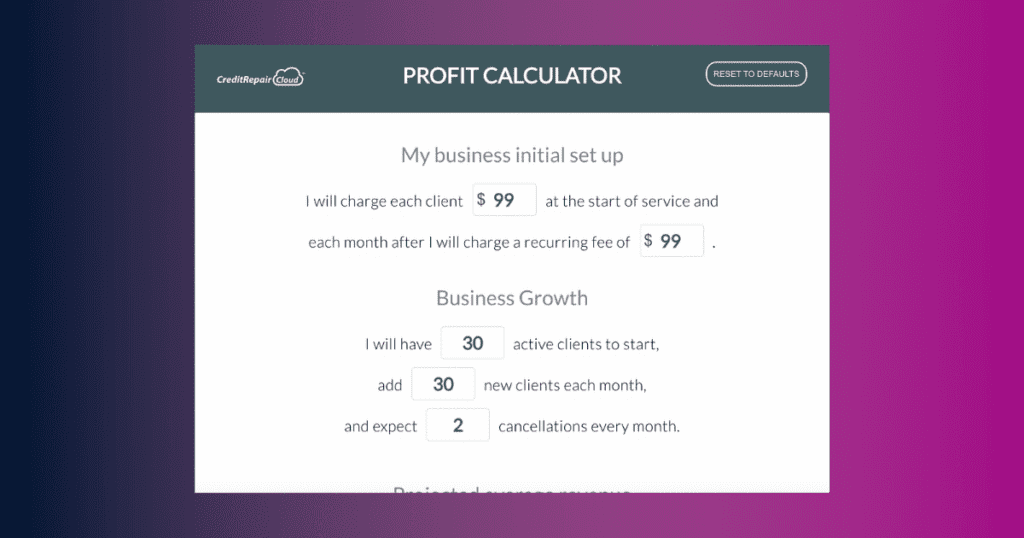 Since its start over a decade ago, the credit repair cloud has profited a plethora of individuals and businesses all around the world. We've put together steps you can take to make money from Credit Repair Cloud.
Making money from Credit Repair Cloud involves 3 distinct steps. These steps include;
1. Get the software
Don't have the funds to get started? Worry no more as credit repair cloud comes with a 30 day free trial for new subscribers. Not just that, you can cancel at any time.
Take advantage of the same power that has propelled hundreds of successful credit repair businesses from start-up to enterprise, and get an all-in-one solution to establish, operate, and develop your own company.
2. Take the challenge
One particularly impressive feature of Credit Repair Cloud is that they will guide you through the process of starting your own Credit Repair Business (even from the comfort of your own home).
Simply working with their Credit Hero Coaches will allow you to land your first client within 24 hours, see results, and launch your business with no prior business experience!
Nonetheless, there are three stages to this process, which are as follows:
Week 0: CEO Mindset Training and Pre-Training Sessions
Week 1: Credit Repair Training with a Credit Repair Expert
Week 2: During week two, you will receive business training as well as your first client.
3. Start changing lives and making money
You may confidently grow your purpose-driven business while earning a comfortable income in the process.
Using our industry-leading software and sophisticated training programs, you'll be equipped with the skills and knowledge you need to develop a profitable business and make a significant impact on the lives of others.
As a Credit Hero, you are a member of a global movement of people who are dedicated to making a difference in the lives of others!
CRC software makes it simple to kickstart your business and expand it quickly, allowing you to make a difference while earning a good life. So, why waste time in giving this a thought?
Top features of Credit Repair Cloud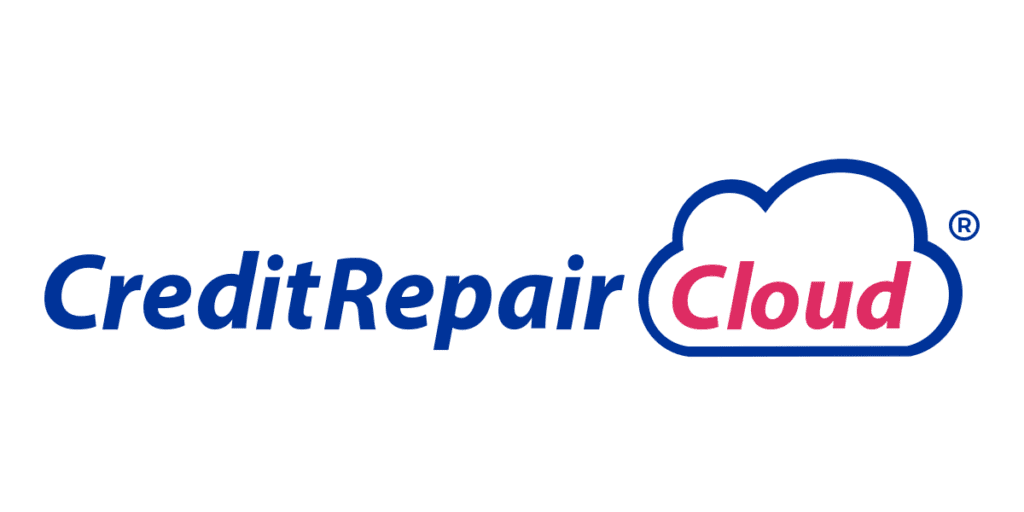 The credit repair cloud comes with several amazing features. These features make it stand out amongst other credit repair software that this review would be incomplete without writing about them.
Let's quickly take a look at some of the best features of Credit Repair Cloud:
allows you to grow your business by adding clients
with a single click, import credit reports and create credit audits
allows you to generate dispute letters
billing and invoicing systems that are fully automated
printing in bulk
integration of desired payment methods
capabilities for electronic signature
system scheduling
lead generation using your website
add as many affiliates as you like
A fully functional company website
there is no additional charge for adding letter templates
Estimated earnings of a Credit Repair Cloud specialist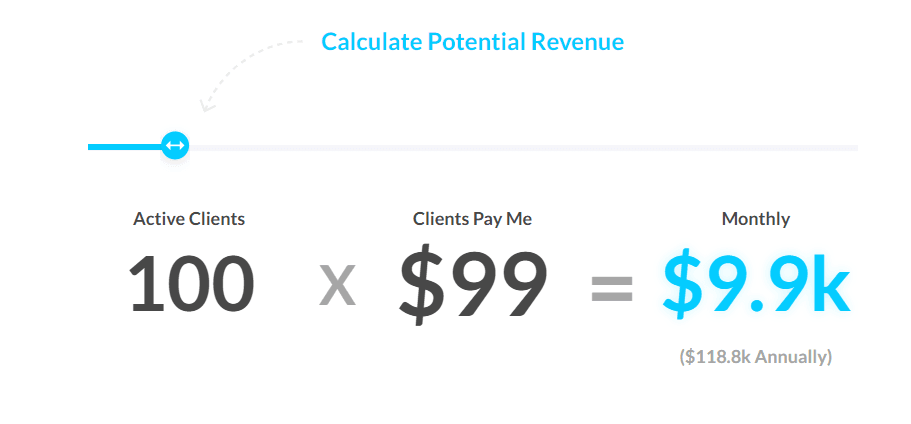 What income can you expect as a credit repair specialist? According to the industry standard, each client pays between $79 and $99 every month.
You may make a good living with 50-100 customers and an annual pay ranging from $47,400 to $118,000 (on average).
Pros & Cons of Credit Repair Cloud
PROS
You get a money-back guarantee with no questions asked
They provide really useful free training
You may sample their program for 30 days for free trial
Software that is simple to use and intuitive
Integrated marketing materials
This program has helped in the creation of more than 35 millionaires
Customer service at the highest level
Sole ownership of data
CONS
Generating leads isn't guaranteed
It is essential to process credit reports with caution
Make a commitment to having great customer service skills in order to educate your customers
You won't make a lot of money right immediately, but you will eventually (It is not a get-rich-quick scheme)
Legal and Industry Insights of Credit Repair Cloud
When it comes to credit repair services, legal and industry insights are important for business owners to understand and consider.
Industry trends in credit repair services may include an increasing demand for credit repair services due to financial challenges caused by the economic impact of the COVID-19 pandemic.
Additionally, businesses must keep abreast of changes in laws at both the state and federal level that regulate credit repair businesses.
It is also important for credit repair businesses to be aware of and comply with fair debt collection practices as outlined by the Federal Trade Commission (FTC).
Businesses should also adhere to all applicable state laws governing consumer protection, including any special regulations regarding credit disputes or services provided by debt collectors.
Additionally, lying to your clients can have serious legal repercussions, so it is important to be honest when dealing with customers.
Finally, running a business ethically means going above and beyond what is required legally, being transparent about all processes and procedures related to customer service, and always remaining truthful when communicating with customers.
Ensuring that employees are trained properly on customer service policies as well as industry standards will help ensure compliance with these principles.
Do we Recommend Credit Repair Cloud?
Yes, without a doubt! We would suggest Credit Repair Cloud over and over again since it is not only legit, but also easy to use (although, you have to learn the ropes).
Hence, if you're willing to put in the effort and truly help people in ways you couldn't have imagined, you should seriously consider Credit Repair Cloud.
The joy of receiving a message from a customer informing them that they can finally refinance or purchase the automobile they wanted is the nicest feeling in the world and one that never gets old.
Credit Repair Cloud Integrations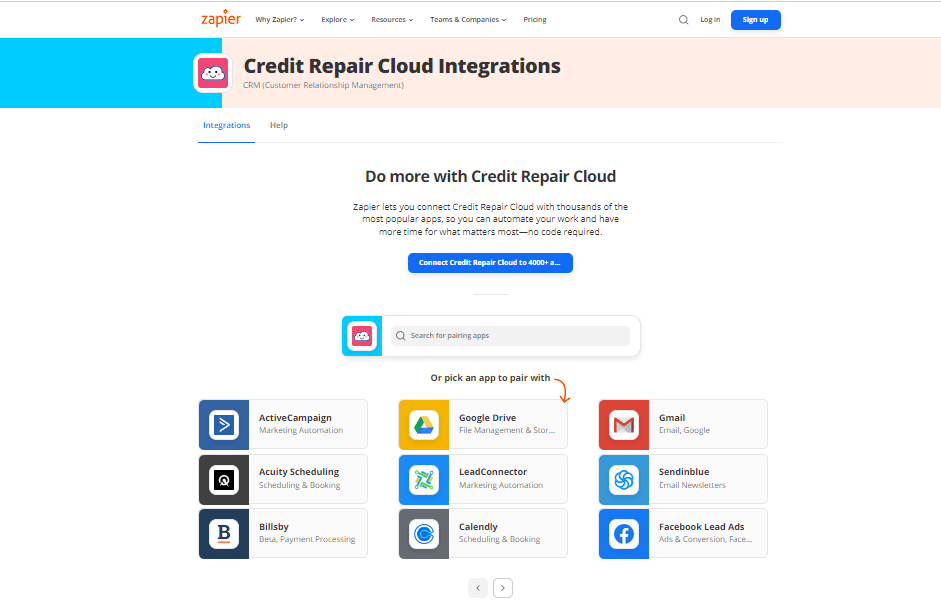 Zapier allows you to link Credit Repair Cloud with thousands of the most popular applications, allowing you to automate your work and free up more time for the things that matter most to you—all without writing a line of code.
With the help of Zapier, Credit Repair Cloud can interface with hundreds of different applications. Zapier allows you to connect or link your credit repair cloud account with other software applications that you use in your business, such as Active Campaign, CRMs, and Sales Funnels.
Comparing Credit Repair Cloud With Other Tools
Credit repair cloud can mostly be compared with non other than credit pillow, credit admiral and track star, which are 3 different creadit repair services with different features and uses.
Credit Pillow is designed to serve Startups, SMEs, etc..
Credit Admiral is a fully featured Credit Repair Software. Starts at $1.
Track Star
Helps to build and secure credit softwares.
Credit Repair Cloud Customer Reviews and Testimonial
Testimonial 1

"Great company they also have great training when it comes from learning and growing my credit as well as the credit cleaning business."-Willi Sinclair
Testimonial 2
"Great company with the best product and best support. I could not be happier working with them and building my business with Credit Repair Cloud"- Robert Stockholm
Credit Repair Cloud FAQ
What is the best credit repair software?
Credit Repair Cloud has been getting better and always puts the customer first. We believe that Credit Repair Cloud is the best credit repair software for business owners.
Bulk disputing, dispute letter templates, CRM and integrations, and a live support team are all things that make a good credit repair software. Credit Repair Cloud has all of these things and more.
Is Credit Repair Cloud Legit?
It is true that this credit repair organization is legitimate, as determined by our Credit Repair Cloud Review, but it will take some work in the beginning because you will be learning a new skill and utilizing the program.
Simply taking a look at the free courses that the organization offers or enrolling in one of their paid training courses is all that is required of you.
Furthermore, Credit Repair Cloud provides you with a free 30-day trial period, which you may cancel at any time.
Is a credit repair certification or license required to get started?
Absolutely not, you don't need any qualifications or licenses right now, but it's a good idea to receive the necessary training from groups like the Credit Hero Challenge.
What exactly is the Credit Repair Cloud Challenge?
Daniel Rosen's Credit Hero Challenge is a 14-day credit repair course that will teach you how to start, build, and grow your first credit repair business.
Wrapping up the Credit Repair Cloud Review
As a final point, we would like to point out that Credit Repair Cloud provide you with a great opportunity to grow your credit repair business and boost its overall size. We are confident that all of the credit repair clouds reviews you will read on our site will provide thorough and correct information.
Starting a credit repair business may be quite successful, especially if you use software like Credit Repair Cloud to manage your business.
If you start this, you should expect a lot of "no's" and a lot of people labelling you a fraud as a result of the actions of a few individuals who have wrecked the business. The first step in achieving success is to establish a brand and earn the confidence of your target audience.
Credit Repair Cloud provides more than you could have imagined, thanks to an incredible range of services and an inexpensive price.
You have the potential to change the lives of a large number of people in addition to generating millions of dollars via the use of this software.
Do you know that the most enticing aspect of this program is that you only need to gain two clients in order to recover your investment while the other is a profit? That's correct, it's unbelievable.
Subscribe to their free course if you want to make a life-changing income while also making a living for yourself. Who knows, one day you could be able to establish a company that is ranked among the best credit repair organizations in the country.
Instead of wasting your valuable time pondering how to begin, start by checking into Credit Repair Cloud and obtain the results you desire right away! Do leave a comment.