25 Best Free DAWs of 2022 (Windows and Mac)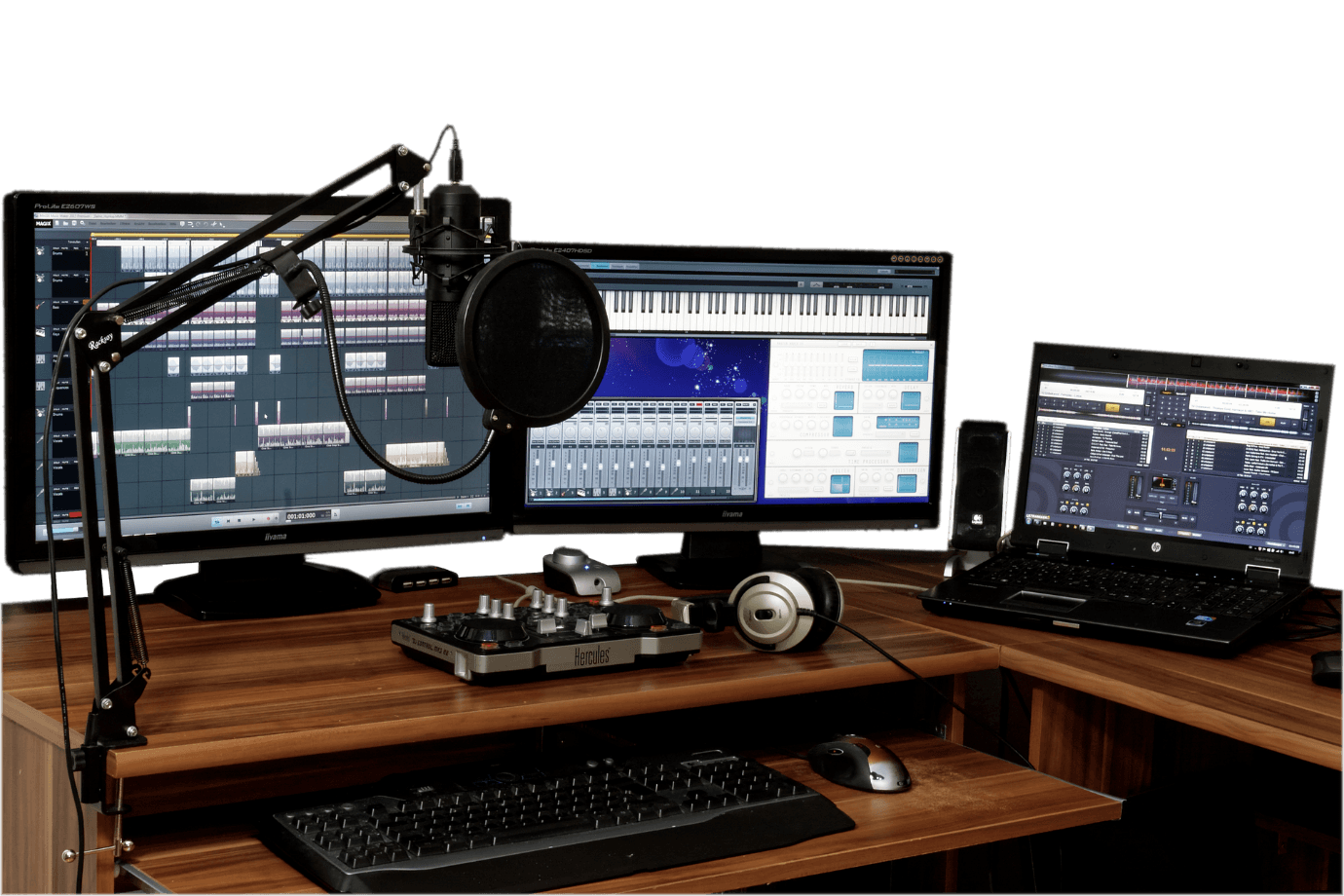 Do you want to know more about the best free DAWs (Digital Audio Workstations)available on market in 2022? If yes, do not search further – sit back and relax while we take you through the world of exciting DAWs.
Music production has taken a great turn over the years. Gone are the days when creating and editing music can be so expensive. We are now in the era where we can create and mix hit songs in our basements – all thanks to the invention of Digital Audio Workstations.
There are lots of digital audio workstations (paid and free) but keep in mind that this article focuses only on the best free DAWs of 2022 for both Windows and Mac users. It's one thing to make your music get the attention of listeners and get onto streaming platforms, but it's entirely another thing to produce the music from scratch using DAWs.
Free DAWs are invented to resonate with the budget of many music producers and it allows them to create, edit, and record music at no cost. Music producers can now create as many hit songs as possible depending on their experience and versatility.
A Brief Overview of DAWs
Right before we dig deep into the best free DAWs of 2022, it's ideal for you to know what DAW is all about. Speaking of DAW, we refer it to as an application or software used for creating, editing, mixing, recording, and producing audio. DAW provides a real-time preview with different amazing sound effects.
As you may know, it's not until you spend thousands of dollars before you can get your music into people's speakers, you can do the same at no cost. Free music-producing software or DAW allows working with MIDI files with high-resolution themes and a wide range of music effects.
The best free DAWs listed in this article are tested and trusted. You can create and edit many hit songs with these DAWs to an appreciable level depending on how you manage them. The DAWs, even though they are free, have several amazing and reliable features useful to music producers in creating and editing music.
List of the Best Free DAWs of 2022
Just like the paid DAWs, there are several best free DAWs available right now on the market. It's only left to the music producer to choose the most suitable software to use in editing and mixing audio.
So, if you desire efficient and feasible free DAWs to explore your career in music production, we've compiled the list of the 25 best free DAWs. All you need is to go through them and pick the most suitable software for you to kickstart your career in music.
1. GarageBand
GarageBand is one of the best free DAWs currently on market. It was released in 2004 and has become one of the favorite DAWs used by many music producers. GarageBand is only available for Apple devices, and you automatically have this free DAW if you own an Apple device.
This free DAW provides a sound library that includes guitar, drum, etc. It also enables users to share tracks via social networks or email. GarageBand is the perfect software to tinker with MIDI, tracking, and mixing before taking the plunge with weightier software.
Key Features
Offers a simple and fast way to create, share music, and save the track as a ringtone.
GarageBand enables users to create a virtual session of a drummer, and users can make professional sounds without any instruments.
Built-in learning lessons, including explanations for learning guitar and piano effortlessly.
2. Cakewalk by Bandlab
Cakewalk has gained a lot of popularity among music producers recently. However, this software is only compatible with Windows operating system – Apple users will not be able to use the software.
This software enables users to work with unlimited MIDI and audio tracks. Also, it allows users to perform some tasks including adding drum sound to their music and mixing sounds with clarity.
Key Features
Cakewalk enables users to easily compose songs and performances with creative songwriting tools.
Provides studio-quality effects and allows users to polish their finished mixes.
It allows users to publish songs directly to social media platforms such as Facebook, SoundCloud, YouTube, etc.
3. Ableton Live Lite
Ableton Live Lite is one of the most famous and easier software available on market for live music. Although Ableton Live Lite is free software, it requires a code for an item you want to purchase. The software allows users to add sound effects and instruments required to starts songs. It also allows users to edit music with less effort.
This free DAW features tools like elegant automation, intuitive sequencer, and professional effects that allows users to record, produce and perform with MIDI-based audio.
Key Features
Offers a wide range of sound effects, including bass and echo to give users more sound options when creating music.
Supports multiple MIDI editing and can arrange music with ease.
Allows users to pitch shift and sequence delays and melodies.
4. Audacity
Audacity is regarded as one of the best open-source digital audio workstations by many music producers. As of 2022, Audacity is currently on 3.0.2 and it ensures access for all users with its compatibility with Windows, OS X, and Linux operating systems.
This software uses a multi-track editor to help users easily edit any sound. It also gives room for users to import or export various files like WAV, OGG, MP3, FLAC, etc. You can try Audacity when making multitrack recordings before dropping the dough on expensive software.
Key Features
Audacity supports numerous plugins and provides real-time previews that show sound effects.
The software can be fully manipulated using a keyboard and it supports 16-bit, 24-bit, and 32-bit sound qualities.
Enables users to visualize the selected frequency.
5. PreSonus Studio One 5 Prime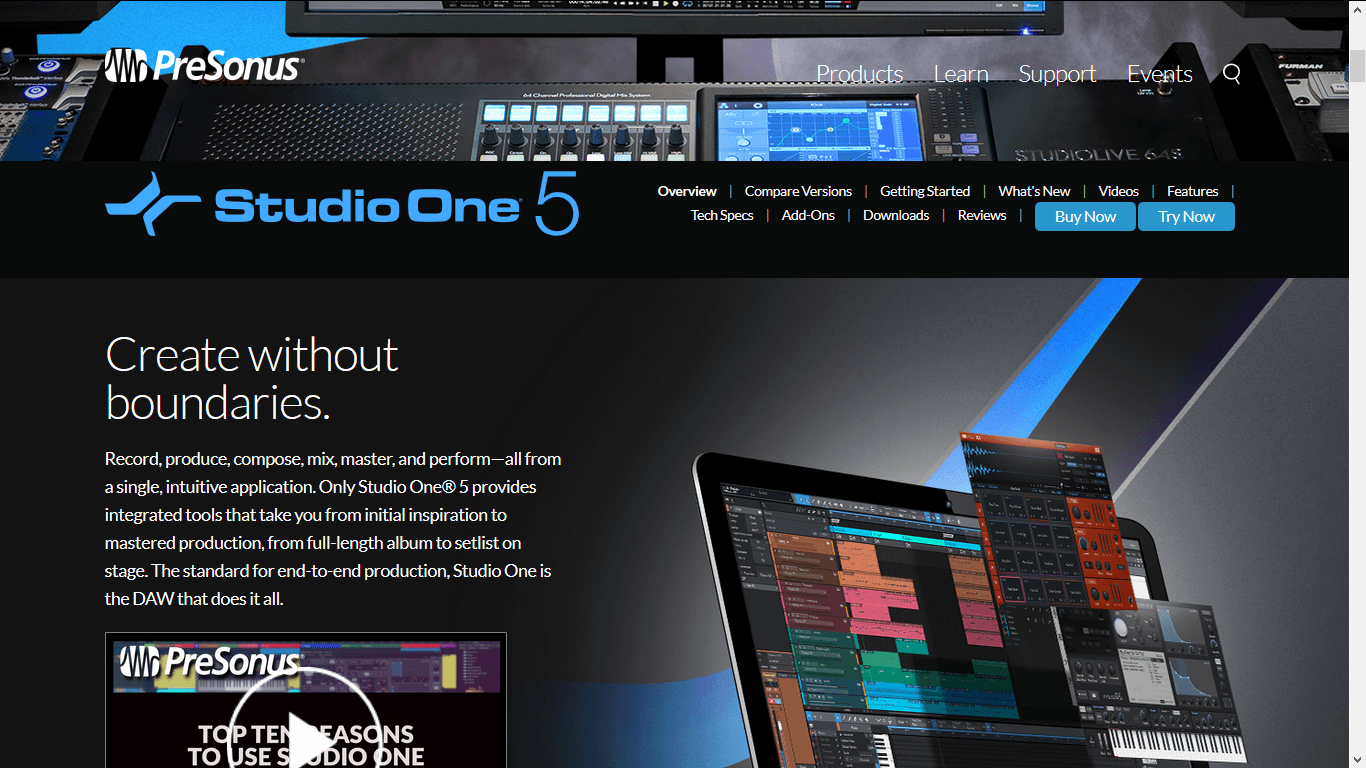 On a professional level, PreSonus' software has been a widely-used software for decades. The software comes with some major upgrades to improve efficiency and workflow. The PreSonus Studio One 5 Prime functions similarly to Pro Tools First and Cubase LE. But it's slightly more functional than its counterparts.
The software provides various sound editing tools, virtual instruments, and unlimited tracks. It also helps manage the speed of the music track and reduces the repeated task of creating music.
Key Features
Offers keyboard shortcuts for ease of convenience and allows users to edit music harmony.
Provides printable notations and files that can be saved in Advanced Authoring Format (AAF).
Allows users to build a combination and sequence of keystrokes.
6. Pro Tools First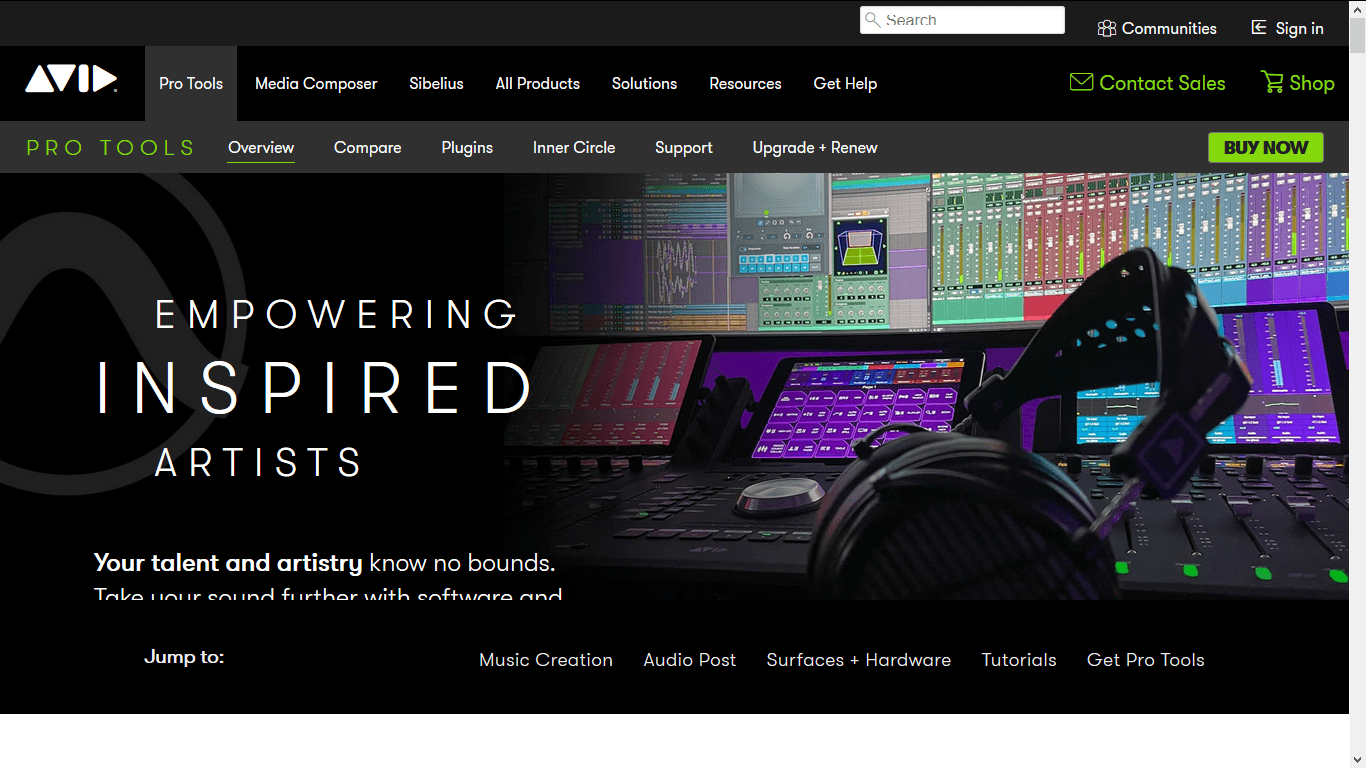 Avid Pro Tools First is one of the best free DAWs that offers a wide range of variety of sound editing toolsets. This software enables users to manipulate MIDI and audio tracks, and it also supports drag and drop features.
Pro Tools First is a lighter and free version of Pro Tools. The software is ideal for anyone new to Pro Tools or any form of audio recording. Also, Pro Tools First allows recording of up to 4 tracks and supports playback for up to 16 audio tracks at a time.
Key Features
Offers non-destructive editing that allows users to make changes to audio without overwriting the original file.
Supports cloud collaboration and allows users to edit MIDI files.
Pro Tools First is one of the few DAWs that supports effects like mute and solo.
7. Muse Score
Muse Score is another amazing free DAW of 2022. It's one of the favorite beat-making software used by many music producers. The software comes with numerous magnificent features that attracted millions of users all over the world to try their hands for music-making.
This software has a wonderful user interface that makes it so feasible and attractive. Another advantage of Muse Score is that it's compatible with Windows and Mac platforms and offers a basic beginner featured mode where users can easily start making their beats.
Key Features
Allows users to record, edit music in parts within the recording and then download them in the file formats such as WAV, OGG, etc. depending on your choice.
Compatible with both Mac and Windows which makes it suitable for millions of users.
Allows transfer to and from other programs via MusicXML, MIDI, and many more.
8. LMMS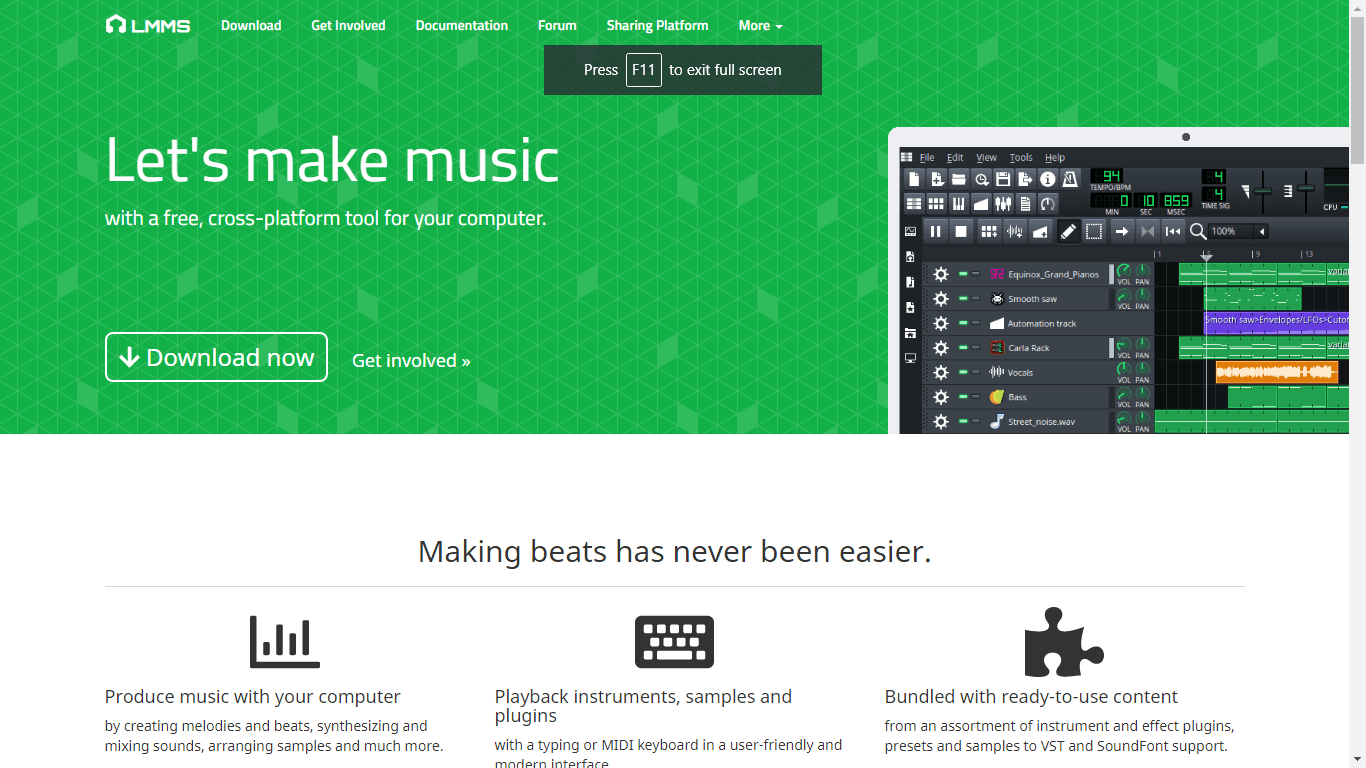 As you may know, LMMS is not your traditional DAWs. LMMS doesn't feature audio recording capabilities like other DAWs, but it's among the best designed DAWs for MIDI recording. The software has a similar function with FL Studio and serves as a solid function for those on a budget.
LMMS comes with an impressive number of synthesizers and the sound effect you can achieve with the software are pretty awesome. The software runs effectively on Windows, Mac, and Linux. So, if you are a fan of bit-music and you have experience with FL Studio, you should consider giving LMMS a trial.
Key Features
Offers ta fast track-based automation and computer-controlled automation sources, and enables users to import MIDI files.
LMMS features a variety of instruments and effect plugins including VST plugins.
Offers an easy-to-use Piano-Roll for editing patterns and melodies.
9. Audour
Our list of the best free DAWs of 2022 also features Ardour. This software is a free comprehensive DAW for Mac OS X, Linux, and Windows. Ardour is designed with a good handful of basic plugins for everyday effects, and it supports VST.
The software is technically not free as it requires $1 per month, but users will enjoy a solid option of great DAW in the end at $12 a year. Also, this software host an infinite number of tracks, buses, channels, and inserts per channel.
Key Features
Enables users to perform multitrack recording as well as editing and it supports many plugins.
Allows users to add solo, fade, and mute effects and compose sound using MIDI.
Ardour is one of the best free DAWs that support drag and drop functionality.
10. Reaper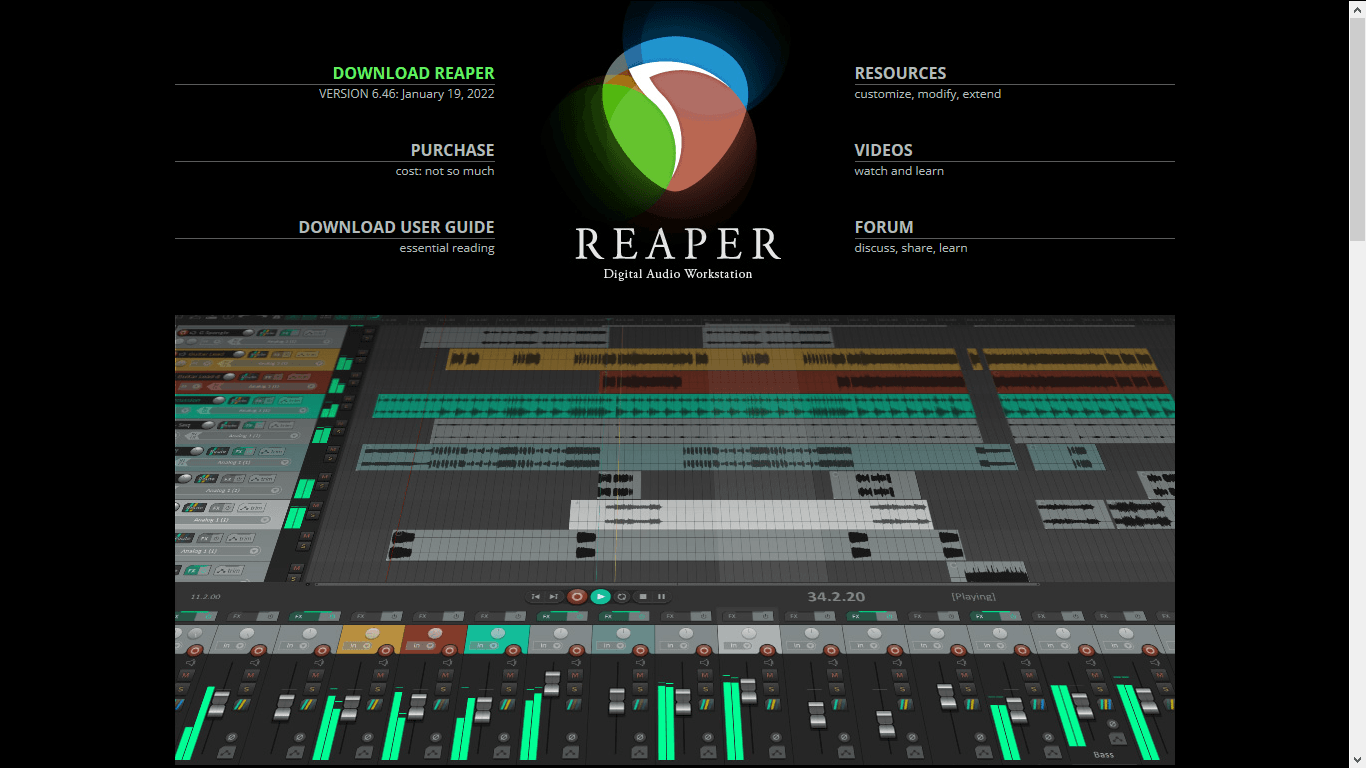 When talking about free DAW software for Windows that can run from a network drive, Reaper is one of those software programs. This free digital audio workstation offers many plugins for adding effects and virtual instruments.
Reaper supports 64-bit internal audio processing, allows users to download customizable themes for free, and it also has great audio and MIDI routing with multichannel support.
Key Features
Drag and drop files to import, arrange, and render – it can apply effects in real-time.
Supports more than 64 routable channels and tempo can be managed without any hassle.
Allows users to record needed audio in any format and users can easily move, split, resize, and loop any audio.
11. Soundtrap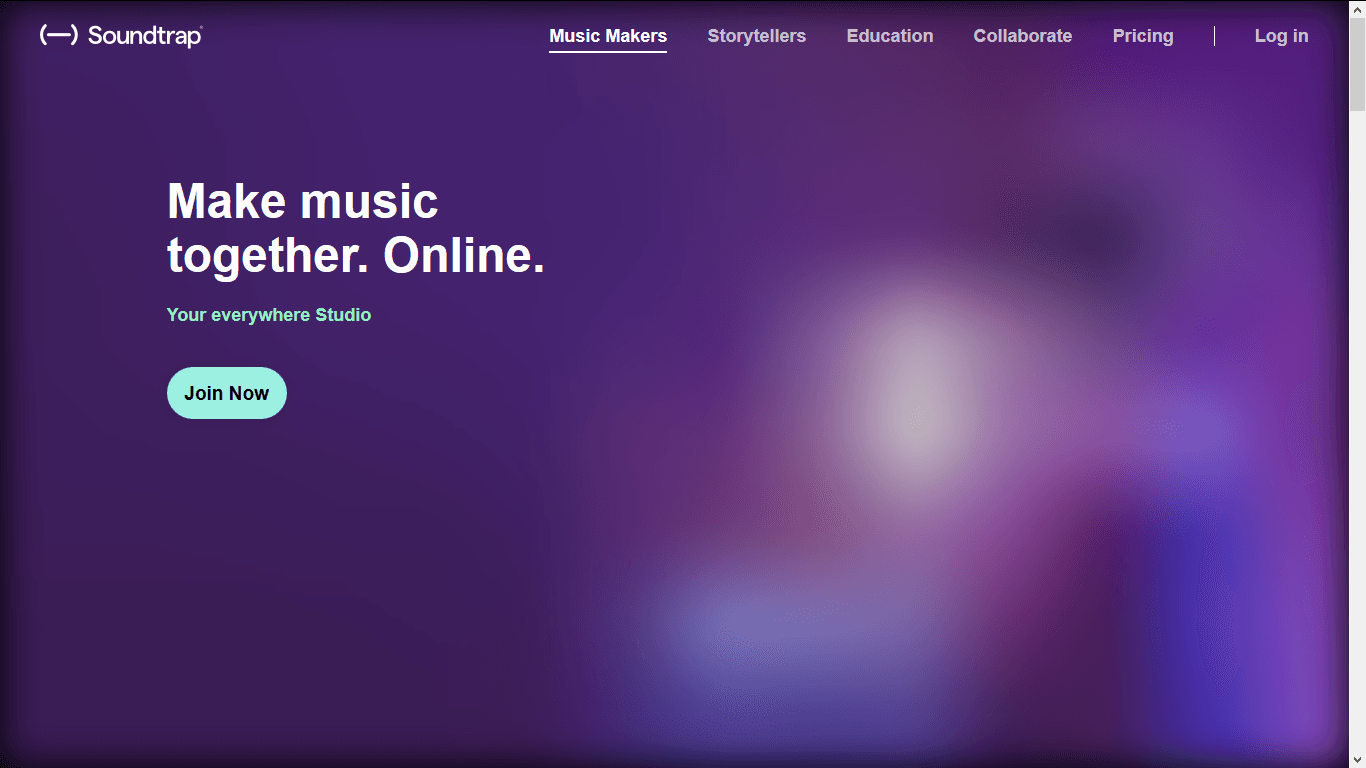 Soundtrap is a powerful and easy-to-use free DAW that allows producers to collaborate on music projects. With Soundtrap software, users can produce their music as it integrates the process of composing, recording, and mixing all in one place. Soundtrap gives its users the freedom to define the sounds and quality of their songs.
The software has preset instruments and tracks for any kind of genre and provides tools for synth, recording vocals, loop, or layering them for greater depth.
Key Features
Provides Auto-Tune that allows users to pitch and modify their voice recordings.
Offers over 4,000 audio presets and loops that enhance the quality of your audio.
Allows users to use the sweeping effect, adjust volume, and pan using the automation function of the software.
12. Magix Music Maker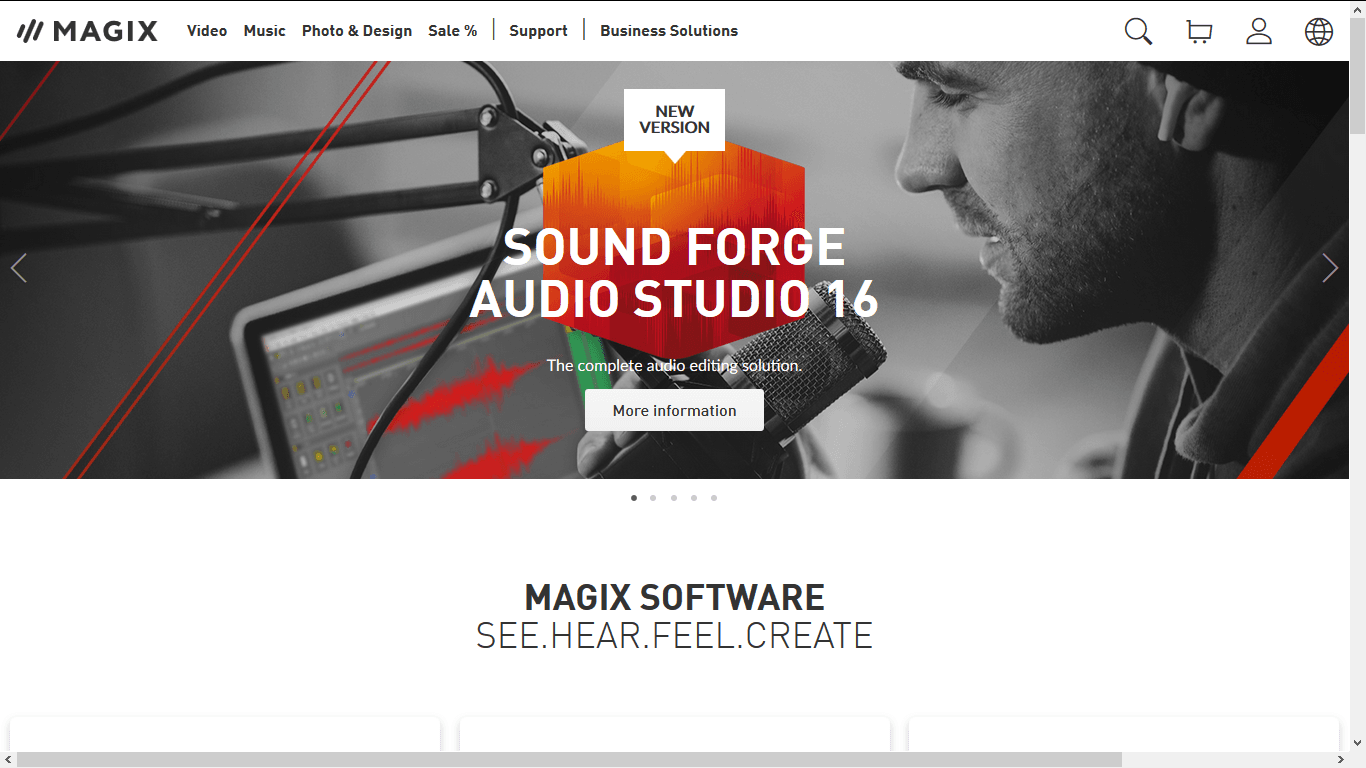 The free edition of Magix Music Maker is one of the best free DAWs that allows users to create music with synthesizers and drum machines, record their vocals and instruments, edit audio files and arrange loops.
The free edition of Magix Music Maker has ease of convenience with powerful built-in sounds and virtual instruments that can combine with users' samples to produce quality tracks. Magix Music Maker has a streamlined user interface suitable for beginners, but it also has enough depth to offer professional producers a lot of versatility.
Key Features
Provides In-App tutorials that help users easily navigate the software in creating high-quality audio effects.
The built-in drum machine adds to the options of sound effects available to the user.
13. SoundBridge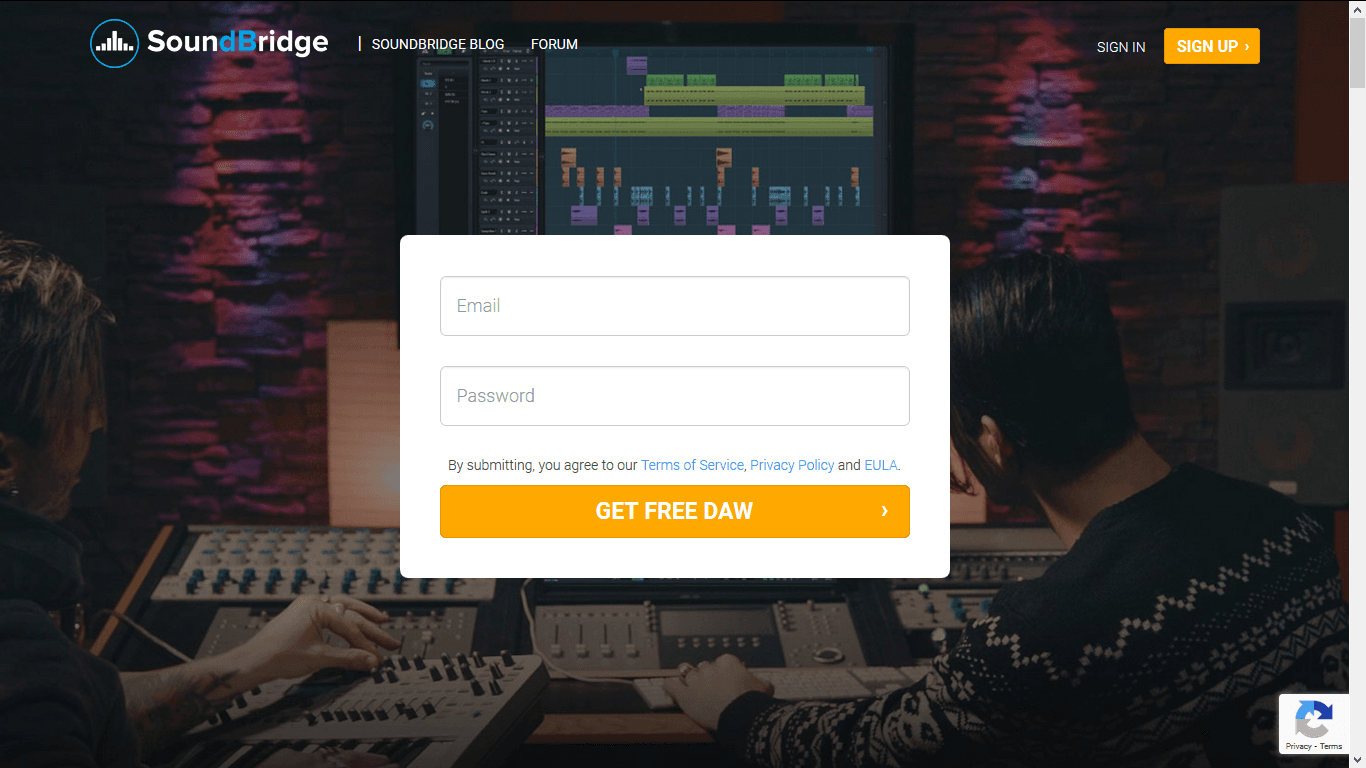 If you are looking for an amazing free DAW that looks clean and simple, then SoundBridge might be for you. SoundBridge, although free, has a very simple-looking interface and comes with all the typical features a regular DAW has. The software allows users to record audio, MIDI, edit tracks, mix tracks, etc. Also, Soundbridge offers complete third-party driver support.
Key Features
Provides a wide range of freeware effects and offers high-resolution themes,
Has a touch interface that enables users to collaborate with other people easily.
The software supports MIDI mapping that enables users to edit audio with ease.
14. Bandlab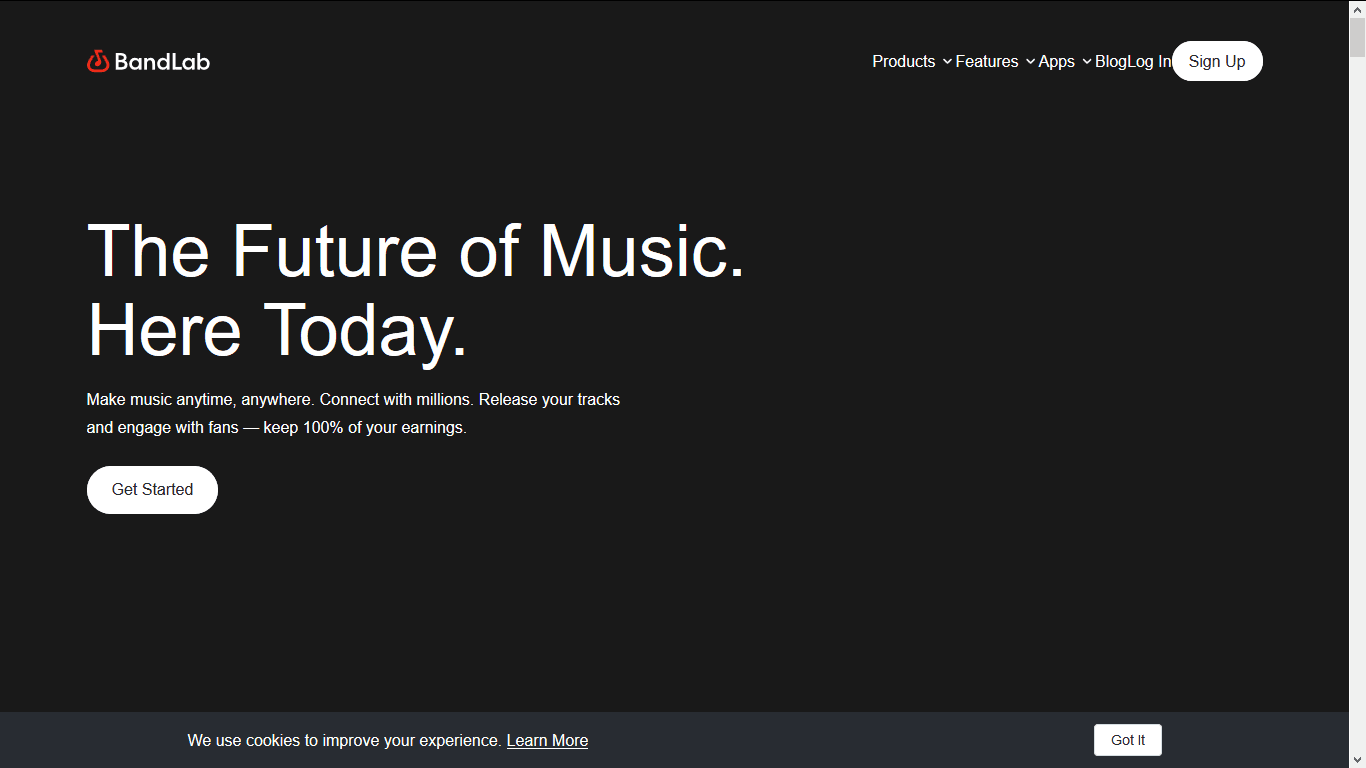 Keep in mind that Cakewalk is owned by Bandlab, but Bandlab itself is another free DAW mainly designed to be used as a collaboration tool, just like the Ohm Studio. It runs perfectly on browsers and is an all-online program. Although it may require internet access to use the software, you can also use it with your mobile phone anywhere.
Bandlab software is pretty versatile and allows you to record and mix at home with no complications. Bandlab comes with over 120 professional instruments such as Guitar amp sims, guitar, vocal effects, etc.
Key Features
Offers over 2000 royalty-free samples of drums pattern, loops, etc.
Allows sharing your music with other producers to allow them to work on your projects.
15. Ohm Studio
Ohm Studio is another amazing music-producing software on our list for the best free DAWs of 2022. The software is free and open-source DAW with cross-platform support. It was created by an international team of developers as an alternative to digital audio workstations that are usually expensive.
This software, aside from its collaborative abilities, is a pretty comprehensive DAW for any new producer looking to maximize their freeware.
Key Features
Has VST plug-in support that allows users to expand the software's functionality with other plug-ins (32-bit).
Offers numerous sound effects and instruments to produce a high-quality mix.
16. Waveform Free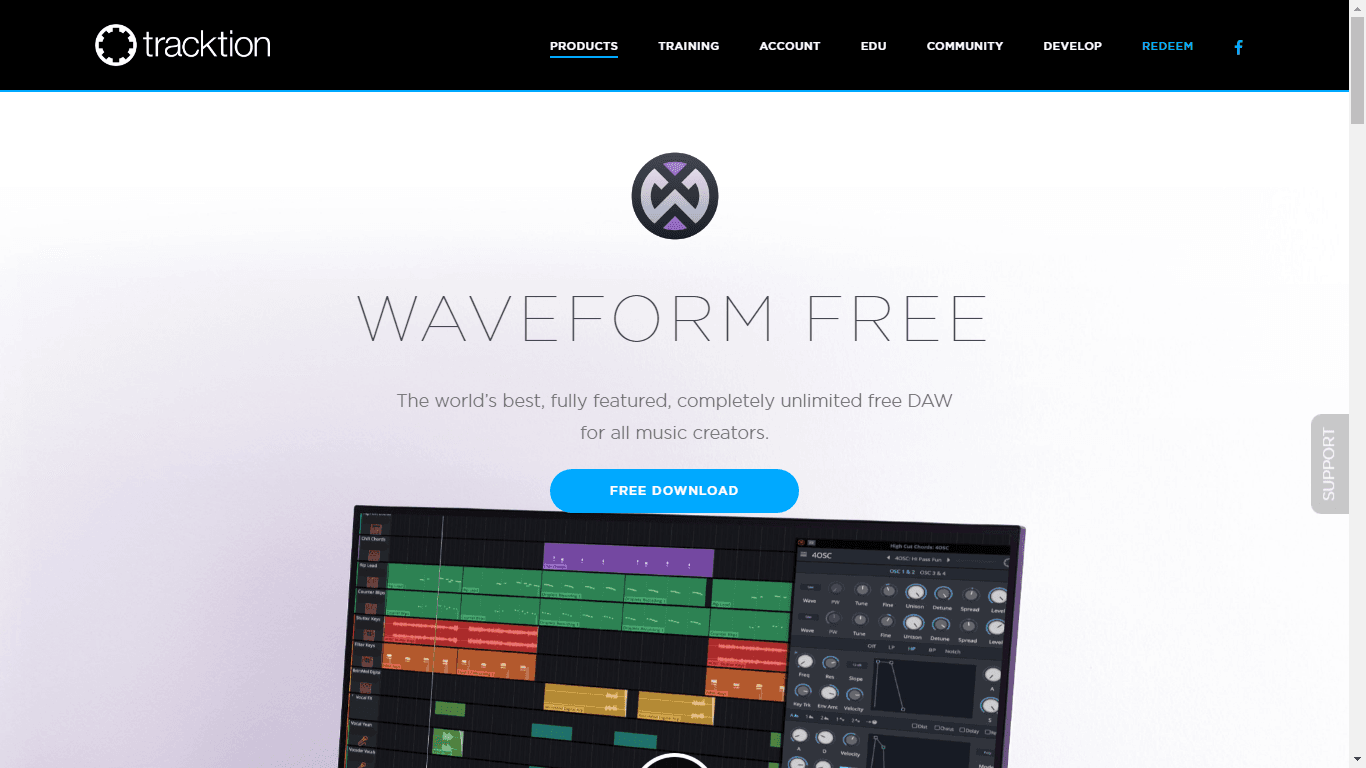 The Waveform is among the best free DAW toolsets that allow unlimited MIDI and audio tracks to create professional songs. With Waveform, you can generate patterns and detailed automation. Many producers use this software to make beats, podcasts, and record instruments.
Key Features
Waveform supports Virtual Studio Technology (VST) plugin and enables you to play a virtual drum.
Allows users to apply effects to individual audio clips and to record band and podcast music.
17. MuLab by MuTools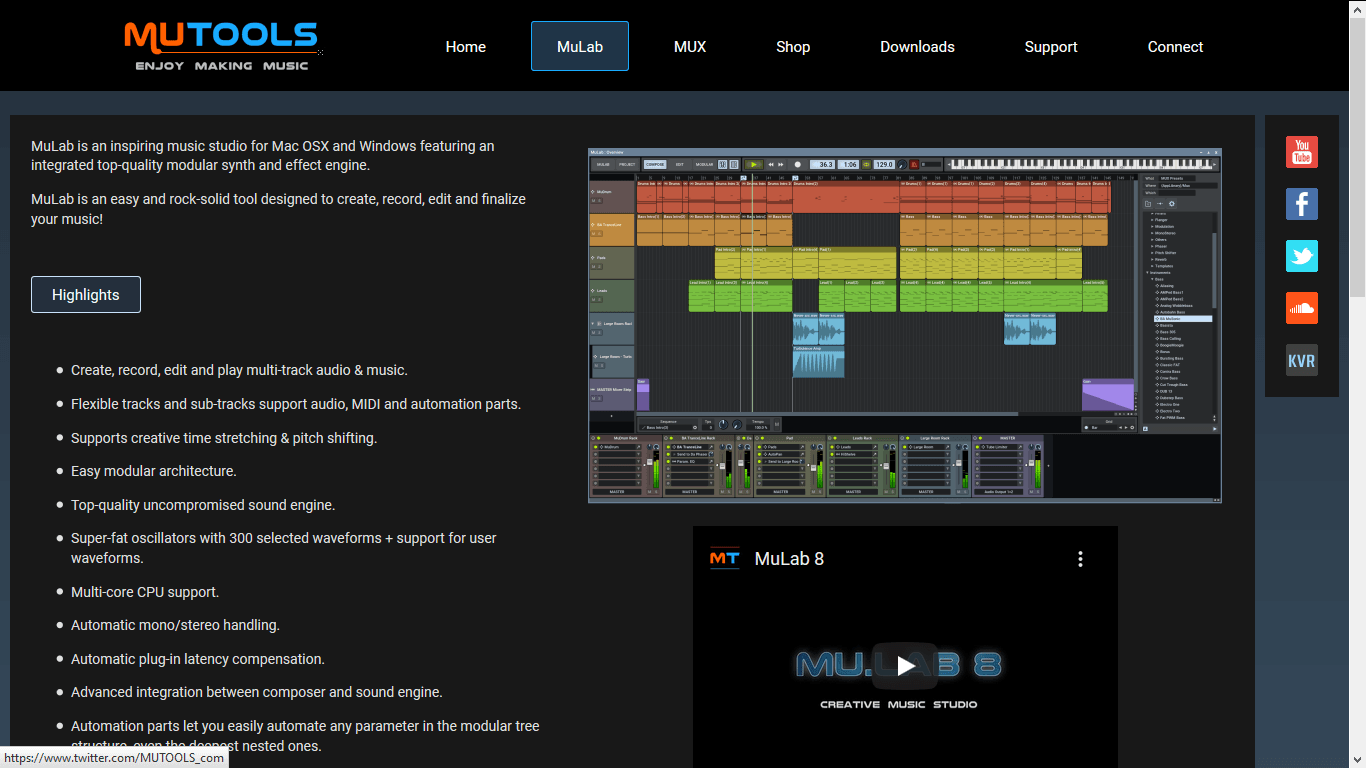 MuLab music software features an enhanced look and feels, with a rich collection of new and improved features. These features run effectively throughout the software which increases the comfort, creativity, and productivity of the software.
The software is user-friendly and straightforward; just drag and drop your items and the software will take care of the rest.
Key Features
Allows users to create, record, edit, and play multi-track audio and music.
Easy modular architecture with flexible tracks and sub-tracks support audio and automation parts.
Offers super-fast oscillators with 300 selected waveforms + support for user waveforms.
18. Podium Free
As its name implies, Podium Free is an open-source tool that helps users to mix and edit MIDI audio files. It's one of the best free DAWs that allows users to work on multiple projects with no complications. It also allows users to add sound effects to audio files or change sample rate, pitch bend, channel, etc.
Key Features
Allows users to build their plugins.
Offers a customizable user interface and provides multi-channel audio.
Allows usage without installation and it supports VST plugins.
19. Stagelight by Open Labs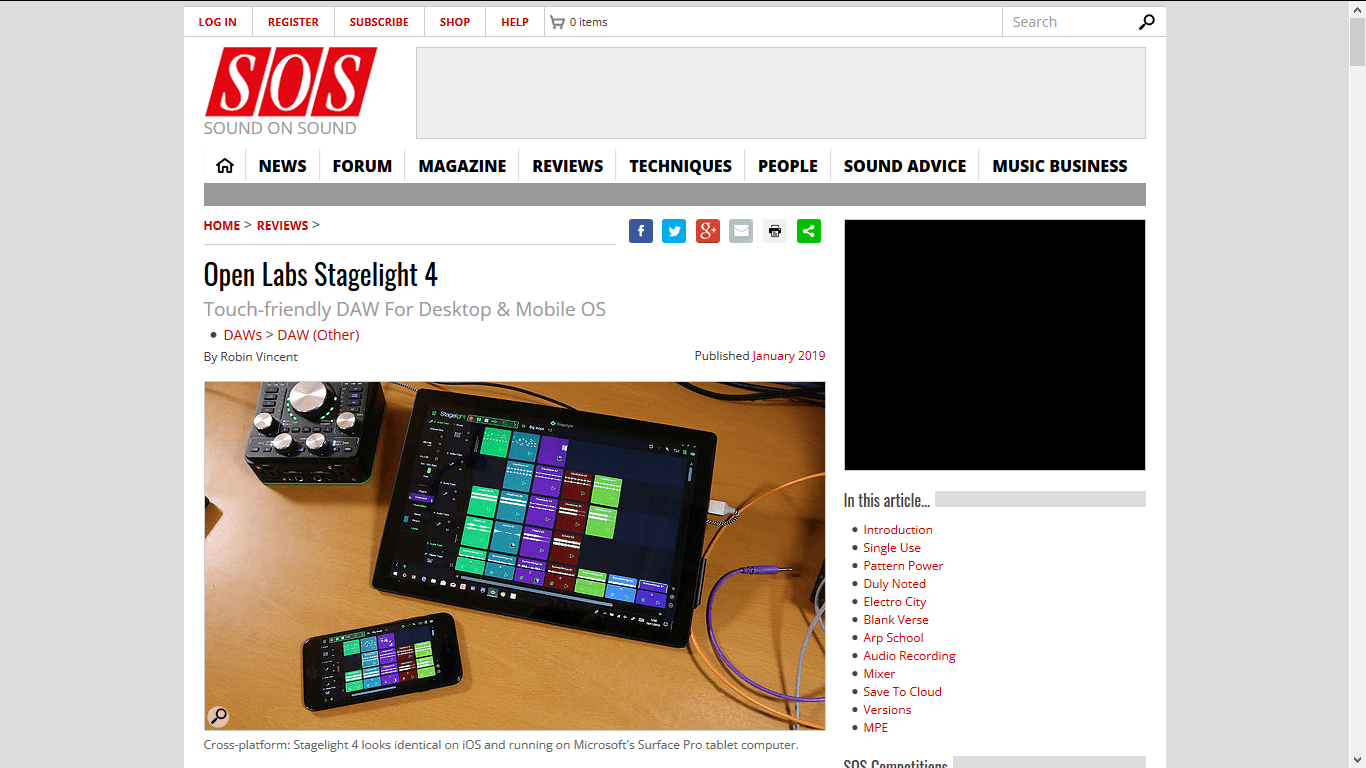 Stagelight is one of the best free DAWs for Windows and Mac. The software is so accessible; users can access it with mobile phones. This accessibility allows the software to be used by a lot of people in EDM or hip-hop. In addition, the software is very simple to learn.
Key Features
Compatible with both Mac and Windows which makes it suitable for millions of users.
User-friendly interface that's suitable for both beginners and professionals.
20. Bosca Ceoil
Bosca Ceoil is a great free DAW that enables users to make retro music using the MIDI roll editor. One of the interesting features of Bosca Ceoil is that the software isn't just a downloadable digital audio workstation but can also run effectively on a browser.
This software is user-friendly and there won't be a need to use any third-party plugins because of its simplicity.
Key Features
Super-easy to use and it's beginner-friendly.
Offers high-quality features that are good for producing retro music.
21. Audiotool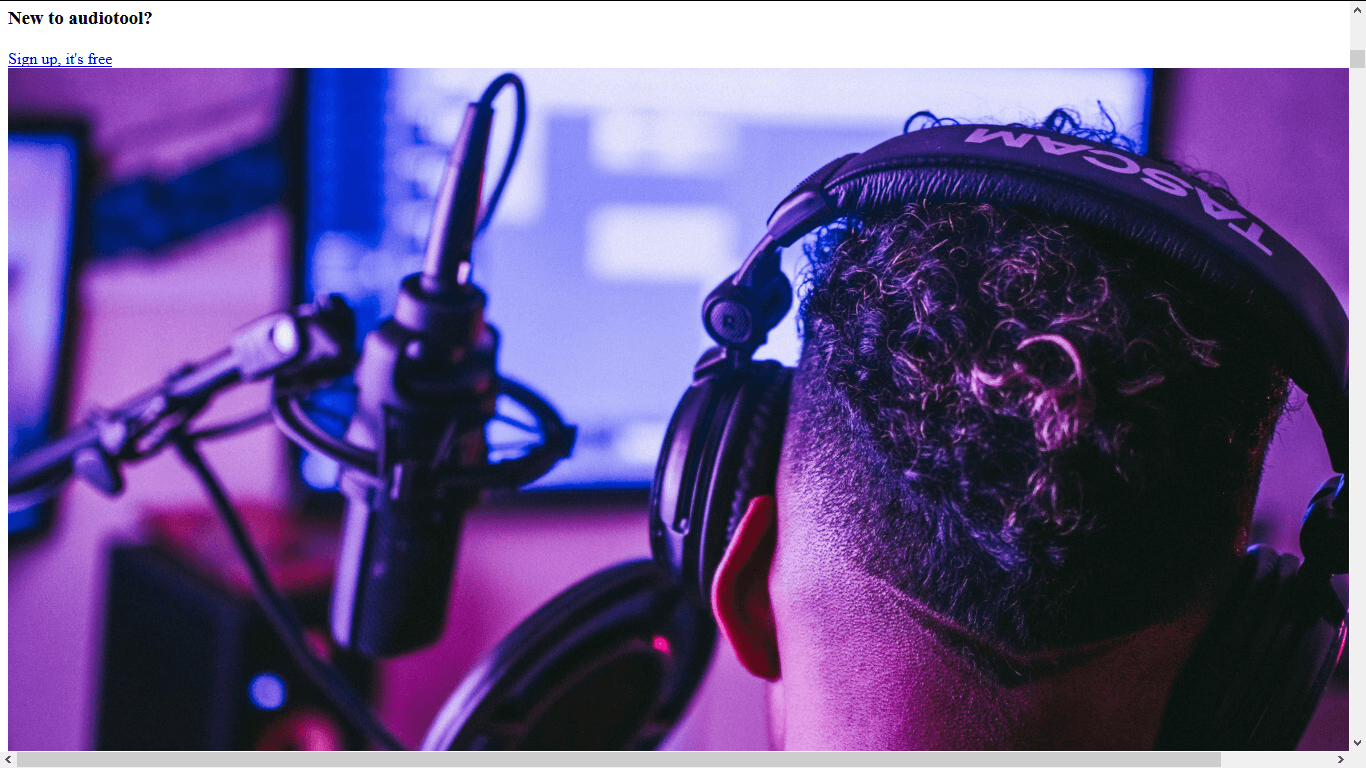 Another digital audio workstation on the list is the Audiotool. The Audiotool software helps users to produce music online. This software has a library that contains 250,000 samples that serve as guides for music producers. With Audiotool software, users can route, split, and merge various outputs.
Key Features
The software provides shortcuts for fast operation.
Allows users to load MIDI files into the software.
Audiotool enables users to invite others to work on their projects.
22. Akai MPC Beats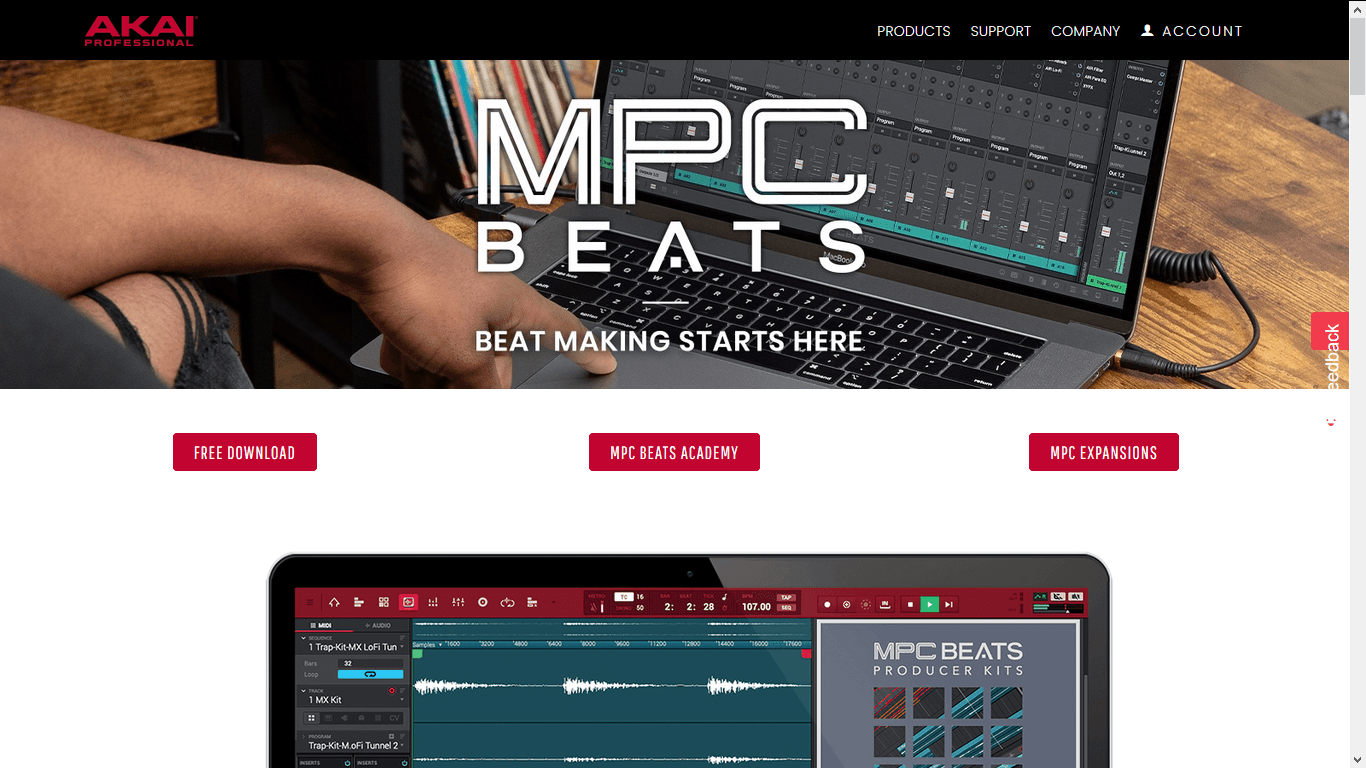 MBC Beats is regarded as one of the best free DAWs for windows by many users. This software helps users to record MIDI notes. Also, users can cut and edit their songs or beats in fewer efforts and it enables users to search and select sound quickly.
Key Features
Offers templates like a trap, pop, dance, etc.
Provides plug and play compatibility with the USB controller and allows users to remix songs.
Built-in virtual instruments plugins that make a recording so easy.
23. Zenbeats by Roland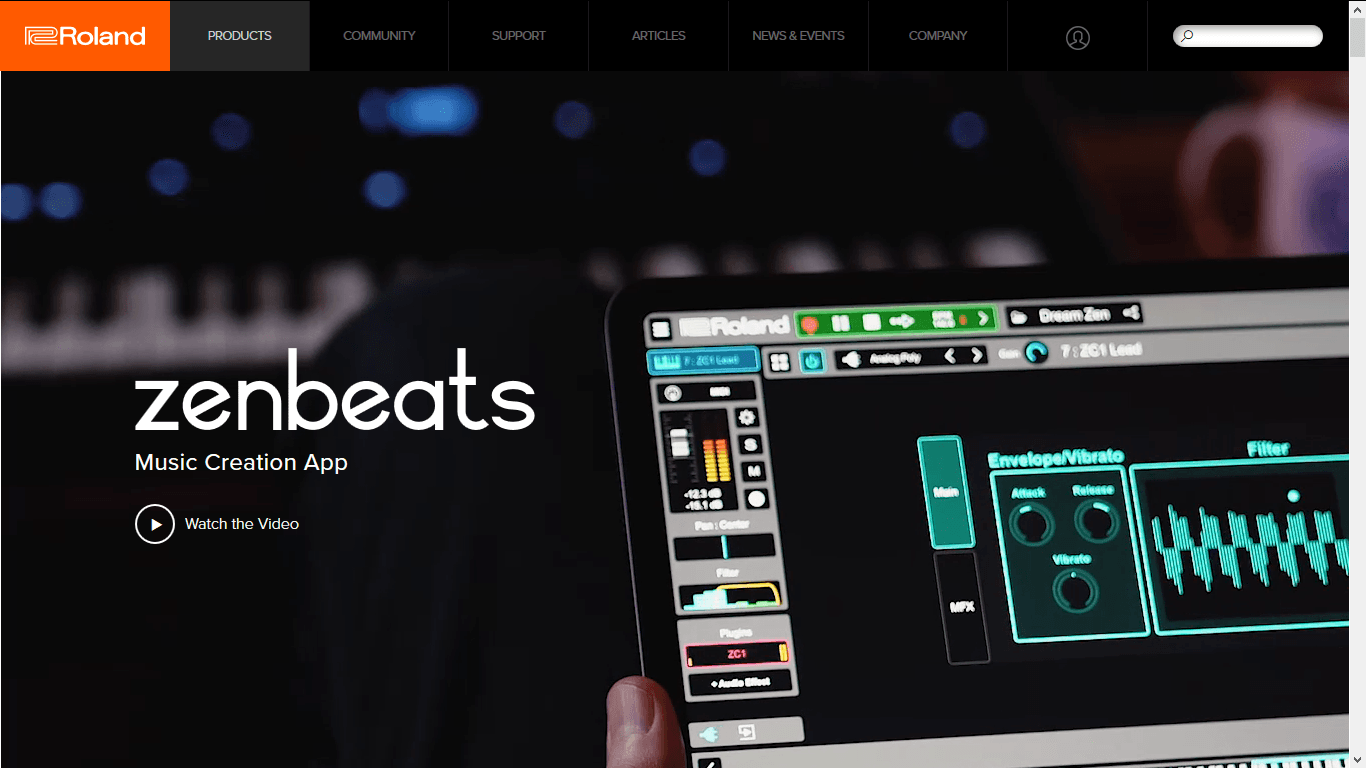 Zenbeat is another DAW that can run effectively on any PC or Mac, as well as iPads, iPhones, and other Android devices. Users will have to download and register before they can use this software. However, the software is opened to users immediately after the registration and the users will have access to all the functions of this DAW including beats, samples, etc.
Although Zenbeats is mostly geared towards electronic music production, it's also capable of recording audio regularly and you can process it in diverse ways.
Key Features
It's compatible with any device which makes it more suitable for millions of users.
Zenbeats is excellent for electronic music production.
It's very simple and easy to use.
24. Soundation Studio
This software is a cloud-based tool for collaborating and producing music online. The software has gained popularity in recent years and it provides users with the ability to record audio, mix and master it. With the Soundation Studio software, users can also collaborate remotely on projects.
Key Features
Offers various audio effects such as Distortion, Reverb, Phaser, Tremolo, Delay, etc.
Allows users to export the audio as MP3
Provide users with virtual instruments such as VA synth, Supersaw, SPC, GM-2, FM Synth, etc.
25. Qtractor
Qtractor is a MIDI/Audio multi-track sequencer software designed to run on Linux operating system. The software is being updated regularly, allowing its users to get access to modern features useful to produce high-quality sounds. Qtractor offers non-destructive editing which allows users to edit tracks without having any effect on the original audio sample.
Key Features
Standard MIDI files support.
Multi-track MIDI and audio sequencing and recording and supports DSSI and LADSPA.
Non-linear and non-destructive editing allows users to cut tracks without affecting the original sample.
Wrap Up
To wrap it up, the music industry has been gaining a lot of attention for decades and the rise in Digital Audio Workstations is essential to satisfy this great demand.
However, many of the DAWs available on market are quite expensive and it's ideal to know the best free DAWs available for music producers of a low budget to make high-quality beats and music.
To assist your further, we're recommending five free DAWs with appreciable features and a user-friendly interface suitable for both beginners and professionals. The DAWs are as follows:
In this article, we've provided you with the list of the 25 best free DAWs currently on market. You're advised to read through and select the most suitable software for yourself.