19 Best GoPro Editing Software Of 2022 (Free and Paid)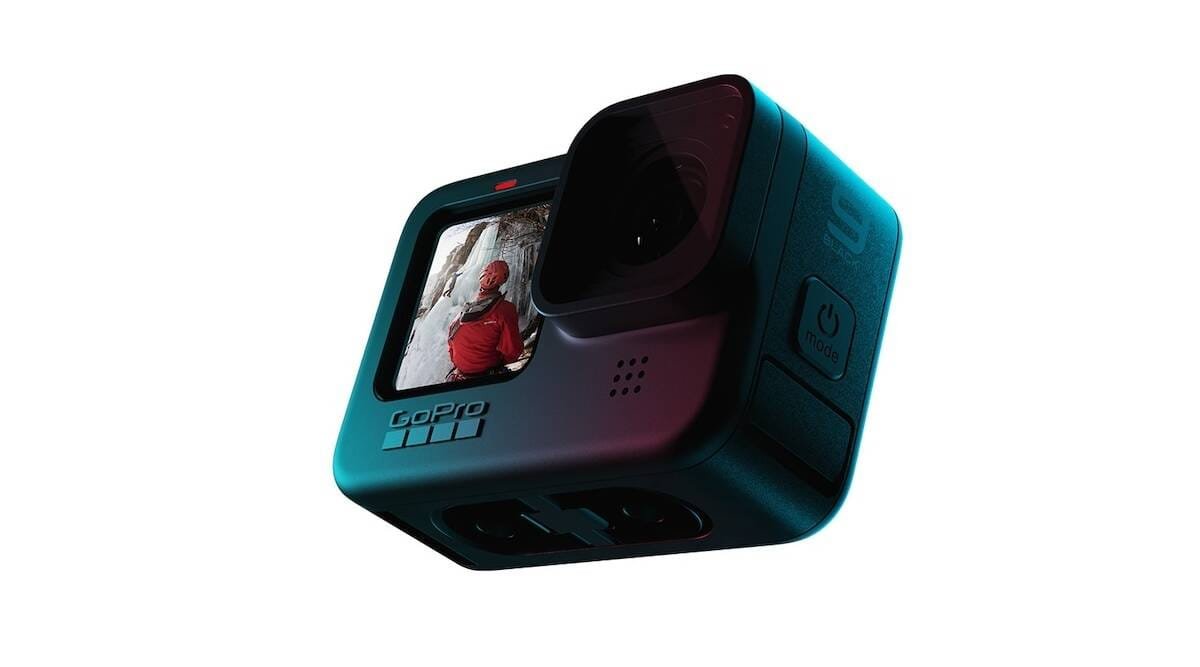 Are you confused about choosing the Best GoPro Editing Software for you? Not to worry, I'm here to help. I've compiled this in-depth guide to help you make a better buying decision.
GoPro cameras are portable and very effective at taking quality images, that's why we love them.
But, do you know what would make things even better? A video editing software that'll take the plain videos from your GoPro camera and make them magical.
Your editing software can be the difference between having videos that look like they were made by an amateur from one looking like something made by a Hollywood director.
Don't have time to read? Here are my top 10 picks:
What is the Best GoPro Editing Software?
Here's my in-depth review of several video editing applications suitable for GoPro videos.
Adobe Premiere Pro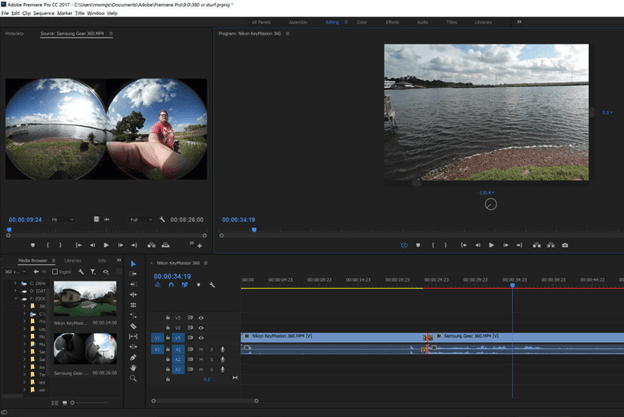 18 years ago, Adobe Inc. launched a timeline-based video and editing software called Adobe Premiere. The editing software application is part of their Creative Cloud (CC) license program, which gives you access to a host of other powerful tools like Photoshop, After Effect, e.t.c.
Adobe Premiere Pro is used by professional video editors and graphic designers to create high-quality video edits fast in an intuitive platform.
You can produce anything from YouTube videos, social media posts, and even feature films on the platform. Newbie editors might feel intimidated by Premiere Pro's user interface. Well, this is because Adobe created this application with professionals in mind.
The result? They adorned the platform with tools and features that'd gladden the hearts of pro editors with high demands.
Key Features:
Adobe has consistently improved its video editing platform over the years adding more tools and features to the already existing pool. Here are some features that stand out
Auto Reframe: this tool saves you from the tortuous path of editing your video to suit different social media platforms. With the Auto Reframe tool, you can automatically save your videos to suit Instagram, YouTube, or the bird app.
Collaboration: with Adobe Premiere Pro, you can collaborate with your team to work on a project together in real-time. The entire clip is divided into different segments where only one collaborator is permitted to make edits to each section.
Other features include;
Universal text engine
Accurate pen tool
Multicam thumbnails
Improved shape tools
Pricing
Before now, it would have cost you about $799.99 to buy an Adobe Premiere Pro license.
Indeed, such a purchase would probably put a dent in many wallets. However, the new subscription payment model lessens the financial burden.
Here are the three licence plans for the Adobe Premiere Pro:
Prepaid annual plan – i.e. upfront payment of annual plan: $275.86/yr
Annual plan paid monthly: $24.14/mo
Monthly plan: $36.12
Final Verdict
Overall, Adobe Premiere Pro is a brilliant application. The platform is best suited for professional video editors with high demands. If you're a newbie video editor, you'd find Adobe Premiere a bit overwhelming. A better option for you would be Adobe Essentials (which I'll touch on later).
Try Adobe Premiere Pro for Free.
Final Cut Pro
Apple Inc. launched a collection of five professional apps to cover tasks ranging from photo and video editing to even music production. And, the Final Cut Pro X is Apple's powerful video editing software.
With the Final Cut Pro, users can create and edit closed captions, edit video and audio, perform advanced color grading, and much more. The application provides all you need to deliver Hollywood standard videos from start to finish.
Sadly, Final Cut Pro is exclusively for macOS users. So, if you've got a Windows or Linux OS, you should consider Adobe Premiere Pro or Cyberlink PowerDirector.
Key Features
Final Cut Pro, like every powerful editing tool, offers a plethora of basic and advanced editing tools to help you complete your projects with ease. Here are some features that make Final Cut stand out amongst its peers.
Smart Conform: this tool uses machine learning to reframe widescreen videos to fit social media formats and mobile devices.
Supports VR Content: you can view 360° videos and edit as you please. Recent updates also include video stabilization for 360° videos.
Multicam Editing: Final Cut Pro allows you to sync about 64 angles of video with different frame sizes, formats, and frame rates.
Pricing
Final Cut Pro costs about $299.99. It is a one-time purchase fee. Buying the license gives you free access to future updates without additional fees or monthly subscriptions.
Additionally, Apple offers a generous 90-days free-trial to any interested video editor with a compatible Mac.
Final Verdict
Final Cut Pro is simply amazing. Everything ranging from the interface to the editing tools to the processing speed is very impressive. Apple also ensured professionals and consumers can make the most of the platform with ease.
Cyberlink PowerDirector
If you're looking for an editing software arguably as powerful and feature-rich as Premiere Pro, then Cyberlink PowerDirector is a worthy alternative.
The software hosts several advanced editing tools that intimidates most users at first glance. But over time you'd get used to the interface. Here are some features that make Cyberlink PowerDirector stand out.
Key Features
Stock content from ShutterStock and Getty iStock: get beautiful images and clips from rich multimedia repositories for your projects.
Ai Sky Editing: this tool automatically detects the sky in your clip and allows you to change the look to about 70 other editable alternatives.
Ai Audio Tools: use the now available wind removal tool to suppress background noise to the barest minimum. Then improve audio quality with the Ai speed enhancement tool.
And other features including;
Object segmentation
Soundtrack fittings
A plethora of fonts, transitions, and LUTs
And much more.
Pricing
Cyberlink offers two subscription packages and a lifetime license. It is worth mentioning that the lifetime license is only accessible to users upgrading from versions 18 or 19 Ultimate/Ultra.
However, from my research I noticed the subscription plans offered more features and benefits than the lifetime license. Here's a summary of the subscription plans.
Annual

Month – Month

PowerDirector 365

$51.99

$19.99

Director Suite 365

$96.99

$26.99

PowerDirector 20 Ultimate

$89.99
Final Verdict
Cyberlink PowerDirector is a powerful prosumer software application. This means the software application is suitable for professionals and everyday consumers.
Try Cyberlink PowerDirector for Free
Lightworks

Lightworks has been in use for up to 30 years and counting, and from all indications, the app will stay relevant for years to come. If you'd like to edit a simple GoPro footage for personal use or you'd like to publish for your YouTube subscribers — Lightworks is just right for you.
You can perform simple operations like cutting and editing video clips or you can create Hollywood standard videos with more advanced editing tools. It all depends on you.
Key Features
Excellent file handling
Supports all professional media formats
Superior background processing
Smart collaboration tools for teams
Flexible timeline
Improved audio tools
And others.
Pricing
Lightworks offers three versions of their editing software with different pricings. Here's a summary of it all:
Monthly

Yearly

Perpetual License

(License locked to current version of software)

Lightworks Free

Completely free plan with limited editing tools. Suitable for simple editing demands.

Lightworks Create

(Suitable for consumers with more editing needs)

$9.99

$99.99

$154.99

Lightworks Pro

(Hollywood standard editing tools)

$23.99

$239.99

$389.99
Final Verdict
Lightworks is a powerful tool which has been used to edit hit movies like Mission Impossible, Shutter Island, 28 Days later, and others. If you're a professional looking for something other than Adobe Premiere or Final Cut, then Lightworks is definitely worth the try.
DaVinci Resolve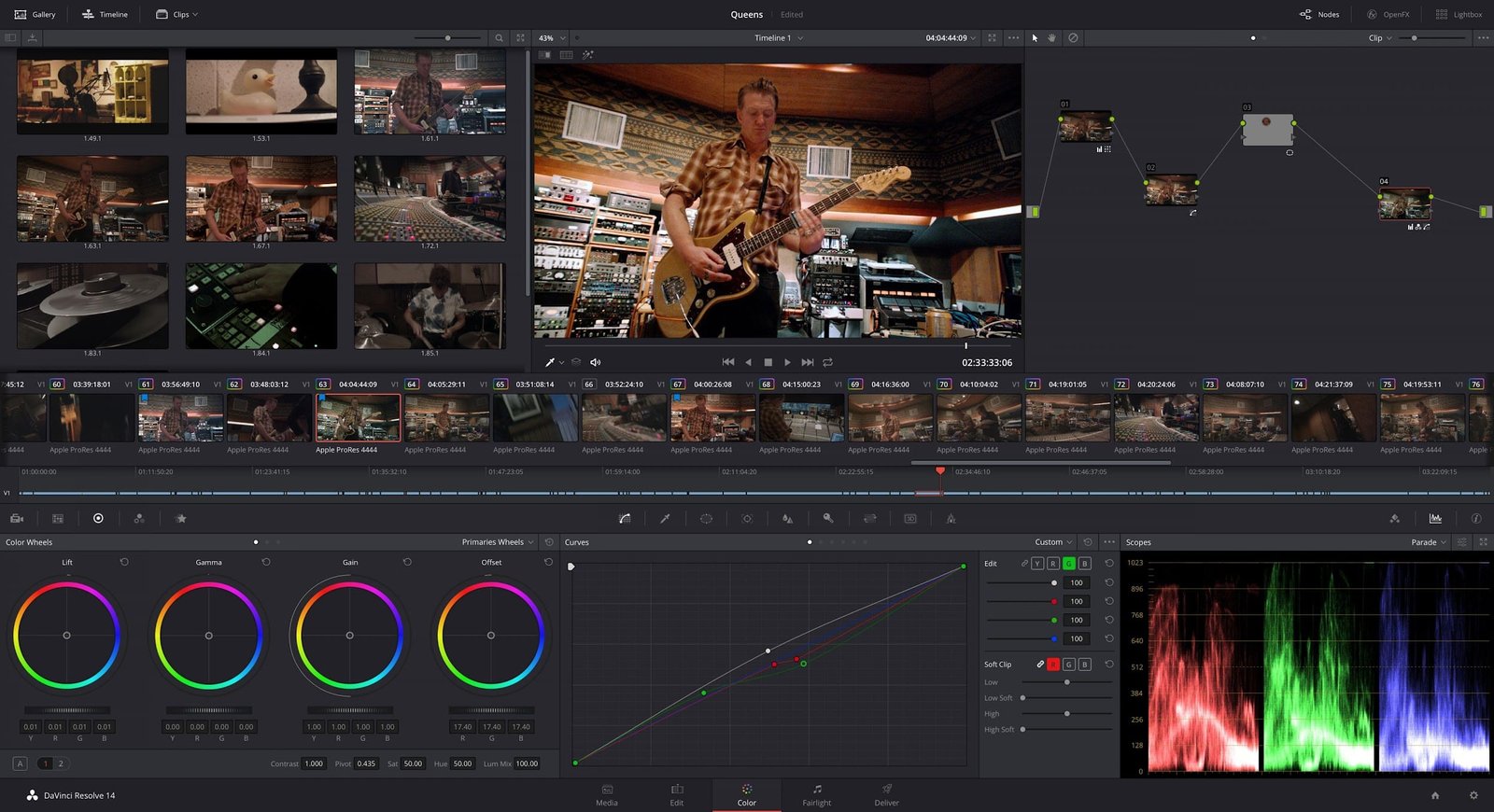 Are you in need of an editing app for your GoPro footage that's easy for beginners, yet powerful for professionals? DaVinci Resolve might just be the answer.
DaVinci Resolve is video editing, color grading, motion graphics, and audio production tool owned by Blackmagic Design. The platform is mostly suited for professionals. However, the free version offers very powerful editing tools to enthusiasts.
Key Features
This application offers a wide range of functionality that'd delight the hearts of professional and hobbyist editors.Here are some features that stand out:
Multi-user collaboration workflows.
Version 17 (current version at time of writing) offers a robust audio workspace that supports 3D audio.
Powerful AI Neural Engine
Fusion Studio node-based workflow editor.
Advanced color coding tools.
Pricing
You can purchase the recent version DaVinci Resolve for $295.00. If budget is your determining factor, then you should know DaVinci Resolve is less expensive than Adobe Premiere's subscription plan and Apple's Final Cut Pro.
Moreover, DaVinci Resolve offers a feature-rich free version of the software. The free version is used by many YouTubers and Gamers to create stunning videos.
Final Verdict
I think DaVinci Resolve offers great value for money. There's so much you can do on the platform. But, you need to sacrifice some time to get accustomed to the interface and it's unconventional workflows.
Corel Videostudio Ultimate
Corel Videostudio is a consumer-friendly video editing application that's feature-full, easy to learn, and intuitive. The user interface is beautifully simple and extremely responsive.
Unlike Adobe Elements, which is also a consumer focused app, Corel Videostudio supports 4K videos and 360° VR content. Meaning you don't necessarily need to spend top dollar on "high end" products to use advanced editing tools.
The only downside to this app is the number of video tracks permitted (limited to 50). On the bright side, you still get multicam editing and motion tracking compatibility.
Key Features
As mentioned earlier, Corel Videostudio is a full-featured platform. So, it makes sense if they didn't focus on adding new features in their recent updates.
In 2021, the company rolled out updates that improved already existing features that make the platform even better.
Here are some unique features:
Make your projects more fun with cool AR stickers.
Manipulate masks in Keyframe and create them in a different interface without having to start with clips.
Drag and drop clips to your preferred template to produce PiP layouts.
Improved video effects from third-party apps like proDAD and NewBlue FX.
Pricing
Paying a one-time purchase fee of $99.99 makes you a proud owner of Corel Videostudio Ultimate. And with just $79.99 you can upgrade your existing app to a more recent release.
If you're lucky, you can get up to a 20% discount on your purchase. The brand often gives discounts on the product online.
Final Verdict
I'd say Corel Videostudio Ultimate is well worth every penny. It's brilliant interface, plethora of functions, and other features puts it almost on par with Cyberlink PowerDirector. Sadly, it only runs on Windows OS.
Try Corel Videostudio Ultimate
Pinnacle Studio Ultimate
If you're in search of a pro-caliber editing platform that doesn't break the piggy bank, then you should consider Pinnacle Studio Ultimate or Corel Videostudio Ultimate. Both platforms cost almost the same with similar functionalities.
Pinnacle Studio is perfect for amateur editors in need of advanced editing tools. The platform supports an unlimited number of video tracks, 4K editing, and even 360° VR content.
Furthermore, the platform carries out tasks quickly with support for many popular export formats.
Key Features
Pinnacle Systems continuously works to increase the features on their apps and improve on existing ones.
Import 8K videos and edit without glitches.
Improvements on the user interface increased performance and software stability.
Create powerful titles with the improved Title Editor.
Supports copy and pasting of keyframe groups.
Pricing
You can own a perpetual license for about $129.95. Note that this is a one-time purchase so you don't pay for recurring subscriptions. You save $40 when you upgrade to a new version of the Pinnacle Studio Ultimate app.
Final Verdict
I strongly recommend Pinnacle Studio Ultimate for enthusiasts with a flare for more editing tools. The app doesn't give you 'pro' level editing strength, but you get a full dose of something very close. Overall, it's a great application and further updates would make it even better.
Movavi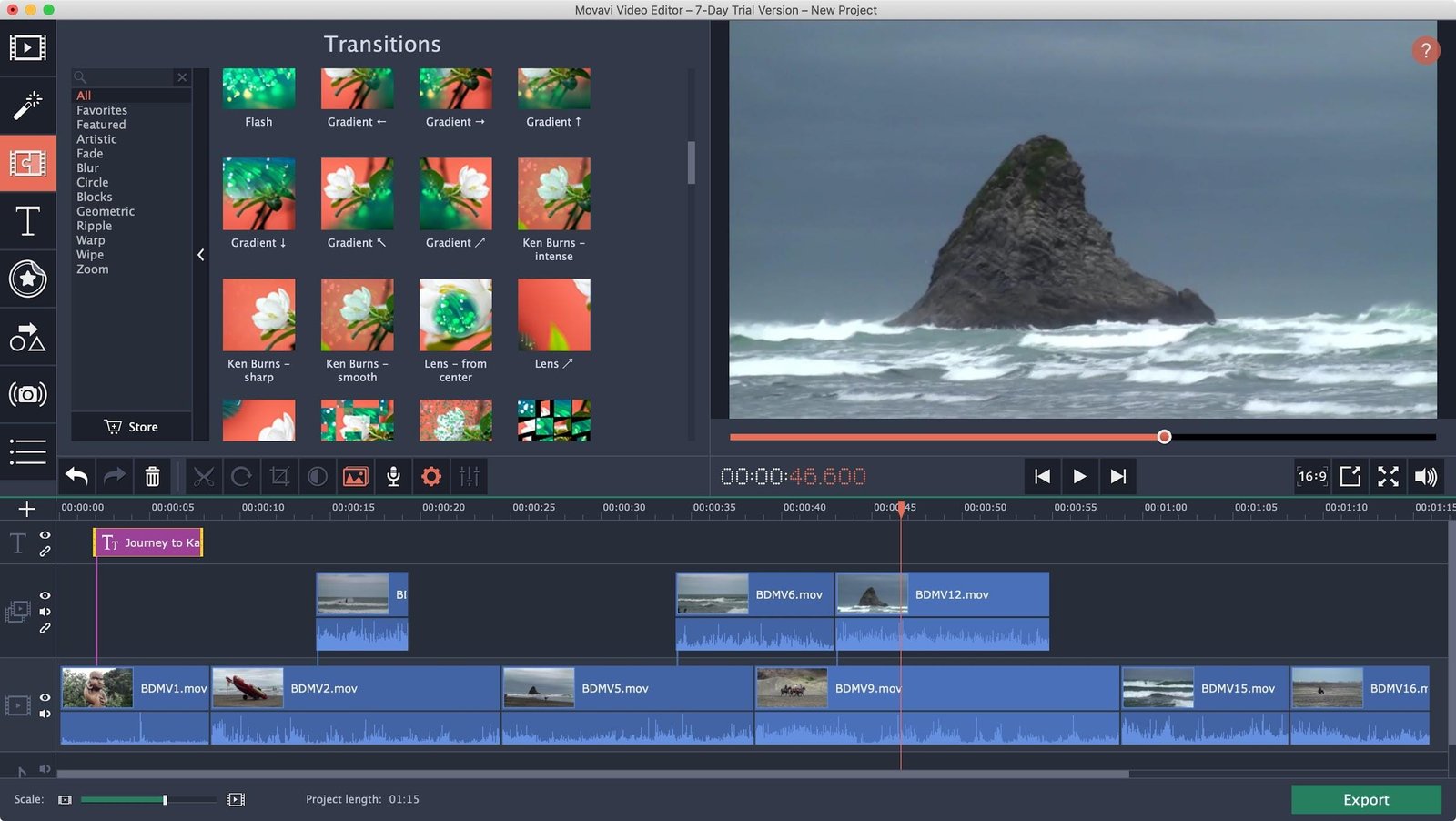 Video editing software applications are almost always intimidating at first glance. Who could blame the creators? The apps are packed with lots of editing tools, some of which are needlessly complex.
And this is where Movavi steps into the picture. The brand thought of ways to reduce the complexities found in almost every powerful video editor, and the result was the Movavi video Plus.
Movavi presents a powerful, yet simple video editing software. Even the elements on the interface are clearly labeled.
Moreover, with tools like the Montage Wizard, you can create movies automatically from uploaded media. Here are some features that make Movavi Video Editor stand out.
Key Features
Super-easy to use and un-intimidating user interface.
Create vertical videos from landscape shots with one click of a button.
Use the Chroma key to place your videos in exciting backgrounds.
Express yourself in your videos by adding comments using voiceover.
Pricing
Movavi Video Editor Plus costs about $64.95. Also, you can buy the video editor as part of the Movavi Video Suite at just $84.95.
Final Verdict
Movavi saw a problem in the video editing tech and they took proactive steps to offer a solution. Though, Movavi isn't the fastest software on rendering, they do other things pretty well.
If you're a YouTuber with amateur editing skills, then you might want to start out with this editing software.
iMovie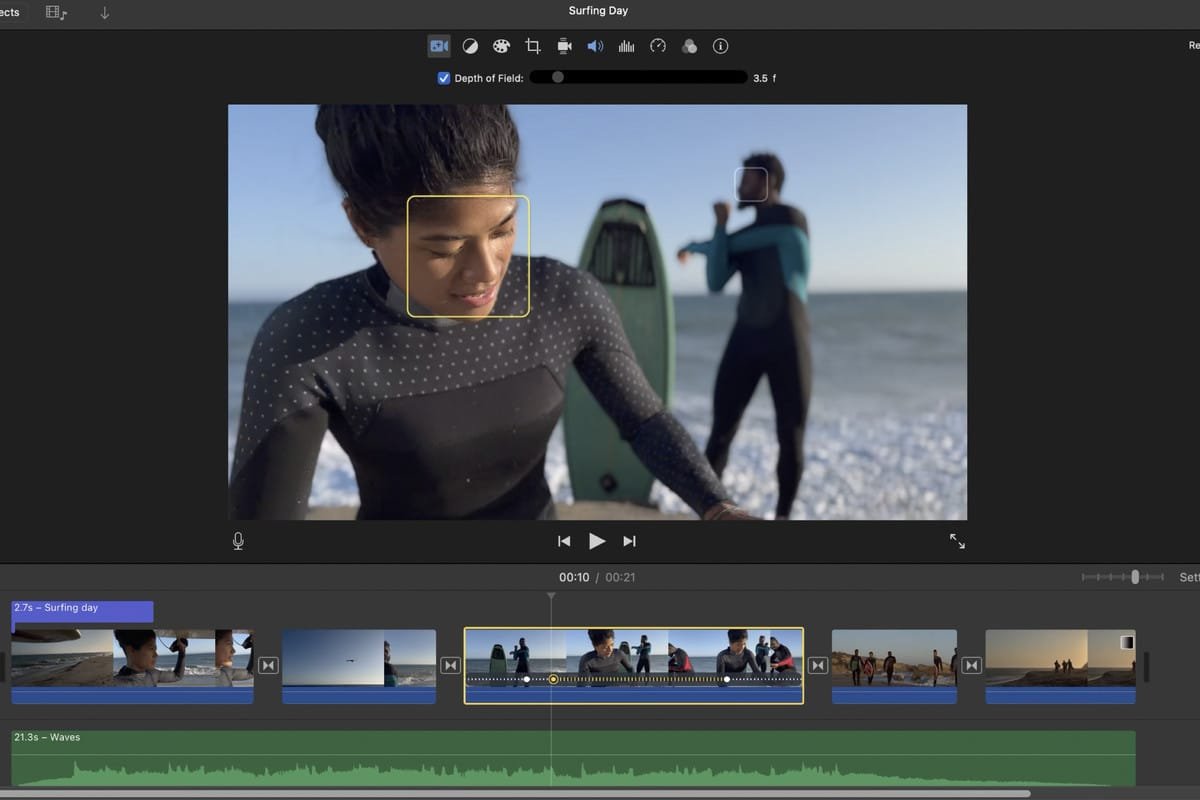 You won't find customizable transitions on this app, nor does iMovies support multicam and motion-tracking features most video editing tools offer.
Yet, iMovie stands out due to its decent interface that allows anyone to put together video clips and images easily to make a stunning movie.
There's no steep learning curve to overcome. All you need is a Mac or even your iPhone device to create something magical.
As a result, this app is most suitable for entry-level editors. The interface is similar to what you'd get on Final Cut Pro, so you can transition to the more sophisticated platform easily whenever you're ready.
Key Features
Brilliant movie templates
Excellent tools for color grading, narration, media organization, and much more.
Cinematic mode for a more engaging storytelling.
Green-screen effects to place characters in your movie in any background of your choosing.
Pricing
Apple iMovie is completely free, but it's limited to two video tracks.
Final Verdict
iMovie offers beginner editors and even pros to make quick edits to videos. The platform is super-easy to use and the interface only shows you tools you need. It's great for anyone who shoots videos on their iphone and wants to achieve cinematic video output.
Adobe Premiere Elements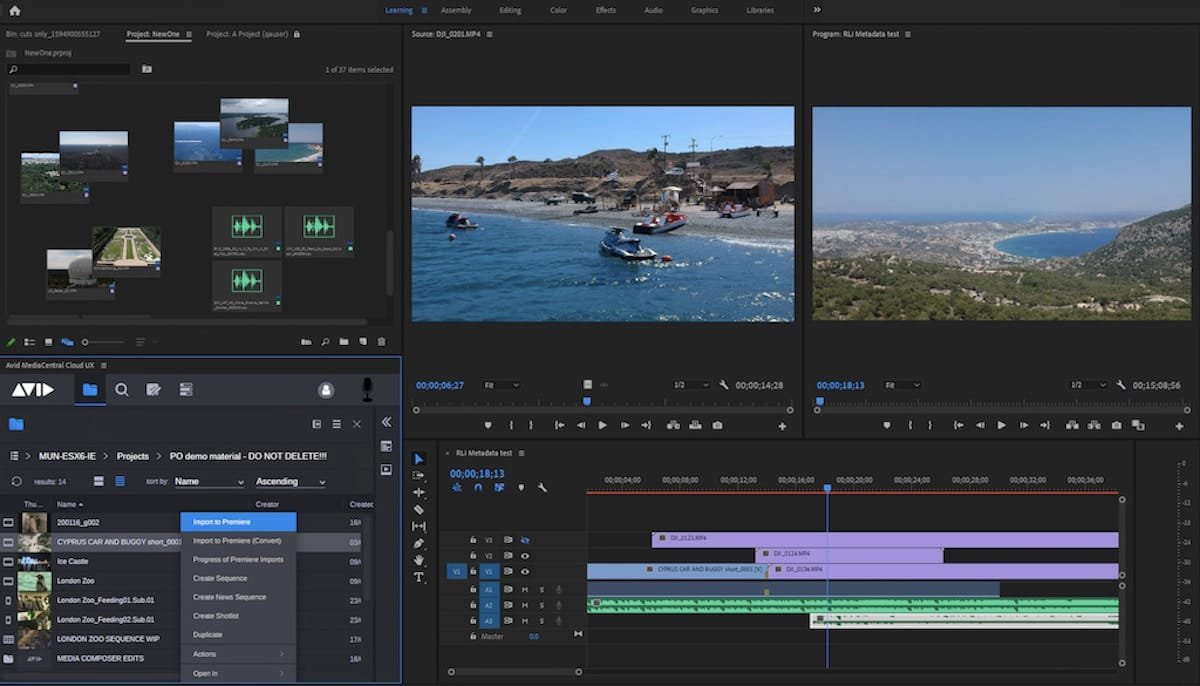 Another handy application on our list of the best GoPro editing software is Adobe Premiere Elements. You can say Premiere Elements is a beginner-friendly version of Adobe Premiere Pro that was created for everyday consumers with basic needs.
With Adobe Premiere Elements you can create exciting double exposures, create dynamic time-lapse videos, add special effects to specific areas, create short animations for social media, and much more.
Key Features
Video Compression: shrink the size of your edited videos to suit platforms with preset file-size limits.
Choose Aspect Ratio from the Start: begin your next project with the destination in mind as you choose among popular social media formats.
Animated Overlays: add cool butterflies, birds, smoke, heart, and other animations to your main video.
Pricing
You can get Adobe Premiere Elements as a standalone application for $99.99. Or you can purchase Premiere Elements alongside Photoshop Elements at $149.99. This is a one-time purchase.
If you have doubts about making a financial commitment straightaway, you use the 30-day free trial Adobe offers. The free-trial gives you access to all the Premiere Element features, but with watermarked videos.
Final Verdict
Adobe Premiere Elements is a decent app for beginners. The platform is intuitive with detailed guidelines to help anyone get used to the tools.
Try Adobe Premiere Elements for Free.
QUIK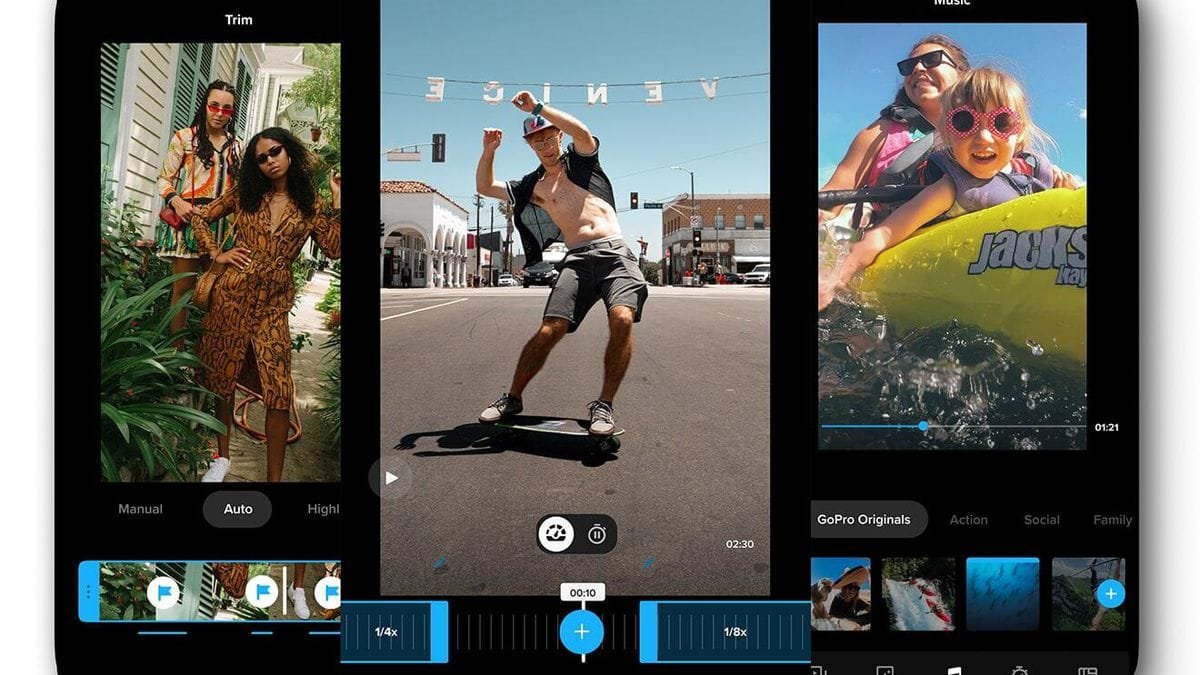 My list of best GoPro editing software would be incomplete without mentioning GoPro's native editing app, Quik. Well, GoPro is a portable tool you can take with wherever you go, so it makes sense to have a portable editing tool to match.
With the Quik app you can easily cut and trim your videos, add filters, and make some other exciting edits to your videos from your mobile phone. The ease-of-use, cool features, and a smooth operation on a mobile device earns Quik a quick spot on my list.
Key Features
Use speed tools to make slo-mo effects, increase speed or freeze as you please.
Get original background music and soundtracks to set the mood right.
Control your GoPro camera from the app.
Pricing
The Quik app is free to download on Google Playstore and Apple's App store. However, you need a GoPro subscription to have access to unlock premium editing tools. GoPro subscription costs about $49.99/yr.
Final Verdict
GoPro's Quik app doesn't boast a lot of features like the most video editing apps mentioned on this list, and I don't think it should.
Quik offers basic editing tools to bring out the magic of in your videos. If you need more editing tools, then you should consider other video editing platforms discussed in this post.
Wondershare Filmora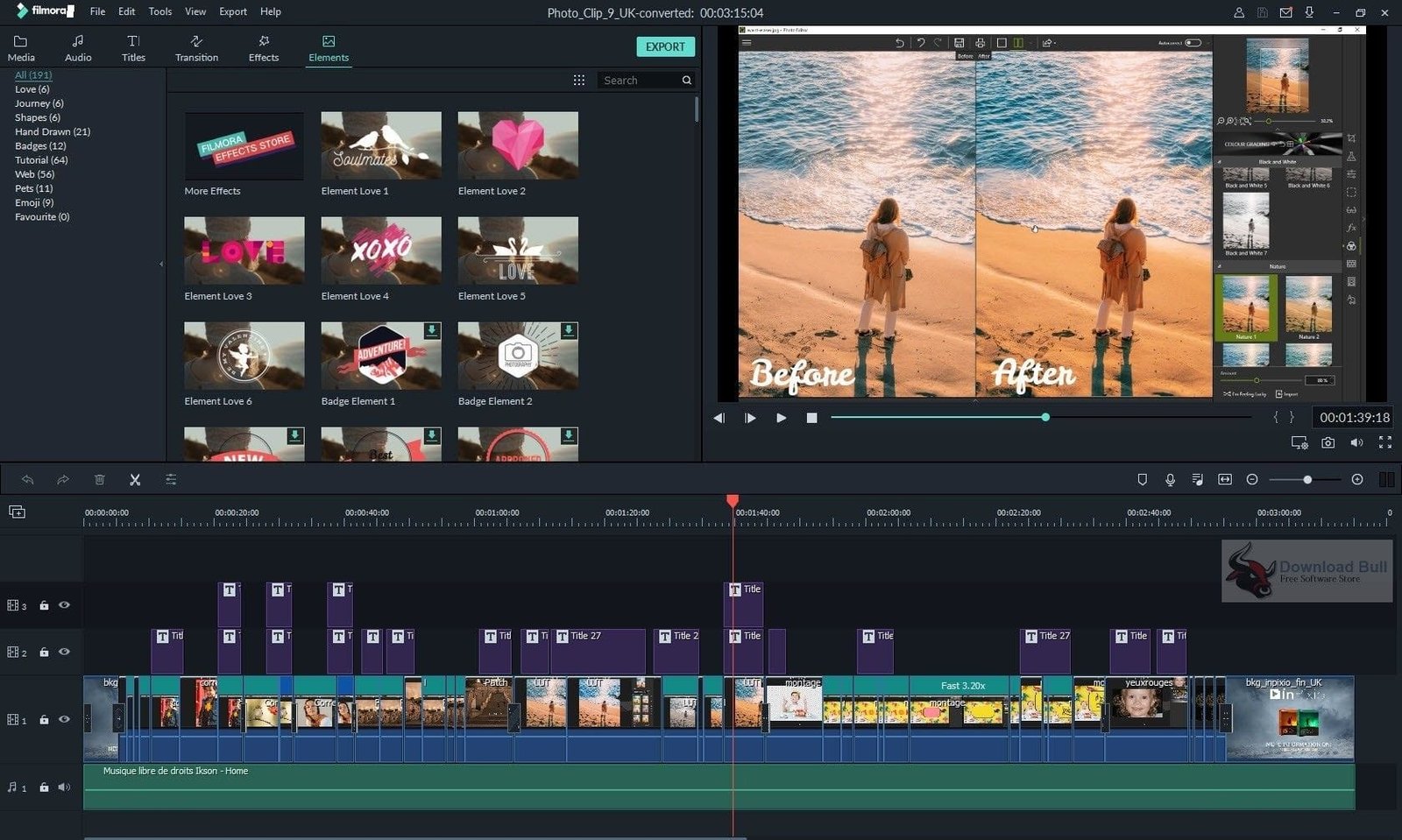 Filmora is an intuitive and inexpensive video editing software application created by Wondershare. As you'd expect, the platform offers basic editing tools, plus extras.
On the downside, you won't get multicam editing or a viewer for 360° VR content; however, Filmora can boast of some aspects where it shines.
For example, you save time by applying color corrections to multiple clips at once. Also, you can fade your music instantly so your dialogue gets all the attention. Here are some cool things that have been added to the software.
Key Features
AR Stickers
Auto Reframe
Keyframing
Improved Audio Effects
Enhanced color grading tools
AI Portraits
Pricing
Filmora offers a subscription payment model, and they have three packages.
Personal – $49.99/year
Business – $155.88/year
Education – $19.99
Also, you can buy a perpetual license for these for the application.
Final Verdict
Filmora isn't on the pro level like Premiere Pro and Final Cut; however, the app offers a decent editing platform for enthusiasts. To top it all, the subscriptions are budget-friendly. If Filmora ticks off all your checklists, then I think it's worth the buy.
Nero Video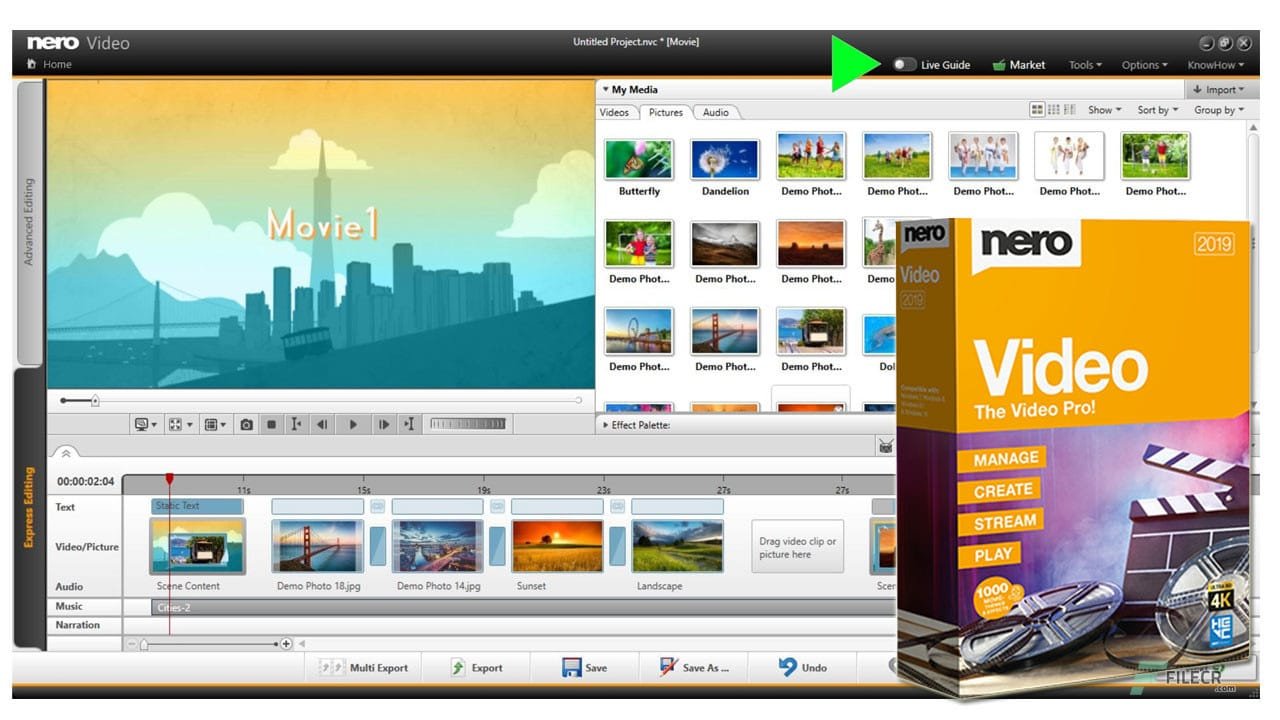 Nero video has been around since 2010 and they've improved on the video editing software over the years. This application allows you to import videos in HD, 4K, and 8K.
Nero video offers enthusiast-level editing tools that can turn your plain GoPro videos from your last camping trick to something…captivating.
With this editing software you can change your background with green screen features, exciting soundtracks, and cool transitions.
Key Features
1000+ video templates and designs.
Nero AI for smart media management.
Excellent PiP effect.
Supports edge-to-edge videos.
Pricing
Nero Video license costs about $59.95 (frequently discounted).
Final Verdict
This software isn't the fastest or the most intuitive amongst its peers, but it provides just enough power and editing tools for hobbyists.
Magix Movie Edit Pro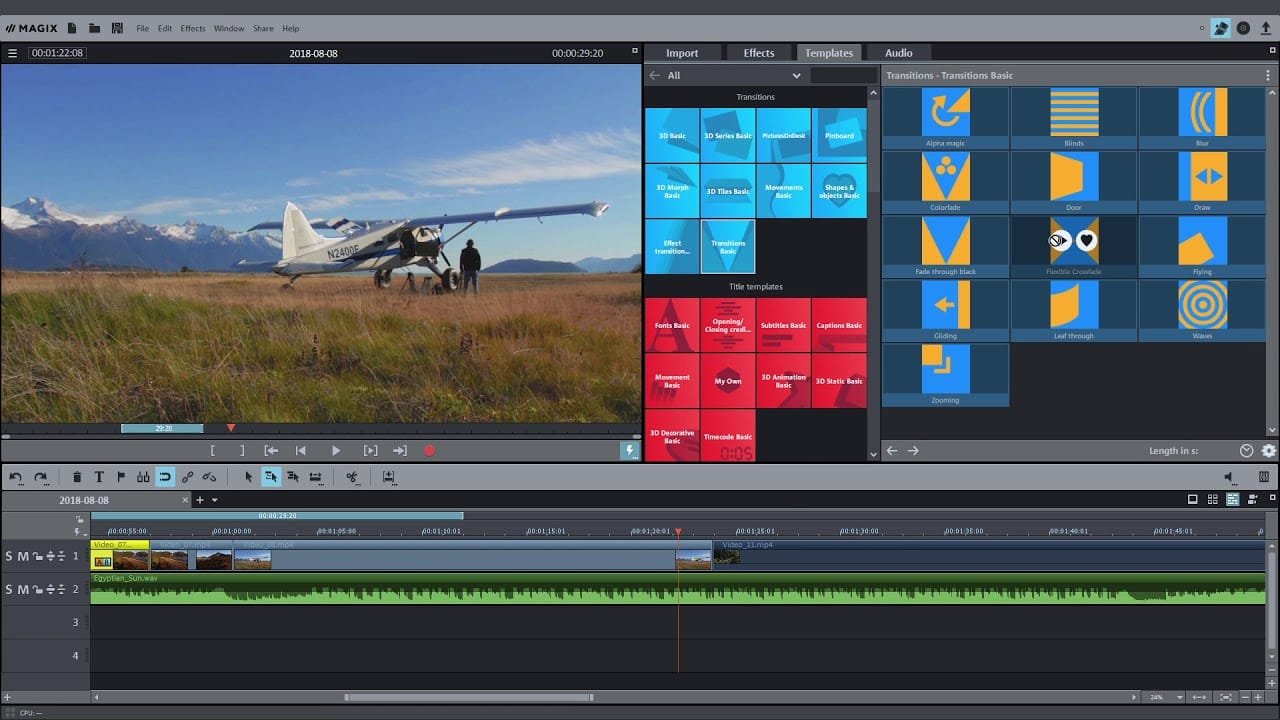 Magix's video editing platform launched in 2001, and quickly attracted mass attention. Over the years, the platform became the best selling video editing software in Europe. What did they do differently?
Well, they didn't do anything extraordinary. The creators simply made the application very easy to learn and ensured impressive rendering stability.
Magix Movie Edit Pro may not necessarily be the go-to app for most professional video editors; notwithstanding, it is loved by enthusiasts and DIYers.
Key Features
Burn Blu-ray discs and DVDs directly in the application.
Use the 'Automatic Shot Match' feature to copy and apply the contrast, color, and brightness from a reference video to your own clips.
New INFUSION Engine 3 for super-fast exporting of projects.
HiDPI software interface.
Pricing
The Magix video editor is available in three variants: Magix Edit Pro, Magix Edit Pro Plus, and Magix Edit Pro Premium.
Here's a summary of what it'll cost you to get any of these programs.
| | 12 months subscription plan billed monthly | Month-Month | Perpetual License | Upgrade |
| --- | --- | --- | --- | --- |
| Magix Movie Edit Pro | $2.99/mo | $7.99/mo | $69.99 | |
| Magix Movie Edit Pro Plus | $3.99/mo | $9.99/mo | $69.99 (discounted rate) | $59.99 |
| Magix Movie Edit Pro Premium | $4.99/mo | – | $129.00 | $69.99 (discounted rate) |
Final Verdict
Magix has made commendable improvements on its Edit Pro line. If Magix Edit Pro ticks all your checklists, then go for it. It's great value for money.
Vegas Movie Studio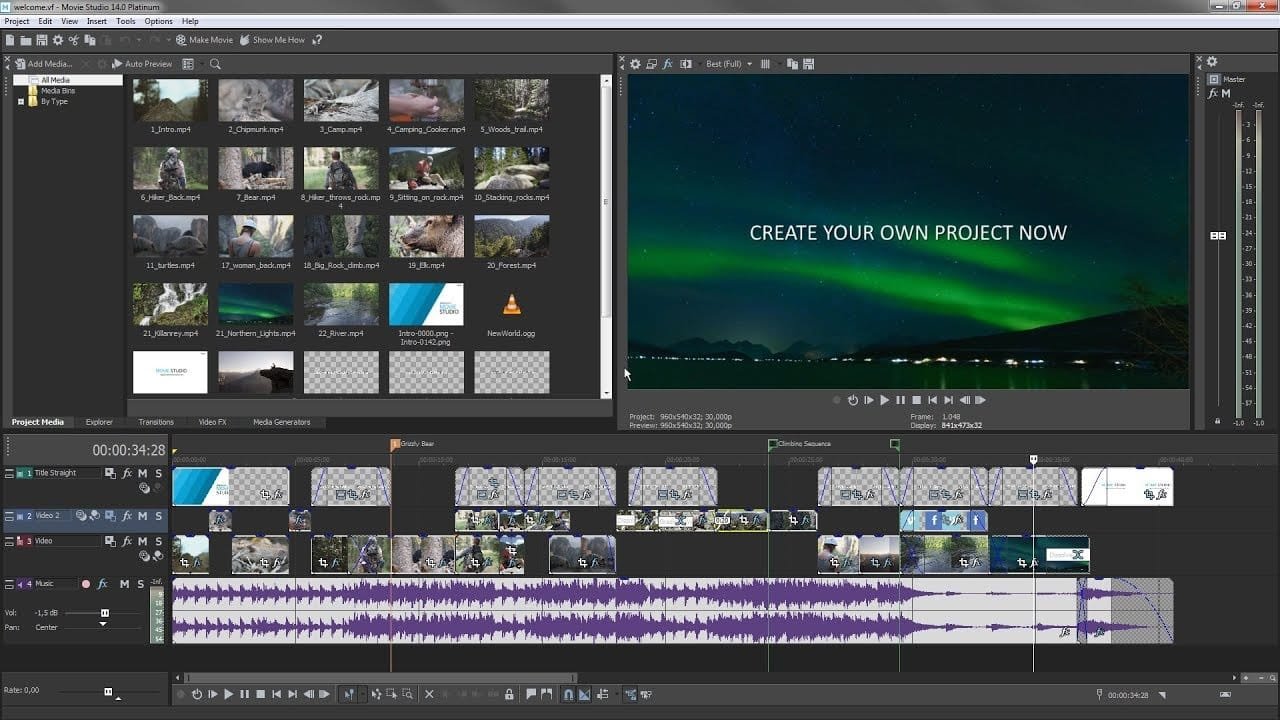 Barely two years ago, Vegas Movie Studio was an average consumer-focused video editing app. The old interface wasn't really impressive nor was its Multicam editing.
I'm pleased to say Vegas Movie Studio has made massive improvements over the past years. They've even partnered with Magix to create a powerful virtual engine to ensure your editing goes smoothly without a glitch.
They've added other impressive features but we'd highlight the biggest additions to the software below.
Key Features
Edit and export 8K Ultra HD videos to most popular file formats.
Up to 1500+ transitions, effects, tiles, and templates.
Supports the use of multiple graphics cards simultaneously.
Enhanced multicam and 360° VR content editing.
Improved GUI
Pricing
In this case, additional features and improvements don't mean it's more expensive. Here's a summary of the brand's subscription plans.
| | 12 months subscription plan billed monthly | Month-Month | Perpetual License | Upgrade |
| --- | --- | --- | --- | --- |
| Vegas Movie Studio 2022 | $2.99/mo | $7.99/mo | $69.99 | |
| Movie Studio Platinum 365 | $3.99/mo | $9.99/mo | $69.99 (discounted rate) | $59.99 |
| Movie Studio Suite 365 | $4.99/mo | – | $129.00 | $69.99 (discounted rate) |
Final Verdict
Like I mentioned earlier, Vegas Movie Studio has made massive changes to its software. These improvements have made the platform more stable, increased rendering, and ease of use. Hence, deserves a spot on this round up of the best GoPro editing software.
Other GoPro Editing Software Worth Considering
The programs I highlighted in the preceding sections were all mainstream video editing applications with huge communities. However, aside from the most reputable brands, there are other platforms worth mentioning.
Here are four video editing software you can utilize in editing your GoPro videos;
HitFilm Pro – known for its simple customizable interface, basic editing tools, and rich collection of captivating effects.
Blender – well, this platform isn't primarily used for video editing but it offers pretty good editing tools. Blender is an open-source platform so you don't have to make financial commitments (unless you want to make a donation).
Avidemux – used by hobbyists for simple filtering, encoding, and cutting tasks.
VSDC – a free multimedia suite capable of processing high quality images up to 4K UHD, 360° VR content, and 3D videos.
Things To Consider When Buying A GoPro Editing Software
A powerful video editing app can add more life to your storytelling and make your movies more captivating. Shopping for the best GoPro editing software is similar to shopping for an editing software application for any other camera.
Here are some crucial questions you need to answer before you pay for editing software.
Your answers will guide you towards choosing the software that best suits your needs.
What types of videos do you make with your GoPro camera?
Some individuals mount their GoPro camera on a still surface for recording, while others mount it on themselves and record videos as they move. Why does this matter?
If you're moving around, then your video would be a bit jerky from all the motion. A good video stabilization tool would make such recordings even better.
My point is, you should look for a video editor with tools that'll make the type of videos you make more engaging.
YouTubers for instance will benefit from the Green Screen tool, which can help make their video backgrounds more captivating.
So, decide on the type of videos you make and the tools that would be important in your editing process.
How much time are you willing to sacrifice to learn a new software?
Final Cut Pro, Adobe Premiere Pro, DaVinci Resolve, and other video editing platforms have their unique GUIs and workflows. When Apple revamped the interface for Final Cut, many editors dropped the software because they couldn't adapt easily.
That said, every platform comes with a learning curve. Some are steep, while others are easier to understand and implement.
So, go through different platforms that offer those features and tools you want. I advise you to use their free trials to test the waters. Do your research till you find a platform that won't be too complex for you to use?
How much are you willing to spend?
At the end of the day, you need to stay within your budget. After identifying the "easy to use" category of editing apps, you need to find out which one is within your budget. Or, a bit close to it.
That's the software for you. If every software is above your budget then you need to settle for the next best thing or save up for it.
FAQs about Video Editing Software
Do you need video editing software for GoPro?
Yes, you'd need video editing software to bring out the best from your GoPro videos. However, if you aren't concerned about transitions, special effects, or color correction, then you can use your GoPro videos without editing.
What should I use to edit GoPro videos?
You can use the native GoPro Quik app for fast and simple edits. Or, you can edit your videos with more specialized tools like Adobe Premiere Pro, Cyberlink PowerDirector, or other apps mentioned in this post.
Is GoPro Quik any good?
Yes, GoPro Quik is an easy, fast, and inexpensive way to edit, store, share your videos with friends and family. All you need to do is pay a subscription fee of $2/mo or $10/yr for access to GoPro's cloud services and premium editing tools.
Final Thoughts
GoPro is a great tool for recording your mountain biking activities, PowerPoint presentations, family camping, and even videos for YouTube.
Then, video editing applications step in to make your storytelling more captivating, some edits even add a cinematic feel to a once plain video.
That's said, if you're in need of professional editing tools, then you should consider Adobe Premiere Pro or Final Cut Pro.
However, you might want to stick with iMovies or Lightworks if your demands are few.
Irrespective of whatever your editing demands are, there's a software application on this list that'll be perfect for you.