15 Best Fan Control Software of 2022 (Free and Paid)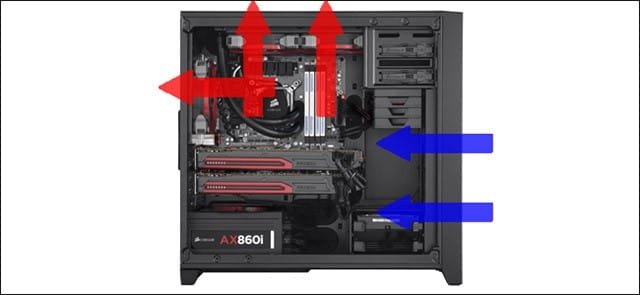 In this extensive guide, you'll discover 15 effective Fan control software available online. I've divided my list into two sections. The first section focuses on fan speed controllers for the Windows system, while the other touches briefly on some good software for macOS.
First of all, I understand not everyone is aware they could get an application to help control their PC fans, especially non-gamers. But it's real, some programs give you control over how your fans work.
Picture this, you've got some work to do, and you head straight to your Chrome browser to get started. Suddenly, you notice your fan gets so loud. Or worse, your PC overheats because your fan doesn't perform a great job cooling.
Interestingly, you can solve these issues without buying a new fan(s) on your computer. In most cases, all you need is effective fan control software to keep things just how you like them.
Without taking much of your time, I'd show you some reliable software that'll help you regulate your fans, hence, increasing your PC's productivity.
What is the Best Fan Control Software in 2022?
SpeedFan
The first version of SpeedFan was launched in 2000 and copyrighted by Alfredo Milani Comparetti. The program wasn't created by a big software firm, but its features are impressive nonetheless.
Debuting in 2000 implies the program mostly ran on Windows 9X OS. Thankfully, the creator (s) have been consistent in rolling out updates for the application over the years.
Today, SpeedFan can run Windows 9x systems down to recent Windows 10 operated computers. Let's take a look at what this program can do for you.
Key Features:
Monitor fan speed, temperature, and voltages on a simple user interface.
Easy configuration of all fan speeds. You can manually tune your fans to a preferred speed limit.
Supports SCSI disks and can modify FSB on compatible hardware.
Access S. M. A. R. T. information to give accurate readings of hardware temperature.
Pricing
SpeedFan is freeware – which is a fancy way of saying it's free software. However, there's an option to support the project by sending donations via a provided PayPal address.
Argus Monitor
Argus Monitor is a utility tool created by Argotronic UG, which is a German company. This fan control software runs as a background task on your PC. As a result, it takes a small portion of your memory to run. So, if you'd like a lightweight application, Argus might just be what you need.
Additionally, Argus boasts of a sleek user experience, making it easy to navigate the software with nice colors and charts that are cool to look at. Of course, Argus Monitor offers more than just nice aesthetics, let's take a look at some of its features.
Key Features:
Keep track of your hardware's current condition with Argus Monitor's sidebar gadget.
Control every fan run on your PC in parallel with the multi-controller feature.
Great graphic user interface.
Monitor important hardware data at a glance with tray icons.
Pricing
Argus adopts a one-time license payment model. Your payment gives you rights to the platform and all versions released before the expiration date.
Your application isn't terminated after the expiration date; however, you won't have access to new versions released in the future.
But, you can upgrade to newer versions after your license expires by paying for update maintenance.
Here's a summary of Argus Monitor pricing:
Duration
License Fee
Renewal of update maintenance
30-days Evaluation
Free
1 year
$13.90
$9.90
3 years
$28.90
$18.90
FanControl

What started as a simple project to solve Remi Mercier's cooling challenges has turned out to be loved by all. FanControl was created by Remi after he noticed SpeedFan wasn't updated regularly and the existing software version couldn't detect new boards.
So, Remi Mercier took a proactive approach to build a fan control software for himself then he shared it with others who experience the same challenges as him.
The result? Well, he was applauded by the community for his efforts and some members gave suggestions on how to improve the program, while others made some donations to support him.
In addition, FanControl has received several updates over the years to support new motherboards and the developer still works improving existing features and making new additions.
Key Features:
Saves your predefined configurations and reloads on launch.
Several display options — dark or light mode display with colors.
Allows you to choose a custom name for each fan and custom temperature source.
Offers sync fan curves, flat curves, graph curves, linear curves, and a mixed fan curve.
Allows you to synchronize different fan curves for a resultant output.
Pricing
FanControl is completely free. However, you can donate to the developer to support the project and keep it going.
EasyTune

EasyTuneTM is a system optimizer created by Gigabyte to enhance hardware performance on Giga boards. So, don't be surprised when you find features beyond fan control on the program.
The EasyTuneTM 6 is the latest version of this Gigabyte software. It features a stylish user interface with several enhancing functions to help beginner overclockers and enthusiasts to get more from their motherboards.
For starters, you can easily tweak your PC's GPU output, tune CPU frequency, and more. But our primary focus is the 'Smart Fan' feature this tool offers.
Using the Smart Fan controls, you can tweak your fan speed to provide cooling based on your processor's temperature. EasyTune doesn't provide fancy charts nor does it provide detail on the fan voltage, but it still gets the job done.
Key Features:
Offers different levels of enhancement options to boost CPU performance.
Optimization tools are easy for beginners and enthusiast overclockers to use.
Includes an 'advanced mode' with additional features such as Intelligent Memory Booster and CPU Intelligent Accelerator.
Pricing
EasyTune is free for all to use.
MSI Afterburner
MSI Afterburner is a popular graphics card software that allows its users to overclock hardware. However, there's a relationship between graphics and fan speed because high graphics demands effective cooling.
As a result, MSI Afterburner offers some fan control utility in the bundle of features they offer. You might say "I don't want to overclock my GPU" — Well, that's perfectly fine. You can simply apply this program to control your fans.
If you've got some RGB fans attached to your PC, then you'd enjoy controlling it with this software. Let's highlight some unique fan control features MSI Afterburner offers.
Key Features
Customized fan profiles that allow you to predetermine your cooling performance.
Helps you find the right balance between your PC's performance and the best cooling range.
Compatible with MSI and Non-MSI hardware.
Accurate hardware monitoring in real-time.
Pricing
MSI Afterburner is completely free for anyone to download.
HWMonitor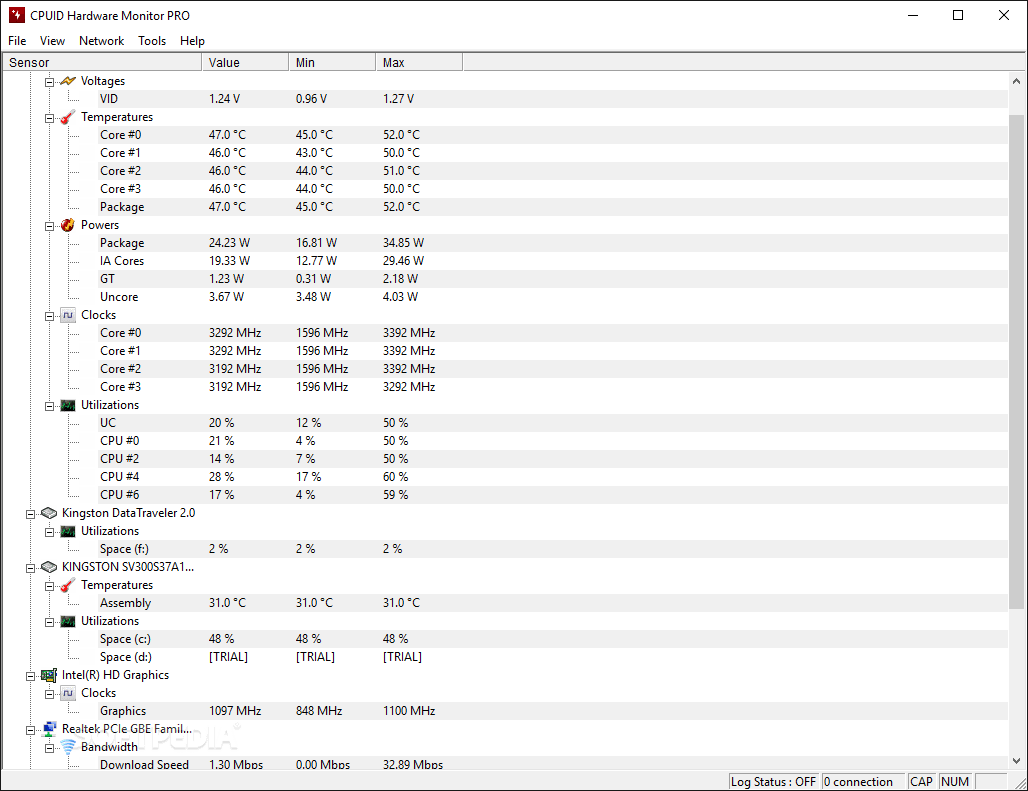 HWMonitor is another program that works well as a fan speed controller like other programs mentioned so far. It was created by CPUID and they have garnered support from their community over the years.
This product displays your PC's hardware vitals: GPU, voltage, fan speeds, and others, so you can keep an eye on any data that's important to you. Also, you can keep an eye on your graphic card and chip temperature through S. M. A. R. T. readings.
There are two variants of the software. We have the Classic HWMonitor and an extended HWMonitor Pro.
The classic monitor is free for all to download and use; however, you can get more out of your system with the HWMonitor Pro software which comes at a price.
Key Features:
Generate bitmap graphs with monitoring data saved over time.
Remote monitoring several PCs and Android devices via TCP/IP connection with the HWMonitor Pro.
Improved user experience.
Pricing
HWMonitor offers two licensing options. They are as follows:
Type of License
Price
HWMonitor Standard:

10 remote connections
Access to latest updates for 1 Year
No expiration

$22.75
HWMonitor Extended:

20 remote connections
Access to latest updates for 2 years
No expiration

$38.86
AI Suite III
If you happen to have an Asus motherboard installed on your PC, then this program might just be what you need. The Ai Suite III was created by Asus, a reputable manufacturer of PCs and computer accessories.
The tech giant created this software to help manage all Asus accessories installed on a computer. You can tweak some parameters of your hardware to make them perform better.
Ai Suite III, allows you to overclock your CPU, monitor temperature and fan speed. This utility software features an elegant user interface, and a plethora of settings to help give you the results you desire.
Sadly, you can only control your fans if they're connected to an Asus motherboard.
Key Features:
Enhanced power saving options for compatible Asus motherboard boards preset to handle low-powered tasks to high-power demanding activities.
Fan Xpert helps you monitor fan speed (usually rated in RPM) and configure suitable cooling parameters based on your activities.
Comes with several tools like USB BIOS Flasher, Ai charger, Wi-Fi engine, and others.
Pricing
Ai Suite III is licensed as freeware. So, you can download it for free and use the software as you please.
HWiNFO
Yet another handy fan control software on our list is HWiNFO created by REALiX. This diagnostic tool gives you in-depth monitoring, analysis, and reporting of all aspects of your computer.
HWiNFO, gives you much information you'd ever need about your computer. No wonder NASA or other top firms use the program to obtain extensive real-time data on hardware parameters.
You might ask "if it's so great, why is it down on the list?" Although HWiNFO is great and all, we shouldn't forget the fact that it wasn't made specifically to control fan speed, nor was it designed for overclocking. Despite that, you can tweak your PC with the software, but you'd find other programs mentioned easier to you.
Key Features:
Customizable user interface.
Supports integrations with other plug-ins and offers status logging and Multiple types of reporting.
Software is always up to date with the latest hardware technologies and offers in-depth analysis of hardware components.
Pricing
You can download HWiNFO64, HWiNFO32, and HWiNFO DOS for free. But, if you need more advanced features, you need to pay for the HWiNFO64 Pro.
Here's what it'll cost you:
License Type
Unit Price

(Unit price reduce as volume increases)

Personal
$25.00
Corporate
$37.50
Engineer
$200.00
Notebook FanControl
In a world where most fan control software is focused on gaming PCs and Macs, it's nice to see someone dedicate their time to creating a fan speed controller for notebooks.
Notebook FanControl is open-source software that comes with preloaded configurations of several Notebook models.
All you need to do is select your Notebook model from the available list, and head straight to adjusting your fan speed. It's that easy.
Key Feature
Allows you to launch the program at the start of Windows.
Customize tray icon to show temperature/fan readings.
Easy to understand and use.
Pricing
Notebook FanControl is free. But, if you're feeling generous, you can send a donation to support the genius behind the project.
Corsair iCue

Corsair is a popular gaming PC and graphics manufacturer that has built a solid reputation and community over the years. So, if you've got a Corsair motherboard, RGB fans, graphics card, or other accessories for the brand you can customize them with the Corsair iCue program.
Before now, Corsair Link was the go-to software for these optimizations. However, the company discontinued that software line and launched their iCue software which is better software.
Let's have a look at some things you can do with this program.
Key Features
Boost your PC's performance with automated fan curves created based on your activities to keep your system running cool.
Program RGB lights to signal an increase in temperature.
Choose preset performance modes such as 'quiet mode', 'gaming mode', and 'movie mode' based on your needs.
Pricing
You can download the Corsair iCue software for free.
Zotac FIRESTORM
Zotac needs no introduction (especially for gamers); however, if you're just about them for the first time, Zotac is a reputable gaming PC and hardware manufacturer.
This optimizer software is similar to MSI Afterburner, but Afterburner is a much better option.
What I like about FIRESTORM is its user interface. I feel Asus' Ai Suite III still looks better, but FIRESTORM's UI also looks good. If you're a gamer you can install this software to regulate fans for your graphics cards.
Key Features:
Create and save up to three (3) profiles for your fan based on your needs.
Configure RGB lights for your gaming PC.
Use the smart fan feature to adjust fan controls with auto settings or customize your fan curves as you please.
Pricing
Download of Zotac FIRESTORM is free.
Open Hardware Monitor
Last on our list for this category (but by no means the least useful) is Open Hardware Monitor. It's a great app for monitoring your computer's hardware stats like temperature, fan speed, CPU, GPU, and other important details.
However, I think it's worth mentioning that this program does not directly adjust your fan speed. Knowing this, I've included this software because I've noticed some other programs don't give accurate data about your hardware.
So, if you're not necessarily out to adjust your fan speed and you just want to keep an eye on some important hardware information, then Open Hardware Monitor is definitely for you.
Key Features
Provides accurate readings on Intel and AMD processors and runs on x86 Linux systems and Windows processors.
Collects readings from a variety of sensors on the mainboard. It is not limited to the S. M. A. R. T. system alone.
Pricing
Open Hardware Monitor is open source and you can download it for free.
Fan Control Software For Mac
Every PC overheats at some point, even your Macbooks. But, unlike Windows laptops, utility tools to help remedy these challenges of Mac OS aren't very common.
Here are some effective fan control software for Mac OS.
Macs Fan Control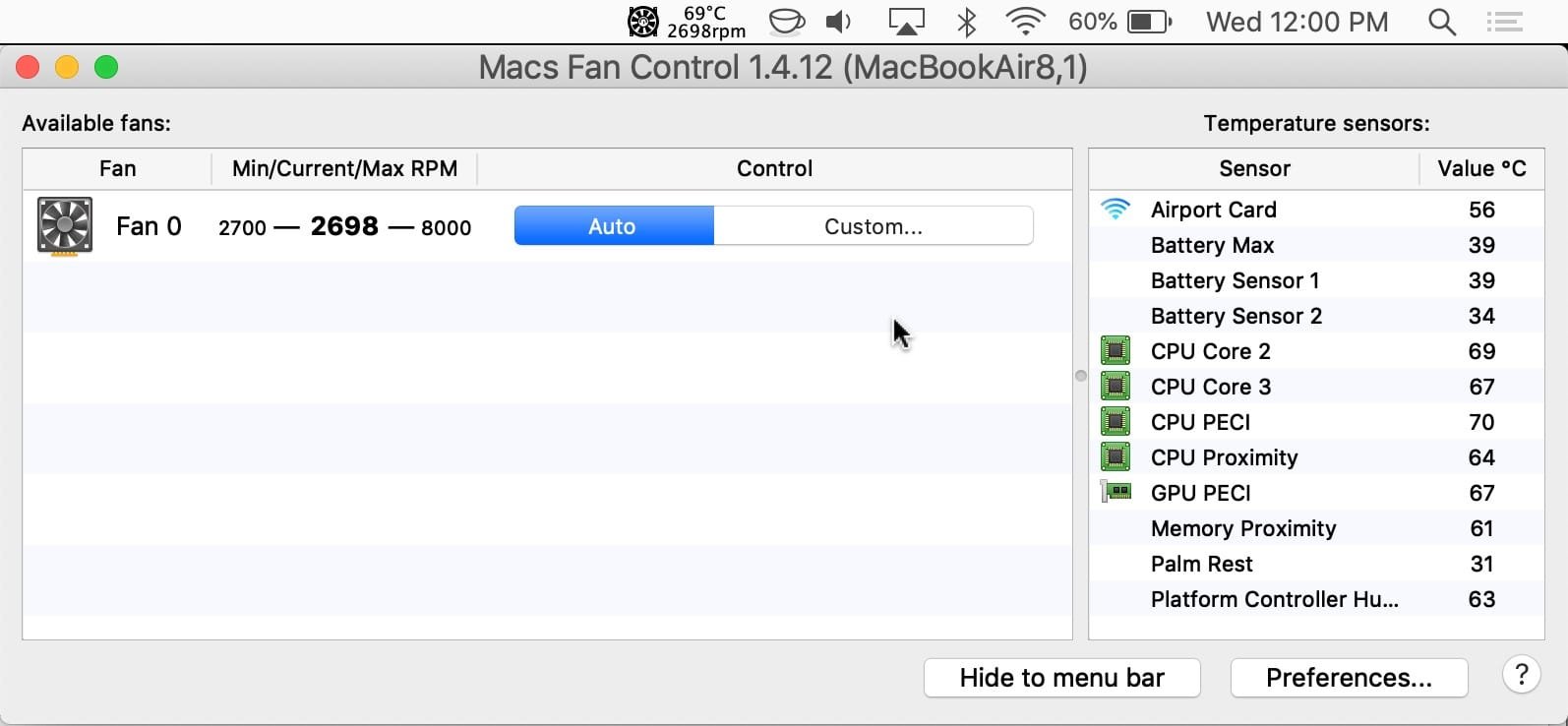 This is inarguably the most popular fan speed controller for Macs. Macs Fan control software was created by Crystalidea, and the program can run all Mac products (iMacs and Macbook Pros inclusive).
The fan control software specifically targets two challenges encountered by Mac users. The first issue it solves is the overheating of the MacBook Pro. Then, the second issue it solves is the weird noise given off by iMacs with HDD replacements.
Moreover, you can also install the software on Windows systems, in case you'd like to run the program on both computers.
Key Features:
Control fan speed based on readings gotten from a temperature sensor or preset a custom RPM value.
Use predefined custom fan control parameters or run on auto mode based on your activity.
Create and save your preferred fan control parameters and switch between each one as the need arises.
Macs Fan Control is translated to 10+ languages for increased accessibility.
Pricing
Macs Fan Control is available to download for free, but if you've got some money to spare, you can upgrade to the pro version.
Here's what it'll cost you to get a Macs Fan Control Pro:
License Type
Unit Price

(Unit price reduce as volume increases)

For macOS
$14.95
For macOS and Windows
$24.95
SMC Fan Control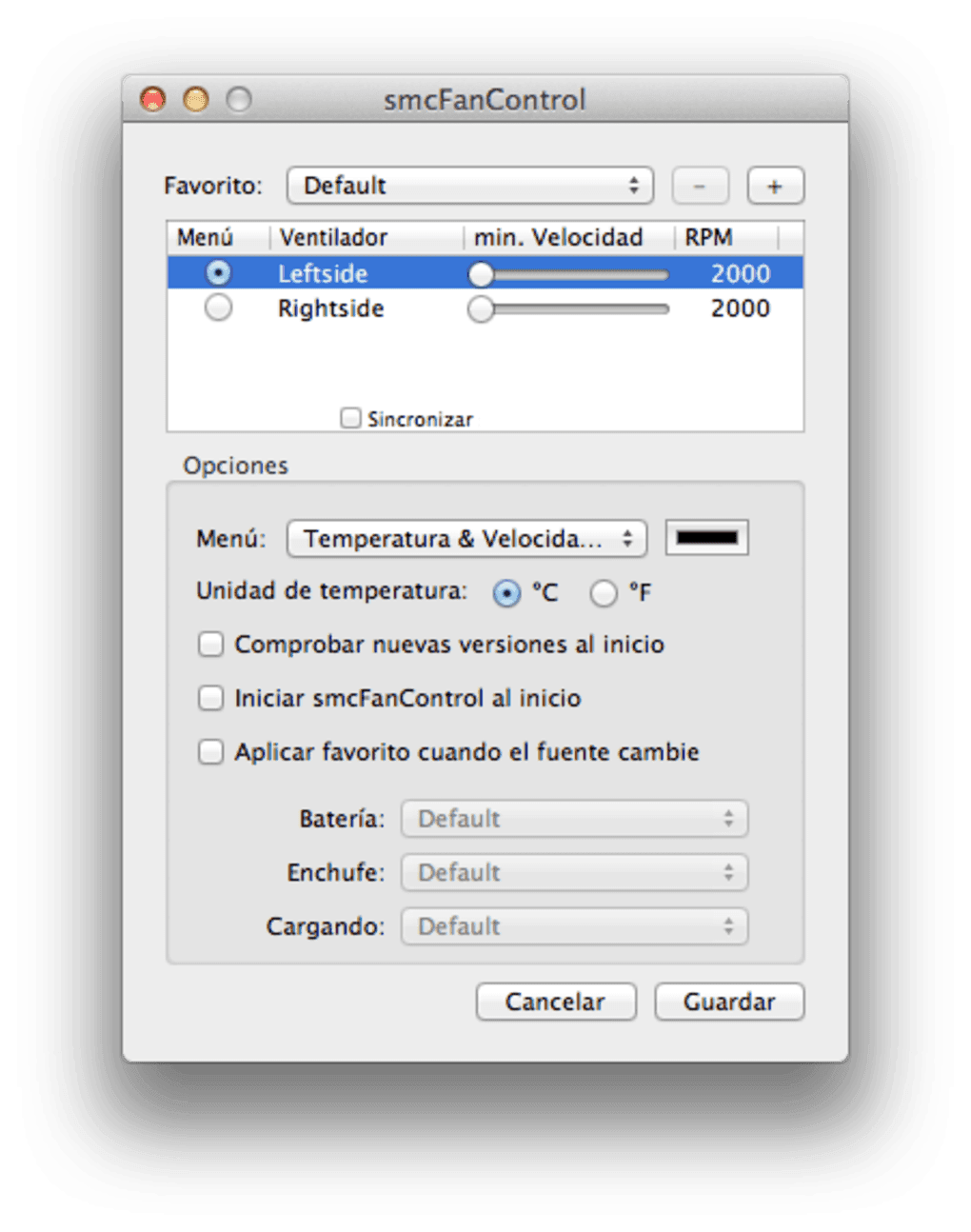 SMC Fan Control is another handy fan control software you can find online. It's not as sophisticated as the Macs Fan Control but it's worth considering if you'd like to test different programs.
Like the others, you can access your CPU temperature through S. M. A. R. T. and adjust your fan speed based on the temperature reading you get.
Also, the software helps reduce loud fan noises by letting you reduce the fan speed in such cases. However, SMC Fan Control doesn't allow you to adjust fan speed below manufacturer default settings to avoid damage to core components in cases of overheating.
Key Features:
Monitor and display temperature and fan speed on the icon tray.
Adjust fan speed based on preset parameters to suit your activity.
Easy to use interface.
Pricing
You can download SMC Fan Control for free.
HDD Fan Control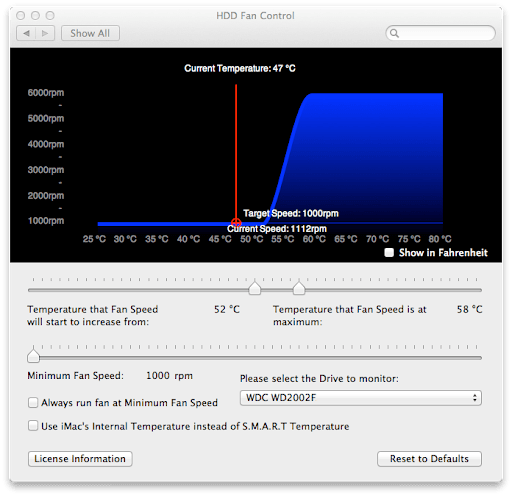 If you've got up to 256MB Ram, 20MB free HDD, and a MacOS 10.7 or later software, then you've got all it takes to install the HDD Fan Control software.
As the name implies, HDD Fan Control gets its temperature readings directly from your HDD or SSD's self-diagnosis system. So, there's no need to start using Apple's native temperature sensors.
Moreover, HDD Fan Control software prevents your drive from overheating by making your fan run cooler when the temperature reading is high. And when the temperature is low, it reduces your fan speed to minimize the noise your fan makes when it's on full blast.
Key Features
Offers a simple, yet sophisticated interface for beginners and enthusiasts.
Protects HDD or SSD from damage by keeping it at a cool temperature.
Operates without Apple's firmware temperature sensor.
Pricing
HDD Fan Control software offers a demo version of the software which you can try out for only an hour (I wish it was longer).
After the evaluation period expires, you are required to buy a license to continue using the software.
The HDD Fan Control software license cost about $35.00
Frequently Asked Questions
Is there software to control my fan speed?
Yes, you can find several programs online that can help you control your fan speed. Most of this software is licensed as freeware, others are open source applications, while few fan control software are premium tools.
Can you control case fans with software?
Yes, you can control case fans with software. Several fan speed controllers allow you to create different profiles for different fans. You can decide how you want each fan to operate based on your activity.
How do I monitor my PC fans?
You can monitor your PC fans and CPU temperature easily with, pretty much, any system diagnostic tool.
Wrapping Up
A lot can things can go wrong when a computer's CPU overheats. For starters, the computer could freeze a bit, hand, or crash. Then in cases of prolonged overheating, some hardware components could get damaged or the entire motherboard may be rendered useless.
A sure-fire way to prevent yourself from being in such an unfortunate situation is to ensure your fans run as they should. Sometimes the default firmware settings may not instruct the fans to cool the CPU and other relevant hardware effectively (especially running very demanding software).
Fan speed controllers come to rescue us by ensuring core hardware components get more cooling in based on their temperature. Moreover, they adjust the fan speeds when it doesn't need to be on full blast, which also reduces noise.
I hope this guide helps you find suitable software that keeps your PC in good working condition.