13 Best Embroidery Digitizing Software of 2022 (Free and Paid)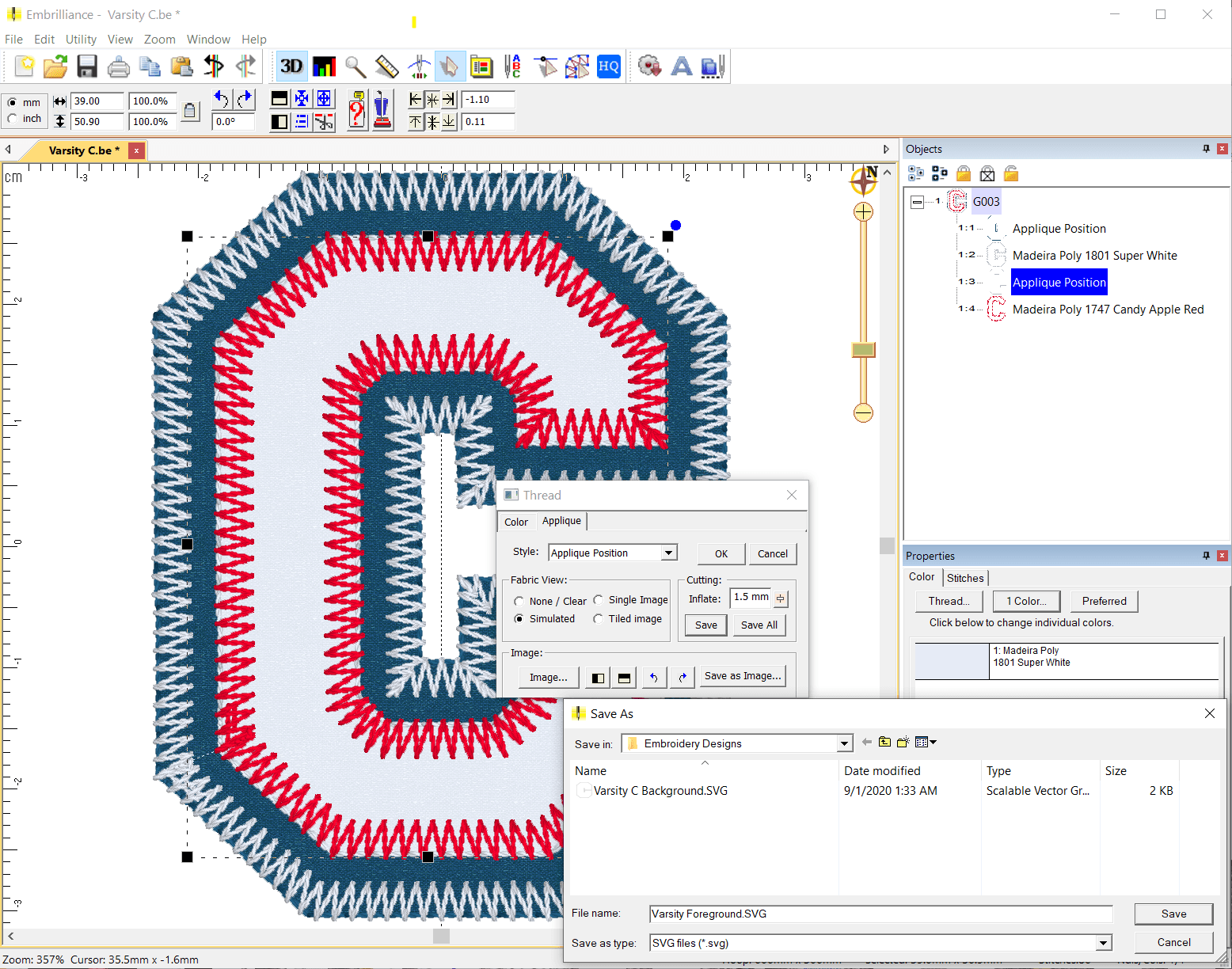 People often ask, "what's the best embroidery digitizing software?" In this post, I'd try my best to provide a comprehensive list of software to answer your questions based on my findings after extensive research.
Over the past century, we have moved from hand-stitching embroidery designs with needles to inventing machines that help us do the work. And when we thought things couldn't get any better, some talented individuals had a eureka moment that led to the invention of embroidery digitizers to make our lives even easier.
The old-school method of embroidery creation by hand or with a machine is still effective, but it's time-consuming. Unlike the old methods, you can create your embroidery design on software then send your designs to an embroidery machine which creates your patterns on the fabric.
Having this powerful machine and software solves a lot of problems, but it leads us to another problem – choosing a suitable embroidery digitizing software. Several software manufacturers have come up with brilliant digitizing tools. Where options abound, it becomes difficult to make a choice.
I've created this guide to help you choose an embroidery software that best suits your needs. By the end of this article, you'd know some of the best free and paid embroidery digitizing software out there and the key features that make them unique.
So, if you're looking at creating or editing embroidery designs, ensure you read this guide thoroughly to get started on the right foot.
What Is the Best Embroidery Digitizing Software?
Being a creative designer is a plus; however, having a powerful tool can make things much better. That said, here are my top picks of the best embroidery digitizing software.
Embrilliance

This software manufacturer created by Briane Bailie stands by its catchy slogan which reads: "Embroidery is for the rest of us." Those words pretty much sum up what Embrilliance is all about; the software was created for everyone. Are you a hobbyist, an enthusiast, or a professional embroiderer? There is a program specifically tailored for you.
So, why is Embrilliance loved? Firstly, the software boasts of fun and easy-to-use platform. Although using the platform would require you to learn a new skill, the software creators have provided very helpful videos to make things easy for you. Also, the program is cost-effective due to its modular nature. This means you only pay for what you need.
The various modules or components in the software are as follows
Embrilliance Essentials – for users with basic needs.
Embrilliance StitchArtistic
Embrilliance Enthusiasts – for users in need of more editing tools, but not too much.
Other tools; Thumbnailer, AlphaTricks, Density Kit Repair.
Though you pay for these modules separately based on your needs, they all work smoothly on the same platform. Also, you can use all tools at the same time if you eventually decide to buy all the programs the software offers.
Key Features:
Product license allows you to install software on multiple computers (even on Windows and Mac OS).
Offers a wide range of editing tools from the basics to more advanced tools depending on your program.
90 days money-back guarantee.
Pricing:
Each module costs differently. Here's a rundown of the Embrilliance software price listing.
Embrilliance Enthusiast – $179.00
Embrilliance Essentials – $139.00
Embrilliance Thumbnailer – $39.00
StittchArtist;

Level 1 – $169.00
Level 2 – $369.00
Level 3 – $649.00
Hatch Embroidery Digitizer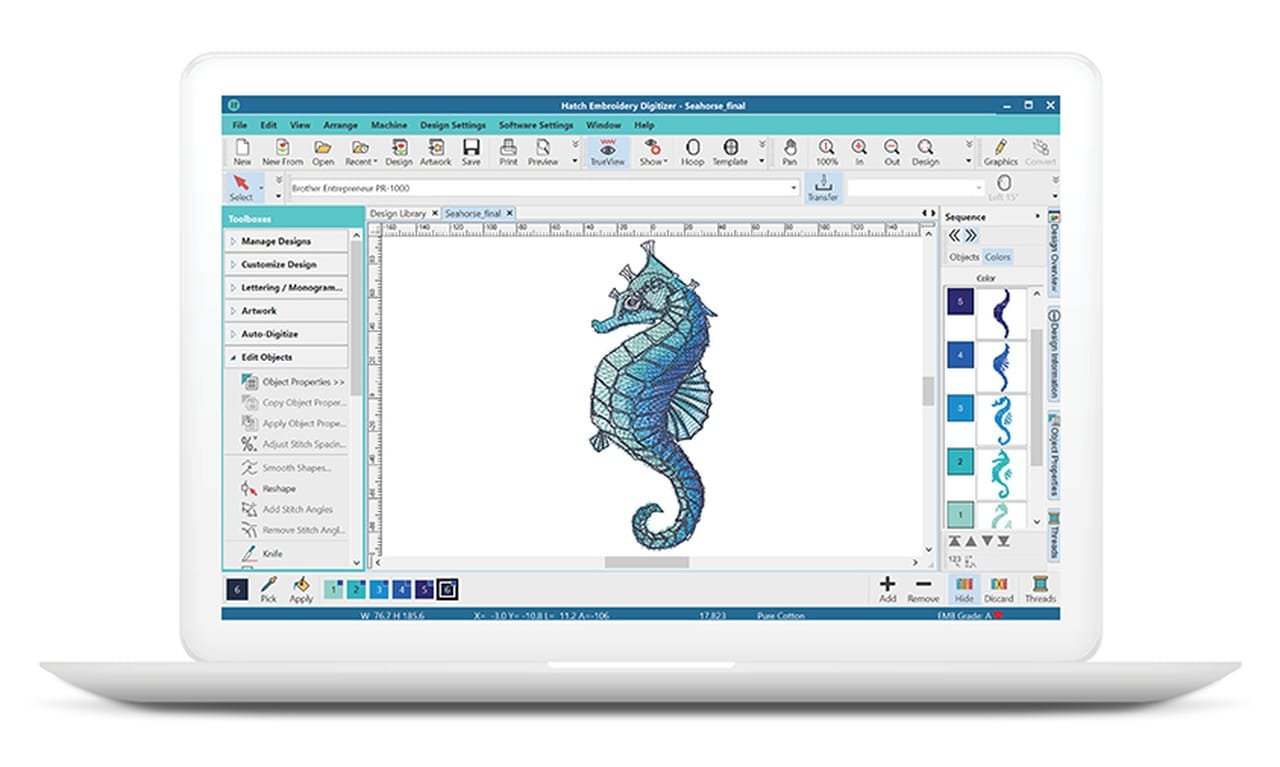 Another impressive embroidery digitizing software is the Hatch Digitizer created by the popular sewing machine manufacturer, Wilcom. This company has been manufacturing machines for years and they've put over three decades of experience into creating software that makes things easy for you.
Almost every embroidery software out there boasts of advanced editing techniques, but what makes one better than the other? The answer is simple. It all depends on how easy it is to create your designs with these tools, and this is where Hatch stands out amongst its peers.
This embroidery software steps in to do most of the heavy lifting for you. What do I mean? Well, some programs require you to manually input 'stitch settings' but Hatch helps you automate the process, making things much easier.
Furthermore, this program features a rich repository of tutorial videos to get you up to speed with the features of the platform. From the Hatch Academy, you'd learn how to create cool designs like a seahorse, turtle, and others from the scratch. Also, this software is modular, so you can add additional programs as you grow.
Key Features:
Unique embroidery file format. Hatch software designs are saved in a format that allows you edit your work as though they are vector based files.
Auto Digitizing. You can create beautiful embroidery objects easily by scanning existing artwork.
Contains up to 108 professionally digitized fonts.
Auto fabric assist and branching tools.
Auto assigns Stitch properties.
Pricing:
The Hatch Embroidery Digitizer software costs $1, 099. If you don't want to pay the fee upfront, you can pay installments using FlexPay at $99/month over 12 months.
my editorTM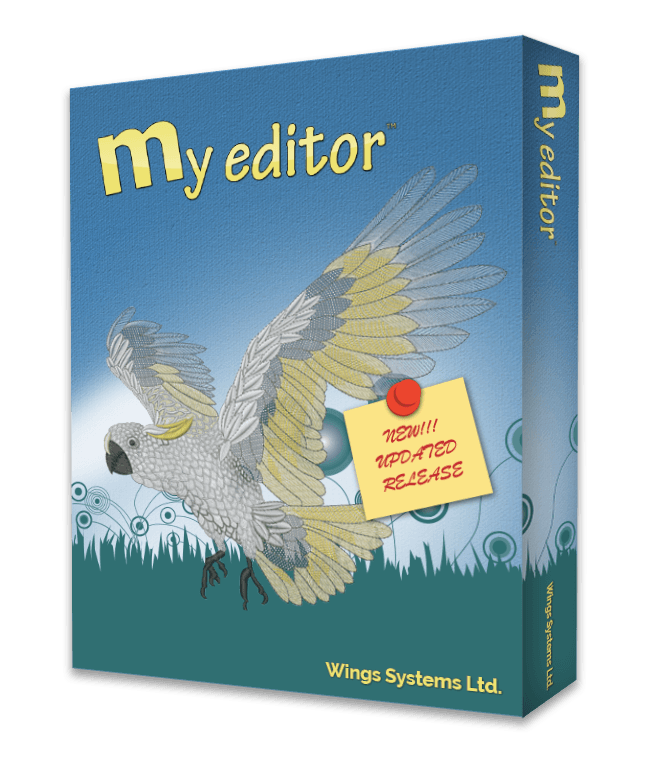 I'll begin my list with a free tool offered by the creators of Wing' XP. As the name implies, my editorTM allows you to view and edit embroidery designs. This software is great if you're trying to make simple modifications to existing designs in an easy-to-use interface.
Though my editorTM is a simple application, its functionalities are quite impressive. For starters, you can view your designs in real thread colors which saves you from missing out on key details. You can move single or multiple stitches, insert new stitches, replace stitches, and delete some stitches you don't want in your design.
Also, you can benefit from the software's production and material management tools that help ensure the outcome of your design comes out just the way you'd want it.
Key Features:
Allows re-designs to be saved in different embroidery file formats suitable for your preferred machine.
Import or export your designs to Dropbox cloud storage and integration with DRAWings Snap.
Permits merging of open designs using the Copy and Paste editing tools.
Features a fully-customizable workspace to suit your taste. The dockable roll ups and toolbars can be repositioned easily by dragging and dropping them at a preferred location. There are also additional options at the end of each toolbar that allow you to choose whatever tools you want to see.
Pricing:
The application is completely free. To get started, all you need to do is fill out a registration form and a download link will be sent to the email address you have provided.
Inkstitch
Inkstitch is an open-source embroidery software based on Inkscape. Being open-source means that the platform is completely free and it benefits from its active community which works tirelessly to improve the embroidery digitizing software for everyone.
So, who can use InkStitch? Pretty much anyone, from hobbyists to professional embroiderers. Being open-source doesn't mean this tool has less functionality than other reputable mainstream software. You can create custom designs for satin stitch. You can also create stitch files from scratch or from SVG drawings, and much more.
Although Inkstitch is updated regularly, their team of developers still hopes to include more helpful features like multi-decoration support and automatic splitting of designs (for small machines) incoming updates.
Key Features:
Open source embroidery software that works across multiple platforms (all code libraries are in-built, no need for additional installs).
Supports multiple embroidery file formats like EMB, PES, 10o, SEW, and much more.
Includes over 60 manufacturer thread pallets with a PDF containing thread names and catalog numbers.
User interface is translated to several languages to improve accessibility.
Pricing:
Inkstitch is completely free to download and install on your LINUX, Windows, or Mac OS.
PE-Design Embroidery Software

The PE-Design line of software is produced by Brother, which is a reputable sewing and embroidery machine manufacturer. Though they have a lot of programs in their portfolio, the most popular products are the PE-Design 11, BES Lettering 4, and the PE-Design Plus 2.
Basically, the PE-Design is mostly used for editing already existing designs. It's similar to Embrilliance Essentials or my editorTM software. On the contrary, PE-Design 11 allows more advanced editing options and allows you to create your unique designs from scratch.
Brother's PE-Design software covers everything from digitizing, editing, monogramming, and much more. The PE-Design 11 offers pretty decent auto digitizing functionalities which will produce good embroidery designs for simple images.
Additionally, the PE-Design 11 allows you to create custom fonts, designs, and stitches you can apply on hats, pillows, fabrics, and other materials for subsequent use.
Overall, this software works really well; however, it's still a bit lacking in user-friendliness when compared to Hatch or Embrilliance embroidery digitizing software.
Key Features:
Intelligent Color Sort saves you spent in changing threads by stitching areas that share on color in groups.
Consists of up to 130 in-built fonts and 1,000+ in-built designs that can be previewed before stitching.
Transfer designs wirelessly between the Luminaire XP1 machine and your PE-Design 11 software.
Pricing:
The cost of the PE-Design 11 starts at $1,354 (VAT included) and the PE-Design Plus 2 costs about $450 (Inc. VAT).
If you're skeptical about going for this product, you can take advantage of the 30-days free trial the company offers to test the waters.
Try Brothers Embroidery Software.
SewArt and SewWhat Pro
If you'd like a simple and more affordable version of Embrilliance Essentials or Hatch, then SewArt and SewWhat Pro might just be what you need. This embroidery digitizing software is produced by S and S Computing.
These programs were created to serve different purposes. For instance, the SewArt software is used for viewing, customizing, and editing embroidery designs. Whereas, SewWhat Pro is an embroidery auto-digitizing software that works pretty well.
But as an auto-digitizer, you're not allowed to create designs from scratch. The best you can do is edit digitized designs if you're not satisfied with the embroidery design produced by the software.
I'd recommend this product for beginners. You can learn how to use the software easily with some YouTube videos. Also, auto-digitizing tools do not require a learning curve or creative genius to get started. So, you can produce decent designs without spending hours learning and mastering advanced editing tools.
Key Features:
SewWhat Pro and SewArt support languages other than English. Some supported languages include Danish, French, Dutch, Spanish, German, e.t.c.
SewArt supports several embroidery output formats for various embroidery machine manufacturers (including .PES, .DST, .XXX, and others).
SewWhat Pros serves as a thumbnail viewer and converts Cross Stitch pattern files to embroidery files using a plugin.
SewWhat Pro allows you to simulate real-time stitching of a pattern.
Pricing:
S and S Computing offers two delivery options at slightly different prices for all their products.
SewArt:

$75 – Email download
$93 – CD and email download

SewWhat Pro:

$65 – Email download
$85 – CD and email download
Furthermore, the company offers a 30-day free demo version.
Embird Embroidery Software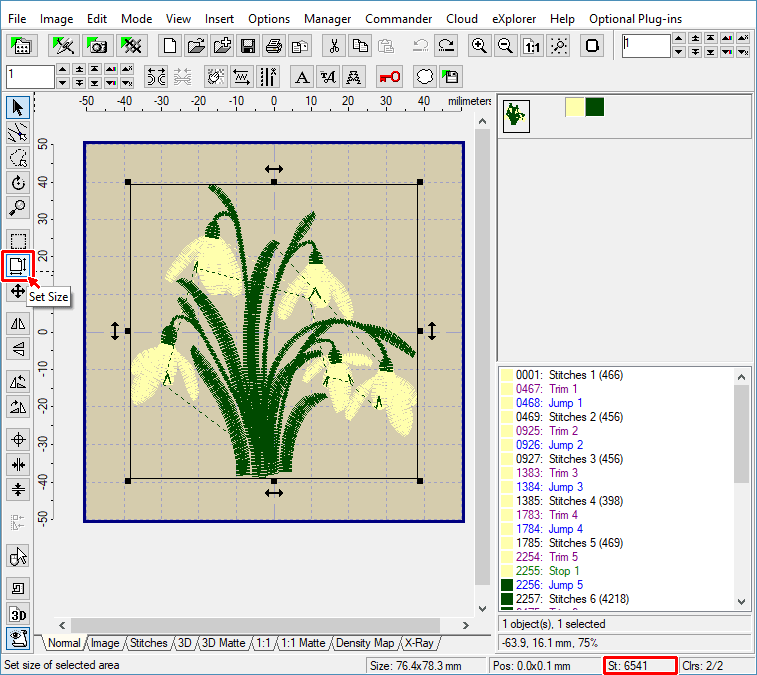 Embird is another impressive embroidery digitizing software for beginners or enthusiasts. The software allows you to edit and customize designs with options for manual digitizing.
Like other software mentioned so far, this company also offers modular programs. However, with Embird, additional plug-in modules are built upon Embird's Basic software.
Irrespective of what you'd like to achieve, you need to first purchase the basic program which mainly performs editing and customization. Then, you can download plug-in additional modules that offer more advanced editing tools. Some popular plug-in modules include a cross stitch plug-in, Embird studio digitizing tool plug-in, and others.
Key Features:
Contains several modules, allowing users to pay only for the tools they need.
Supports over 70 quilting and embroidery file formats.
Azure and Amazon cloud storage connectivity.
Plug-in modules offer advanced functionality like photo stitch and cross stitch.
Pricing:
The Embird Basic program costs $149. The cost of module plug-ins are as follows:
Studio Digitizing tools – $150
Cross Stitch – $75
Sfumato Stitch – $90
Font Engine – $145
Embird offers a 30-days free demo version with limited functionality. The maximum number of designs is 100.
Embroidery Tool Shed
Dime wasn't bluffing when they said "Embroidery Software for Everyone!" And this is what the Embroidery Tool Shed software they've created is all about.
The Embroidery Tool Shed is produced by Designs In Machine Embroidery (DIME), which is a community-based software developer with a drive to push creative embroidery designs to their limits.
This software is just perfect for beginners and hobbyists in need of easy-to-use tools for some embroidery editing and customization.
What does the Tool Shed offer? For starters, you can read and edit popular file formats of embroidery designs. You can also print templates with images, crosshairs, and color sequences. And much more.
Then, if you need additional tools, like a quilt embellisher or maybe a custom applique for pet emojis, you can simply download the tool and add it to your tool shed. It's that simple.
Key Features:
Offers adjustable viewing grids for more accurate design lines.
Includes a "junk stitch filter" to identify and remove stitches that may not be necessary for your design.
Provides a stitch sequence simulator to show you how the design would play out on the machine.
Includes realistic viewing options that give a real life representation of your design on a fabric.
Pricing:
Although the Embroidery Tool Shed is valued at $199, Dime offers this product for free with no strings attached. All you need is a computer that meets the software requirements and you're good to go!
Bernina ARTlink 9
Bernina is a family-owned Swiss sewing machine manufacturer that has been around since the 80s. Like other sewing machine manufacturers, they've put in their years of experience into creating sewing and embroidery software that can be used by beginners and professional designers.
The Bernina ARTlink 9 is one of the company's recent software that allows you to view and customize embroidery designs for free. ARTlink 9 boasts of a simple user interface that allows you to navigate the program easily.
Obviously, since it's free software the functions will be limited. For instance, you can't group and ungroup items on this software. But, you can resize designs and even choose from a wide selection of standard hoops.
Key Features:
Includes a stitch player that allows you to view on screen how your design will stitch out. You can view by color or stitch by stitch.
Auto Start and End function gives you control over the start point and end point of your design when it's being stitched out.
Provides hoop templates to help you customize printouts, optimize thread usage and machine runtime.
Allows you to export your designs to your Bernina machine over WiFi.
Pricing:
The Bernina ARTlink 9 is free to download. However, the software is activated after the free trial of the Bernina Embroidery Software 9.
Janome Artistic Digitizer

Janome is another reputable sewing machine company like Brother and Bernina. As you'd expect, they've also put in the effort to create sewing, crafting, and embroidery software for all to use in conjunction with their machines or other compatible machines.
One thing I'd have to say about the Janome Artistic Digitizer are the vast features the software hosts. No need for plug-ins or additional downloads. You've got almost everything you need in one software.
The software allows you to create original designs, choose from a wide selection of embroidery digitizing software options, add personal touches, advanced editing features, quilting motifs, crystal work, and much more.
Key Features
The platform is easy to learn and implement immediately. Janome included 60 videos in the software itself, to help everyone get up to speed easily.
Use the 'Array Tote' feature to use a single design to automatically occupy a stitch area neatly.
Janome Artistic Digitizer supports a 'Knife Feature' to segment your designs for more creative expression.
Apply the 'Floral Vine Fill' feature to insert customizable sprawling vines and blooms in your designs.
Pricing
Janome did not explicitly state the price of the product on their website. However, the price of the product on some e-stores costs between $900 – $1,000.
Also, you get a free copy of Janome Artistic Digitizer when you buy their Janome MC 15000 machine.
Sierra Stitch Era Software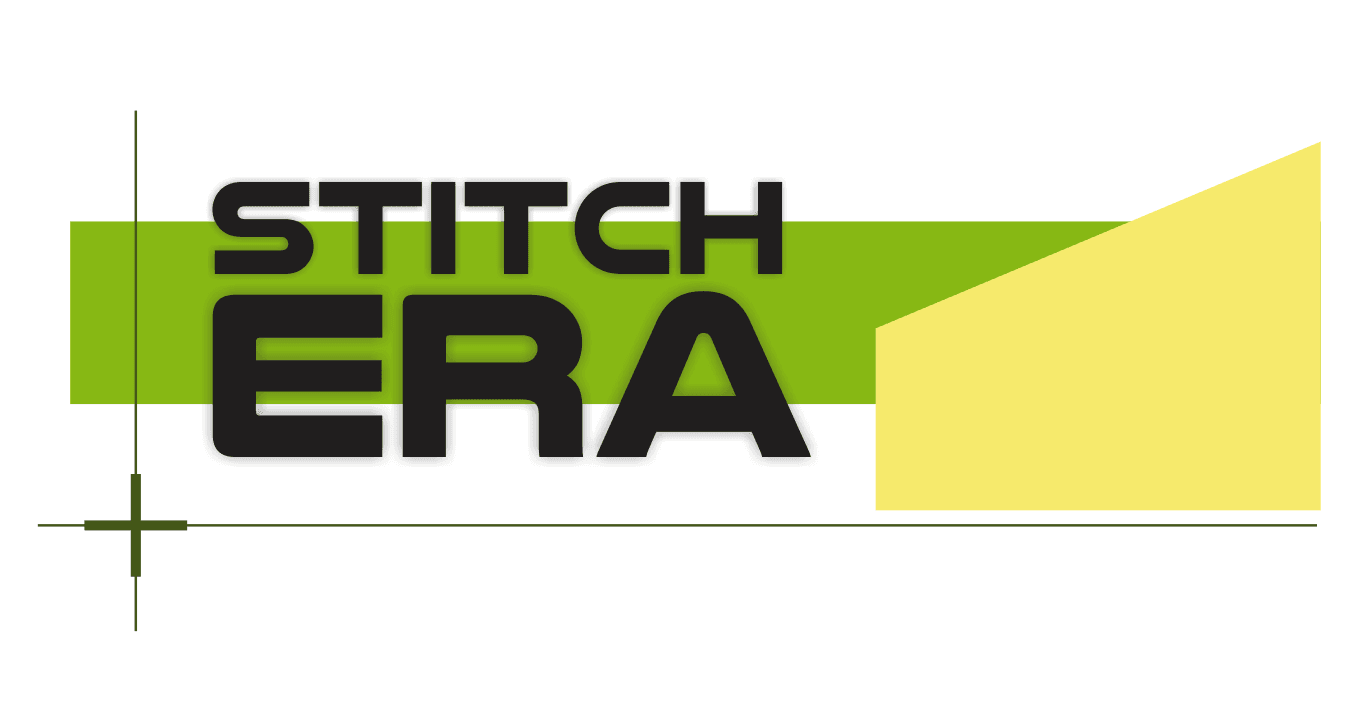 Have you ever considered paying for an embroidery software only to use for a month or two? Well, Sierra embroidery software offers a subscription-based payment option that gives you access to their software based on your subscription plan.
If you are just hearing about Sierra for the first time, then you'd be pleased to know that they've been in the clothing and apparel industry since the 90s. However, they've focused on software development, producing accessories, and marketing.
The Stitch Era is their embroidery tool kit that allows you to digitize vector images automatically or manually, add or remove texts, edit stitches, and export embroidery design to most commercial file formats.
Key Features
Integrate with HotFix Era to create more decorative embroidery designs with rhinestones and other creative tools.
Quickly convert images from any sources to vectorized images with the in-built vectorized tool for more precise image editing.
Add more depth to your shapes in your embroidery design with more than five fill stitch styles for more attractive designs.
Get more perspective with Stitch Era's synchronized multiple view options. Would you like a simulation view, design map, or satellite view? Sierra got you covered.
Pricing:
As mentioned earlier, you can subscribe to use the product monthly or you can make a one-time purchase, the choice is yours.
MySewNet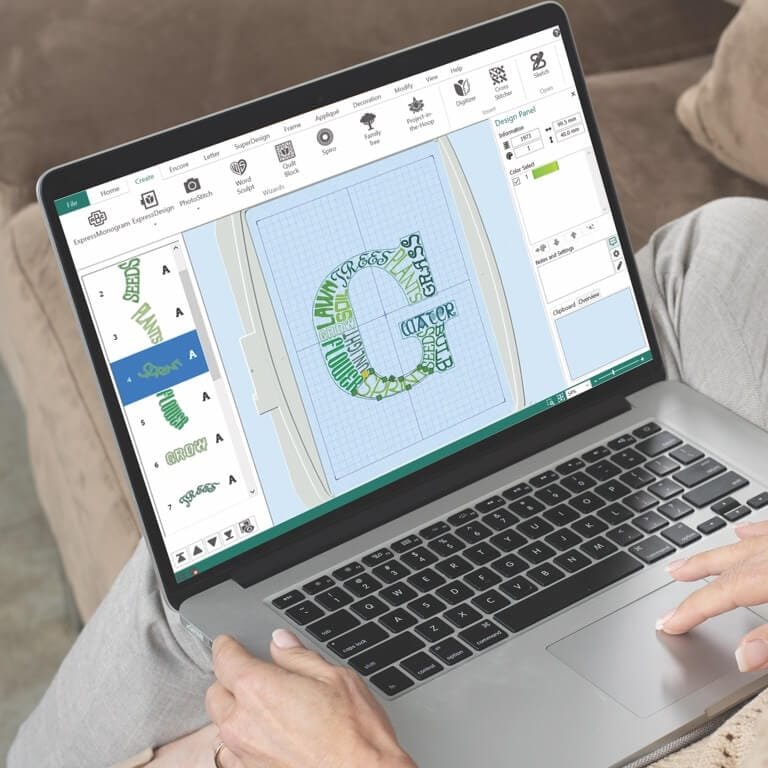 Before Sierra introduced their subscription payment option, there was MySewNet. Unlike the former, SewNet is built around a fully subscription-based system. Just by playing around with the two platforms I could tell MySewNet's payment system is easier to understand and it's cheaper too.
Moreover, MySewNet gives you access to their rich design libraries and even recently added designs at no extra cost. Additionally, even when there are new upgrades to the entire software, you don't pay an extra fee. Your monthly subscription is all you need to keep enjoying the platform.
Key Features:
Cloud-based embroidery software. You can edit your design wherever you are and whenever you want.
Supports iOS and Android apps for stitch monitoring, design placement, and much more.
Transfer your designs wirelessly to your MySewNet synched machine.
All features on the platform are always up to date, so you never miss out on anything.
Pricing
There are three subscription plans in this software package. They are;
Basic plan – $0/Month
Silver plan – $24.99/Month
Platinum plan – $49.99/Month
Premier+ 2 Software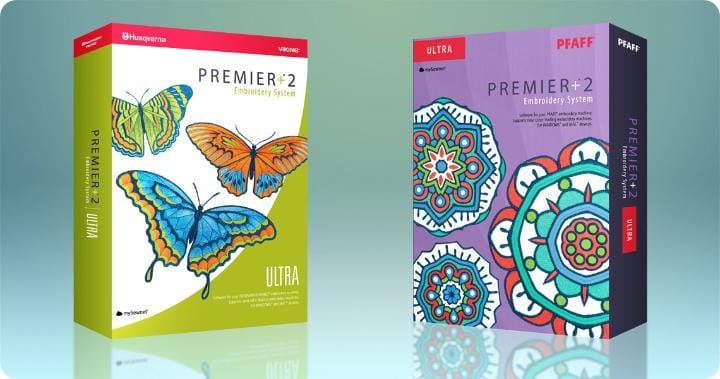 If you visit local sewing machine dealers often, then you must have come across this embroidery digitizing software. Premier+ is affiliated with Pfaff and Husqvarna Viking, which were both reputable sewing machine brands during their time.
Premier+ 2 features three programs you can choose from. They include; Ultra, Extra, and Embroidery. Let's take a closer look at the different tiers.
Starting with the least; the Premier+ 2 Embroidery software is a simple editing and customization tool. It's similar to what you'd get with using my editorTM or other basic tool.
Premier+ 2 Extra on the other hand, all Premier+ 2 Embroidery features with some additional features. You can create and analyze your own designs, and also quilt and photo stitch blocks for your projects.
Finally, Premier+ 2 Ultra is their full-featured embroidery tool which gives all the features highlighted already and much more.
Key Features:
All programs come with user guides to get you up to speed on how the platform works.
Includes 1200+ standard design templates and 1000+ SuperDesigns with some exclusive features for the Ultra package.
The Ultra tier includes a cross stitching tool, font creator, 6000+ quilt blocks and fabric backgrounds.
Pricing
Contact a local sewing machine dealership for pricing. However, the product typically ranges between $600 for the lowest tier to up to $2500 for the Utra. While the Extra package sits around $1500.
Things To Consider When Buying An Embroidery Digitizing Software
User Experience
You can tell how user-friendly a program is when you play around with it for some time. Thankfully, most software creators allow users to try their software without making any financial commitment.
So, watch some YouTube videos, try using the tools in some of these platforms; does it look like something you can handle? If it's not, then move on to trying other software. Remember, many blogs or people may say a particular embroidery software is easy for them to use, but it's okay if you don't share the same opinion.
Budget
Well, this might as well be the determining factor for most people. It's always advisable to stick to a product that won't put you under a lot of financial strain.
Modular software is great because you can buy tools you need and slowly work your way up to other modules with more advanced features. Furthermore, some companies offer subscription-based payments or installments that span over 12 months with FlexiPay.
Your Needs
There's no point in buying embroidery software for thousands of dollars to perform a task you could do with a less advanced tool that'll cost you less. Hence, the first thing you should do is to make a list of things you'd like to do with the software.
When you're done, compare your requirements with the features each product offers. Would you like to export SVG files? Or, you want to carry out some in-the-loop projects? Figure out what you want.
Your computer Specs
Well, you need to ensure the embroidery digitizing software you hope to buy would run smoothly on your PC or Mac. Every embroidery software creator displays their software requirements on the project page. So, ensure the product is compatible with your computer before buying.
Embroidery Machine
Every embroidery machine has certain file formats they can process and work with. If your embroidery software saves your designs in a format your machine can't process, then you might need to invest in a file converter. That said, it's better to ensure your software and machine can work well before making a purchase.
Embroidery Digitizing Software FAQs
What is embroidery digitizing software?
Embroidery software is used to customize, edit, or create embroidery designs from scratch. After creating your unique design, you can send the file to an embroidery machine to produce your designs on fabric.
How to use digitizing software for embroidery?
There is no "one shoe fits all" when it comes to using digitizing software. And if you're planning to design from scratch, you need to sacrifice some hours learning how to use the tools offered by your preferred software.
What are the types of embroidery digitizing software?
There are generally four types of embroidery software. They are as follows; Thumbnail viewers, file conversion software, digitizing software, and editing and customization software.
Wrapping Up
There you have it! 13 of the best embroidery digitizing software available on the market at the moment. It's important to mention that some products might be good for some people, while others might be ideal for others.
However, the software that's most suitable for you is one that offers the features you need, is easy for you to use, and is within your budget. Of course, it'll be a bit difficult to find such software. But, if you put in some effort you'd find the perfect software for you or at least something close.
I hope this list provides a good starting point for you to find the embroidery software of your dreams.