21 Best Karaoke Software for Windows and Mac in 2022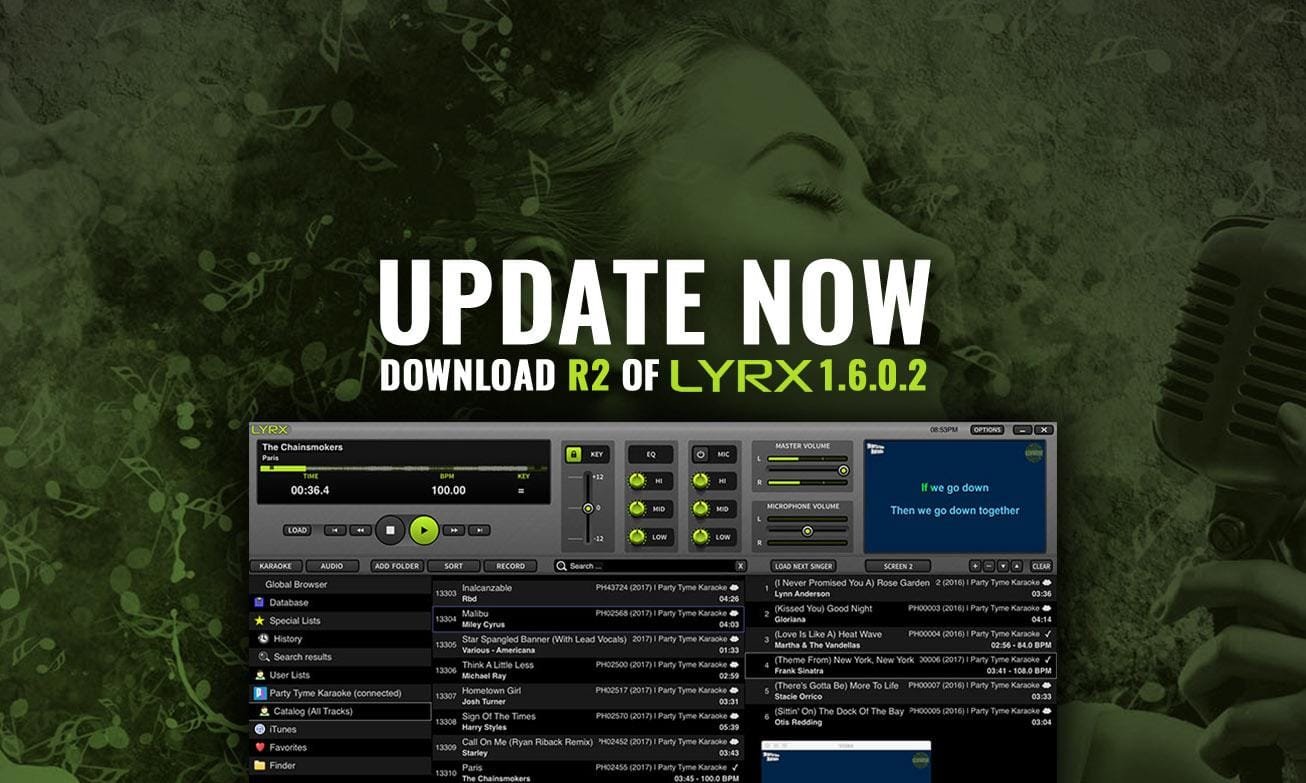 In this article, you will discover 21 incredible Karaoke Software applications for hosting exciting karaoke shows.
A budget karaoke machine would cost you between $50-$100. And some machines go as high as $400. These aren't outrageous figures, so many people wouldn't mind digging into their wallets for a fun time with family and friends.
But, what if you could spend less and still have as much fun, without sacrificing the quality of the experience? Installing a karaoke app on your Windows or macOS can make this a reality for you.
That said, I have compiled this list for home users, solo singers, and businesses in search of a reliable and affordable Karaoke Software tool.
What is the Best Karaoke Software in 2022?
I spent several hours researching and testing to curate this list. Moreover, I reached out to regular folks on the internet to find out what karaoke software they use and why.
If you don't have time to read the entire text, here's a summary of my top 10 picks:
LYRX by PCDJ (Windows & Mac)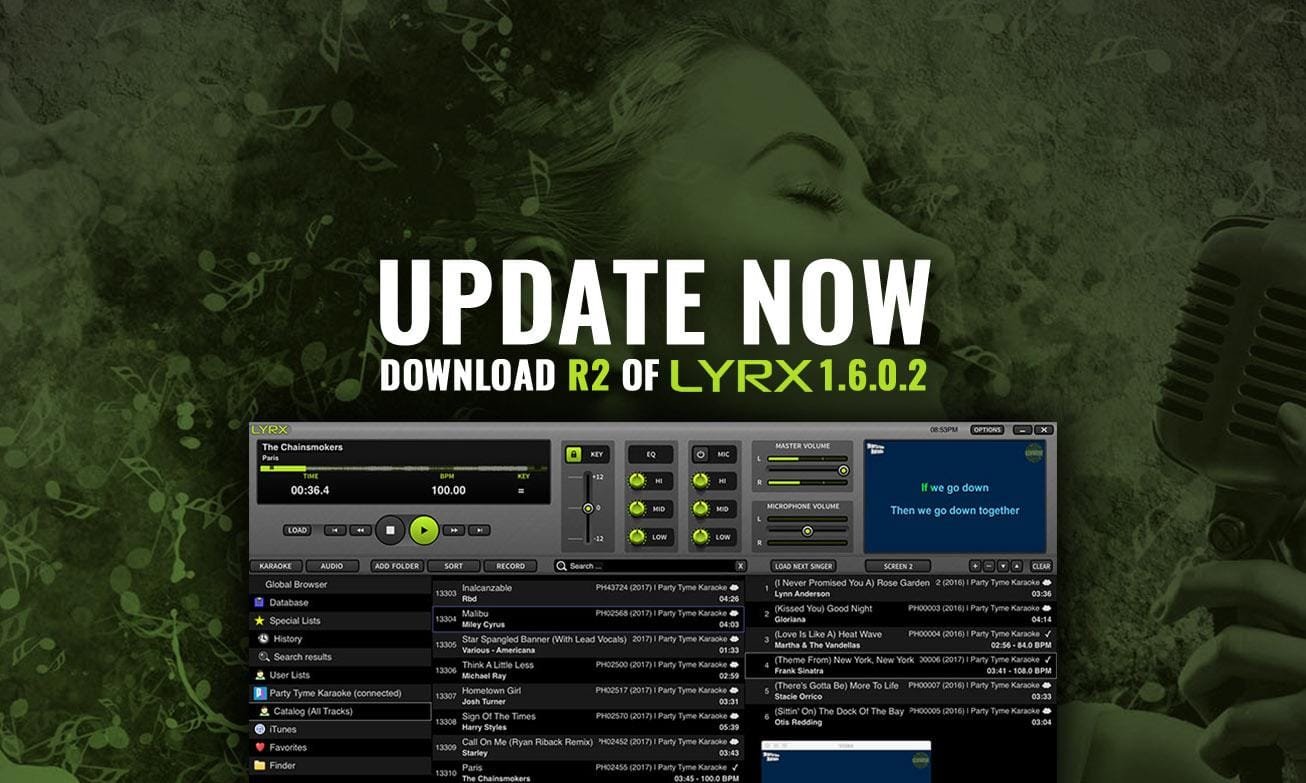 PCDJ.com has produced cutting-edge Karaoke Software, DJ Software, and Video Mixing Software for over 20 years and counting. The brand focuses on creating software that makes it easy for everyone (irrespective of skill level) to easily perform and mix their favorite tunes.
If you'd like to host a karaoke show at home, LYRX is one of the best places to start. Why? Firstly, the application is full-featured and anyone with a basic knowledge of how a computer works can navigate through the software effortlessly.
Moreover, with LYRX, you can send lyrics output to a second screen. With this, your singers can view lyrics on a larger screen. Also, Mac users can import their iTunes playlist and do other impressive stuff with the app.
Key Features
Supports high-quality karaoke file formats like MP3 + G, and others.
Gain access to Party Tyme Karaoke's library of new and classic karaoke songs.
The app records your karaoke sessions as you sing so you can share with friends and family
Automatically plays filler music in between singers so there isn't awkward silence in between.
Pricing
You can buy a license to this software at a one-time fee of $79.95. LYRX also offers a free version of the software, but you can only use it for 20 minutes.
The free trial automatically shuts down after 20 minutes of use. You can re-open the app and enjoy it for another 20 minutes (as many times as you like).
Final Verdict
PCDJ.com did a superb job creating LYRX. Now, anyone can be a karaoke host or a solo singer.
Karafun (Windows and Mac)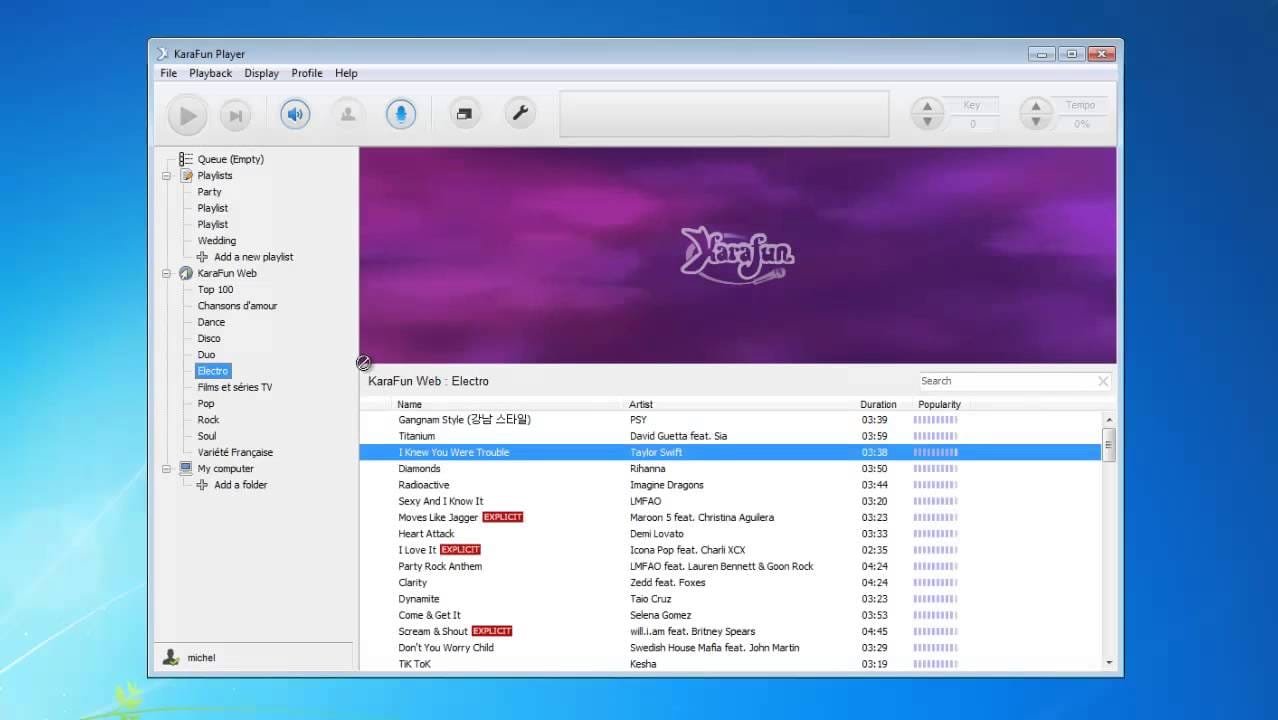 With Karafun, your smart devices (including mobile phones) can access over 46,000 HD karaoke songs at any time. The platform caters to individuals, businesses, and KJs. Irrespective of your needs, Karafun has something for you.
Additionally, you can download the Karafun app on your Android TV or Amazon Fire TV, so you can turn your living room into a karaoke bar for fun times with friends and family.
Key Features
Cross-platform application: Karafun runs smoothly on web browsers, mobile devices, computers, and Android TV.
Sing without internet connectivity: premium subscribers can sync their favorite karaoke hits for some offline fun.
Know who's next: Karafun's singer management allows you to create a list of singers, so there's no confusion about the next singer.
Pricing
Karafun offers different subscription plans for different categories of users. They are as follows:
For Individuals – $9.99/mo
Karafun Pro – $49.00/mo
Karafun Business – custom fee
Final Verdict
Karafun doesn't offer as many features as LYRX, but it's more accessible than the latter. You can turn your mobile phones and even a TV into a karaoke machine, what could be better?
Kanto Karaoke (Windows and Mac)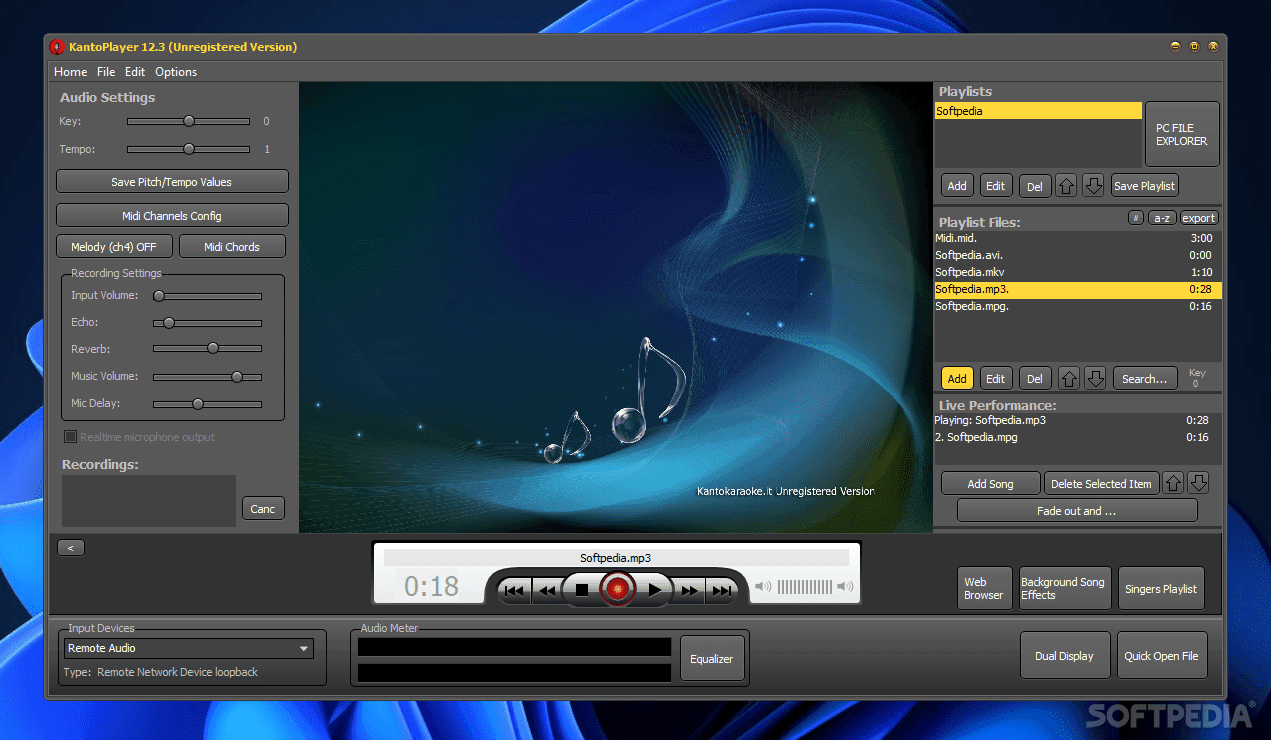 Another handy application on our list of the best karaoke software is Kanto Karaoke. This platform offers similar features as LYRX, yet is cheaper.
With Kanto Karaoke, you can edit audio settings, customize music background and add special effects, project lyrics on a different screen for a better singing experience, and much more.
Also, the platform is updated regularly. So, you're always up to date with the latest karaoke hits and software improvements.
Key Features
Dual audio player – Kanto Karaoke supports multiplex karaoke files; therefore, you can disable the song vocals as you sing with the displayed lyrics.
Supports a wide range of audio and video files – you can enjoy high quality karaoke songs from all audio and video formats.
Playlist manager – easily create and manage your playlist and singers.
Pricing
As mentioned earlier, Kanto Karaoke offers affordable one-time payment plans to suit different users.
For Windows:
Standard Version – $49.00
Professional Version – $69.95
For macOS:
It is worth mentioning that the Windows version offers more features than the Mac version of Kanto Karaoke. For instance, you can edit audio settings and create a singer rotation list on Windows PC. These features aren't available on the Mac version.
Conclusively, you can download a demo version of the software for free on your Mac or Windows computers. The trial version is limited to five songs, and you cannot make recordings longer than one minute.
Final verdict
Kanto Karaoke is a great software application with very useful features to make your karaoke shows a pleasant experience. Also, it doesn't cost so much, and you get three years of updates when you buy a license.
KJams 2 (Windows and Mac)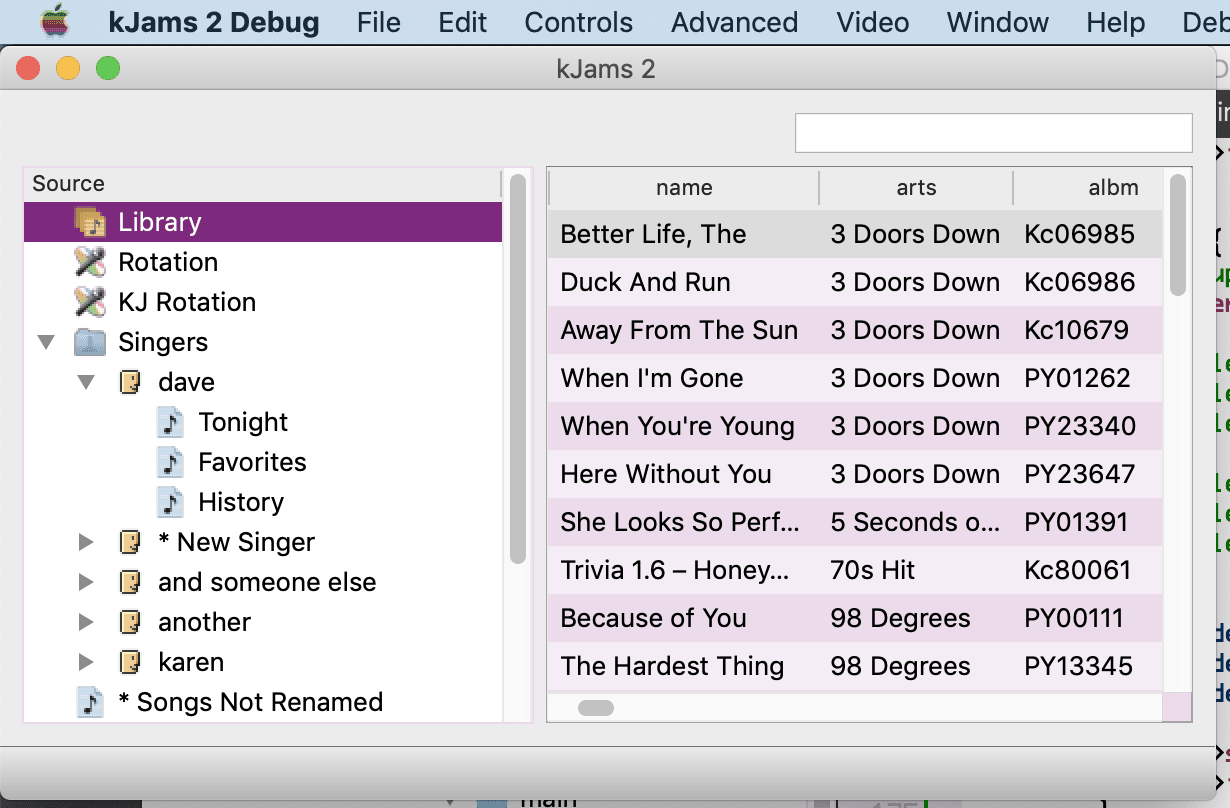 If you're searching for a robust KJ tool that allows you to do as much as editing the source code, then KJams 2 is a step in the right direction.
KJams 2 is the predecessor of KJams 1.0, and the creators have improved the program with this upgrade.
Unlike its precursor, this program comes with an in-built burning plug-in to allow you to burn your favorite CD + G discs into the program.
Also, you can unlock more functions like crossfading on iTunes or any Python scriptable program and customize other aspects of the software.
Key Features
Singer Rating – the program detects and saves a singer's tempo and pitch.
Manage Venues – KJams 2 offers a venue management tool that can identify frequent KJs or help them locate your karaoke show if you switch venues often.
Mobile App – a native KJams iOS app is available for kJs to make song requests.
Customization Tools – kJams 2 provides robust customization tools via Python.
Pricing
A license for KJams 2 costs $140. This one-time fee gives you access to future updates on the program's 2.0 life cycle. In other words, you'll continue to receive updates on your KJams 2 till there is a KJams 3.
Final Verdict
KJams 2 might be a bit too much for beginners to handle. The program is best for professionals that want much more from a KJ tool.
Karaoki (Windows Only)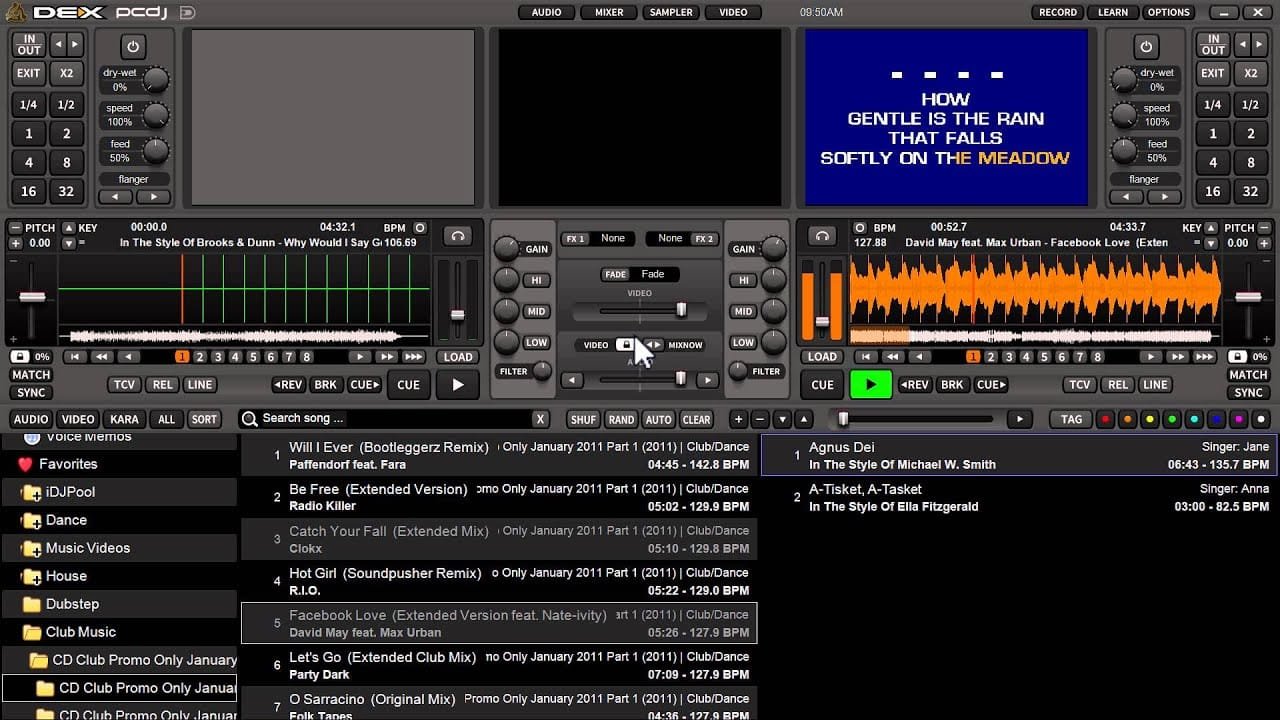 Karaoki is an impressive karaoke software that's also created by PCDJ.com. The application features an elegant user interface, which is similar to what you'll find in LYRX.
When it comes to features, Karaoki doesn't disappoint. For starters, it supports all popular karaoke file formats such as zipped MP3 + G, MP3 + G, MP4, e.t.c.
Then, Karaoki offers a very responsive user interface that quickly displays singer song requests when you search your library. Also, you'd never experience dead air on this app. Filler music is automatically played in-between singer sessions.
Key Feature
Integration with SongBookDB: you can now export your playlist from the Karaoki app to SongBookDB.
Advanced Singer management: from the singer management screen, you can place a singer 'On Break', alter the order of songs, and do much more.
Robust Controls: the app offers audio settings similar to what you'd find on a physical karaoke machine. So, you can control song tempo, enable/disable vocals on multiplex files, e.t.c.
Pricing
You can buy a license for PCDJ Karaoki software at a one-time fee of $99. If you're not willing to make a financial commitment just yet, you can try out Karaoki for free.
The trial version gives you unlimited access to all features the platform offers, but it is only valid for 14 days.
Final Verdict
Professional KJs would love this platform. Karaoki is full-featured, yet effortless to use. If you're hosting karaoke night-outs for friends or your colleagues, it's definitely a great app to try.
Karaoke One (Windows and Mac)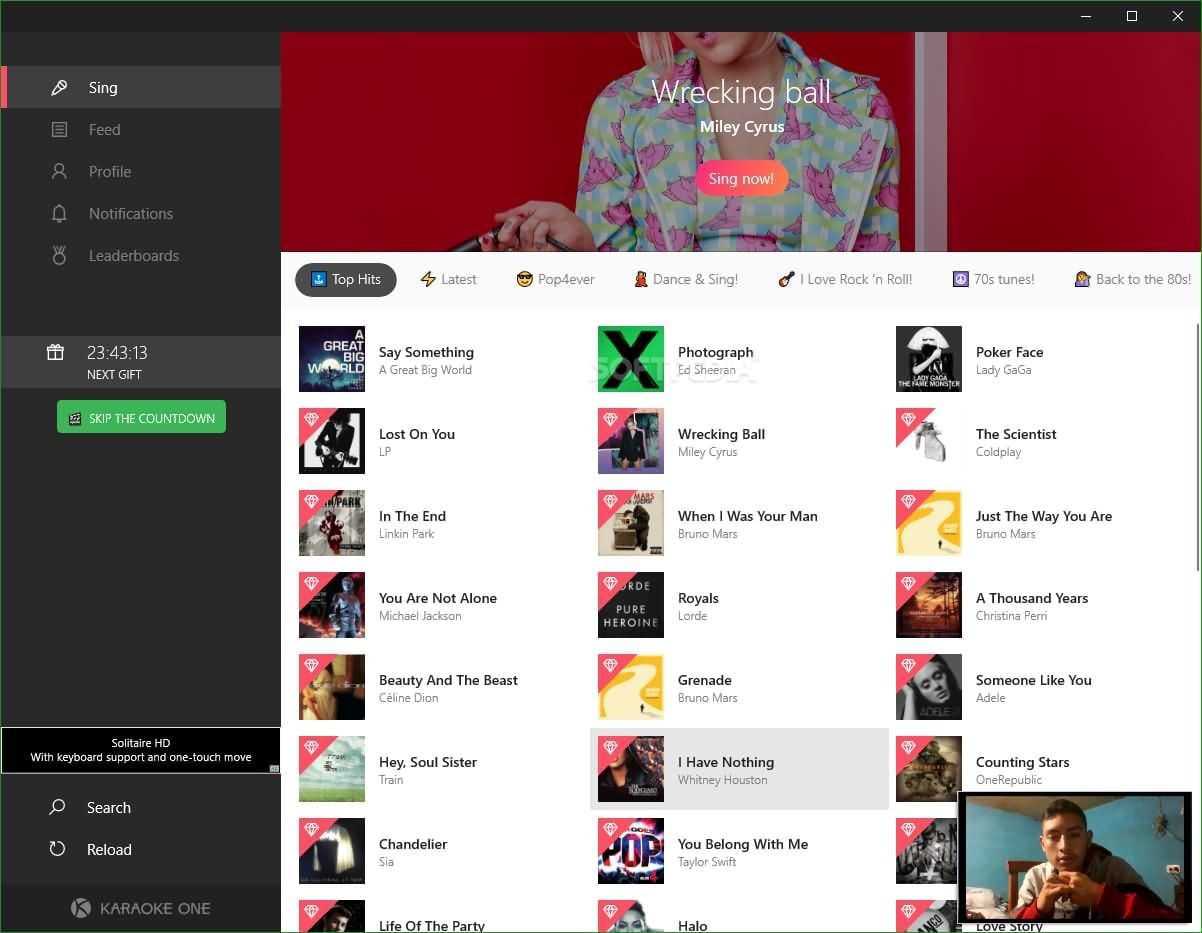 If you'd love to have friends or colleagues over for some karaoke fun, then this app isn't for you. However, Karaoke One is great for solo singers.
Karaoke One is a social platform for anyone that loves to sing. And you don't need to have Adele's voice to get started.
All you need to do is create an account, select a song you'd like to sing, then sing along as music plays in the background and lyrics are displayed on your screen.
You can install the application on your Windows, macOS, Xbox, iOS, and Android devices.
Key Features
Recording audio and video: you can record high-quality audio or video as you sing along to your favorite music.
Sharing with a community: share your recorded audio or video with the Karaoke One community to get appreciated.
Weekly Chart: singers with the most likes are displayed on a chart board.
Pricing
Premium subscription on Karaoke One costs about $9.99 which you can pay through Xbox, Microsoft Account, Vodafone, or Windtre. If you aren't ready to make a financial commitment, you can simply use a limited version of the app for free.
Final Verdict
Karaoke One doesn't offer so many features for KJs, but it creates a community for singers. You can sing from wherever you are and people from other parts of the world can listen and appreciate your song.
Karaoke 5 (Windows and Mac)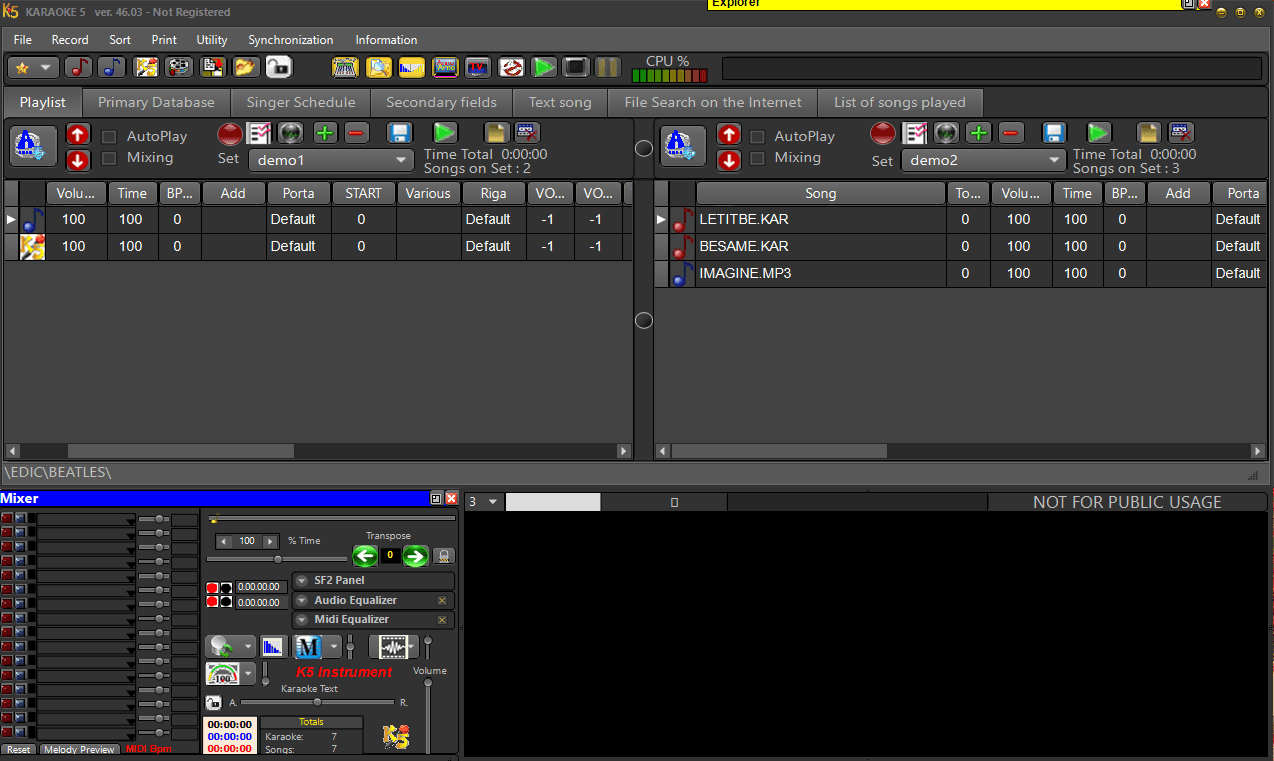 Also on our list of the best karaoke software is Karaoke 5. Though the naming scheme is similar to Karaoke One, they are entirely different applications.
Karaoke 5 is like your standard KJ software featuring a player, singer management, audio settings, and support for many audio and video file formats. Also, the app allows you to load your own music and you can search for songs on the internet.
There are three versions of the software: Freeware, Professional, and Home. As you'd expect, the free version is limited, whereas the other versions offer more features.
Key Features
Applause Meter – the level of appreciation you receive is translated on the applause meter as people clap and cheer you.
K5 Instrument – an integrated sound bank that enhances the sound quality of midi files.
Robust Mixer – you can change the audio quality from the equalizer section, transpose sounds, and even send instant messages to a secondary display.
Pricing
As mentioned earlier, the Karaoke 5 Lite Freeware is completely free to use (but limited).
However, if you want to unlock more features, you can pay for a "Home" or "Professional" version of the software.
The pricing is summarized as follows:
License Type

Fee

(one-time payment)

Cost to Upgrade

Home

(License for only one computer + free software updates for 1 year)

$37.46

It'll cost you $147.55 to switch from the Home Version to Professional.

Professional

(License can work on 3 computers + free software updates for 1 year)

$175.93
Final Verdict
This software offers some very useful features for those hosting karaoke shows at home or at multiple venues. But, I think the price is a bit high compared to LYRX and Karaoki.
Siglos Karaoke Professional (Windows Only)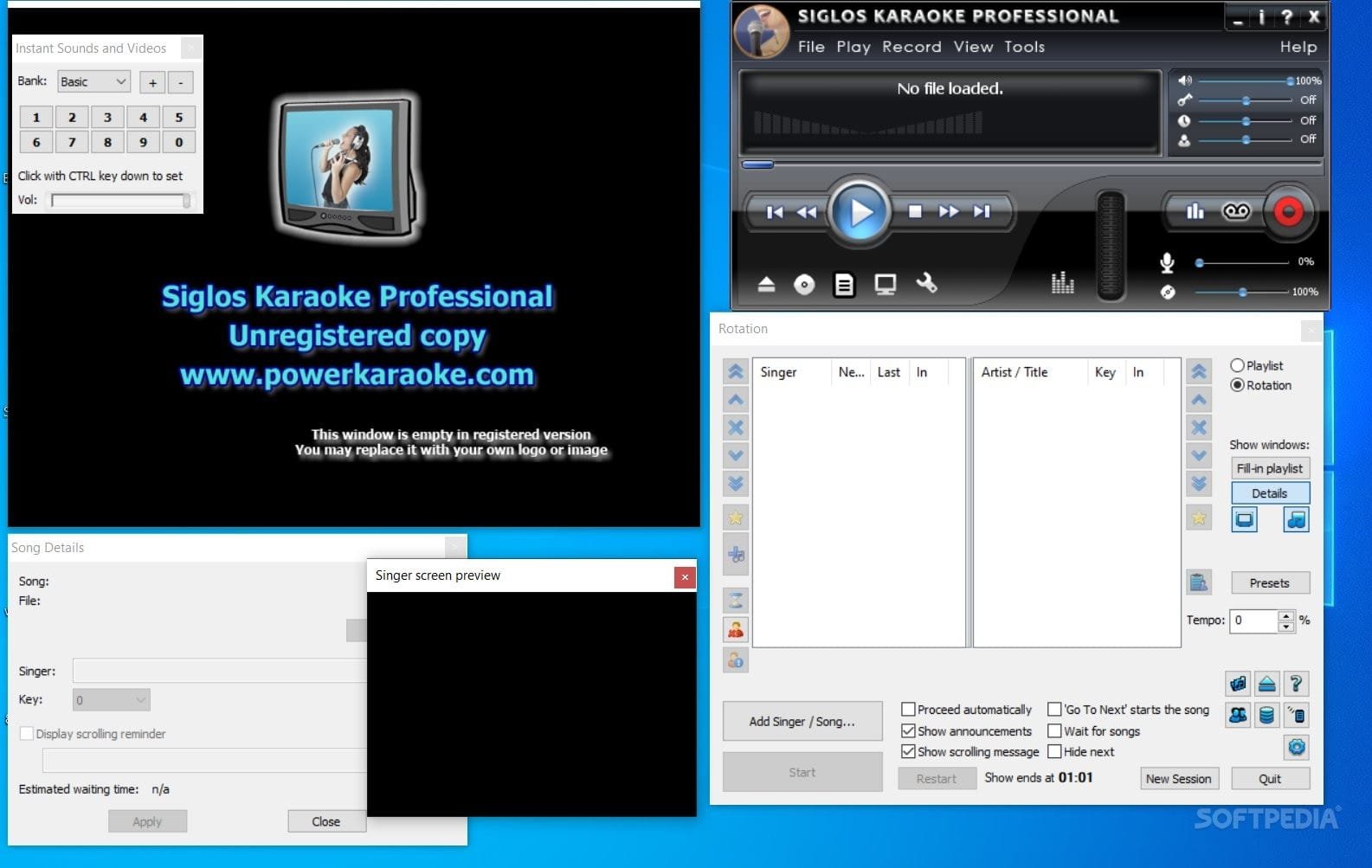 Siglos Karaoke Professional is arguably the best karaoke software for hosting karaoke shows for large participants. The platform provides several intuitive features that make sorting and organizing playlists effortlessly.
For starters, the platform offers the basic tools expected of every standard KJ tool. It supports multiple KJams formats (ZIP, MP3G, MIDI karaoke, e.t.c.) and an external screen for lyrics. Additionally, singers can bring their own CD + G discs of their favorite songs to sing. I've highlighted other exciting features below.
Key Features
Auto Mode – Are you hosting a KJ show but you need to leave for a bit to do something important? Siglos Karaoke Professional's Automatic Mode got you covered. The program automatically displays singer announcements and starts the selected song for the next singer.
Singer Requests – Singers can browse for songs and make requests easily from their mobile phones. No need for a mobile app.
Skip Silence and Instrumentals – Siglos Karaoke Professional can automatically detect instrumental solos and silence at the beginning and end of tracks. Silence and instrumentals are skipped.
Pricing
Siglos Karaoke Professional costs $99. This is a one-time payment fee that includes free software updates for 1-year and software support.
After the 1-year period, you can update your program to newer versions by paying a renewal fee of $29.
Final Verdict
Siglos Karaoke Professional is feature-packed and easy to use. If you run a karaoke business, you should definitely consider this software. Too bad it only works on Windows.
SingSong Karaoke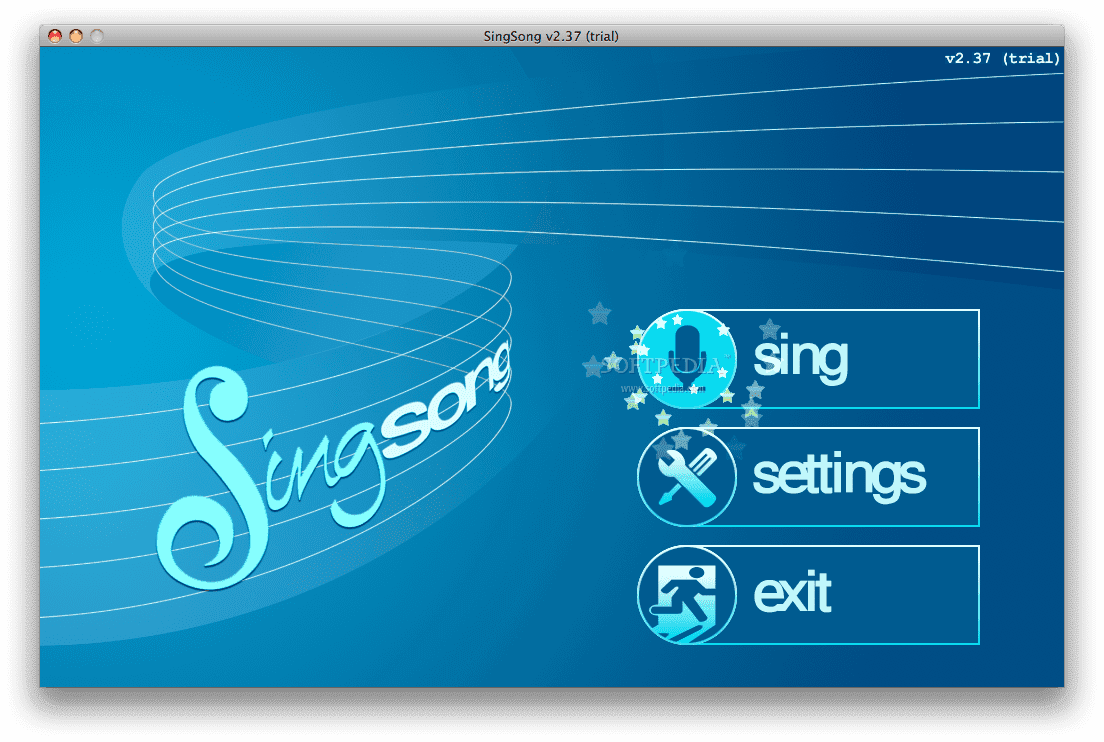 SingSong Karaoke is comparable to Karaoke One. Both applications are suitable for solo singers; however, SingSong Karaoke offers some features that make it more exciting.
This program functions like a game, and you can have multiple players. If you've got two or more mics, then you can have friends or colleagues sing the same song with you to discover who sings it better. And maybe, the best singer can be rewarded with a prize.
Key Features
Song score – The program compares your voice with the vocals of the original artist. So, you can tell if your vocals were a hit or a miss.
Supports Multiple Singers – SingSong allows up to four singers to sing to the same song simultaneously. In fact, the number of singers is limited to the number of microphones you have.
Karaoke Songs in Foreign Languages – Do you have a favorite Italian song you'd like to sing? This application allows you to karaoke any song in any language.
Pricing
The full version of SingSong costs a one-time fee of $29.99, which gives you access to any song in the world.
SingSong Karaoke also offers a free trial version which is limited to 326 songs by Creative Commons artists.
Final Verdict
The 'song score' feature on this program makes singing with friends very exciting. Also, solo singers can practice with this game if they're trying to reach the same picture level or tone as their favorite artist.
TunePrompter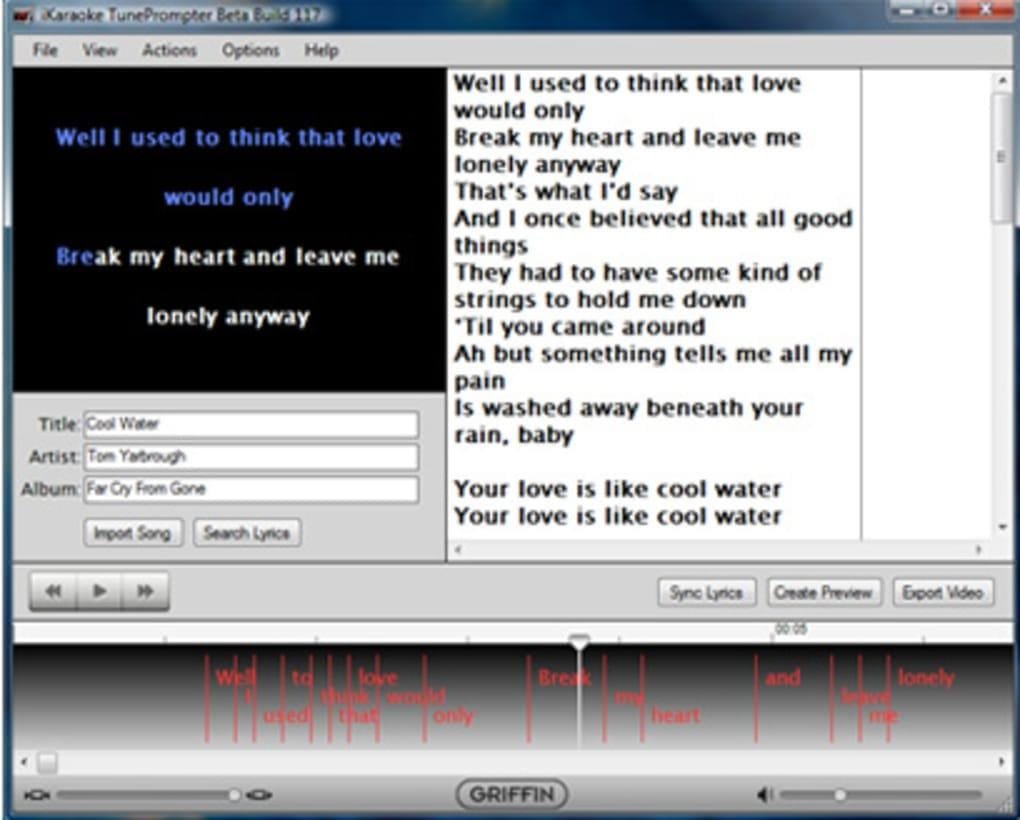 Unlike other software mentioned so far, TunePrompter is mainly used for creating karaoke videos. I think the best thing about TunePrompter is how easy it is to use.
You can create karaoke videos with KJams and some other programs, but they aren't beginner-friendly.
The whole process starts when you upload your favorite karaoke tracks to the platform. Next, locate the "Search Lyrics" tool to automatically surf the internet for the lyrics of the song.
Then, the "Sync Lyrics" tool is available to ensure everything is in order. You can also edit the tempo and make other adjustments to the track.
And when you're done, you can easily export your video to the available formats. It's that easy.
Key Features
Burns karaoke videos to discs
Edit lyrics to suit your taste
Robust video encoder options
Control over playback and sync speed
Pricing
TunePrompter is a freeware application so you can create and export your karaoke video for free.
Final Verdict
This program is great for beginners with basic demands. The platform is easy to use so you won't experience challenges while you use it. Sadly, the app doesn't receive updates often.
Karaoke Builder Player (Windows Only)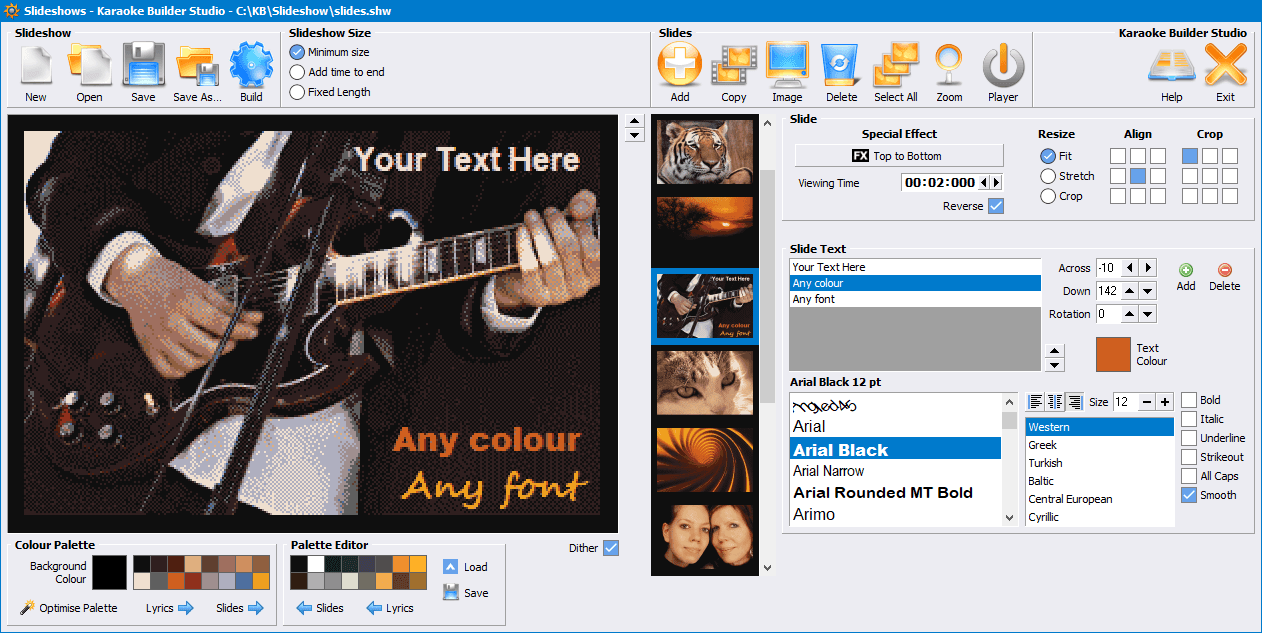 Karaoke Builder has been developing karaoke software for up to 21 years now. During this period, they've created karaoke affordable, high-quality karaoke software for home users and businesses.
The Karaoke Builder Player 5.0 is the latest karaoke software for this brand. With this software, you can play and sing along to your favorite karaoke tracks as the lyrics are displayed on a screen.
Key Features
Play popular karaoke track formats including MP3+G, CD+G, .bin files, e.t.c.
Drag and drop tracks to the player.
Pricing
Karaoke Builder Player 5.0 is completely free to download and use.
Final Verdict
If you'd like to have an everyday karaoke software application for a solo show or with friends, Karaoke Builder Player might just be what you need. Don't expect pro-level tools and features here.
Aria Karaoke Pro (Windows)
Another software on my list of the best karaoke software is ARIA Karaoke Pro by Aria software. The application offers basic tools to host exciting KJ shows.
The application runs smoothly on old versions of Windows OS and newer versions up to Windows 10. Aria is easy to use and supports the most popular karaoke media formats.
Key Features
Intuitive graphical user interface
Supports Wav+G, Zip+G, MP3+G, e.t.c
Karaoke locker feature plays automatically downloads sample music
Format text size easily
Pricing
License for Aria Karaoke Pro costs $75.
Final Verdict
This karaoke hosting tool can be used by beginners and enthusiasts looking for more advanced functions.
OneKaraoke (Windows)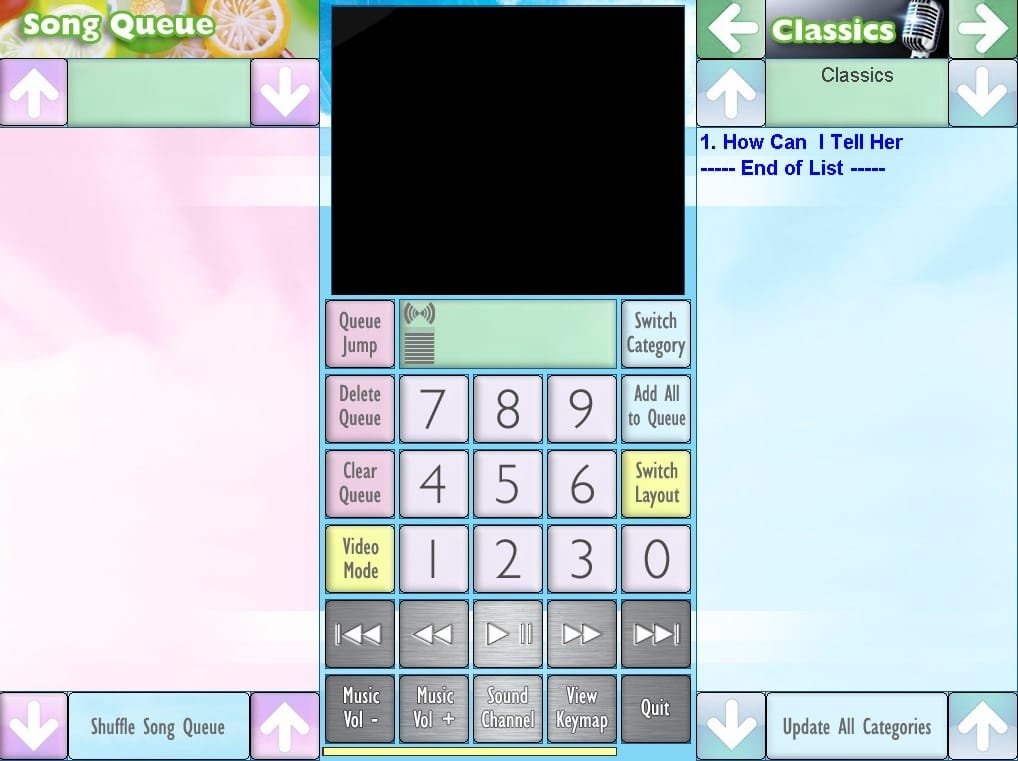 Do not mix up this software with Karaoke One mentioned in earlier sections. OneKaraoke is a basic app for managing and modifying your karaoke database. The content management tools on this app are relatively easy to use.
You can create your karaoke playlist easily by combining lyrics, videos, and your preferred audio files. OneKaraoke supports a wide range of file formats including AVI, MP3, DAT, MPG, e.t.c.
Key Features
Supports dual screens
Import all popular karaoke file formats
Wide range of control options
Singer history
Pricing
License for OneKaraoke software costs $45. If you aren't keen on getting the software, you can take advantage of the demo version.
Final Verdict
OneKaraoke was a disruptive software when they launched, but there doesn't seem to be much improved over the years. That aside, the program is still decent for users with basic needs.
iStar (Mac)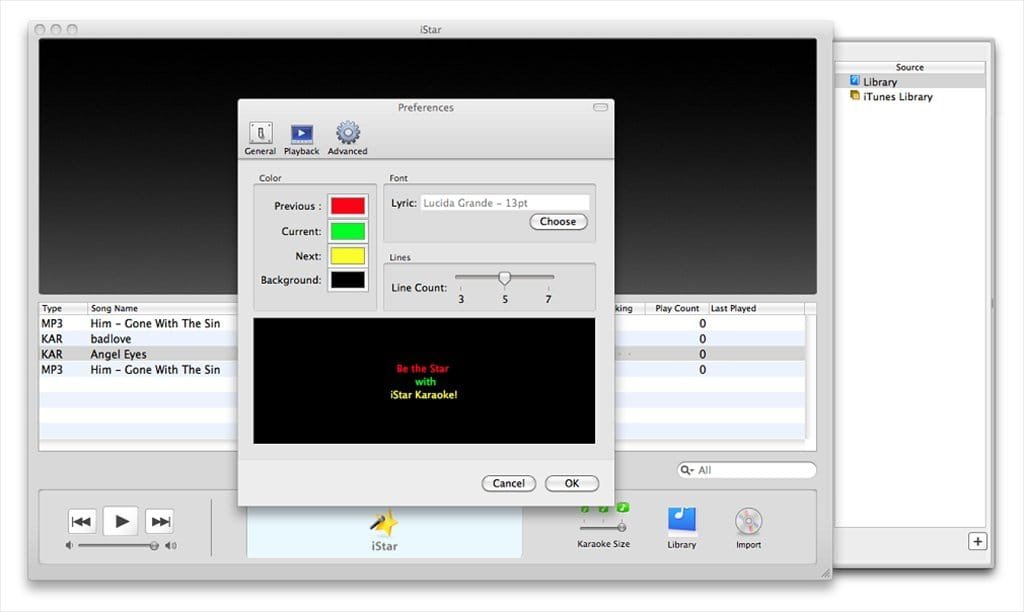 For Mac users looking for more alternatives, this KJ hosting software might be what you need. However, I must mention that professionals would not be pleased with the features of the software.
iStar Karaoke Software allows you to create and manage your playlist and import several music formats. The GUI is also flexible so you can customize the UI to suit your taste.
Key Features
Simple and elegant user interface.
Robust customization tools.
Supports a wide range of karaoke media files.
Pricing
iStar Karaoke Software is free to download and use.
Final Verdict
The application doesn't offer mind-blowing features to get pro-KJs hooked, but it might be suitable for beginners
Other Karaoke Software Worth Mentioning
The preceding paragraphs contained 14 Karaoke platforms that are a bit popular amongst KJs. However, as I searched for other tools, I noticed karaoke apps that weren't popular but were worth considering. Here are additional applications you can try.
Frequently Asked Questions
What is the best software for karaoke?
Karaoke Software applications made by PCDJ.com are feature-full and considered to be the best amongst many KJs. Moreover, there are other apps that are widely used by karaoke enthusiasts.
Can I do karaoke on my computer?
Yes, you can enjoy a fun karaoke time on your computer. All you need is suitable software that meets your needs, a mic, a secondary screen for lyrics (optional), and you're good to go.
How do I connect my singing microphone to my computer?
Locate the microphone port on your computer, then plug your mic jack into the socket. But, if you got a mic quarter-inch mic jack, you'd need to first plug it into an adapter before hooking it to your mic socket.
Summing Up
There you have it! My top picks for the best karaoke software in 2022. Some applications mentioned in the preceding sections are suitable for home users, while others can be used by karaoke businesses. That said, figure out what you want from your karaoke tool and pick a brand that best suits your needs.