7 Best Collaborative Video Editing Tools in 2023 (Free and Paid)
Are you looking to take your video editing experience to the next level? Collaborative video editing tools are often ideal, allowing multiple users to work on the same project in real time.
Whether you are a lone wolf or part of a larger team, these tools provide seamless integration with various production pipelines and enhance your creative control over visual media that excites audiences worldwide.
This blog post will explore some of the best collaborative tools and share tips on how they can help bring your collaborative video editing projects to life!
What are the Best Collaborative Video Editing Tools in 2023
Tired of using outdated video editing tools that are hard to learn and don't work well with other team members?
A collaborative video editing tool makes it easy for your team to edit videos together. You can share ideas and feedback easily without worrying about compatibility issues or software crashes.
Edit videos like a pro without spending hours learning how to use complicated software. With our easy-to-use tools, you and your team can create amazing videos in no time.
1. MotionBox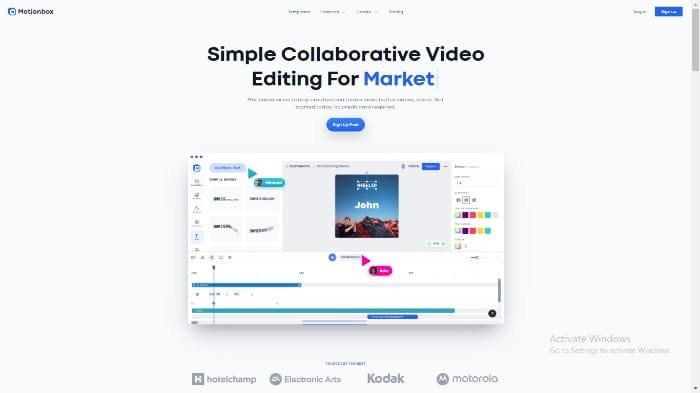 MotionBox is a fantastic collaborative video editor that provides users with a simple solution for creating video projects.
With this easy-access platform, you can bring your vision to life thanks to its cutting-edge collaboration capabilities.
Whether you're a novice filmmaker or an experienced editor looking for extra support, MotionBox provides the perfect solution for all your creative pursuits.
With millions of satisfied customers worldwide, MotionBox is the premier choice for video production services. In addition to offering premium quality software, MotionBox provides a crew of support staff that helps users get started quickly and easily.
Once you try this streamlined video editing platform, you won't go back to any other option!
2. Evercast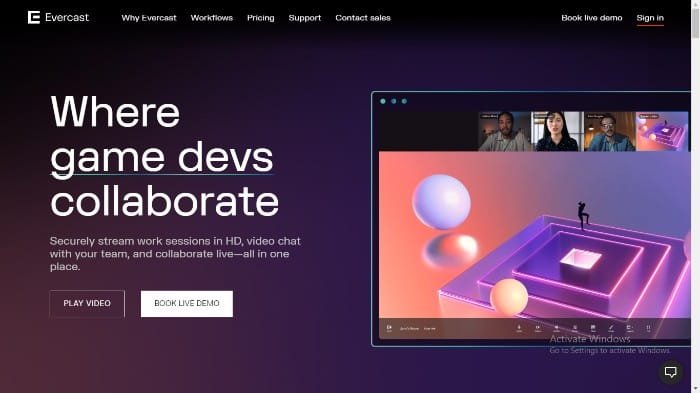 Are you looking for a revolutionary collaborative video editor that will make video content creation simpler and faster than ever? Look no further than Evercast.
Evercast is the revolutionary collaborative video editing software that has changed how video creators collaborate and create content.
Any video project can be efficiently completed with unrivaled real-time video, audio, and text-sharing capabilities. Creative teams no longer have to worry about dealing with large files or using costly editing software.
With Evercast, video content creation is simpler and more efficient than ever.
Whether you're a video editor, director, or producer of a video task, this high-quality streaming service will revolutionize your work with Evercast. This groundbreaking video streaming platform sets a new industry standard for content creation.
3. Adobe Premiere Pro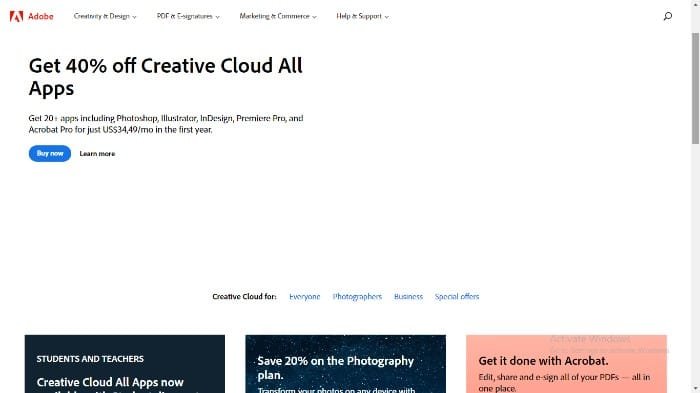 For editors, both beginners and veterans, Adobe Premiere Pro is the ultimate collaborative video editing software. It offers extensive features and powerful tools that enable editors to create slick, professional-looking videos easily.
With its intuitive user interface, editors can swiftly navigate through their files, adjust audio and make color corrections quickly and easily.
The video editing software also simplifies coordination among editors, allowing for shared projects within a creative team.
Whether you are a beginner needing easy and fast access to tutorials or an experienced editor looking for more advanced capabilities such as multi-cam editing, this video editing software provides the right combination of wealth in features that enable video editors to create the best quality videos that stand out from others.
4. Vimeo
Vimeo is an invaluable video editor tool that helps businesses bring their video projects to the next level.
The platform provides an extensive range of features and options and allows you to review, collaborate, and get precise feedback on your video production.
With Vimeo, everyone involved can be on the same page and ensure that everyone's opinions are taken into account promptly.
Plus, videos can be securely uploaded or shared with partners or clients remotely, making it easier to show them what you've been working on!
Vimeo has become a popular choice for people working remotely and businesses needing video editing software to streamline their workflow.
5. Adobe Team Projects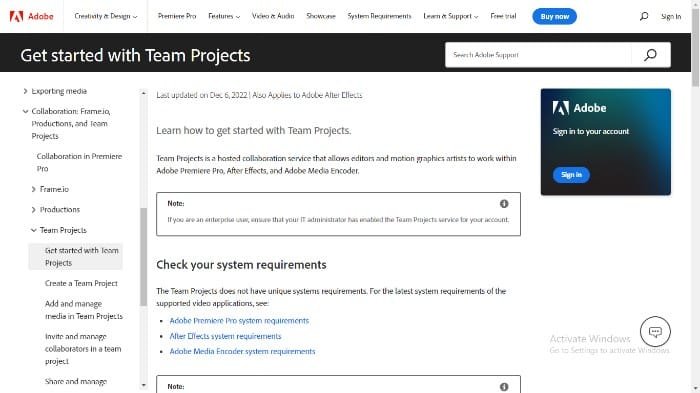 Adobe Team Projects are indispensable for editing, marketing teams, and graphic designers.
It helps them collaborate on complex projects in a fraction of the time it would have traditionally taken.
With its intuitive list of features, users can edit quickly and effectively while making sure their clients stay up-to-date with the progress they make.
Moreover, team members can join and review other people's projects anytime. With Adobe Team Projects, you can focus on what matters most; getting excellent results quickly and efficiently!
6. Frame.io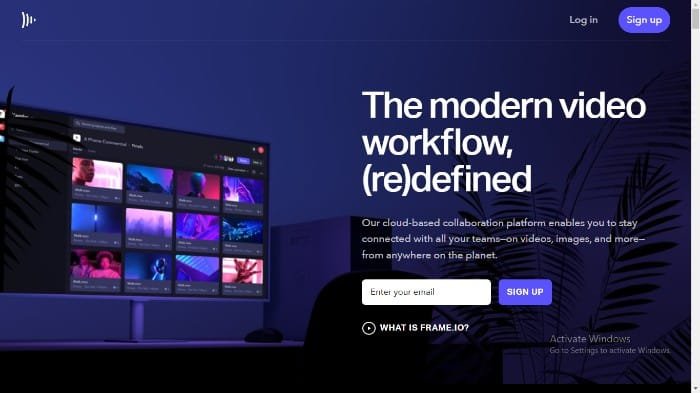 Frame.io is an intuitive platform that facilitates video collaboration projects between creative professionals.
With the help of this comprehensive set of tools, teams can collaborate on a project even when they are not all in the same office space
For example, individuals can easily upload video content and collaborate with others on editing projects in real time by sharing video reviews, making comments, and utilizing Frame.io's integrated video editor.
Whether a novice or a pro, Frame.io offers everything you need to work together successfully on any video task.
7. Flixier
Flixier is a collaborative video editing software that enables you to work from any frame, making changes effortlessly at any time.
With Flixier, you can build collaborative video projects with friends, family, or colleagues! You can even download images, comment on ideas, and get real-time feedback for the best result.
It's a revolutionary tool for creative minds to create and shape great stories! Try out Flixier today and see how it can help make your collaborative video works shine!
What is collaborative video editing?
Collaborative video editing is an invaluable tool for quickly producing high-quality content.
It allows uploads of videos, images, and other material from different users and offers a rich array of options to edit the footage. This way, tasks can be divvied, and shared projects become far simpler to manage.
Not only that, but those responsible for uploads can quickly review the progress of their submissions at any time.
No matter which stage you're at in making a video or a specific piece of content – collaborative video editing software is an invaluable asset.
Is Capcut collaborative?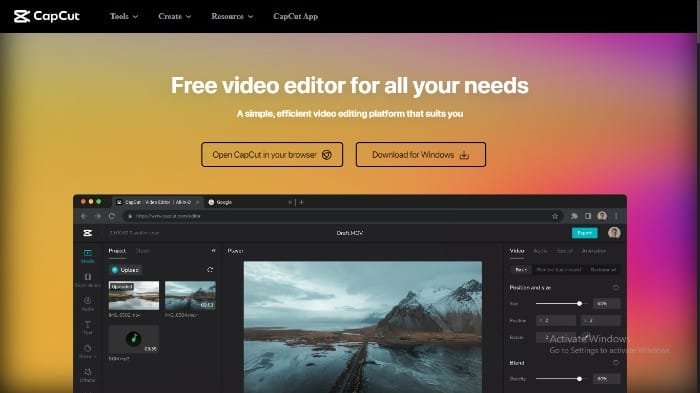 Capcut is a great tool that allows users to comment, link ideas and files, collaborate with multiple people, and share projects on one platform. This means you don't have to switch between multiple applications or platforms – everything is available in one place.
It has all the features necessary for anyone who wants to work successfully with others on projects and tasks.
Whether you are just working together on an idea or completing a full-fledged project, Capcut allows everyone ingress in one place to contribute their thoughts and build off of each other's ideas.
With its wide array of valuable tools, Capcut is a collaborative platform for any purpose.
What is a collaborative video?
A collaborative video is a video that multiple people can work on together. This video editing allows people with different strengths and skills to work together to create one video.
Using video software, users can upload video clips, assign tasks within the browser, and produce sharable link outputs allowing their colleagues to collaborate in the video-making process. Also, you can view all the comments on each project.
On top of this, video editors can take the ideas submitted and turn them into projects they would not be able to create alone. Whether you're trying to make a movie or a message, collaboration can help bring it all together.
Conclusion
Collaborative video editing software can revolutionize how you collaborate on video collaboration projects. There are many tools available, from Frame.io to Flixier and Capcut, that can make the entire process easier and smoother.
Whether working with a team of professionals or just trying to collaborate with friends or family, collaborative video editing software can help make the most of your work. With these tools, you can create incredible videos that everyone can be proud of!
First, try them out, figure out which works best for you, and start making excellent content today!
Leave a comment below and let us know your favorite video editing software.