MarketMuse Review 2023 (AI Content Planning Software)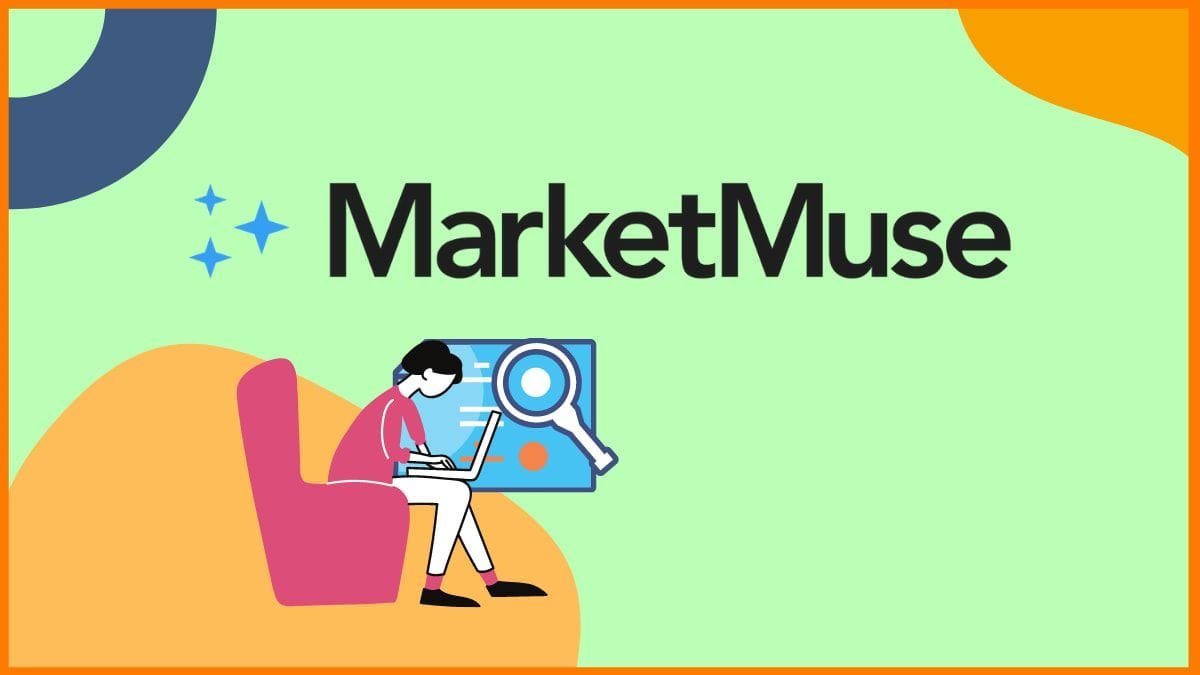 Are you a content creator looking for the best way to plan and manage your content creation workflow?
Are you a marketer who wants to save time producing high-quality content while increasing search engine rankings?
Look no further than MarketMuse.
Explicitly designed with AI technology, this revolutionary platform provides powerful tools that will optimize every aspect of your content production process – from keyword research and analysis to editorial planning and execution.
Read on to discover why MarketMuse is quickly becoming the go-to choice for many freelancers, agencies, and brands in 2023!
What is MarketMuse?
MarketMuse is an AI-driven content optimization platform that helps writers, content marketers, strategists, and SEO professionals to create better-optimized content.
It provides users with data-driven insights that help them identify content gaps and create content that aligns with best practices.
The software also equips users with actionable insights into the most relevant topics to cover in their content and suggests keywords to use for maximum impact.
MarketMuse analyzes the content structure, topical coverage, and internal/external links to provide content-specific recommendations for improvement and inform an article's strategy.
By leveraging its artificial intelligence technology and contextual search algorithms, MarketMuse enables customers to optimize content for better ranking on search engines such as Google and increased readership from target audiences.
Who Created MarketMuse?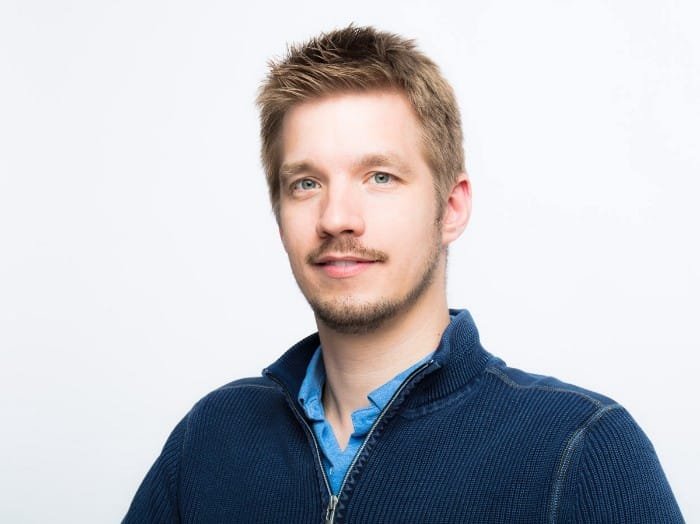 MarketMuse is an SEO tool created by Aki Balogh, formerly of Moz and HubSpot.
This tool helps websites increase their visibility in search engine results and gives companies precious insights into their web organic traffic.
These insights can inform marketing decisions that further drive business revenue and value.
MarketMuse has been a valuable tool for marketing agencies to help increase the return on investment for clients.
Aki Balogh and MarketMuse have been featured in various publications such as Forbes, Inc., Entrepreneur Magazine, and Search Engine Journal.
With its unique ability to unlock the potential of a website's searches, MarketMuse is a must-have tech asset, both now and in the future.
MarketMuse Pros and Cons
---
MarketMuse is an optimization tool tailored explicitly for marketing agencies.
It provides marketing professionals with an array of metrics, valuable feedback, and the ability to focus on their marketing efforts in a more practical sense.
By delving into the pros and cons of this powerful marketing solution, marketing agencies can better understand what MarketMuse offers, allowing them to continue driving growth while cutting down costs associated with marketing.
The feedback they receive from reviews will empower content marketers to make more informed decisions on focus areas to maximize ROI.
Overall, understanding all the aspects of MarketMuse can provide marketing agencies with invaluable knowledge and guidance as they strive to reach their business goals.
Starts at $600/month (STANDARD PLAN)
Best Features of MarketMuse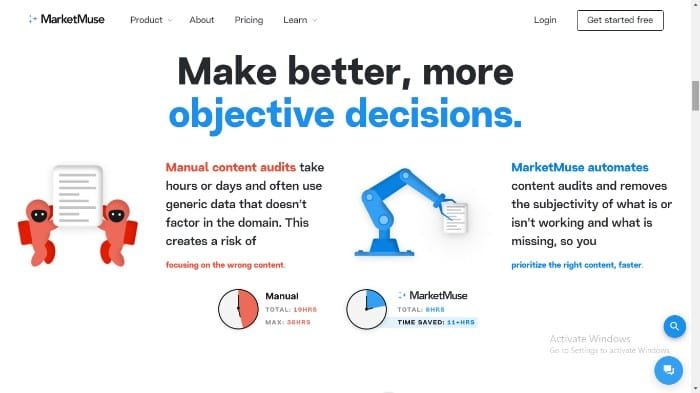 MarketMuse is a content marketing platform designed for website content planning and writing that can help content marketers reach their intended audience.
Its features allow content marketers to quickly compare the content of their websites to content from the marketplace and to identify opportunities for improvement of existing content to engage audiences better.
In addition, MarketMuse searches hundreds of industry-specific topics, helping content marketers stay up-to-date with the current trends in the content market.
Moreover, content created with MarketMuse tends to increase SEO performance since the tool provides tailored intuitions on how users can test out new ideas and optimize content with accurate keywords.
Listed below are some of the features of MarketMuse to explore for content planning:
Inventory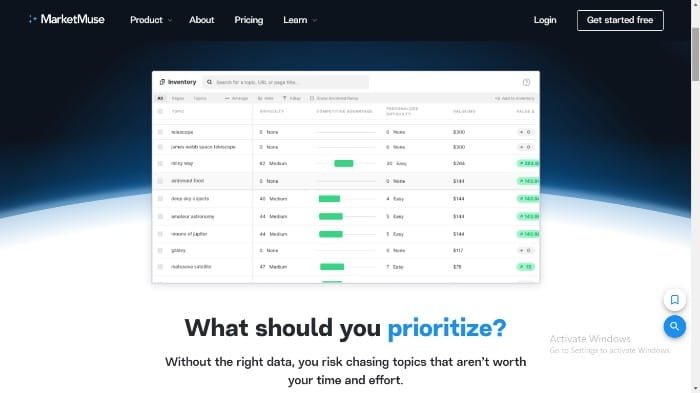 This feature creates content briefs to quickly audit content on your website or competitors' sites.
Whether you want to assess content on an individual page or an entire site, MarketMuse's content audit can help you identify gaps in content coverage, measure the quality of content against any market, prioritize content topics for optimization, and more.
Keyword research feature
MarketMuse's keyword research feature helps you discover and analyze the best keywords for your content.
This tool provides valuable information on search volume, competition level, and suggested topics based on related searches.
You can also use this feature to track how your content performs concerning popular search queries.
Plus, with their research features, you can access data libraries from SEO rank tracking, keyword mapping, and content rivalry analysis, giving your page the edge it needs for top-of-the-page rank.
Competitive Content Analysis
This automated feature identifies and analyzes this page and other pages from similar sites to show you ways to improve your site with data-driven intuitions that can help increase your ranking in search engine results.
With this feature, you can develop a winning content strategy and research what competitors are doing to devise the best way for you to increase ranking for key phrases related to this page, optimizing your site's chances of showing up in coveted top search positions.
The MarketMuse competitive content analysis feature will give you the knowledge necessary to craft compelling content strategies that get results.
Content Planning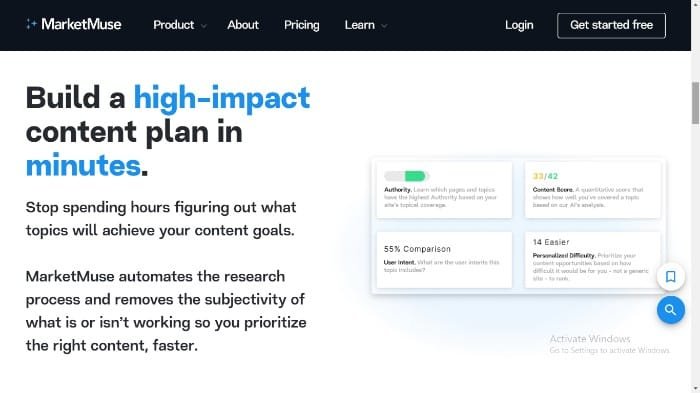 The content planning feature is an essential tool for optimization.
With this feature, you can quickly determine the topics your audience is interested in, which will help you plan and craft content more effectively and in less time.
This feature also helps ensure that all content published meets Google's standards and provides maximum value to readers.
This feature makes it easy for one person or team to be confident about what is going out.
Optimize
The optimize feature helps you improve your content through AI-driven intuitions.
This feature gives real-time advice on how to improve the content and make sure it reaches the maximum number of readers, providing simple tips and suggestions for more effective writing.
It also has a built-in scoring system that shows users which areas need improvement, guiding them to write the most effective content possible.
Finally, MarketMuse's optimization feature helps users identify what content works best for different audiences, helping marketers create tailored content for maximum engagement.
MarketMuse Pricing – How Much Does it Cost?
MarketMuse offers quality pricing for customers who want to take their website writing to the next level.
If you seek reliable research data, MarketMuse can help you succeed.
Address any creative writing challenges you may have had with simple tools that get the job done.
With influential brands worldwide already leveraging quality tools provided by MarketMuse, sign up today and start harnessing quality automated solutions on your website.
MarketMuse software has its pricing structured in three tiers: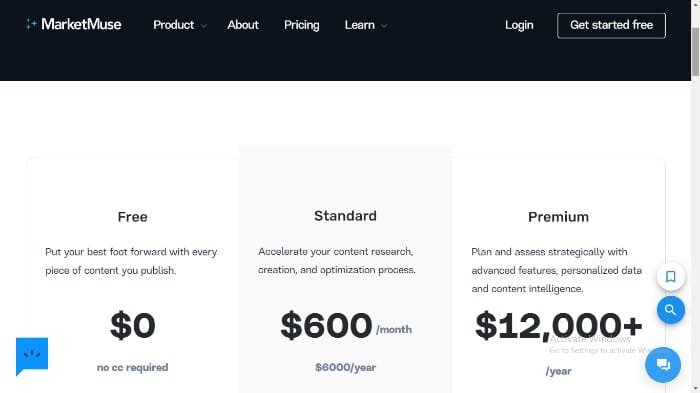 Free Plan: It is free (no cc required)
Standard Plan: Starts at $600 per month and $6000 per year.
Premium Plan: Starts at $1200+ per year
Here are the details of the pricing structures:
Free Plan
No time limit
1 user
10 queries per month
10 projects
Limited application data output
Standard Plan
Monthly or annual commitment
1 user (add new users for $99/month)
100 queries per month
Unlimited projects
Full application data output
Data export
Premium Plan
Annual commitment
Team access
Unlimited queries
Unlimited projects
Full application data output
Data export
On-demand content audit for one or more domains
Domain analysis for any number of pages within the domain(s)
Managed topics tracking
Unlimited self-serve Content Briefs
Dedicated Account Management team
Team training on the platform and workflows
The data can be yours at only a fraction of the cost – try it now and find out how much value you can get from MarketMuse!
MarketMuse Case Study: Results Achieved With the Market Muse
MarketMuse is a powerful software for generating content strategy that has achieved remarkable success for publishers and companies.
MarketMuse has helped numerous organizations increase their search rankings.
For example, one customer leveraged MarketMuse's content optimizing tools to help them achieve top ranking for key phrases related to their industry.
While other competitors struggled with flat or declining results, this customer was able to break through and increase their visibility in the SERPs.
Another customer leveraged MarketMuse's content analysis feature to identify gaps in their website's content strategy, enabling them to quickly adjust and make corrections that improved their overall rankings.
The results were immediate and impressive, with more than a 15% increase on targeted pages in just two weeks.
In short, MarketMuse's AI-driven content optimization software helps companies create more targeted and compelling content in a fraction of the time.
By providing real-time guidance on what works best for different audiences, businesses can better reach their target customers and increase their visibility in page search engine results.
The proof is in the pudding – give MarketMuse a try and see what results you can achieve.
My Experience Using MarketMuse for Content Creation and Planning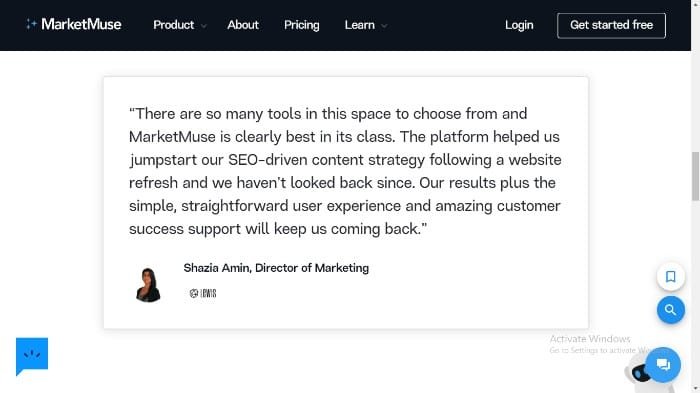 I've recently started using MarketMuse to generate content tailored to my audience.
The software's intuitive interface makes it easy to identify which topics I should focus on and which content will be most effective for driving engagement.
In addition, the Wayfinder feature helps me pinpoint exactly what content I should create, who my audience is and how to optimize it for the right keywords.
The Content Briefs feature helps me plan out my content before writing, allowing me to stay organized and efficient.
The Audience Insights feature also provides valuable data on what's trending in the market, giving me a better understanding of my competition and what I need to do to stand out.
Overall, MarketMuse has been an invaluable tool for content creation and planning.
If you're looking for a comprehensive content optimization suite, I recommend trying out MarketMuse.
With the right combination of features and data, you can quickly and easily create content that resonates with your target audience.
I'm confident you'll find success with MarketMuse, too!
Best Alternatives for MarketMuse in 2023
MarketMuse has been a critical software provider for publishers since 2017.
In 2023, there may be better alternatives to taking advantage of with more improved features and value.
Each article published on the platform helps to ensure optimal SEO rankings so they show up higher on Google search results, driving more organic traffic to your website.
Your publication will benefit from the sophisticated services tailored specifically towards content creation and customer support available whenever you need it.
If you're looking for reliable online tools that offer similar value and performance to MarketMuse, you should consider any of the software listed below:
Frase.io
Semrush
Surfer
Clearscope
SE Ranking
BrightEdge
Ahrefs
Serpstat
Moz Pro
Conductor
Conclusion – Is MarketMuse Worth It?
MarketMuse is a beneficial software and SEO tool for any publisher or business that wants to maximize its search engine ranking potential.
It offers a comprehensive suite of content-optimizing tools tailored to create and optimize content for target audiences.
The features, data, and customer support make MarketMuse the ideal choice for any organization looking to improve its search rankings.
Try MarketMuse today and you will have us to thank later!