Scalenut Review 2023 (Powerful AI-Powered Content Research Tool)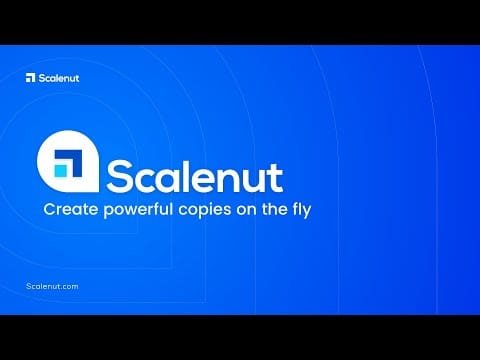 Are you looking for a robust and reliable content research and writing tool to help streamline your SEO assistant, copywriter, or content creator workflow?
Scalenut promises to offer an intelligent solution that can save you time and maximize the effectiveness of your efforts.
With a sleek interface, intuitive design features, and groundbreaking AI engine technology at its foundation, Scalenut is quickly becoming an essential resource for digital marketers.
In this comprehensive review of Scalenut, we'll dive into the key features and benefits so you can determine if it's worth incorporating into your daily operations.
What Is Scalenut?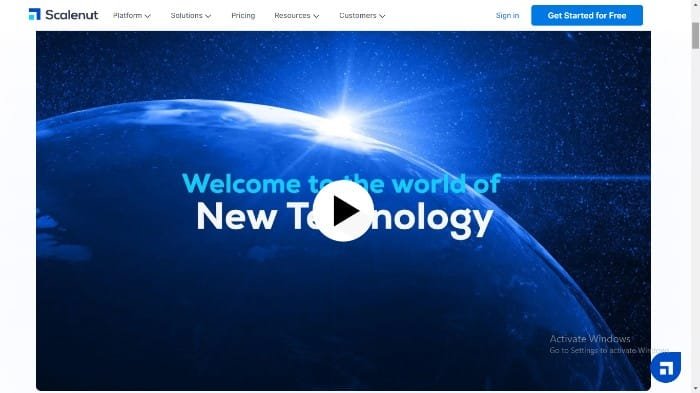 Scalenut is an AI-powered content research and writing tool that leverages artificial intelligence (AI) to curate data-driven and powerful insights from the vast web quickly.
Scalenut is a handy tool for content creators looking for a simple and scalable way to create content.
Its AI-powered content research capabilities allow users to find new topics and articles related to their industry quickly.
Whether you need a few ideas or a large set of target keywords, Scalenut can get you there quickly with a high degree of accuracy.
Plus, you can use the data generated to plan a content strategy to reach diverse audiences.
In a nutshell, Scalenut enables you to conduct comprehensive and time-saving market research so you can make more informed decisions about the topics you choose for your seamless content creation processes.
Who Created Scalenut?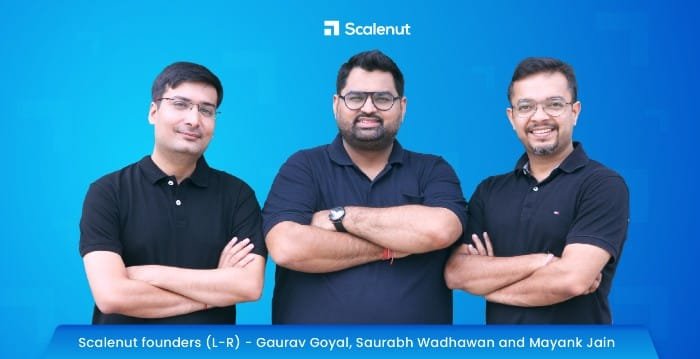 Scalenut was created in 2018, by Mayank Jain, Gaurav Goyal, and Saurabh Wadhawan to improve overall yield through reading and writing.
All three founders were passionate about SEO-optimized writing and wanted to make their platform a one-stop destination for content writers and SEO strategists everywhere.
After months of researching and designing, Scalenut, Jain, Goyal, and Wadhawan launched a website that allows copywriters and content creators to create content and provides an aggregate of all content ideas.
This unique business model has revolutionized the freelance writing industry, allowing users from all over the world to have access.
Top Benefits Of Scalenut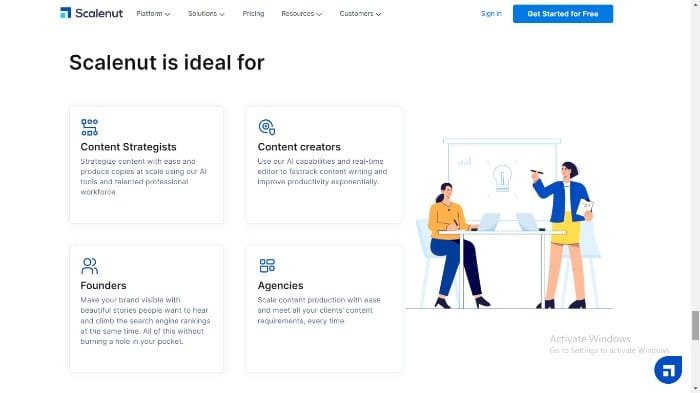 1. Get Unbiased Content Ideas: Scalenut uses AI-driven algorithms to help uncover the trends and hot topics related to your industry. This helps content creators stay up-to-date with their competitors and find ideas quickly.
2. Automate Keyword Research: Scalenut allows you to automate keyword research and find relevant topics for your content. This can save you time and effort, allowing you to focus on other essential tasks.
3. Search Through Archive: With Scalenut's archive search feature, you can easily browse through past content and articles related to any topic. This helps provide insight into what kind of content resonates with your target audience.
4. Optimize Content With Related Topics: Scalenut helps you optimize your content by providing related topics and keywords that can be used to make sure your content is more search engine-friendly.
5. Generate Quality Links: With powerful link analysis features, Scalenut allows you to find quality links from other websites. This can help boost your SEO efforts and drive more traffic to your website.
6. Analyze Your Competitors: Scalenut helps you track and analyze the content of your competitors so that you can get a better idea of how they are performing in terms of SEO and content creation. This can be extremely helpful in giving you an edge over your competition.
7. Get Actionable Insights: Scalenut provides users with valuable insights and data that can be used to create more effective strategies and campaigns. This allows content creators to make more informed decisions about the type of content they should create for their target audience.
Scalenut Pros And Cons
---
If you are considering using Scalenut, it is important to weigh its pros and cons. Scalenut has a high ranking among customers who have used its services, partly to its short-form content allowing for quick performance optimization.
With Scalenut, small businesses can receive quality customer feedback, enabling them to understand how to improve their products and services best that help them make money.
Reviews of Scalenut also suggest it enables business owners to gain data insights about the potential growth opportunities for their business that are often overlooked.
Delving into the pros and cons of Scalenut will be an investment with many possible benefits for small businesses!
Starts at $17/month (INDIVIDUAL PLAN)
Best Features Of Scalenut
Scalenut provides content creators with some of the best resources and tools available.
Their content production system gives users complete control to create content where writer's block is no longer an issue – they have everything they need to make sure ideas keep flowing.
Scalenut has the tools and features to get the job done quickly, whether you're creating social media content, a blog, or other collaborations.
From content libraries rife with inspiring ideas to premium content designs and illustrations, Scalenut is your must-have tool for content creation success.
Here are some of the best features of Scalenut features to explore in 2023:
NLP Analysis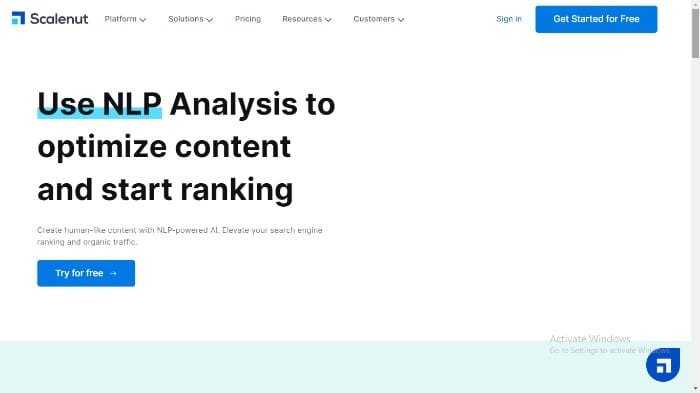 Undoubtedly, one of the best features of Scalenut is its sophisticated NLP Analysis. It can quickly scan your content, detect NLP terms, and offer insightful suggestions for improving your overall yield.
This AI writer feature also helps you write better by automatically finding the tone and angle best suited for the given page or blog.
This is incredibly helpful to marketing teams that always need to come up with fresh and unique ideas when writing a new marketing piece.
Thus, Scalenut's NLP Approved feature does not just offer a quick way to check for spelling mistakes and provides invaluable advice for better and more effective marketing strategies.
SEO Writing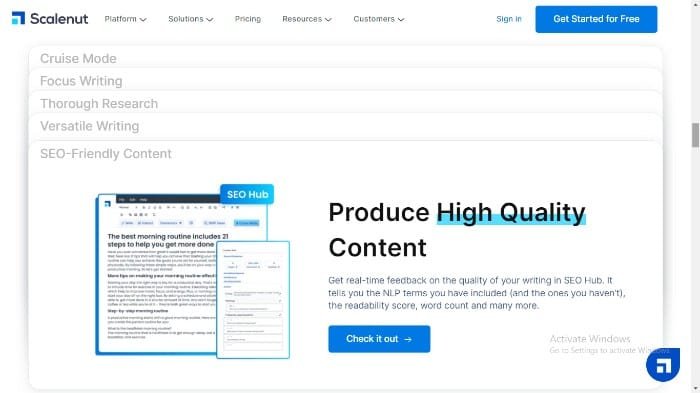 Scalenut provides this feature to help you craft a winning SEO recipe for your website.
Scalenut understands the importance of SEO parameters, such as HomePage SEO, Category SEO, and Article SEO, when analyzing the effect of a single targeted keyword on your website's ranking.
This method is time-tested and has proven to be successful in helping customers rank higher on Google searches.
Also, this feature will scan for correct readability scores along with new improvements in documents for better-reaching target audiences.
AI Copywriting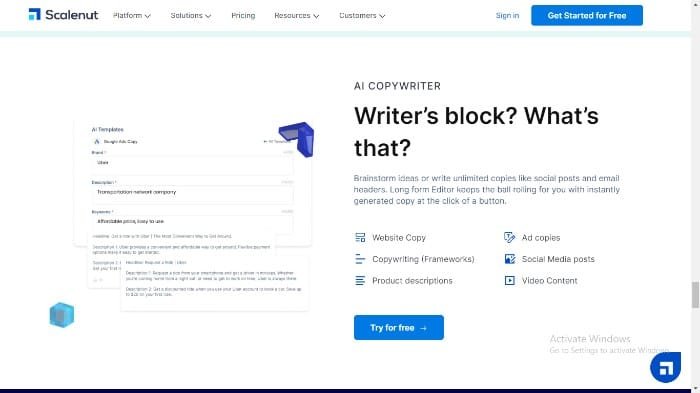 This fantastic feature can help you save time and money when creating ad copies, page content, and even form responses.
With this AI taking care of writing, you can rest easy that it's all up to your standards. This AI copywriter has some great reviews to testify to its effectiveness and dependability.
If you're a small business looking for a helping hand regarding writing needs, consider ScaleNut as a solution to free up more of your precious time.
Cruise Mode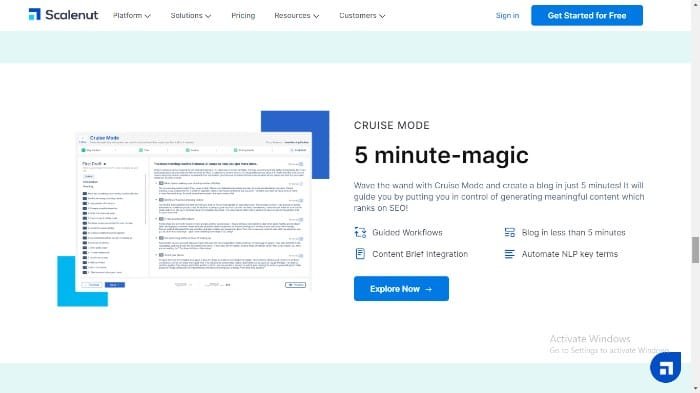 Scalenut's Cruise Mode is a great feature that automatically pulls content from other websites and generates unique and engaging articles relevant to your niche.
This feature saves you time and helps deliver better quality content at a fraction of the cost.
It allows you to automate workflows, so you don't have to worry about manually curating content from other sources.
With Cruise Mode, you can create SEO-optimized and keyword-rich content in just a few clicks – perfect for small businesses trying to save time, money, and energy!
Topic Cluster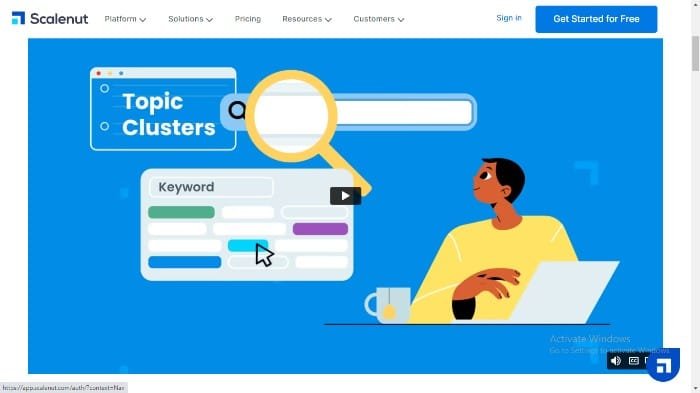 This feature allows you to write long-form content, email headers, short-form content, and blog intros, all within a single portal.
You no longer have to write multiple drafts of the same piece for different sites; Scalenut's built-in cluster system is where your ideas come together in an effortless, organized way.
This feature will allow you to write new content quickly and make it easier to stay on top of existing projects, like staying up-to-date with email delivery or ensuring you hit all the necessary components of your blog intros without fail.
Scalenut's cluster features make it the perfect site for writers everywhere who want hassle-free long-form writing that speaks volumes.
Scalenut Pricing – How Much Does It Cost?
Scalenut pricing is competitive and affordable for marketing teams of all sizes. From the moment you sign up, you can view all the pricing plans and options that best fit your budget.
Using Scalenut, your blogs and other content will receive more exposure by considering all the ranking factors important in becoming high-ranking on search engine result pages (SERPs).
Scalenut pricing is structured in three tiers:
Individual: Starts at $17 per month, billed annually
Growth: Starts at $47 per month, billed annually
Pro: Starts at $89 per month, billed annually
Here is the full detail of the pricing plans:
Individual Plan
100,000 AI word count
5 SEO Reports
40+ AI tools
Write
24×7 email and chat support
Growth Plan
Everything in Individual +
Unlimited AI word count
30 SEO Reports
30 Topic Clusters
Cruise Mode (Blog in 5 minutes)
Instruct
AI Settings
Paraphrasing
SERP Facts
Collaboration
Pro Plan
Everything in Growth +
Unlimited SEO Reports
100 – Topic Clusters
Dedicated customer success manager
2 users; add more @ $49/user
Scalenut Case Study: Results Achieved With Scalenut Writing Tool
Using Scalenut can help you reach your business goals. Their product descriptions are carefully crafted to be attractive and informative, helping you produce content that captivates and engages customers.
For instance, a particular customer used Scalenut to get better results from their content campaigns.
They used the features offered by Scalenut to create SEO-optimized content that drove high-quality traffic to their website. After implementing Scalenut, they saw an overall increase in organic traffic due to better-optimized content.
They also used the topic cluster feature to create several pieces of content related to a single theme, resulting in more visibility and higher conversions from each piece.
The customer reported that using Scalenut helped them save time and money while they increased their website's overall organic traffic.
In brief, with Scalenut, you can rest assured that Google's readability score for product descriptions is continuously monitored and improved upon.
Specializing in product descriptions and details, Scalenut offers top-notch descriptions that make all the difference when producing sales-worthy content.
And with superior product information, it's no wonder countless businesses have improved their ROI by using Scalenut.
My Experience Using Scalenut To Generate Unlimited Content Ideas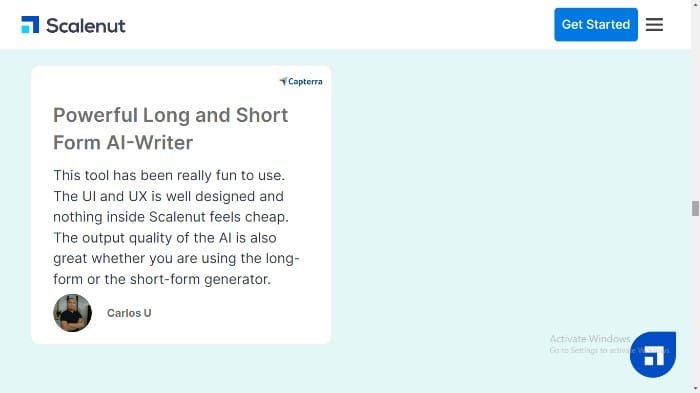 Everyone knows that ideas are the lifeblood of content creation. The rest of your blog will be useless if ideas aren't flowing.
Scalenut made my life a lot easier by offering assistance with its NLP terms to generate ideas. It was game-changing!
I recently tried out Scalenut's writing tool and found it beneficial in my content creation process.
The platform created ideas much faster than I could've ever imagined- ideas that could easily help my readers stand out in a sea of competition when browsing through google search results.
The AI-powered keyword optimization feature saves me a lot of time when making titles, product descriptions, and meta tags for my blog.
The automated SEO report also helps me determine which pages need more work and identify the ones already performing well.
The topic clusters are helpful for creating multiple related pieces of content for maximum exposure and engagement.
The tools also make it easy to collaborate with other team members when working on projects, which helps me stay organized and efficient.
My experience with Scalenut has been exceptional, and I highly recommend it to anyone interested in generating content ideas to give their blogs the boost it needs!
Best Alternatives For Scalenut In 2023
For businesses and content creators looking to produce content quickly and cost-effectively to meet their content requirements, Scalenut is an excellent choice.
However, other options must be considered if you're looking for an alternative that will help keep ideas flowing while reducing costs.
Companies should take the time to read reviews of different options to determine which offer a monetary value and great ideas.
With careful consideration and review of the available alternatives, companies can find the perfect option for their businesses in 2023.
However, here is a list of some of the best alternatives for Scalenut in 2023:
Jasper
Frase.io
Writesonic
Rytr
Peppertype.ai
Semrush
Copy.ai
Grammarly Business
Anyword
Simplified
Conclusion – Is Scalenut Worth It?
Scalenut is an excellent choice for businesses and content creators looking to create SEO-optimized content quickly and cost-effectively.
The tools offered by Scalenut help you save time, money, and energy while still producing high-quality content that will drive organic traffic to your website.
By utilizing their AI-powered keyword optimization tools, automated SEO reports, topic clusters, and other features, you can easily generate unlimited content ideas to boost your website's rankings.
With its flexibility and user-friendly interface, Scalenut is worth every penny. So what are you waiting for? Try it out today!