16 Best AI Copywriting Tools in 2023 (Free and Paid)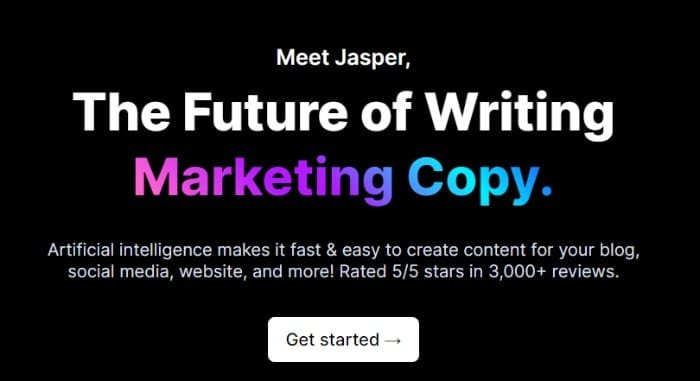 Looking for the best AI copywriting tools to help you create content? Look no further!
Our 16 best AI copywriting tools will help you write blog posts, website copy, and more. These tools are easy to use and can help you produce good content in just a few clicks.
With so many options, knowing which tool is right for you can take time. That's why we've created this comprehensive guide so that you can find the perfect tool for your needs.
Click here to download our free guide now!
What is AI Copywriting?
AI Copywriting is quickly revolutionizing how the content creation and bulk content production is done.
Your blog post and other written media can be created quickly with just a few clicks. Artificial Intelligence copies your previously defined style to create new and unique content while keeping within the topic parameters.
AI copywriters also allow you to easily see what meta descriptions and names should be used to increase SEO ranking potential on your website and published content.
AI copywriting makes it easier for businesses to create content faster and better.
What are the Best AI Copywriting Tools?
AI Copywriting Tools can take bulk content creation to a new level, giving marketers the power to create SEO meta descriptions, blog post ideas with interesting blog ideas, and more! It's like having a virtual writer's block buster at your fingertips!
With AI copywriting tools, it is easier than ever to generate quality content that search engines love quickly.
The best part is the AI technology used by having these tools in your arsenal will continue to get smarter over time as you use them. It's what every modern marketer needs for successful bulk content creation!
Are, are you looking for an innovative, easy-to-use AI copywriting tool? Jasper is your answer!
The perfect tool for working on team projects and generating content to give your marketing projects the edge.
Jasper's advanced AI technologies are miles ahead of other copywriting tools. The GPT-3 enabled predictive text capabilities to allow us to create long form content you could never have come up with on your own.
Plus, the built-in grammar and plagiarism tools guarantee that the generated content is always accurate and unique.
What else can you do with Jasper? We've covered blog posts, PPC ads, social media posts, blog outlines, product descriptions, marketing content, and website landing pages – you name it!
Whatever copywriting tasks you need, play it safe with Jasper by your side!
Let Jasper take away the stress and ensure all your creative ideas needs are met most professionally.
Don't wait any longer – raise the bar today with one of the most sophisticated algorithms!
Are you looking for a reliable AI copywriting tool to help speed up your content creation process?
Look no further than Hypotenuse AI! This revolutionary tool takes the complexities out of content creation, offering you fast and high-quality results – it only takes a few minutes to generate long form content or a blog post that previously would take days or weeks like some other tools.
Hypotenuse uses state-of-the-art machine learning technologies and an easy-to-navigate interface to give you the power to create a persuasive copy in no time.
With the simple integrations for both your Content Management System (CMS) and Product Management System (PMS), you'll be able to collaborate quickly with teams and use the plagiarism checker on existing content.
Plus, the Hypotenuse AI tool offers addictive pricing plans that fit budgets of all sizes – from the starter plan at just $29/month to custom plans tailored to large Enterprise customers.
And remember, every new account comes with a free trial period of 7 days to ensure Hypotenuse is suitable for you before committing anything to the artificial intelligence tool.
Time is precious – get started today transforming tedious social media and content creation processes into powerful marketing opportunities with Hypotenuse AI!
If you're looking for a way to get your marketing message out quickly and effectively using AI copywriting tools, CopymaticAI has the best AI tools answer.
This powerful AI-powered copywriting tool allows you to generate unique, engaging, and high-quality copy quickly and rapidly.
From long-form blogs to digital ads, CopymaticAI can do it all in seconds – helping you save hours of work while boosting traffic to your website.
Our tool is packed with AI tools designed to help with whatever content or copywriting task you have.
With an array of writing tools, be it social media ad creation or creating hero sections in articles, Copymatic helps unleash the full potential of your creative ideas.
Just fill in the product details that explain what sort of message you want to get across, and let our AI do its magic!
Equipped with the knowledge and experience of content writers and conversion experts, our trained AI understands precisely what is needed to create content that sparks interest and encourages engagement.
When finding the right words for your marketing campaign, you no longer need to worry about AI copywriting relevance. By activating CopymaticAI, your key messages are taken care of with just one click.
Introducing Anyword – the revolutionary AI copywriting software that will help you create AI generated copy and engaging content in any language.
Whether a professional writer or a novice, Anyword has all the features needed to help, you get your message across more effectively.
It utilizes natural language processing models and machine learning technology to ensure that your copy is accurate and up-to-date. Plus, with its plagiarism checker and other features, it's easy to stay ahead of the competition.
From website copy and blogs to ads, social media posts, and beyond – Anyword puts Artificial Intelligence into your hands. It suggests ideas for words and phrases relevant to your audience without taking away from your personality as a writer.
And if you want more control over what is written, there's always a team of experienced human copywriters ready to take the lead.
Stop worrying about content creation and start getting creative with Anyword! Have confidence knowing that you can achieve excellent results with AI copywriting tools– so go on, let Anyword do all the work for you like all other tools!
Are you looking for a tool to quickly create high quality content or copy for your marketing campaigns?
Look no further than Copy.AI, which quickly helps in writing product descriptions.
This advanced language learning tool helps eliminate writer's block and is designed to make the creative process more straightforward than ever.
Copy.AI is not only easy to use – but with over 90 inbuilt features, it also boasts unparalleled capabilities for creating top-notch content.
Utilizing the latest technology, Copy.AI makes producing persuasive writing simpler than ever before. With its incredibly user-friendly interface, anyone can generate polished and stunning copy at the click of a button!
But that's not all! The powerful Chrome browser extension lets you assimilate faster.
And if that wasn't enough, Copy.AI offers free Pro accounts – so whatever your needs may be, we've got you covered!
So what are you waiting for? Sign up today with Copy.ai to start experiencing effortless high-quality copy production for all your marketing campaigns and product descriptions!
Are you tired of spending all your time creating content? Unleash your inner creativity and supercharge your writing process with InstaCopy!
Our revolutionary platform is designed to help you write and generate SEO-optimized and plagiarism-free content 10x faster and easier than before.
For writers of any skill level, you can easily configure creativity levels, vocabularies, and more based on the type of content you create – from sophisticated blogs, poetry, books, and more.
Plus, for our advanced GOD MODE users, you can use sentiment metrics to measure readability in unlimited use cases. Don't spend another minute writing tedious content; become a pro at the speed of light by signing up for InstaCopy today!
We offer Basic, God Mode, and Enterprise packages that start as low as $59/month – so you can pick the plan that best fits your needs.
With basic plans offering access to 20+ tonnes, unlimited copies, and short form & long-form content – while our enterprise tier unlocks all these features plus unlimited god mode access with bonus premium support – there's an InstaCopy package just right for everyone! Start your free trial today and start writing like a pro!
Are you ready to take your content creation capabilities to the next level?
Outranking is the AI copywriting and machine learning tool with plagiarism checker you need to build trust and engagement with readers – all while optimizing your content for higher search ranking!
Outranking uses artificial intelligence (AI) to ensure it understands the context for its generated words, as well as social media trends, so that you can create captivating and effective text.
Outranking integrates directly with Google Docs and WordPress, meaning it blends seamlessly into your online presence. The company offers three plans: Mega ($40/month), Giga ($82/month), and Tera ($157/month).
Each plan provides different levels of access to additional product features- so you can pick which one fits your needs best. Plus, Outranking provides a 30-day money-back guarantee – just in case!
Refrain from settling for mediocre results anymore. Unlock limitless potential with Outranking today– start creating content that stands out from the competition and rises in rankings, backed by robust AI capabilities!
Are you tired of struggling with blog post writing? Headlime is here to make writing your posts a breeze! With support for European languages, Chinese and Japanese, we ensure that no one is left behind.
Not only does Headlime provide an AI-enabled platform for creating blog posts in minutes, but with our human touch, it ensures that you get high quality content around any topic or industry.
The integrated tutorial will help guide you every step of the way and give you the tools needed to create and launch article after article quickly. And while other platforms may get overwhelmed by more technical topics, Headlime knows just how to write them right.
Our user friendly interface allows many options and customization on each post and up to 1,500 credits, so you can create multiple articles without worrying about budgeting.
To top it all off, our unique services start at only $59 per month!
For those who need more features or more advanced plans, we also offer our Enterprise Plan starting at a more than decent price.
Headlime is the perfect way to produce multiple high quality blogs today quickly – so get started!
Do you want to produce high quality content without the added fuss? Writesonic is the answer!
This AI copywriting tool has got it all: natural language processing models and an AI writing tool that can help enhance the quality of human writers.
Our user interface is highly intuitive, so regardless of how tech-savvy you are, anyone can use our product with ease.
Writesonic supports multiple languages up to 25, including English, German, Spanish, and French. You'll be able to write in whatever language works for you.
Our AI technologies take care of the rest, providing helpful suggestions and accurate predictions when creating content. Plus, Writesonic also keeps an eye on grammar and readability.
Writesonic's key features continue beyond there. We also provide blog post outlines to ensure every word in your post reads well and adds value to your content. And what better way to test this out than with our free trial offer?
With ten free credits coming with your first sign-up, experience for yourself what makes Writesonic so unique!
Are you one of the many professional writers, marketing agencies, or a brand voice looking to use copywriting tools quickly and easily?
If so, Writecream is the solution for you. With AI generated content and computer generated writing style.
Writecream provides users access to valuable features that take their content and writing style to the next level.
The powerful AI assistant is designed to help professional writers easily generate perfect grammar and plagiarism-free blog posts, making it simple for busy professionals and businesses to get their work done quickly.
Writecream AI writing tools also feature 75+ languages. They are available in various subscription plans, ensuring that no matter your budget, you can find a method suitable for your Google ads needs.
When using the AI writing assistant, you can be sure that your content will accurately represent your desired brand voice without compromising on quality or accuracy. So don't delay – make the switch today and experience the wonders of Writecream!
We are introducing Rytr, the revolutionary AI-powered writing tool that is transforming how content creators work.
With Rytr, you can create compelling and engaging written content quickly and easily with the help of powerful machine learning and natural language processing.
Stop struggling with eliminating writer's block or spending your valuable time crafting copy. Rytr is here to make your life more accessible thanks to advanced AI tools.
Let Rytr take your content writing skills to the next level – you don't have to be an expert writer for it to work!
Just plug in a few words or phrases, and our state-of-the-art writer will produce perfect content every time.
Rytr produces excellent results quickly and has a built-in plagiarism checker, so you can rest assured that all your work is 100% original.
Rytr takes all the stress out of writing – so why not try it?
The flexible plans offer something for everyone; from the free plan to unlimited access, there's sure to be a plan right for you.
Rytr supports multiple languages from over 30+ countries- perfect if you need genuinely global reach without the help of other tools.
Try out the fantastic chrome extension today – and discover how easy, excellent written content can be with Rytr!
AI Writer is an AI copywriting tool and content generation platform to help you create SEO-friendly, engaging, and original product descriptions.
Our cutting-edge tool utilizes AI technology to instantly generate article drafts from a headline for creative marketers looking for ways to kickstart their content marketing efforts, even with a free plan.
With the many features of our software, like creating content about any topic, reducing your content cost, generating full articles, and increasing profit margins, you're guaranteed to find just what you need.
Plus, our text is always fresh, relevant, and unique, giving it more authority than manually generated content.
The articles are SEO-friendly and can be directly published in WordPress!
Forget spending hours writing articles; let our Artificial Intelligence do it instead! Sign up for a free plan today with AI Writer and quickly create SEO friendly and authoritative product descriptions!
We are introducing Bertha, the revolutionary AI writing tool that helps you craft perfect and unique content without effort and unlimited credits after subscription.
Powered by advanced Natural Language Processing models, Bertha allows users to generate copies in no time.
This AI writing tool has several key features, including social media captions, unlimited credits, creative templates, and more.
Bertha is the answer whether you're looking for AI tools to create content for your blog or website quickly and efficiently.
Bertha can also be used by professionals such as human copywriters who want to save time and energy in creating tailor-made pieces of work faster and easier.
Be it a product description or creative advertising copy, Bertha makes it all happen with a few clicks as an AI copywriting tool.
For every modern business that needs content on the go and value-efficient results with key features, Bertha's Pro account is only $30 per month for words up to 50k limit!
For even more extensive projects, you can select Bertha Pro Plus at $99 monthly – including higher word limits & several premium features. So don't wait – get the best out of your web presence and let the power of AI help you have the edge over the competition and write copy!
Introducing SmartCopy Writer!
Say goodbye to hours of mind-numbing writing and hello to effortless content creation. Our state-of-the-art AI technology will help you generate sentences, paragraphs, and stories with minimum input in mere seconds.
Writing blog posts, emails, poetry – you name it – has never been easier, faster, or more efficient.
Smart Copy streamlines your writing process and saves you time without compromising quality.
Expert-level understanding means every piece of copy will be engaging and persuasive. With over 45 templates available, there's something for every style, purpose, and content type; choose which works for you and let us do the hard work. We'll take care of all the copywriting so that you can focus your energies elsewhere.
Choose the perfect tool for any occasion with SmartCopy! You'll wonder how you ever lived without it.
The pricing features are as follows; $9/month (200 credits/month and three projects included) and $49/month (Unlimited credits and projects for every month).
Do you want to be able to consistently write or generate engaging website copy, SEO meta descriptions, blog posts, and more?
Worry no more! CopySmith is here to take the difficulty out of creating captivating content. Our advanced third-generation GPT-3 AI technology allows you to create a persuasive copy with minimal effort.
CopySmith AI copywriting tools make it easy to integrate into your existing workflow. Whether using our Chrome extension, WordPress plugin, or Shopify plugin, we make the whole process a breeze from start to finish.
From product descriptions to Google Docs and natural language processing models for blogs, CopySmith has got you covered.
We understand how strenuous it can be to use AI writing tools and their key features to generate content on demand, and that's why we've crafted an AI writing tool tailored explicitly for writing needs.
With CopySmith's intuitive interface, you get access to some of the most cutting-edge features in AI copywriting tools!
Our customer-centric design philosophy promises ease of use and accessibility, so try our tool today and watch creative content flow effortlessly!
Hooray! We've got the perfect solution for busy content marketers who want to save time, increase efficiency, and produce fantastic content. Meet Texta.ai – your key to getting high-quality SEO-optimized articles quickly and effectively.
We understand that reaching your customers with valuable content can be difficult, especially when you're crunched for time.
That's why we came up with Texta.ai – an AI-enabled article writing and content generation tool that does your hard work.
With this tool, you don't need to spend hours researching and writing blog posts and articles – now, it can all be done in one click! Plus, every piece you generate is 100% plagiarism free, so you can rest assured that what you're putting out there is always unique and original.
On top of that, Texta.ai lets you create articles tailored towards boosting conversions, giving your customers a personalized experience in their mother tongue! What's more?
The content generated through this excellent tool will perform exceptionally well on search engines like Google. Imagine how much more productive you could become with all the extra time saved!
We know your work is essential to achieve business goals, so we offer two different plans at affordable prices: Starter ($10 per month) and Promax ($17 per month).
Both feature unlimited words/articles, SEO keyword optimization, Grammarly integration, 5+ templates, 1 or 5 user seats (depending on the plan), and professional editing for maximum quality assurance!
Try it out today and see just how much easier producing great content can be with Texta.ai!
Which Is the Best AI Copywriting Tool
Regarding search engines and optimization or content marketing, AI copywriting tools are a must-have for all marketers.
Of all the AI copywriting tools out there, one stands above the rest. It is capable of transforming your ad copy, blog posts, and more into content that search platforms love. With its algorithm tuned specifically for understanding natural language search queries and optimizing content accordingly, you'll be sure to get results with this AI tool.
In addition to search engine optimization, you'll also be able to track response rates for your ad copy and google ads so you can tweak your content to generate higher conversion rates, all thanks to this fantastic AI tool.
So forget about wasting time trying all the tools for content marketing or social media posts – the best AI copywriting tool is Jasper.
How Does AI Copywriting Work?
AI Copywriting software has revolutionized the writing industry by automating landing pages, ad copy, and other types of copywriting.
This allows AI copywriters to use their time and energy while still producing content that engages readers.
AI tools have become accessible even to those on a tight budget, as copywriting software offers free plans with basic features that are easy to use. With these convenient AI tools, AI copywriters can create stunning landing pages in just minutes without compromising on quality or paying for expensive software with free trial features.
Thanks to the best AI copywriting tools, creating marketing campaigns has become quicker and simpler.
Advantages of AI Writing Tools
AI copywriting tools are digital resources that use AI technology to make copywriting more accessible and efficient.
They enable users to generate flawless copy with ease while saving time and money at the same time.
Many AI copywriting tools offer a free plan, allowing users to try them out without having to commit financially.
AI copywriting tools can be used for projects such as writing ad copy, blog articles, emails, and social media posts.
The result is great content created quickly and efficiently, enabling people in both personal and professional life to realize their goals.
How to Use AI Copywriting Software to Your Advantage as a Copywriter?
AI copywriting tools are an invaluable resource for copywriters, as they can help increase productivity, accuracy, and efficiency when creating content.
AI copywriting tools can help quickly generate ideas, find relevant information and generate compelling content with minimal effort. With AI copywriting tools, you can work more quickly without sacrificing quality.
Additionally, AI copywriting tools are excellent for streamlining tasks like organizing notes and insights or researching keywords, allowing you to spend your time more wisely and focus on developing strategic approaches.
Ultimately, utilizing AI copywriting software is an intelligent tactic for any modern-day writer wishing to increase their success in digital marketing output.
Is AI copywriting worth it?
AI copywriting tools are transforming the way businesses create effective content. Not only are these AI-powered writing tools able to produce sharable content faster than ever before, but they can also curate personalized and customized messaging for each customer segment.
By using an AI copywriting tool, businesses can optimize their content for SEO purposes and increase their visibility in Google search results. AI copywriting tools can also provide insight into the best ways to reach customers with their messaging, meaning that their efforts will not be wasted on those who will not benefit from what they offer.
In this way, it is easy to see why AI copywriting tools could be a worthwhile investment for businesses looking to get the most out of their content marketing efforts.
Is AI going to replace copywriters?
Copywriting has long held an essential role in the marketing industry. However, recent advancements in AI technology have led to many asking the question: is it only a matter of time before AI copywriters replace their human counterparts?
While AI copywriting tools have demonstrated their usefulness for specific tasks, there remains to be significant uncertainty regarding how much they can replicate the depth of creativity and communication expertise that human copywriters provide.
Humankind's innate ability to evaluate trends and invent innovative approaches will always surpass that of AI sketching tools – making us uniquely qualified to fill a pivotal role within the marketing industry.
The relationship between humans and AI regarding copywriting will undoubtedly change over time, but it's clear that machines still need guidance from their human allies.
Conclusion
Creating professional, competitive copy is essential for anyone selling products or services online – be they your own or for clients. And while you could hire a human copywriter, why not give an AI tool a try?
With the help of machine learning, these tools are getting better and better at understanding natural language and matching user needs with the best possible solutions. So why not take advantage of this technology today?
Pick one of the best AI copywriting tools from our list and give it a go – you might be surprised at how well it performs!