Text Cortex Review 2023 (All-in-One AI Copywriting Software)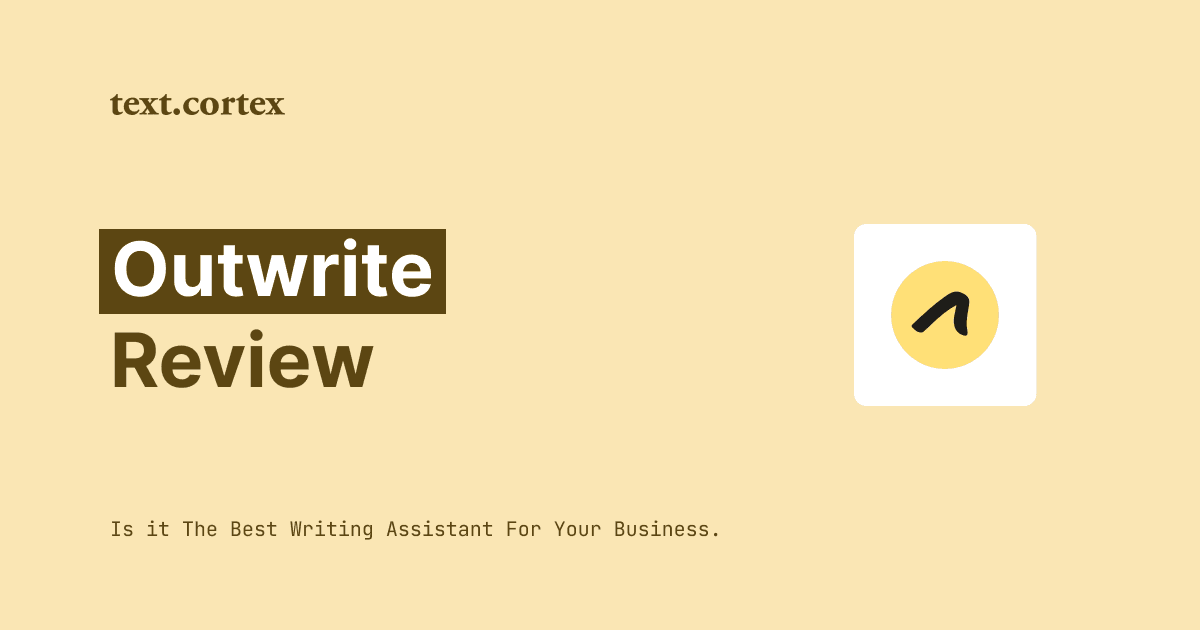 Are you constantly frustrated with the lack of creativity and efficiency in your copywriting process?
Are you looking for something that can help save you time and increase effectiveness and success, all without breaking the bank?
If so, it's about time to explore Text Cortex in 2023. This all-in-one AI copywriting software revolutionizes how content writers get their job done.
This review will explain why more people should be using Text Cortex and how it changes how website owners create articles, web pages, sales pages, and more.
What is Text Cortex?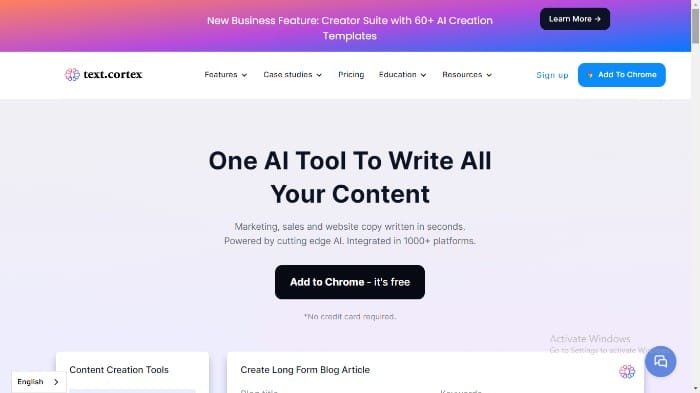 Text Cortex is a cloud-based AI copywriting platform designed to make creating SEO-friendly, reader-engaging content straightforward.
This software uses natural language processing (NLP) and machine learning algorithms to analyze your target market's preferences, demographics, and interests.
It suggests ideas for topics, titles, and content based on what your target audience is most likely to engage with.
Unlike other copywriting software, this software goes beyond the basics of finding good content topics and titles. It also helps ensure that the content is SEO optimized, error-free, and easy to read for people who visit your website.
So, suppose you are looking for comprehensive software to help simplify and increase the efficiency of your content writing, optimal ranking, product descriptions, and other web page content needs.
In that case, this platform offers an innovative approach to providing support in these areas—a simple yet powerful platform to get your job done faster than ever!
Who Created Textcortex.com?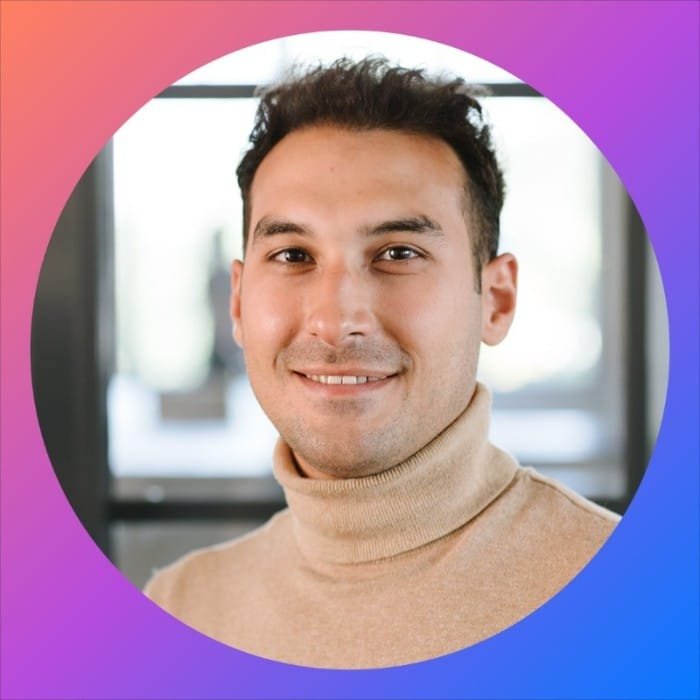 Ceyhun Derinbogaz is the co-founder and operator of Textcortex.com. He created the company to provide customers with the data they need to create compelling emails for their target audiences.
Ceyhun and his team of marketers understand how perfecting customer segmentation & personalization can boost engagement and increase leads, so they set out to build a resource that not only gives you the data you need but also suggests new insights in minutes.
Thanks to Ceyhun's dedication and hard work, Textcortex has become a trusted source for many companies looking to maximize their email marketing campaigns.
Textcortex.com Pros and Cons
---
Delving into the pros and cons of Textcortex can help verify which features are most beneficial for customers and how they can best use the artificial intelligence software available.
A great way to get better insight into Textcortex is by reading customer feedback in articles about it.
By getting a thorough opinion from current users of this helpful tool, readers can make a more informed decision on what works best for them and their project specifications.
Analyzing both benefits and drawbacks will allow individuals to determine if Textcortex is the best tool for their needs—ensuring satisfaction after implementation.
Starts at $19.99/month (PRO PLAN)
Textcortex is a great tool for content creators and marketers looking to save time and effort while increasing the success of their campaigns.
It's a reliable source for insights into customer engagement and can help you craft perfectly optimized content that engages your audience and keeps you ahead of competitors.
Best Features of Text Cortex
Textcortex is a helpful tool for any business looking to up its content marketing game.
Whether you need fresh new written content, sharpened brand messaging, or an updated post for your blog, Textcortex is the right choice to get the job done quickly.
New features are being added frequently to modernize services, allowing businesses to target their content creation needs with up-to-date tech without sacrificing quality.
Put your trust in Text Cortex: they'll get you the right words and help your brand thrive!
However, here are some of the features of Textcortex to explore in 2023:
Browser Extension
Textcortex.com offers browser extension services that are excellent for writers everywhere.
With this feature, you can create and write a blog for your company more quickly than ever – without worrying about pesky ads or complicated templates.
Whether your writing goals are to build an empire or write original content, with Textcortex, they can become a reality in no time.
Multiple Language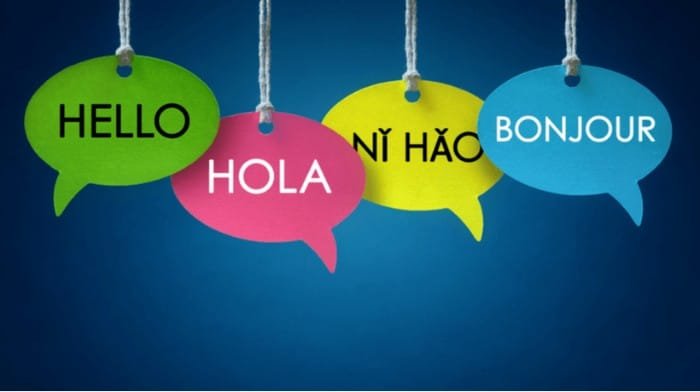 Writing an article for your company or creating ads, and designing templates for your pages in different languages are made easy with this feature.
With this AI-powered software, you can create an entire article or web page quickly and easily, translating it into whatever language you need for multiple-language services.
And when you thought it couldn't get any better – with their useful templates available, your articles and webpages will look great too!
Creator Suite
Textcortex's Creator Suite is designed for content creation and editing.
This allows writers to quickly generate articles, blog posts, images, and videos within the same interface, so they don't need to switch between various software.
It has everything you need to make your work easier – a powerful editor with an image library, a powerful analytics dashboard, and watchful AI algorithms to help optimize your content.
For example, with the AI tool, which can review docs and make relevant suggestions for improvement– you'll be sure to procure that top grade.
No more switching between multiple icons to get the job done! With the Creator Suite, your content creation task is simple!
Voice Activation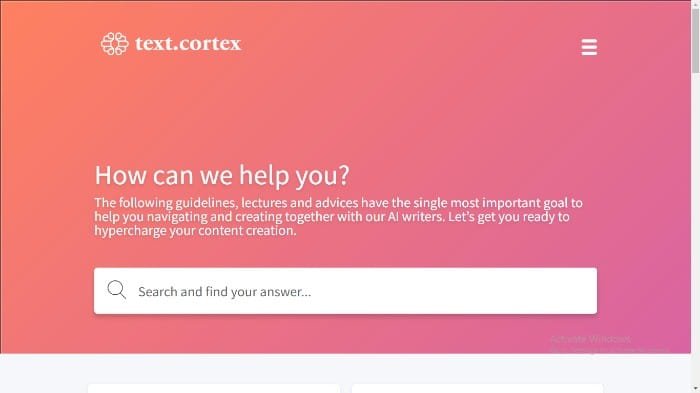 With Textcortex.com's voice activation feature, you can generate passive voice text and upload it more quickly and with more options – whether for social platforms like Twitter or optimal ranking in search engines.
That's right – instead of creating the same message repeatedly, you can now let one piece of text work for multiple platforms.
It's like having a passive army of robots working for you so that what usually takes hours to write can be done in minutes!
Enterprise API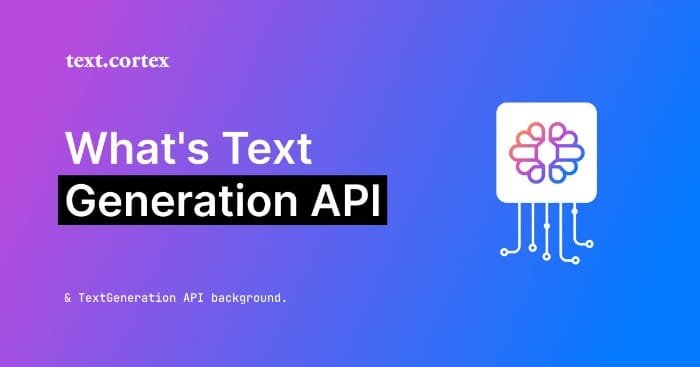 Textcortex offers an Enterprise API for enterprise customers, allowing developers to quickly and easily integrate automated emails into their business systems.
The powerful Email Automation feature on the platform ensures that all emails sent out are well-written, engaging, and optimized for maximum client engagement.
Also, if you're an innovation leader looking for a powerful yet easy-to-use AI content-writing tool, this feature will help you deliver!
With this feature, you can write product descriptions and create a blank canvas for submitting quickly and easily.
Textcortex.com Pricing – How Much Does it Cost?
Textcortex AI-powered software help users generate product descriptions and other written pieces faster than ever, saving them time and money while still delivering a polished result.
Investing in Textcortex allows you to spend less time contemplating how to market a product and more time on the parts of running a successful business that cannot be automated.
Textcortex Al content-writing software has its pricing structured in three tiers:
Free Plan: It is free but limited to a few features
Pro Plan: Starts at $19.99 per month, billed annually, and $24.99 per month, billed monthly.
Business Plan: Starts at $49.99 per month, billed annually, and $79.99 per month, billed monthly.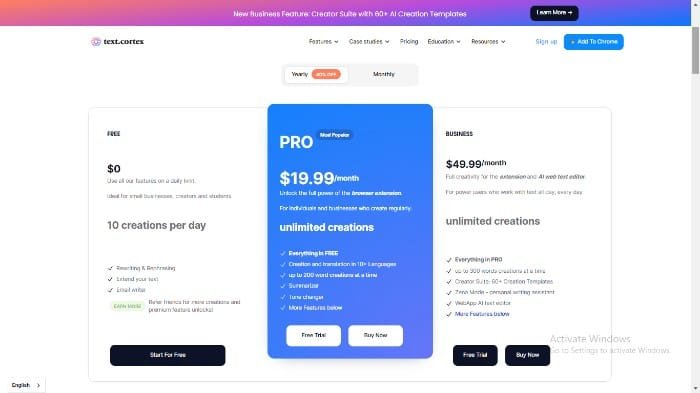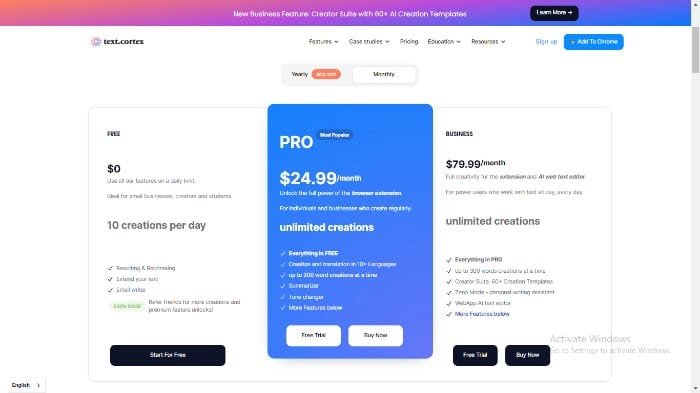 Here are the full details of each of Textcortex.com's plans:
Free Plan
10 creations per day
Rewriting & Rephrasing
Extend your text
Email writer
Pro Plan
Includes everything in the FREE plan
Creation and translation in 10+ Languages
up to 200-word creations at a time
Summarizer
Tone changer
Business Plan
Includes everything in the PRO plan
Up to 300 words creation at a time
Creator Suite: 60+ Creation Templates
Zeno Mode – personal writing assistant
WebApp AI text editor
Text Cortex Case Study: Results Achieved With the Software
Text Cortex AI content writing software has been used by several businesses to achieve excellent results.
In one case study, a business was able to reduce the time required to write 500 words from 6 hours to just 20 minutes using Textcortex.com AI tools.
This resulted in an increase in productivity and a reduction in time-to-market.
In another case study, Textcortex.com was used to optimize product descriptions for a leading e-commerce website.
The AI software analyzed data from the website and generated product descriptions which increased sales by 20%.
Overall, businesses that have used Textcortex software have seen remarkable results in terms of time and cost savings and increased sales.
So if you want to get ahead of the competition, Text Cortex is a must-have software for any business looking to increase productivity and profits!
Try It Out Today!
My Experience Using Text Cortex to Create A Blog Post and Write Documents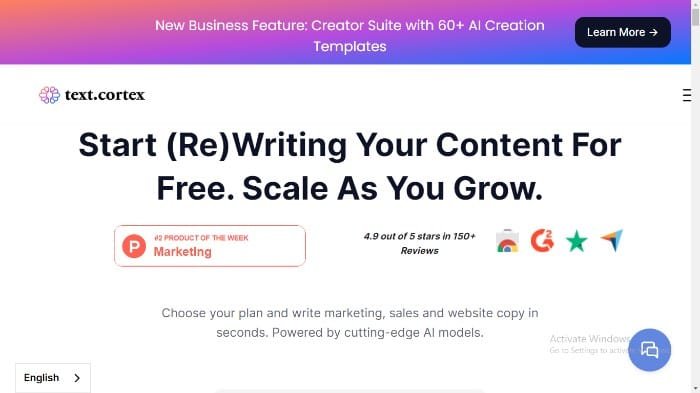 Textcortex.com is a cutting-edge innovation leader in document and post creation for bloggers.
When I used it to create posts for my blog, I was amazed at how efficient and intuitive the experience was.
My piece was ready for publication in no time— thanks to the platform's powerful features, including templates to get your work started quickly and hassle-free document-sharing features that make collaborating effortless.
Textcortex offers multiple pricing plans, so there is something to fit every budget—giving writers everywhere the flexibility they need to publish or produce anything they can imagine!
I will always recommend this software because it delivers!
Best Alternatives for Text Cortex in 2023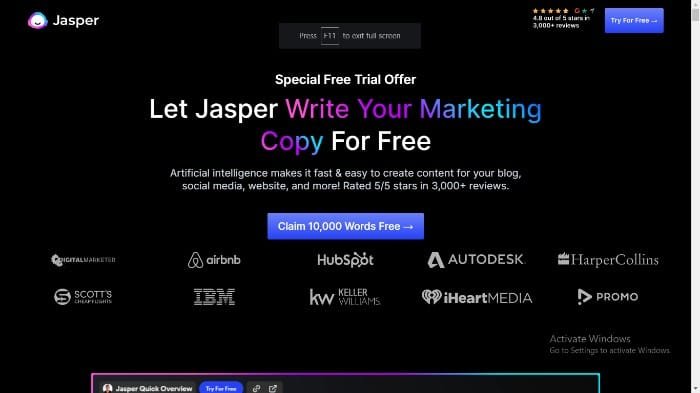 In 2023, it may be time to consider alternatives to Text Cortex for your page and product descriptions.
With AI content writing becoming more accessible, you may want to explore other options.
Ultimately the choice will depend on your particular needs, but whichever you decide on, you can be sure that the future of content creation is in safe hands.
However, here are some of the best alternatives for this software in 2023:
Jasper
Writesonic
Grammarly Business
Simplified
Rytr
Semrush
Anyword
Peppertype.ai
LeadIQ
Frase.io
How to Use Textcortex.com for AI Content Writing
Using Text Cortex for AI content creation is relatively simple.
First, you must sign up and create an account on the platform. You can then access its various features such as templates, Summarizer tool, Tone changer, Creator Suite, and Zeno Mode (personal writing assistant).
You can use these tools to quickly create, optimize and publish AI content.
When you are done creating your content, you can share it with others using the platform's sharing tools or export it to other formats such as PDF, Word, or HTML.
Text Cortex also offers analytics to analyze your performance and measure the success of your content.
Overall, it is an excellent platform for quickly creating high-quality, optimized, and error-free AI content.
Try it out today!
Conclusion – Is Text Contex Worth It?
Textcortex.com is an AI content writing platform that offers a range of features to help businesses generate engaging content quickly, easily, and cost-effectively.
Its powerful AI features, such as the Summarizer tool and Tone changer, make optimizing content for maximum impact easy, while its Creator Suite has 60+ templates to get you started quickly.
The platform also offers analytics features and sharing capabilities that make it simple to collaborate with colleagues or share your work with third-party readers.
If you're looking for a reliable AI content-writing solution, Textcortex.com is the perfect choice for any business!
Try it out today!
That's all about Text Cortex for AI Content Writing! We hope you found this helpful. Thanks for reading! Happy writing!