Pipefy Review 2023 (Business WorkFlow Automation Tool)
Are you a busy project manager, entrepreneur, or businessperson searching for ways to streamline your workflow automation processes? Look no further!
After trying out Pipefy in 2021, we are here to tell you about the impressive progress this remarkable tool has made in its first two years.
As we explored Pipefy's numerous features and capabilities, we were continually impressed by its ever-growing prowess; from customizable playbooks to improved user experience – they've thought of it all.
The way Pipefy allows users to take control of their business operations without resorting to outdated manual methods is a game changer and can give any organization a distinctive competitive edge over competitors still relying on archaic systems.
So what makes Pipefy so unique, and how does it stack up against other workflow automation tools available in 2023? Find out more below!
What Is Pipefy?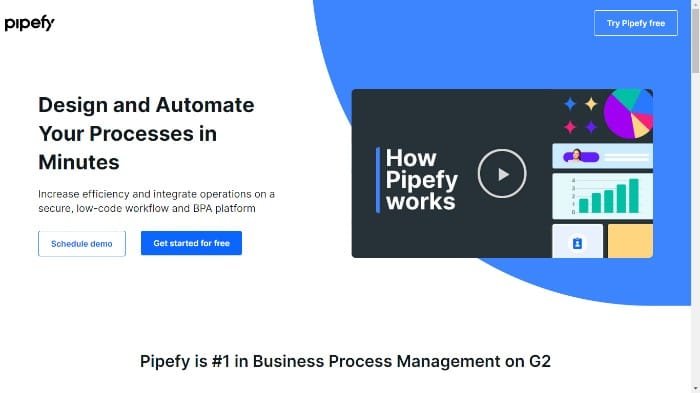 Pipefy is an all-in-one cloud-based workflow management tool that streamlines the process of workflow optimization, automates tedious tasks, and brings visibility to businesses of all sizes.
Pipefy users can create processes to help automate complex and manual tasks, saving time and resources.
Not only does this provide an efficient approach for workflow optimization, but it also allows users to capitalize on their data to drive better business decisions.
Whether you're looking to become more organized or want helpful guidance, Pipefy is your perfect workflow management solution.
Who Created Pipefy?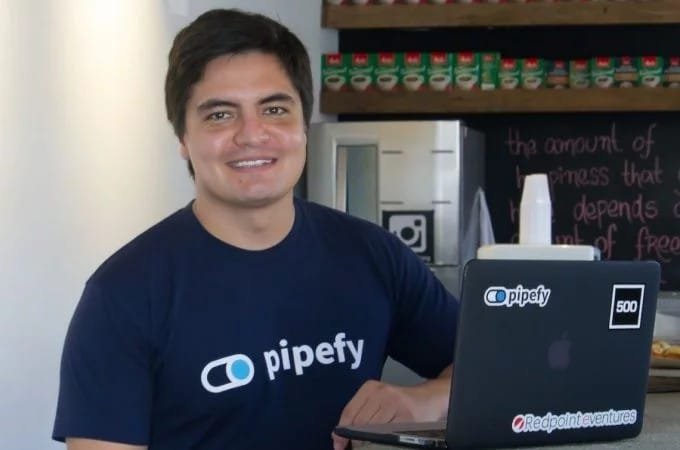 Alessio Alionço created Pipefy in 2014 to connect customers to value, providing a simple platform for workplace operations.
Alessio's prior experiences as co-founder at Conect, his passion for creating solutions to make things easier, and his drive to help people shifted him towards creating Pipefy.
This intuitive platform helps customers get organized with simple, intelligent processes. Alessio envisioned a way to revolutionize the internal operational model of companies.
Pipefy's success is due to Alessio's ambition and dedication to establishing an all-in-one platform that allows customers to manage their internal processes systematically and efficiently.
Alessio Alionço has proven that his innovation can meet the needs of any business regardless of size or sector.
Top Benefits Of Pipefy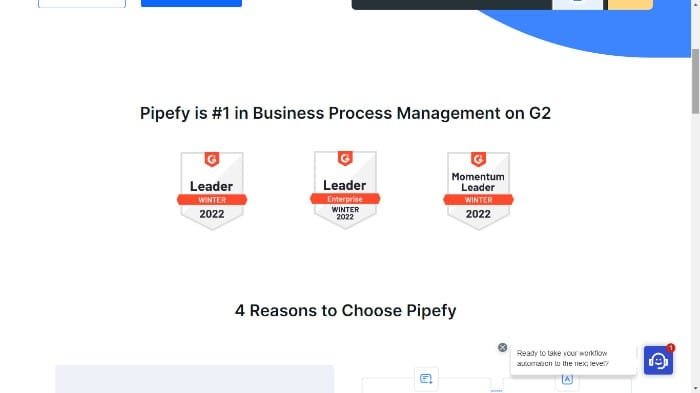 1. Easy to Use: Pipefy is designed with a user-friendly interface, which makes it easy for users of all levels of technical ability to understand and use the platform effectively.
2. Automation: By creating automated processes, you can easily streamline mundane tasks and save valuable time for more critical work.
3. Dashboard: A single dashboard provides users with a central hub to monitor and manage all tasks and processes.
4. Scalability: Pipefy is designed to be efficient and scalable, allowing businesses of any size to leverage the platform's features without investing too much time or resources.
5. Integrations: Pipefy can be integrated with other services such as Gmail, Dropbox, and Zapier to extend its functionality.
These are just many excellent benefits that Pipefy offers in 2023. Try it out today and see how it can help you streamline your workflow automation processes!
Best Features Of Pipefy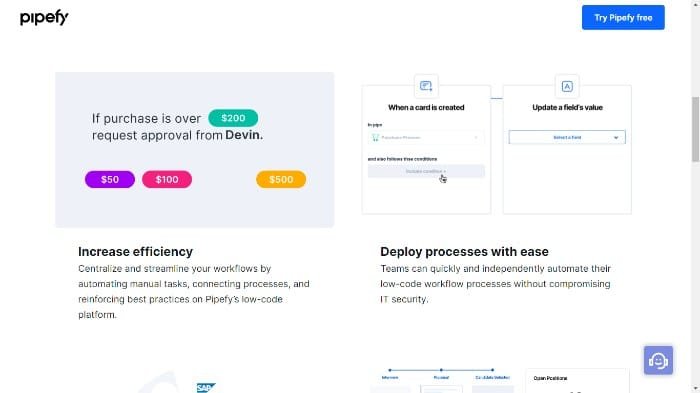 Pipefy is the perfect team management tool, offering a limitless possibility to manage, secure, and organize tasks.
Each team member can be enabled with a dashboard that displays tables and templates to communicate the team's projects quickly.
It also offers team settings for your team development and roles, ensuring safe levels for each teammate. With Pipefy, you can manage a team with complete freedom and efficiency!
However, here are some of the best features of this software to explore:
Account Alerts
With Pipefy's Account Alerts feature, users can efficiently manage operations within a business, making it easier to integrate software and service cycle activities.
Monitoring the status of sales teams or business processes in general, this feature makes it easier for managers to keep track of goals being met or missed and take action accordingly.
With this advanced account alerts feature, businesses have the opportunity to reduce costs and improve operations across all areas—helping them reach their targets more quickly and effectively.
File Storage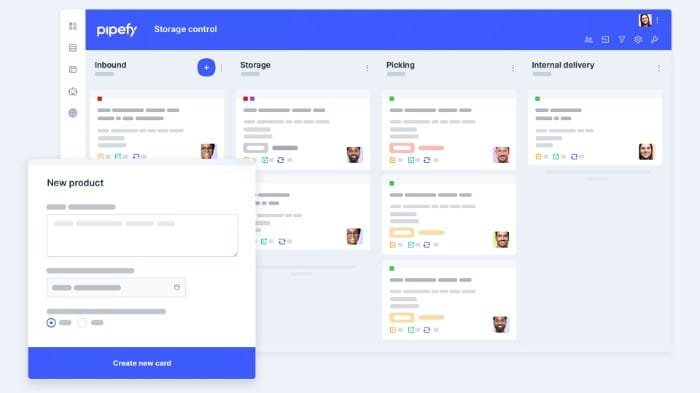 This feature is one of Pipefy's solutions for process management. This feature allows easy access to documents for small and large enterprises.
By enabling this, practices become more fluid and organized in a single accessible location.
It allows users to store multiple documents with the click of a button efficiently and helps teams stay on top of their process management tasks like never before.
With file storage offered by Pipefy, you'll have superior process management tailored perfectly for maximum efficiency!
Workflow Configuration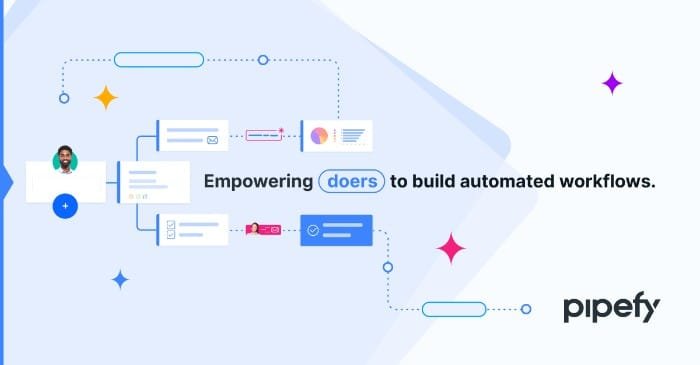 Workflow configuration simplifies business practices, more efficient and organized – workflow configuration. It allows businesses to watch their workflows as they evolve and track the loading process much better.
This feature includes exceptional elements: the drag-and-drop interface for organizing tasks, a Spotify-like flow for breaking down activities into smaller steps, and a Twitter-inspired navigation that allows teams to prioritize their work accordingly.
Even the most complicated tasks could be managed with this workflow configuration – no matter the size of your business or its complexity.
Account Management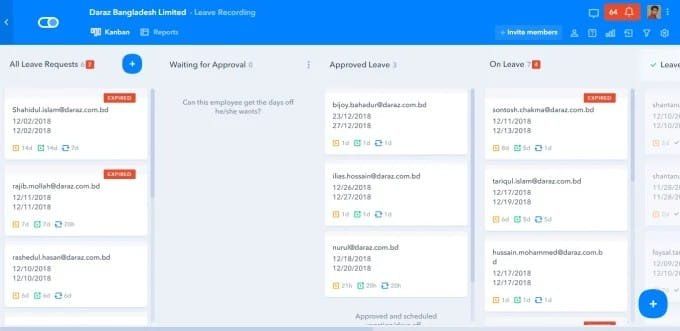 With this feature that Pipefy offers, users have complete control over the status of their requests. You reap the benefits of customizing your request's mode based on what best works for you.
With this utmost control, users can stay more organized and on task knowing which tasks are completed and which remain incomplete.
On top of this, Pipefy provides reports that give tips and feedback, helping users make necessary changes while getting great insight into performance comparison trends.
With its reliable management systems, Pipefy is one of the best software programs available regarding account management.
Data and Visibility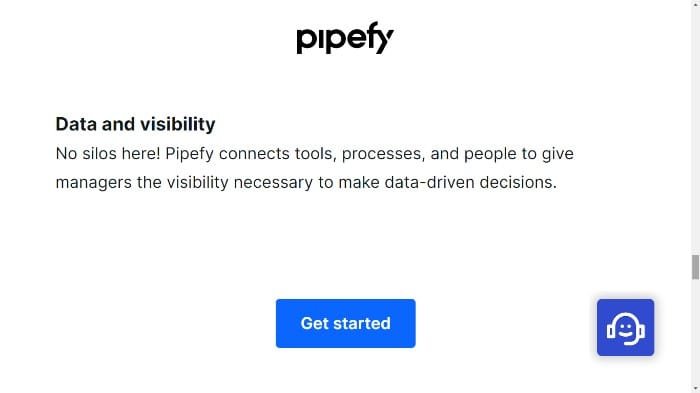 Pipefy's best feature regarding data and visibility is the flexibility this low-code process management platform gives your business.
It offers control over your internal processes and allows you to see past, present, and future business activity.
Moreover, support teams have access to finance and status through this feature – which can help them stay up to date on program changes and produce actionable reports accurately and quickly.
With this type of control offered by Pipefy, businesses can better manage their data regarding their operations: allowing for more efficient solutions where financials and progress insights are readily available for all stakeholders involved.
Pipefy Pricing – How Much Does It Cost?
With tools, support, and templates tucked neatly into one place, Pipefy is designed to help drive process efficiencies and support a business performance culture.
With the low-code builder, you can customize your processes to fit your specific needs and take full advantage of the power that Pipefy offers.
You get a surprisingly high value for the cost of a single license compared with other tools available in the market. But how much does Pipefy software cost?
Pipefy's pricing is structured into four tiers:
Starter Plan: It is free (no credit card required)
Business Plan: Starts at US$ 19 per month
Enterprise Plan: Starts at US$ 19 per month
Unlimited Plan: Contact sales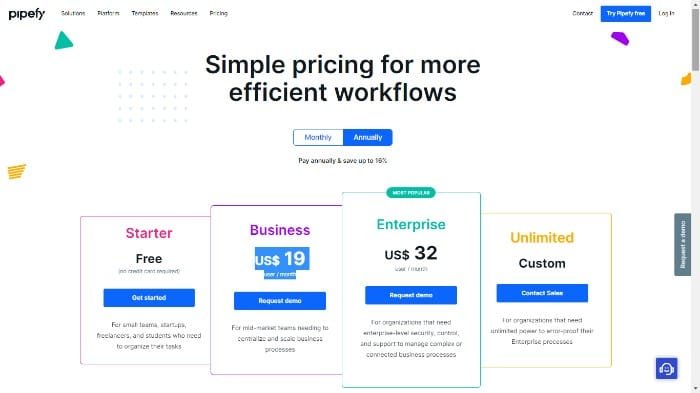 Pipefy Pros And Cons
---
Pipefy is an excellent choice for optimizing business processes, offering a variety of tools for different requests, and enabling businesses to watch their workflows and sales capability.
With its customizable value and feedback service, Pipefy can quickly adapt to any business, ensuring maximum efficiency in developing and implementing organizational strategies.
Its ease of use renders it ideal for companies that need to keep track of their daily tasks with minimal effort and time investment.
Therefore, delving into the pros and cons of using Pipefy will provide meaningful insight into whether or not it is the right solution for your business needs.
Starts at $0/month (Starter plan)
Pipefy Alternatives
If you're looking for Pipefy alternatives, there are various tools that can support your process creation and communication needs while providing access to powerful features and services
From tools that allow you to integrate with multiple services to an expansive library of templates that make it easy to create and customize processes, there is an alternative for everyone.
This software provides excellent customer service along the way in case any of your questions should arise.
If you need support when creating your processes or managing them long-term, check out some Pipefy alternatives below:
Bizagi Modeler
Appian Low-Code Platform
K2 (Legacy)
IBM Business Automation Workflow
Pega Workforce Intelligence
Axon Ivy
AuraQuantic
Studio Creatio
TIBCO Business Studio
Pipefy Case Study: Results Achieved With Pipefy
Businesses from various markets have successfully used Pipefy to streamline processes, increase efficiency, and improve team collaboration.
Take the example of a customer service team that used Pipefy to create a comprehensive process for managing customer feedback.
They created a system where customers could register their complaints in an organized manner, allowing team members to quickly and efficiently review complaints, assign them to the right person, and track progression throughout the whole process.
The results? Improved customer satisfaction, reduced response times, and enhanced collaboration among team members – all thanks to Pipefy.
My Experience Using Pipefy's Automation Tools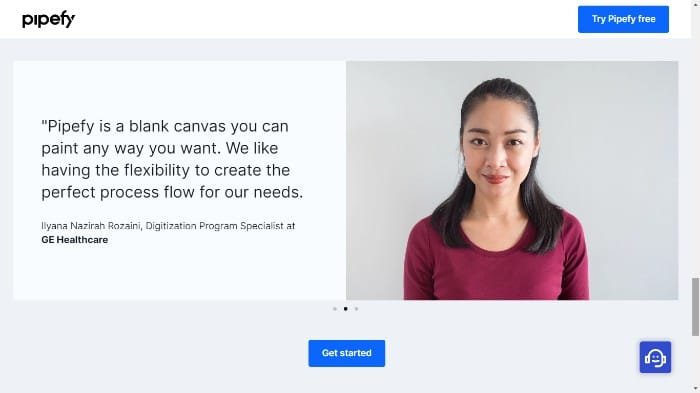 My experience using Pipefy's automation tools has been highly positive. The low-code builder allowed me to customize processes to fit my specific needs quickly and easily.
The templates provided also made it simple for me to set up new tasks with minimal effort, allowing me to focus more on the execution of these tasks.
I could access detailed reports and insights regarding my processes, further allowing me to determine if I needed to make any adjustments to improve performance.
Overall, Pipefy's automation tools have enabled me to maximize efficiency while streamlining my processes. I highly recommend using it for your business's process management needs.
Conclusion – Is Pipefy Worth It?
Pipefy is a powerful tool designed to help businesses streamline their processes and increase efficiency. It offers customizable tools, comprehensive reports, and accessible data and visibility.
However, some potential drawbacks to using Pipefy include limited customer support options, potentially problematic use for non-tech savvy users, dependency on third-party applications, and upfront costs and maintenance fees.
Several Pipefy alternatives offer similar features and customer support along the way. Businesses from various markets have successfully used Pipefy to streamline processes, increase efficiency, and improve team collaboration.