WordTune Review 2023 (Powerful AI Writing Assistant)
Are you feeling the pressure of churning content faster and better than ever?
Content marketing has become a daunting task with more products to promote, fewer resources available, and deadlines that seem impossible to hit.
Fortunately, technology is here to lighten our load. WordTune, an AI-powered writing tool for marketers, copywriters, and other creatives, can help take your content game up several notches in terms of quality and speed.
In this WordTune Review 2023 edition, we will look at the features and benefits this powerful tool provides so you can decide if this application suits your needs.
Let's dive in!
What is WordTune?
WordTune is the newest writing tool for non-native English speakers who want to write coherent sentences and save time.
This online program offers helpful proofreading capabilities and the ability to detect proper sentence structure quickly.
With this software, users have access to a comprehensive grammar editor with powerful algorithms that check for the accuracy of words in phrases and provide word alternatives, so users can be sure they're submitting flawless chunks of text.
Its natural language processing ensures all corrections are made with perfect precision, making this an excellent way for non-native English speakers to add style to their writing without much effort.
Who Created WordTune?
WordTune, an AI-powered writing companion and revolutionary automated writing assistant, was created by Ori Goshen to help writers explore and implement fresh ways of writing without spending countless hours editing.
Ori has a deep understanding of the writing process both from his professional background as a marketer and his personal experience as an independent writer.
What began as Ori's drive to save time on editing has morphed into this platform: an automated tool that helps writers craft ideas confidently.
WordTune Pros and Cons
---
Diving into WordTune's pros and cons is a must for content writers who want to rewrite sentences like a pro!
Whether dealing with writer's block or seeking ways to improve your writing experience, the software is designed to meet everyday and specialized writing needs.
It helps to transform words into compelling phrases and ideas, encouraging content writers to rewrite and refine their work quickly and effectively.
It pays to explore its positives and negatives to ensure you're making the most of this powerful tool. So take the plunge – satisfying results are only an evaluation away!
Starts at $9.99/month (Premium Plan)
Best Features of WordTune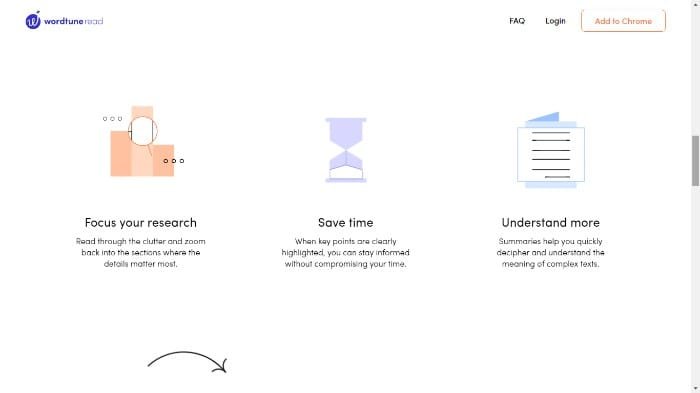 WordTune is one of the most popular writing assistants for writing and creating content.
The software offers a variety of features that make it one of the best on the market. It has completely new capabilities to create high-quality content and documents without sacrificing time.
In addition, It allows users to create error-free content confidently and suggest alternative ways to say things or phrases that can produce better results.
All these features make the software an ideal choice for those looking to create professional documents quickly and efficiently.
Here are some of the best features of this advanced AI technology for freelance writers:
Sentence Rephraser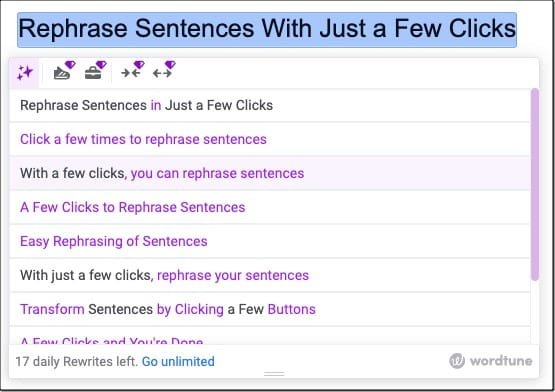 With this feature, you don't need to spend much time editing or going through entire sentences line by line to find the perfect expression anymore.
WordTune works across all popular word editing applications, including Google Docs, making it convenient and fast. When using this feature, you will receive rephrasing suggestions to make your writing project easier.
It provides advanced suggestions to change words to make entire sentences and clauses sound more sophisticated.
The time you save from cleaning up your pieces with the help of this feature allows for an extra round of creative endeavors, meaning you can create higher quality work in less time!
Style Editor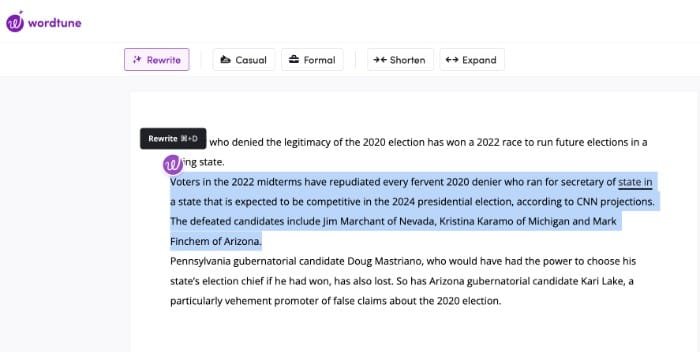 The Style Editor is another excellent feature of this software. This AI-powered technology companion gives the writer a full view of how the document looks and suggests ways for improvements accordingly.
It's designed to help anyone improve their writing skills and explore fresh ways to express themselves. With advanced features like editing English vocabulary and tone, the feature gives you ultimate control over your writing.
It goes beyond correcting grammar errors and spelling mistakes; it assesses the entire text for eloquence, clarity, and readability.
This makes sure your content is not only accurate but also written in a way that is pleasant to read. It will alert you if any sentence or phrase may be confusing or if it should be reworded for better clarity.
Sentence Formatting
The software also makes it easy to construct perfect grammar with its brilliant vocabulary choices and can help you when rewriting content.
This way, you don't have to worry about fixing any formatting issues again! And just in case you run into any roadblocks on your sentence-crafting journey, WordTune has all the support from its experienced writing specialists.
It provides a comprehensive view of the text. It highlights essential sections such as headings, paragraphs, lists, etc., so you can easily recognize the content structure simply by looking at the formatting.
Tone Checker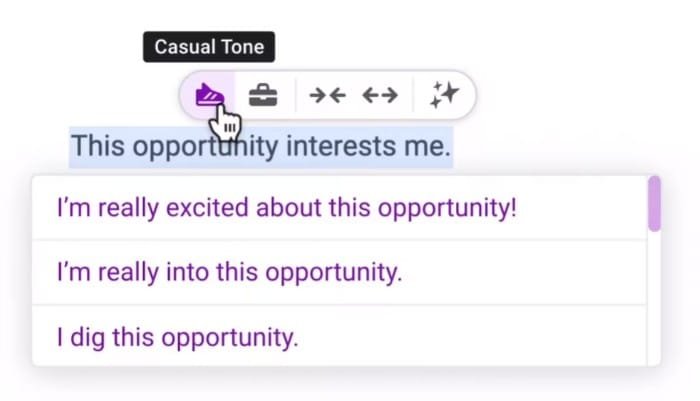 With this feature, WordTune has become the best tool for anyone looking to edit their writing and ensure that their tone of voice is consistent throughout any given document.
With the Tone Checker feature, tone adjustments have become more accessible – you can easily switch between formal or casual tones and make adjustments so that your readers pick up on the correct message.
It's an advanced tool with its own AI capability, constantly working on your desktop app to ensure your writing is well-received by its readers.
Grammar Check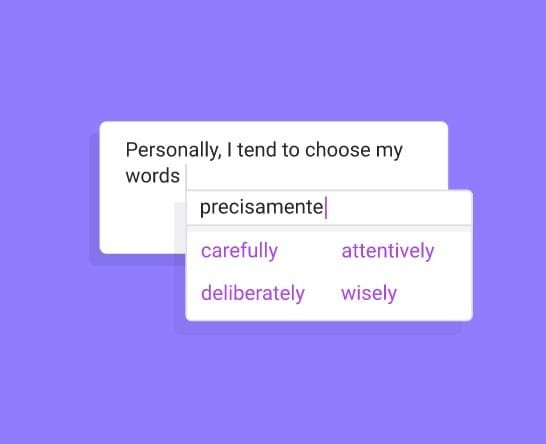 The Grammar Checker is one of the essential features in WordTune. This feature simplifies complex sentences and can eliminate common grammar errors quickly and efficiently.
With intelligent and intuitive features, WordTune makes it a breeze to fix any mistakes that could've gone unnoticed – no more worrying about grammatical errors!
It analyzes each sentence to help freelance writers identify areas that need improvement.
The Grammar Checker can also suggest words or phrases replace awkward-sounding sentences, making it easier for freelance writers to gain the confidence necessary to create documents. You'll be happy writing confidently in no time.
All of this is greatly appreciated by WordTune users everywhere – don't let grammatical errors stand between you and excellent writing!
Engagement Metrics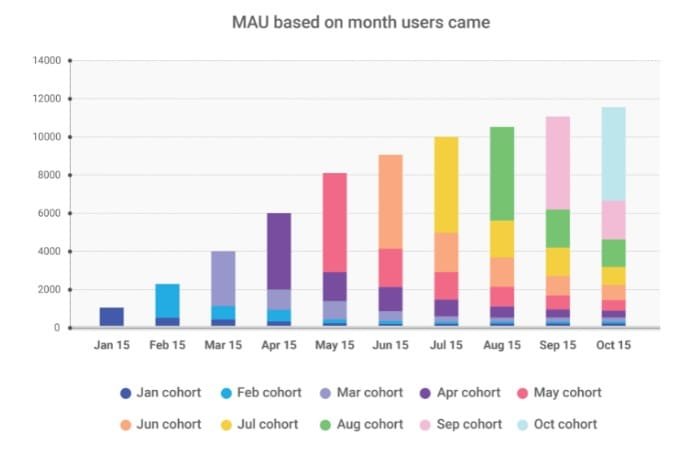 The Engagement Metrics feature is an invaluable tool that helps you measure how engaging your writing is and gives insights into making it more effective.
Wordtune helps you to exchange instant messages with customers in their foreign language.
This powerful tool measures the quality of your content, giving you statistics on readability, tone, clarity, etc., and showing where readers tend to lose interest.
The Engagement Metrics feature also allows you to track your progress over time and assess how well your writing is doing.
This way, you can always make necessary changes to ensure maximum engagement with your readers – in no time!
Plagiarism Check
WordTune's Plagiarism Checker is a great way to make sure you produce error-free content that is original and free from any copyright issues.
With its Google Chrome extension, you can easily run plagiarism scores against entire paragraphs in one click. And for extra accuracy and freshness, you can use the platform's feature of rewritten sentences
Plagiarism is a severe and profound issue that can have dire consequences for content creators.
That's why WordTune includes an advanced Plagiarism Check feature to help you detect and avoid plagiarism in your content.
This tool compares the text of your document to billions of pages on the web, ensuring that your text is original and free from copyright infringements.
WordTune Pricing – How Much Does It Cost?
WordTune is an AI-powered writing companion that helps you finish your work quickly and efficiently.
The artificial intelligence guidance that the platform provides is greatly appreciated by many prolific writers and everyone who enjoys crafting their words perfectly.
WordTune offers several pricing plans depending on your needs:
Free Version: It is free ($0)
Premium Version: Starts at $9.99/month, billed annually and $24.99, billed monthly
Premium For Team Version: Price not stated on their homepage. You can contact the company to learn more about this plan.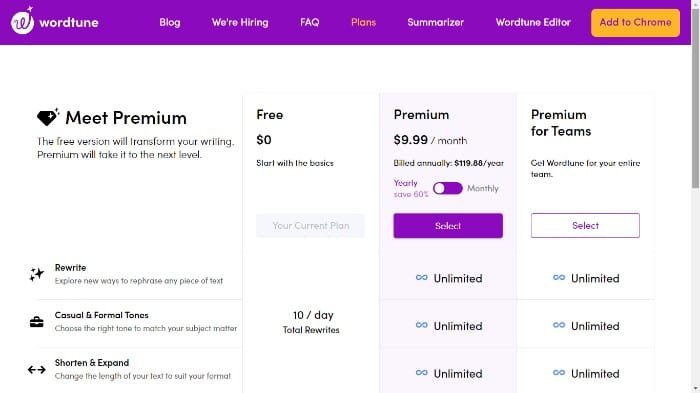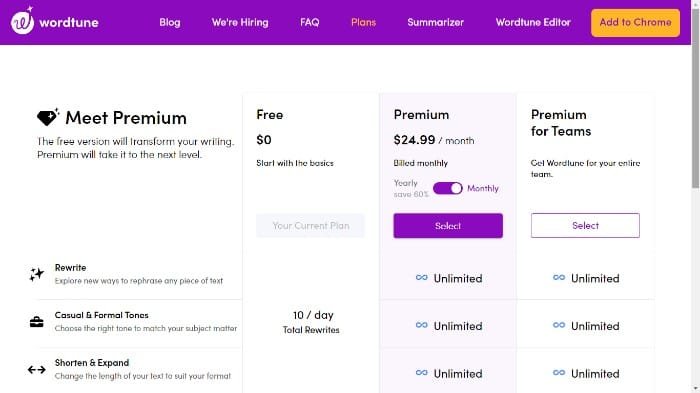 Here are the full details of each of their plans:
Free Version
10 / day total rewrites
10 / day Casual & Formal Tones
10 / day Shorten & Expand
Premium Version
Unlimited total rewrites
Unlimited Casual & Formal Tones
Unlimited Shorten & Expand
Paragraph Rewrite
Premium Support
Premium For Team Version
Unlimited total rewrites
Unlimited Casual & Formal Tones
Unlimited Shorten & Expand
Paragraph Rewrite
Premium Support
Team Billing
WordTune Case Study: Results Achieved With Word Tune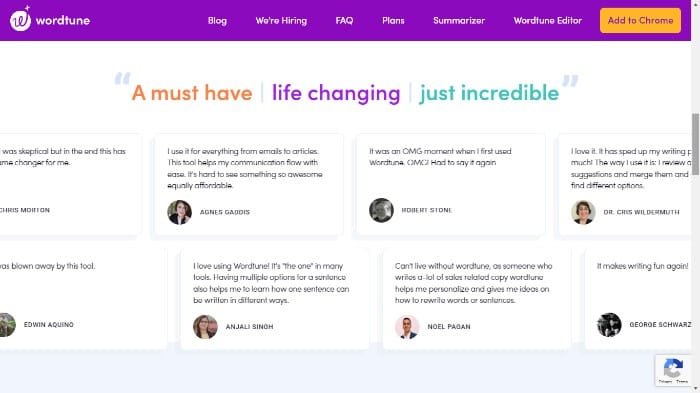 WordTune is an artificial intelligence-powered writing companion that helps you write better and faster.
A freelance writer in the finance industry used the software to create high-quality content for his clients.
After using it, he could finish his work twice as fast as before.
He also noticed that his grammar and sentence structure improved. He also found that the software helped him keep track of his progress and measure the engagement rate of his content.
The freelance writer produced more accurate and error-free content due to WordTune's grammar checker, plagiarism checker, engagement metrics, and other features.
His clients were also satisfied with his work, leading to higher customer satisfaction.
Overall, the software helped the writer create better content faster, improved his grammar and sentence structure, increased the engagement rate of his content, and led to higher customer satisfaction.
My Experience Using WordTune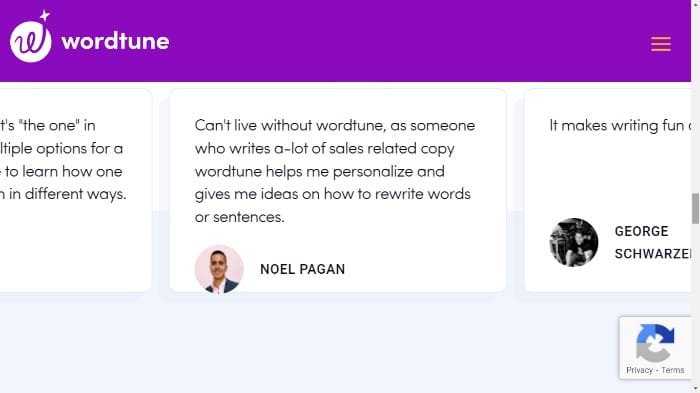 WordTune is a beneficial software that has made my life as a university student so much easier.
I struggled to make my essays and assignments sound more professional and appealing, but WordTune made it effortless.
It supports the Google Chrome extension, so it's easy to set up and run in the background, checking each sentence I write for clarity, tone of voice, and product descriptions.
Whenever I type something, it highlights any potential weak spots and suggests how to improve them, taking away a lot of stress and giving me back the time and motivation to focus on the content of my essay instead!
The Plagiarism Checker was also very useful in ensuring I wasn't infringing on copyright issues.
Overall, my experience using the software was great! It saved me time and helped me craft better content in less time.
I highly recommend WordTune to anyone who wants to write better and faster.
Give it a try today and experience the power of artificial intelligence in your writing.
Best WordTune Alternatives in 2023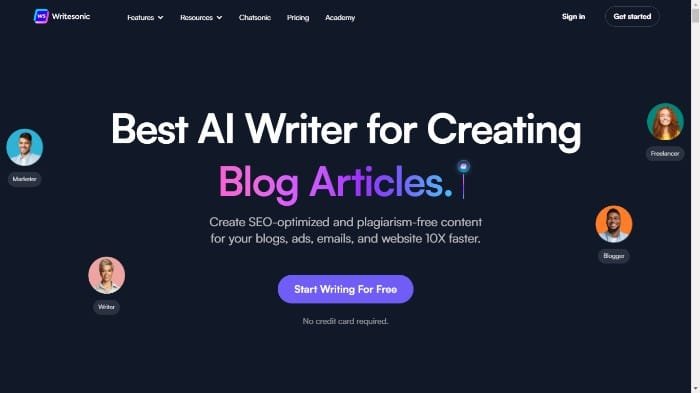 Automation technologies like WordTune offer an easy way to quickly write personal emails, product descriptions, business proposals, and other documents without manually typing them in Microsoft word or Google Docs.
However, this platform can become costly over time. That's why more businesses are turning to alternatives in 2023 to generate product descriptions in a fraction of the time.
There are several options available if you're looking for a WordTune alternative.
Forget spending hours on a tedious or lonely task; these alternatives provide relief while ensuring accuracy with each product description created in just minutes!
Here's a look at some of the best tools to replace WordTune on the market right now:
Jasper
Grammarly Business
Rytr
Copy.ai
Writesonic
Anyword
Peppertype.ai
Semrush
Simplified
LeadIQ
Is WordTune A Cheap Grammar Checking Tool?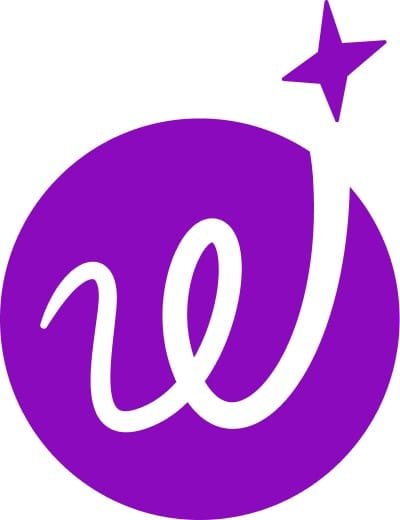 No, WordTune is not a cheap grammar-checking tool. It offers a range of services that make writing more accessible and efficient.
The software focuses on improving the writing process by providing advanced artificial intelligence-driven editing tools, grammar checkers, plagiarism detectors, and engagement metrics.
All these features come at a cost, as users need to pay for a subscription.
However, WordTune is still one of the most affordable grammar-checking tools on the market. Its pricing plans are designed to fit any budget, and its features make it worth every penny.
Also, it provides value for money by giving users access to a powerful AI-enabled writing assistant, which makes it easier and faster to write better content.
Is the WordTune Free Version Effective?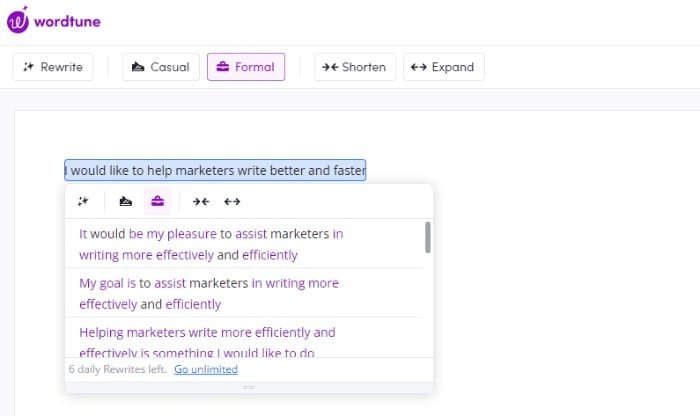 WordTune offers a free plan but is limited to only a few features. Also, it has a generous 7-day trial period so users can test the product before committing.
During this time, you'll have free access to all the features and benefits of WordTune!
You'll be able to see how it can improve your writing process and make it easier and more efficient.
WordTune's trial period is an excellent opportunity for those who want to test the product before investing in it. You'll be able to see how powerful WordTune can be in helping you create better content faster and with fewer errors.
So, even though there isn't a free plan, the 7-day trial gives you enough time to decide if the software is right for you. Give it a try today and experience the power of artificial intelligence in your writing!
Wordtune vs Grammarly: Which Plagiarism Checker Is Better for You?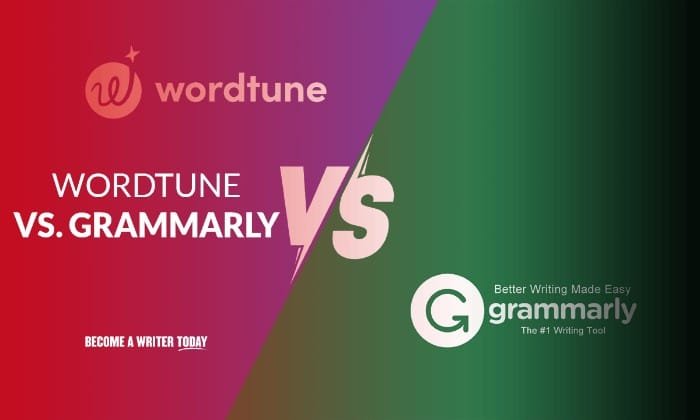 Grammarly and Wordtune are powerful writing tools that help you improve your writing.
Both platforms offer extensive editing features, but they have their own unique advantages.
When it comes to accuracy, both services are top-notch. Grammarly is slightly more accurate at detecting spelling errors, but Wordtune is more comprehensive with its suggestions and offers an AI-driven editor.
The WordTune editor offers a word-by-word comparison of your document with many other sources to ensure that it is free from plagiarized content. On the other hand, Grammarly Premium can rewrite sentences simultaneously while ensuring their accuracy and originality.
WordTune also provides engagement metrics to gauge the impact of your writing on readers.
When it comes to pricing, both services offer reasonably priced plans. WordTune is slightly cheaper than Grammarly, but the main difference lies in the features available with each plan.
Grammarly has more features and is better suited for professional writers.
At the same time, Wordtune is a better option for casual writers who want an AI-driven assistant to help them create better content because it has a casual tone feature.
So, it depends on your needs and budget which is better for you. Try out both services' free trials to see which works best.
Conclusion
WordTune is an AI-driven writing assistant that helps you write better content faster and with fewer errors. It offers a range of features such as grammar checkers, plagiarism detectors, engagement metrics, and more.
The platform's free plan is limited but comes with a generous 7-day trial period so users can test the product before committing.
WordTune is a great choice for casual writers who want an AI-driven assistant to help them create better content, and it's also more affordable than many other options, including Grammarly.