4 Ways You Can View Instagram Story Anonymously for Free in 2022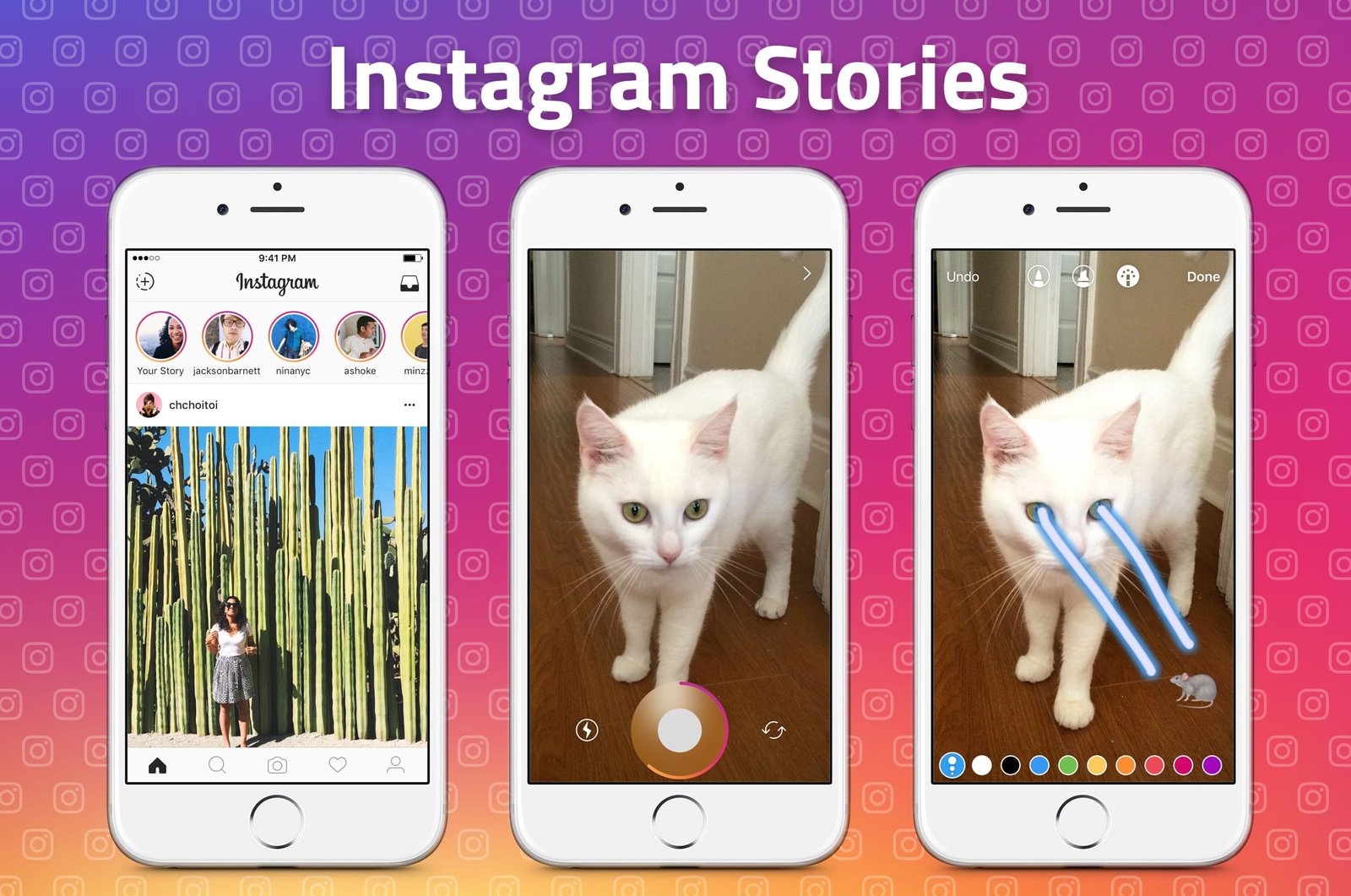 Using an anonymous account or, to a degree, turning on airplane mode can let you view Instagram Story anonymously.
It's vital to remember that the person who uploaded the story may see who saw it while watching it on Instagram Stories. In most cases, this isn't an issue, but there may be times when you wish to read someone's Instagram Stories privately.
Users can now know who read and engage with their stories as part of Instagram's security function. But what if you want to watch someone's Instagram stories while remaining anonymous?
There are a couple of methods to get around this security barrier, fortunately. We'll show you 4 ways you can view Instagram story anonymously.
4 Ways You Can View Instagram Story Anonymously
1. Airplane Mode Method
It's best, to begin with, the most basic way for anonymously viewing Instagram stories. This approach entails turning on the Airplane Mode, which is a well-known function on all Android handsets.
Airplane Mode, in a nutshell, disables cellular, WiFi, and Bluetooth connections. As a result, all wireless communication features will be disabled.
Airplane Mode, on the other hand, maybe used for a variety of purposes, including discreetly checking Instagram stories.
The steps are outlined in the instructions below;
1. Log in to the Instagram app on your Android phone.
2. After that, wait for Instagram stories to load for a few seconds.
3. Use the Quick Access Panel to enable the Airplane mode/Flight Mode by swiping down.
NOTE: Your view does not count because you are offline the story is pre-loaded, and the individual will not be aware that you watched the story. You should quit the Instagram app fully before turning off Airplane mode.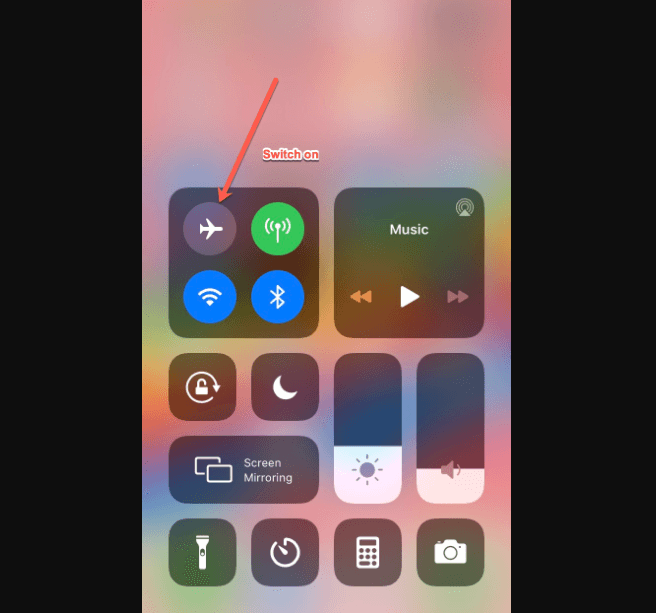 2. Use a 3rd Party Anonymous Instagram Viewer
The most challenging aspect of Insta-stalking someone is avoiding detection when browsing Instagram Stories by avoiding the Instagram Story viewer list.
When viewing Instagram stories or gaining access to a private profile, there are techniques that allow you to stay completely anonymous. Instagram Story Viewers are anonymous web platforms that allow you to view Instagram and its various user profiles.
There are different software online that can be used to achieve this. Here's a list of 13 applications you can use to view Instagram stories anonymously.
(a) StoriesIG
Stories IG is another story viewer that values simplicity above a crowded UI. You are immediately presented with a text box in which you must enter the username of any account you wish to access. You enter the login, and the online program processes it, allowing you to view all public stuff on that account anonymously.

It's extremely easy to look at and fairly clean. This program allows you to not only browse and download stories, but also photographs, videos, and other material from an Instagram account. Aside from the benefits listed above, you may also share the articles you collect from our site on other social networking networks.
Features:
Anonymous browsing of Instagram accounts
Basic UI
Download stories, videos, and photos
Share content on social media
Instagram Stories prioritizes simplicity over anything else. As a consequence, the tool is simple, yet it does its job well. However, the web service is cluttered with ADS, which is a reasonable price to pay for a free service. Interestingly, Stories IG is free.
(b) Glassagram
Glassagram provides its users with enhanced internet spyware. The software is designed for anonymous Instagram story viewers and allows users to see any account from the inside.
You will have complete access to the profiles that have been put to private mode. Among the many options available, the user may watch a person's story in private mode, see all of their followers' responses, receive direct messages, and so on.
The Glassagram surveillance tool allows users to see the stuff that the targeted individual likes the most. Because screenshots are updated every few minutes, no critical information will be lost. This malware can be a very useful tool for Instagram account tracking.
Features:
IUsers can watch hidden mode stories.
Reading direct messages (the deleted ones too)
Interaction with another piece of material being tracked
Instagram video surveillance
Obtaining the GPS location
(c) Anon IG Viewer
Anon IG Viewer is a basic and user-friendly Instagram story viewer apps. The user interface is straightforward and appealing. You may quickly search for a username on our website's homepage.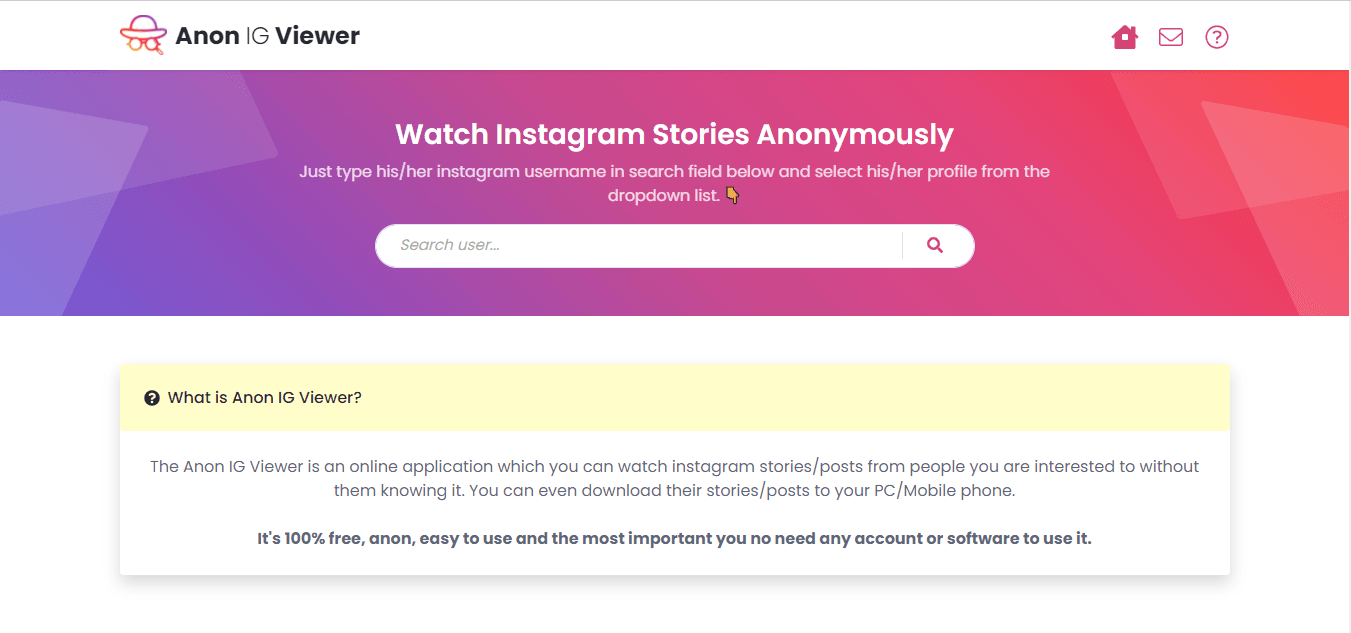 Once you've discovered the Instagram account whose stories you want, you can easily download or store them on your phone. You can also bookmark your favorite Instagram stories in Anon IG Viewer so that they are instantly available the next time you open the app.
(c) Instalkr
Instalkr is an internet service that is unlike anything else. The service may be used to acquire fast access to a public Instagram account even if you don't have one. You may browse an Instagram account anonymously with Instalkr and check their stories, subscriptions, likes, and comments without being recognized.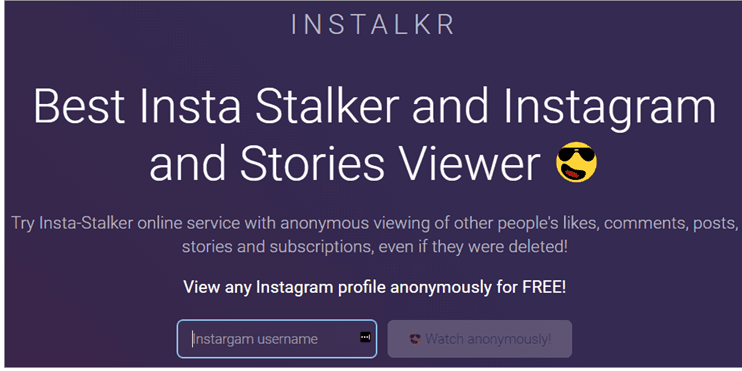 Even news or posts that have been removed by the account will be shown by the program. You may also download videos and photographs from any Instagram account you choose, in addition to viewing stories.
Features:
View stories anonymously
Access to articles, videos, and images that have been deleted
Photos and videos can be downloaded
It is completely free to use
All Instalkr needs is a username, and it will provide you immediate access to any Instagram account you choose, as long as it is public. It's simple to use, lightning-fast, and completely free. It's a fantastic way to monitor or spy on an account of significant interest to you while remaining anonymous.
Others you might use include;
iGram
Stories IG
Hoverwatch
Dumpor
Qoob Stories
mSpy
Inflact
InstaDP
Anonymous Instagram
Just before going ahead to pick any software to use in anonymously viewing someone's Instagram stories, they're vital points to bear in mind.
3. Swipe Slowly and Carefully
This is yet another hack. If you're careful, you might be able to sneak a peek at the contents of the Instagram story without disclosing your name. Also, this technique works better with Instagram stories that include photographs.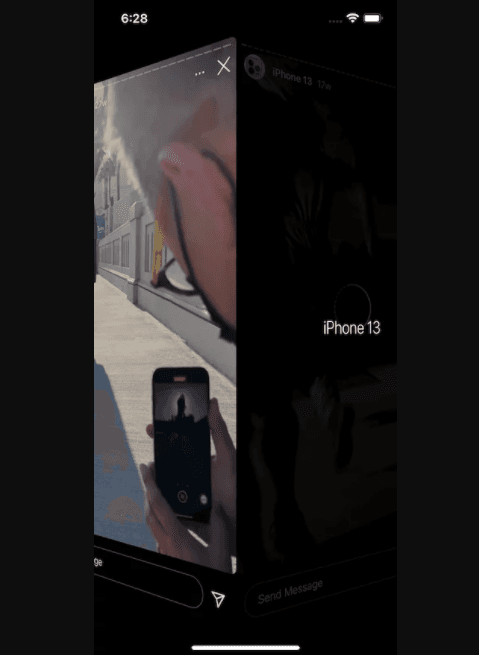 The instructions below will guide you;
Begin by launching the Instagram app on your Android device
Then, find the story you want to view
However, do not stay on that story. Instead, select the next story
To pause that story, use "Long Press"
Now, begin to return to the preceding story slowly and attentively
Return just to the point where you can view the contents, note however that this approach is not extremely dependable, it has worked for some individuals
Simply make a careful and deliberate transition to the first story, then try not to go all the way back to the previous story. Otherwise, Instagram will mark you as a viewer.
4. Use an anonymous Instagram account
Using an Instagram account that isn't instantly identified as yours is probably the easiest approach to read someone's Instagram Stories anonymously.
If you already have another account set up, it's as simple as linking it to Instagram and switching back and forth between the two whenever you want to sneak a peek at someone's Instagram Stories.
Why do people want to view Instagram stories anonymously?
People might ask why someone would want to learn how to browse Instagram stories anonymously. People's privacy must be respected, thus creepy stalking or keeping an eye on your ex-girlfriend or boyfriend should not be motivations.
However, there are times in business when being able to observe tales without being seen may be a beneficial tool. As previously said, it is a method of observing the digital marketing methods employed by your competitors.
It's always vital to keep tabs on what the companies around you are up to. For many marketing companies, relying on that possibility to analyze new trends and evaluate how customers and brands use the tools that Instagram provides is also quite important.
If an agency or corporation wishes to recruit a digital influencer, they may examine their Instagram stories anonymously to ensure the individual possesses the qualities they need in a given campaign. Then, after reviewing their work, they may decide whether it is worthwhile to send a job proposal.
Another scenario is when a firm or individual discovers that their photographs and videos are being used without permission on another Instagram page. You can use one of the methods to monitor Instagram stories anonymously to gather evidence, preserve photographs and videos, and take action against plagiarism.
The essential thing is that, while there are ways to store and browse articles without the profile owner knowing, you must do it responsibly.
Wrapping It Up
In retrospect, the ideal technique for viewing Instagram stories without them knowing is to use a third-party app. It's handy, and you also have the option of reading stories uploaded by private users.
However, this does not negate the utility of the other options. Without a doubt, utilizing Story Saver would be ideal. However, if your demand is simple and a trick would suffice, why not!
Nonetheless, the option is entirely yours. However, regardless of the approach you choose, you will be able to watch someone's Instagram stories without being detected.