Copy AI Review 2023 (Best AI Marketing Copywriter)
Are you looking for ways to revolutionize your marketing copy this year?
With the advancement of AI, now is the time to consider automated copywriting companies that can help you maximize efficiency and stay ahead of the competition.
Copy AI is one of the five best AI marketing software tools available today, making it easier for marketers and content strategists to write compelling copy quickly.
In this review, we'll evaluate each service on effectiveness, affordability, ease of use, customer support quality, and a range of other criteria to provide an all-inclusive comparison guide so you can make an informed decision when choosing which AI software is right for you.
What Is Copy AI?
Copy AI is a subscription-based AI-copywriting tool that utilizes natural language processing technology to help you create targeted, SEO-optimized content quickly and easily.
This software is revolutionizing the way digital marketers create social posts like Twitter.
Giving the power of a high-converting copywriter to even the least experienced marketer, Copy AI automatically transforms ideas into professional copywriting that compels social followers to take action.
By leveraging the power of artificial intelligence, Copy AI can craft engaging copy that speaks directly to your target audience and helps drive conversions.
Users can publish content to social networks, websites, and blogs in just a few clicks with copy designed for maximum engagement. With Copy AI, social media marketing will never be the same!
Who Created Copy AI?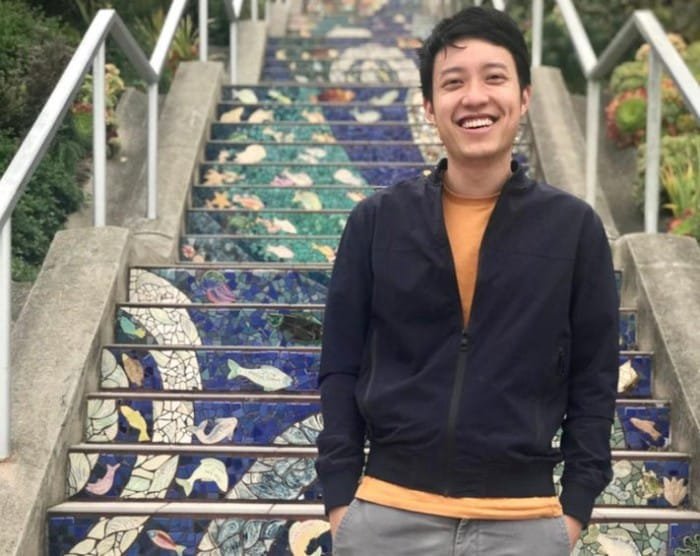 Paul Yacoubian created Copy AI, an innovative tool designed to help marketing teams get creative with generating content.
It assists with writer's block through its interactive platform that eliminates the need to stare at a blank page while managing marketing money.
The amazing thing about the platform is that it enables marketing teams to create quality content without spending the same time and money as before.
Paul Yacoubian saw a gap in the market and filled it with his innovative idea to benefit marketers across all industries.
Top Benefits Of Copy AI
1. Automated copywriting: Copy AI's natural language processing technology can transform ideas into creative, persuasive copy quickly and easily.
2. SEO optimization: With automated SEO optimization tools, you can ensure your content is tailored to search engine algorithms to generate maximum reach and engagement.
3. Social media integration: Publish content straight to social networks, websites, and blogs with just a few clicks.
4. Targeted copy: Create copy that speaks directly to your target audience and drives conversions.
5. Cost-effective: Save time and money on content creation without sacrificing quality!
Copy AI Pros And Cons
---
As an entrepreneur, you want to create content visitors find helpful and enjoyable. If you rely too heavily on what someone else wrote, the wrong impression could be given to visitors and target audiences, which can hurt your business.
By understanding the pros and cons of Copy AI programs, companies are better able to create content that both drives visitors and resonates with their audience.
Copy AI helps business owners write content quickly that meets their criteria- set quality standards- from blogs and writing content for ads to websites and marketing materials.
Delving into the pros and cons of Copy AI-copywriting tools is a smart move for any business owner.
Starts at $0/month (FREE PLAN)
Best Features Of Copy AI Writing Tool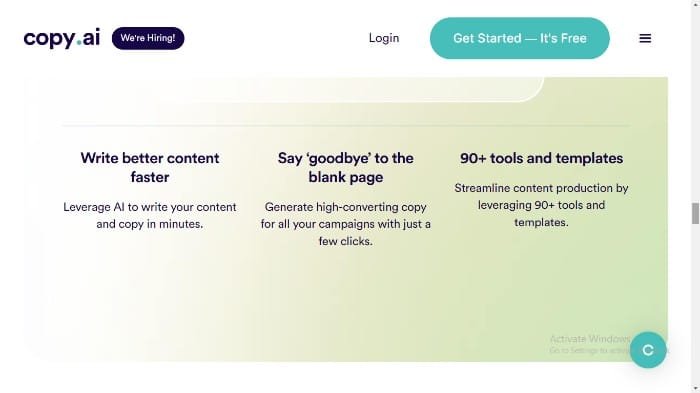 Copy AI is a content creation tool that revolutionizes how businesses create content. This powerful ai writing tool makes it easy for companies to generate ad copy, lead generation content, and research data.
This platform provides a comprehensive suite of content creation capabilities, from article writing to team collaboration tools. Every facet of content creation is catered for by this fantastic tool.
In addition, Copy AI-copywriting tool breaks down data into easily understandable content that can be used swiftly to boost any business's content strategy.
With its smooth user interface and an array of features, this software is the perfect tool for any company seeking an effective solution to content marketing – making content creation more straightforward and efficient than ever before.
Generate High-Converting Sales Copy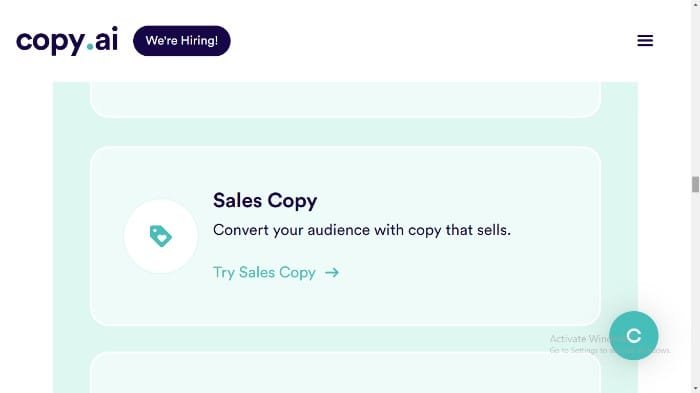 When you need to generate high-converting sales copy for marketing campaigns, product descriptions, and advertising blog posts, Copy AI is the answer.
This feature has everything your team needs to generate compelling content for better conversion rates.
You must enter keywords or guidelines and let this advanced technology take over.
It starts by analyzing existing content from contributors worldwide, identifies different talking points related to the topic, and then creates a unique piece of natural-sounding ad copy.
Google Chrome Extension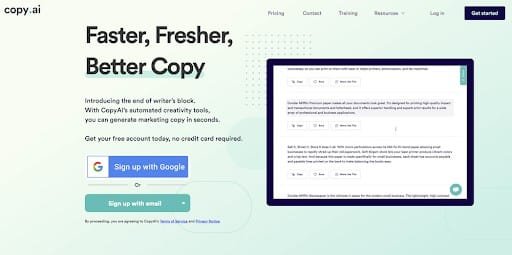 Google Chrome extension is one of the key features of Copy AI that can help make writing and submitting articles or web form content much more accessible.
This feature provides value in a couple of ways. When you highlight text, this program can capture keywords, phrases, and context from the selection so that you don't have to write out new phrases repeatedly in multiple documents continually.
It also makes it easy to compare submitted pieces against each other quickly and accurately by scanning for matching words and phrases across all your documents.
The platform will save you time writing or submitting articles or web form content, allowing you to focus on what matters while using this extension's convenient, time-saving tools.
Plagiarism Check
Copy AI's plagiarism check feature is the ultimate tool for creating quality content.
Rather than having to spend hours comparing data to determine if paragraphs have been plagiarized, this helpful feature will do the hard work for you so you can focus more on creating great blog posts.
To start writing with this feature, paste your material in and press the check button – it will then analyze the data within a few seconds.
Finally, it provides an easy-to-read report highlighting any text sections needing further attention so you can get your writing up to par with just a few clicks and not worry about plagiarism or copyright law violations.
Social Media Integration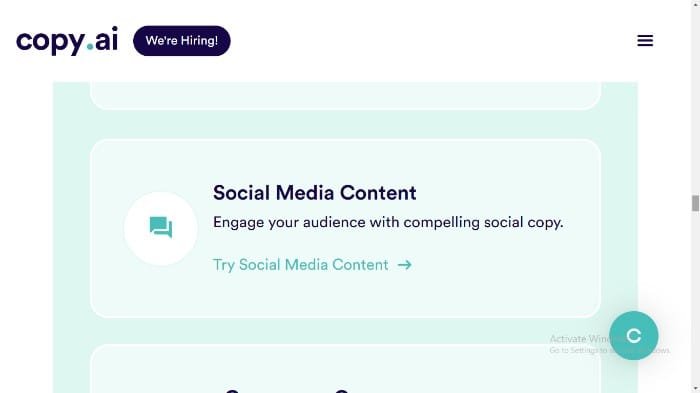 Copy AI has a groundbreaking feature that allows users to quickly and easily publish unique content across various social media platforms.
This feature is invaluable for businesses and entrepreneurs who need to quickly post product descriptions, ads, social media posts, or articles on their various pages that your audience will love.
This platform automatically creates new text options for each post and ad – which helps ensure fresh content without redundancies.
It saves time, energy, and the hassle of constantly coming up with new ideas or copying yourself when value-filled originality is needed for each post.
Automated Templates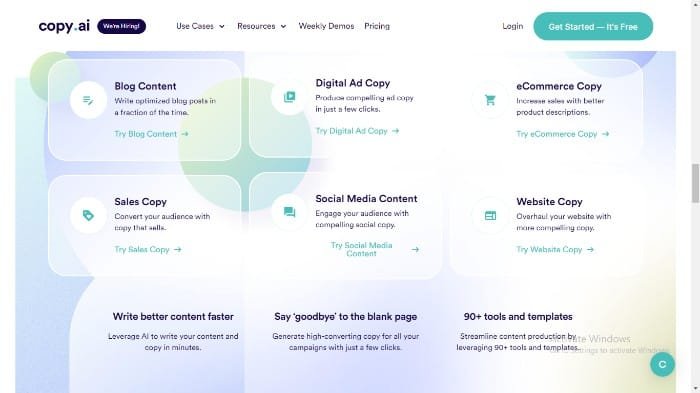 The best feature of Copy AI is this automated template generation. With this convenient tool, you no longer have to stare at a blank page, wondering what to write.
Team members can quickly generate copy for any article, ad, blog post, and more using this AI copywriting tool. Plagiarism-free content will be generated in no time, saving your team hours of content creation.
Copy AI automated templates can fuel your business with fresh new ideas and content! It's a simple solution to the complex challenge of producing premium writing that engages readers.
Copy AI Pricing – How Much Does It Cost?
Copy AI is a great choice that won't break the bank for businesses looking to leverage AI copywriting tools to write content for their website.
Your business can access a library of amazing AI-generated content ready to be published and optimized on your site for a small monthly fee.
As a forward-thinking business owner, you'll love being able to easily create content without spending hours writing every sentence!
Copy AI pricing plans make it easy to stay one step ahead of the competition and get more customers to come to your website with engaging, unique content.
The pricing plan of this platform is structured in two tiers:
Free Plan: It is free
Pro Plan: Starts at $49 per month, billed monthly, and $432 billed yearly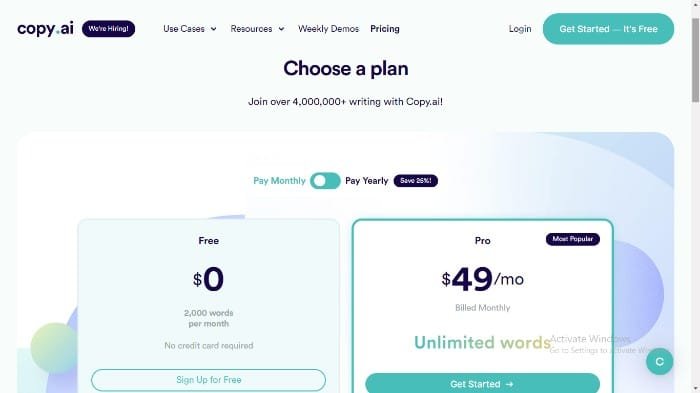 Here is the full detail of the pricing plans:
Free Plan
2,000 words per month
Only 1 user seat
90+ AI copywriting tools
Unlimited projects
7-day free trial of Pro Plan
Blog Wizard tool
Pro Plan
Unlimited words
5 user seats included
90+ AI copywriting tools
Unlimited projects
Priority email support
25+ languages
Blog Wizard tool
Access to the newest features
Copy AI Case Study: Results Achieved Using Copy AI For Content Creation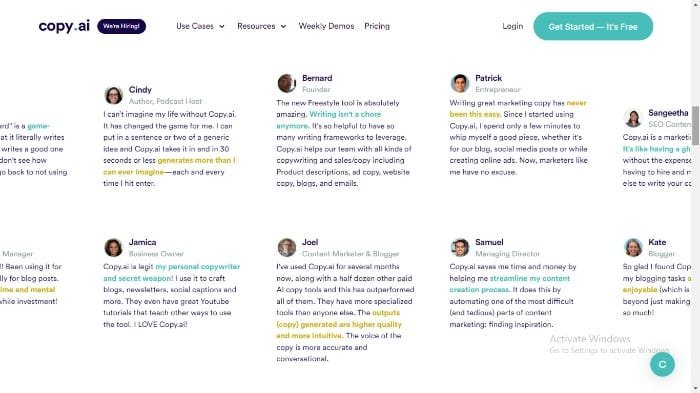 If you're in digital marketing, writing production descriptions can often take up a lot of time. With Copy AI, all the hard work is finally done for you.
It's simple: the software reads through search engine results like Google and narrows down information to create copy specifically optimized for ads and blog posts.
The words produced by the software are accurate and have an unbeatable level of persuasion that's sure to draw customers in!
For instance, Copy AI helped an online retailer increase sales by 20% in the first three months. The AI copywriting tool created unique product descriptions, blog posts, and ads tailored to their target audience.
With automated Copy AI templates for ad creation, the retailer could quickly generate new ideas for content that resonated with their customers and drove more conversions.
The system also saved them time by automatically generating keyword-rich natural-sounding copy optimized for search engines like Google. This feature helped the retailer increase their organic traffic and generate more leads.
Overall, Copy AI provided this business with a powerful solution to help create engaging content faster and achieve better results.
Therefore, as a digital marketer, you no longer have to spend hours writing copy and coming up with engaging words – Copy AI takes care of that for you.
My Experience Using Copy AI To Generate Social Media Posts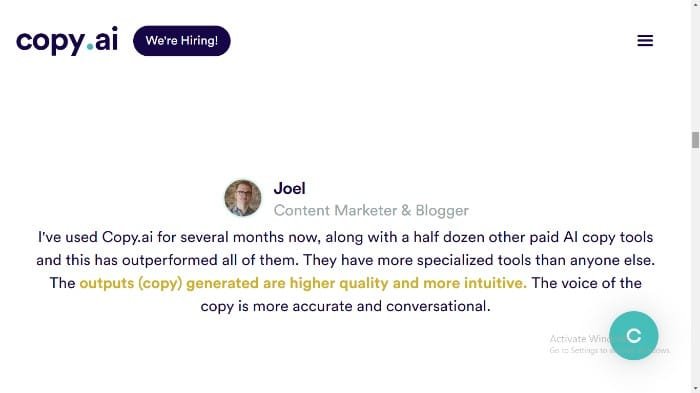 As a digital marketer, I understand the importance of engaging content to reach customers. Copy AI has been invaluable when writing product descriptions, posts, and ads.
The automated templates quickly generate keyword-rich copy that resonates with readers. Additionally, the plagiarism-checking feature is incredibly helpful in ensuring I'm not violating copyright or duplicate content laws.
Copy AI's social media integration is also helpful for quickly posting ads and product descriptions. The platform automatically creates new text options for each post, ensuring that my audience receives fresh content without redundancies.
Copy AI has been an excellent tool for producing copy efficiently and effectively. With this AI copywriting tool, I can increase organic traffic and conversions by quickly creating posts that stand out.
Best Alternatives For Copy AI In 2023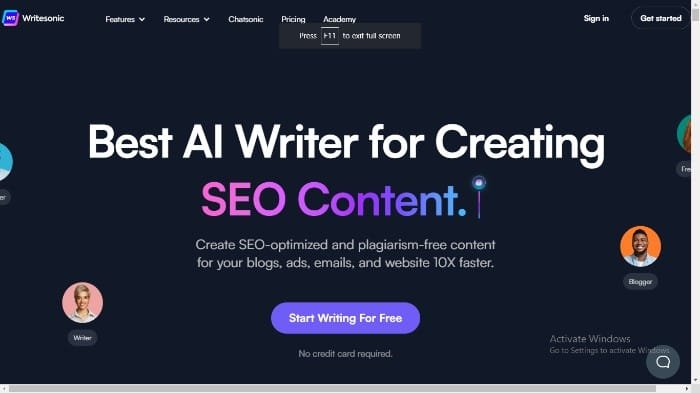 In 2023, organizations and content creators must start preparing to ensure they are ready to write excellent copy.
AI has revolutionized content production since its inception, but many alternatives to Copy AI should be considered with the constantly changing technology landscape.
The great news is there are plenty of software applications that can help write copy faster and write copy better in terms of quality.
Here are some of the best alternatives for Copy AI to consider in 2023:
Writesonic
Jasper
Rytr
Frase.io
Grammarly Business
Scalenut
Semrush
Peppertype.ai
Simplified
Anyword
Conclusion – Is Copy AI Worth It?
Copy AI is a fantastic tool for digital marketers and content creators that saves time and ensures accuracy. It's a reliable source for creating copy quickly and efficiently without compromising quality.
The platform delivers excellent results and offers features such as automated templates, plagiarism checking, and social media integration to ensure you're producing the highest quality content.
Copy AI is worth considering if you're looking for a tool to help you write copy faster and better. Not only will it save you time, but it will also deliver great results!