Murf AI Review 2023 (Best AI Voice Generator)
Are you looking for an innovative and intuitive way to create captivating audio presentations?
Do you want the best of what AI voice generators offer in 2023? Look no further than Murf AI, the leading artificial intelligence-powered audio generator on the market today.
Murf studio team has been hard at work, leveraging advanced deep learning algorithms and natural language processing techniques to develop a comprehensive voice recording tool tailored specifically for users like you.
What sets Murf apart is its unparalleled ability to output crystal clear, lifelike recordings – so exceptional that your audience won't be able to tell it's not coming from a natural person!
This Murf AI review will explore why it's our top pick in 2023 and how its features exceeded expectations across all categories.
What is Murf.AI?
Murf AI is a fantastic asset for creating premium digital content.
It can create professional-level voiceovers, but the software also produces natural-sounding voiceovers – perfect for product demos, explainer videos, and other features.
With Murf AI, your digital content will stand out amongst competitors because of its engaging tone and superior quality.
It utilizes advanced technologies to create flawless audio recordings without any post-production adjustments, adding a level of professionalism not seen with many other tools on the market today.
If you want to create top-notch digital content or videos quickly and efficiently, then look no further: Murf AI is your one-stop solution!
You can use the murf.ai to create incredible videos and other digital content, including:
E-learning
Explainer videos
Presentations
Audiobooks
Product demos
Youtube videos
Podcasts
IVR voices
Spotify Ads
Who Created Murf.AI?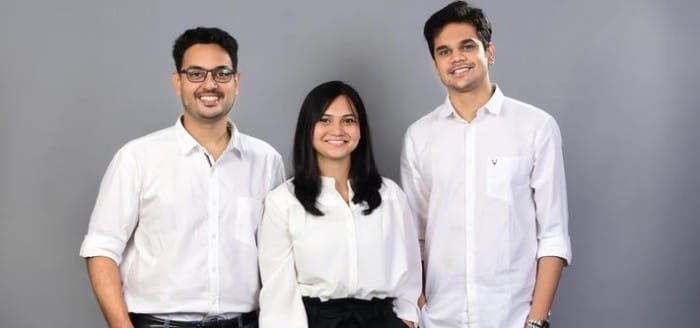 Murf AI was created by artificial intelligence experts (Sneha Roy, Ankur Edkie, and Divyanshu Pandey) as a way to enhance the music industry.
Using voice and sign control allows users to alter pitch and other media elements, such as vocals, podcasts, videos, and more, with just a few commands.
It also features a handful of valuable features, such as speed and the ability to pause or rewind any audio file at any given time.
Murf AI is designed for people of all ages and allows individuals to manage their audio experiences.
Murf AI Pros and Cons
---
Murf AI is an excellent break from the traditional studio experience.
It offers natural-sounding voiceovers created from recordings of real people, and you can customize virtually any detail to make the sound just like you want.
The powerful technology behind Murf AI has revolutionized the way voiceovers are done — making the process much easier to understand and continue with than ever before.
Exploring the pros and cons of this cutting-edge technology is essential for anybody already on their journey into creating unique audio projects, whether in a professional setting or as an enthusiast.
Starts at $13/month (BASIC PLAN)
Best Features of Murf AI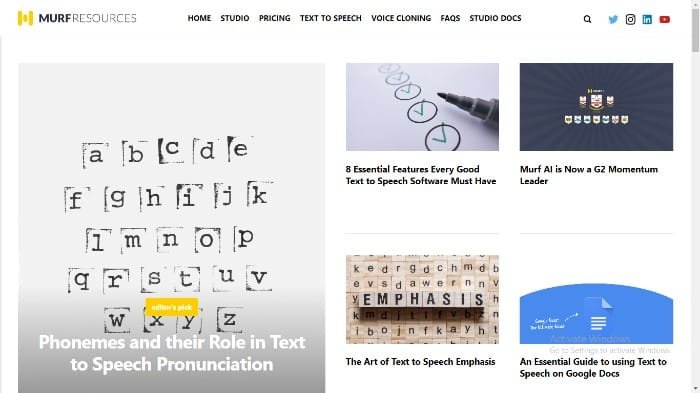 Murf AI is the perfect tool to take your presentations, media, and accents to the next level!
With its sync-ready style, Murf AI can suit any moment or scenario, regardless of the ability level.
Plus, you'll have the versatility of emphasizing certain words or phrases for maximum impact.
The software provides stellar sound quality and smooth transitions between different media types.
Get ready to step up your presentation game with Murf AI!
Here are some of the best features of Murf AI:
Real-time Voice Cloning
Murf AI's real-time voice cloning is an exciting feature for studio professionals. It can quickly and easily create natural-sounding voiceovers by clicking into studio timing.
One of the most significant advantages of real-time cloning is capturing a subject's accent and nuances to precisely match the images on the screen.
As podcasts become increasingly popular, studio professionals can benefit greatly from these precise matches to create high-quality, natural-sounding voiceovers.
Artificial Intelligence
Murf AI is powered by artificial intelligence algorithms that can quickly and accurately analyze the audio, determine which words to emphasize, and detect imperfections in the recording.
The advanced AI technology allows quick transition tools with smooth transitions between different media types.
It also provides intuitive editing features that make it easy to adjust vocals, podcasts, and other audio recordings.
Robust Editing Capabilities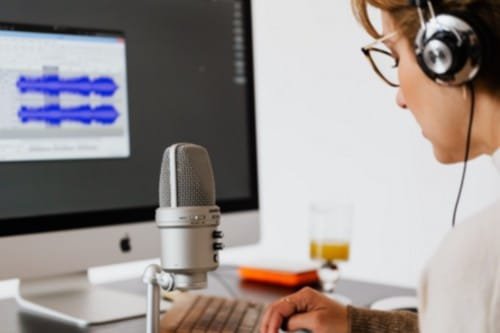 Murf AI's robust editing capabilities make it the perfect tool to fulfill your message, no matter the task.
Easily convert text into audio and fine-tune with detailed emphasis guidelines and an extensive library of sounds.
With Murf AI, your task will never again suffer from mispronunciations or deliver that dreaded robotic sound.
This text-to-speech conversion software will deliver a clear, crisp, and strong message!
High-Quality Audio Output
Murf AI produces premium audio output that can be customized to make it sound as natural and engaging as possible.
This makes it perfect for creating radio ads, jingles, podcast intros, and more.
The software also supports multiple formats, including MP3, WAV, and AIFF, to give you the most flexibility.
This feature allows you to create stunning audio that rivals even the top studios. Try it today to take your projects to the next level!
Integrations
Murf AI offers various integrations with other popular tools, such as Adobe Audition and Pro Tools.
This feature allows for quick and easy integration of audio recordings into these programs to save you time and money.
Murf AI also integrates with popular streaming platforms like Spotify, Apple Music, and Amazon Music to quickly fulfill your task to the masses.
Overall, Murf AI is the perfect tool to create exceptional audio tasks and convert text quickly and accurately.
With its plethora of features and integrations, you'll be able to fulfill engaging content in no time!
Voice Over Video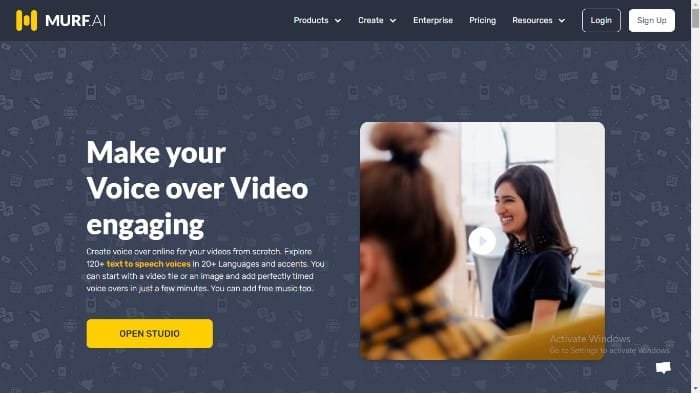 Murf AI's voiceover video option is a one-of-a-kind resource! You can create audiobooks, advertisements, videos, and other media with just a few clicks.
The variety of voices available caters to different ages and accents – no matter the age or pronunciation example, there will be an audiobook-quality selection for all.
Text-to-Speech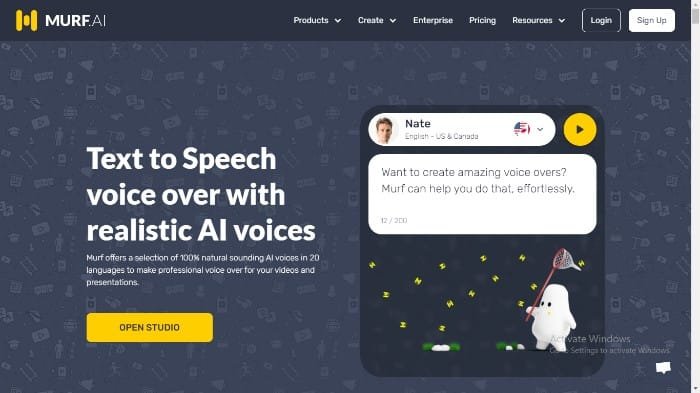 This feature is a revolutionary technology that quickly converts written text into natural-sounding audio for audiobooks, voiceover scripts, or any other task you might have.
Imagine generating an audiobook from a simple page of text quickly!
With Murf AI's text-to-speech feature, anyone can quickly and accurately create audio content without hiring expensive voiceover artists or learning a new skill set.
By utilizing AI voices, Murf AI ensures the highest standards are met when converting your words into speech.
API Capabilities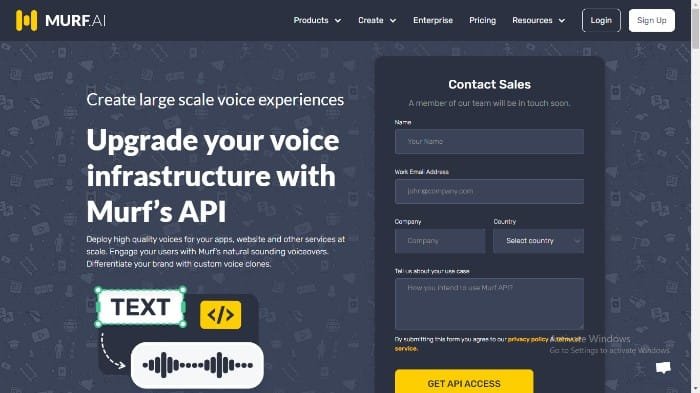 Murf AI's API capabilities provide the ultimate in customization and flexibility.
This tool allows developers to integrate Murf AI into their web or mobile applications to create interactive audio experiences.
The API also enables the creation of custom voice-controlled interfaces that can manage various programs, such as home automation, car navigation systems, and even robots.
This feature makes Murf AI the perfect tool for developers who want to give their applications an edge with accurate audio processing.
Overall, Murf AI is the ideal tool for creating stunning audio tasks with ease and accuracy.
Murf AI Pricing – How Much Does it Cost?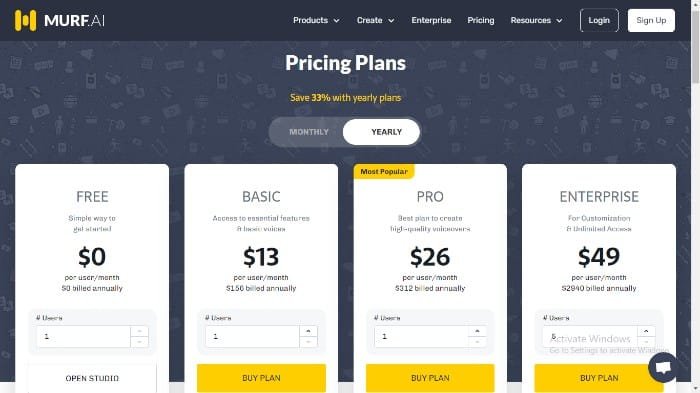 Murf AI software has its pricing structured in four tiers:
Free Plan: Starts at $0 per user/month, billed annually
Basic Plan: Starts at $13 per user/month, billed annually
Pro Plan: Starts at $26 per user/month, billed annually
Enterprise Plan: Starts at $49 per user/month, billed annually
Here are the full details of each of Murf AI's plans: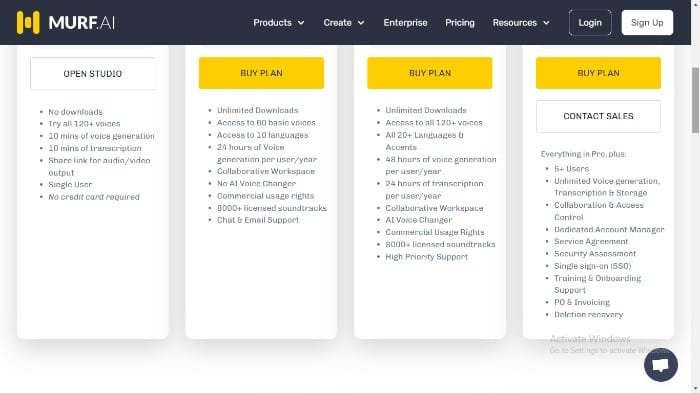 Free Plan
No downloads
Try all 120+ voices
10 mins of voice generation
10 mins of transcription
Share links for audio/video output
Single User
No credit card required
Basic Plan
Unlimited Downloads
Access to 60 basic voices
Access to 10 languages
24 hours of Voice generation per user/year
Collaborative Workspace
No AI Voice Changer
Commercial usage rights
8000+ licensed soundtracks
Chat & Email Support
Pro Plan
Unlimited Downloads
Access to all 120+ voices
All 20+ Languages & Accents
48 hours of voice generation per user/year
24 hours of transcription per user/year
Collaborative Workspace
AI Voice Changer
Commercial Usage Rights
8000+ licensed soundtracks
High Priority Support
Enterprise Plan
Everything in Pro, plus:
5+ Users
Unlimited Voice generation, Transcription & Storage
Collaboration & Access Control
Dedicated Account Manager
Service Agreement
Security Assessment
Single sign-on (SSO)
Training & Onboarding Support
PO & Invoicing
Deletion recovery
Murf AI Case Study: Results Achieved With Murf AI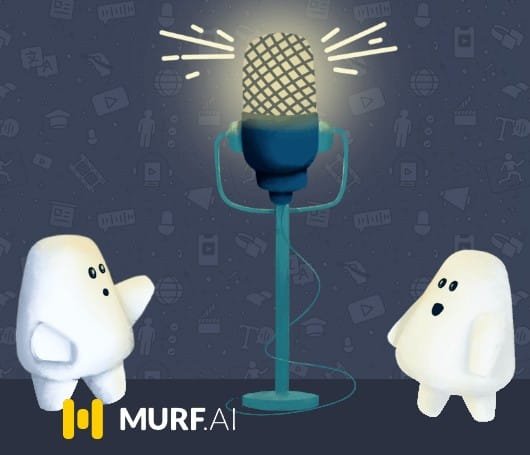 Murf AI has achieved incredible results for audiobooks, product demos, explainer videos, podcasts, and other media that require discourse.
Through their artificial intelligence platform, they can create realistic-sounding AI voices and provide clients with fast content production and real-time conversion of text to quality voiceovers.
A review from a client who used Murf AI's voice editor to create a unique audiobook for a children's book series goes thus: the audio project was completed in three days, and the results were astonishing!
Murf AI not only allowed the team to produce exceptional audio content quickly, but the software also provided helpful features such as seamless collaboration between team members, AI voice changer technology, and integration with external audio sources.
The project was a success and met the client's expectations.
Murf AI enabled the team to produce exceptional audio content quickly without hiring expensive voiceover artists or learning new skills.
The result was an audiobook that was both entertaining and educational for listeners.
Murf AI makes it easy to generate natural-sounding audio content for any voiceover task quickly.
Whether you're creating an audiobook, voiceover script, or audio task, Murf AI will help you bring your ideas to life quickly and accurately!
My Experience Using Murf AI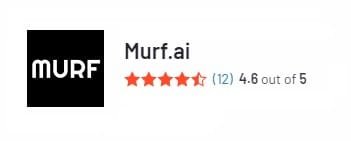 I recently had the opportunity to use Murf AI for a project I was working on.
The task was to create an audiobook with realistic-sounding voices. After trying out some of their demo audio clips, I quickly realized that Murf AI would be perfect for the job.
The voice editor allowed me to record my words easily and then tweak them to sound more natural with the help of AI.
I could customize the AI voices according to what I wanted, allowing me to create voice-overs and premium audio content quickly and easily.
Overall, I was very impressed with Murf AI's features and ease of use. It made creating an audiobook a breeze, and I could fulfill a premium product in no time.
If you're looking for an AI voice editor to help you create realistic-sounding audio content quickly and easily, Murf AI is worth checking out!
Best Murf AI Alternatives in Creating Professional Voice-Overs in 2023
In 2023, sign up for a revolutionary voice-over service that uses AI voices.
This technology can help you confidently create sellable explainer videos in double-quick time!
There are no more worries about pitch, disabled voices, or having to go through the arduous process of facing limited audio media options.
With the new brand of AI services for making great voice-overs now available, you're guaranteed immediate satisfaction without much effort.
So, plenty of options are available if you're looking for a Murf AI alternative in creating professional voiceovers.
Here are some of the best options:
Descript.
Audacity.
Adobe Audition.
Fathom.
Synthesia.
Rev.
Azure Text to Speech API.
WellSaid Studio.
Amazon Polly
Google Cloud Text-to-Speech
How Does Murf AI's Human Voice Feature Work?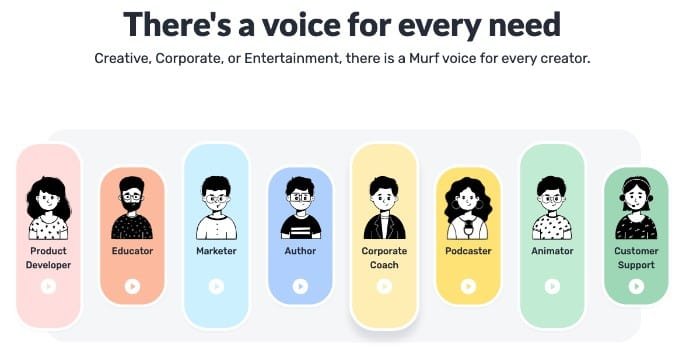 Murf AI's human voice feature utilizes its proprietary artificial intelligence technology to generate realistic-sounding voices.
The technology works by taking audio recordings of actual people speaking and then analyzing them with the help of natural language processing algorithms and deep neural networks.
The result is an AI-generated voice that sounds like a natural person speaking.
In addition, the technology has been trained to comprehend and replicate intonation and pronunciation for different languages, allowing you to create audio content in any language with natural-sounding voices.
Conclusion – Is Murf AI Worth it?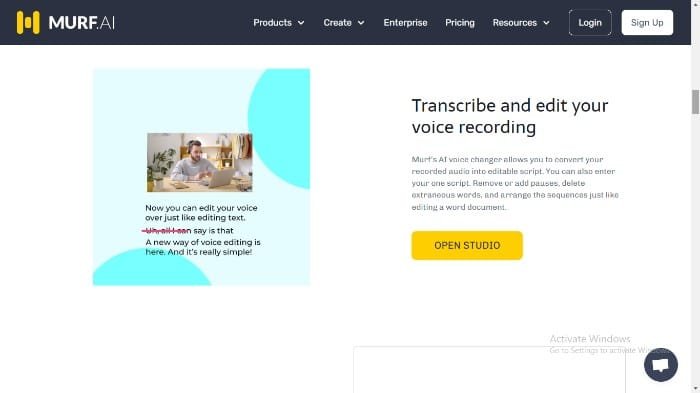 Murf AI is definitely worth the investment.
Murf offers an easy-to-use interface and a variety of features, such as voice changers, natural language processing algorithms, and integration with external audio sources.
Plus, it makes it possible to produce realistic-sounding audio content quickly without hiring expensive voiceover artists or learning new skills.
Ultimately, Murf AI is an excellent app for creating professional-grade audio content. It also helps to convert text to any language, including french.
So if you're looking for an AI voice editor to help you bring your ideas to life in no time, it's worth checking out!
If you have personal experience with the product, write a brief section explaining your experience.