8 Best Peephole Cameras in 2023 (Video Doorbell Camera)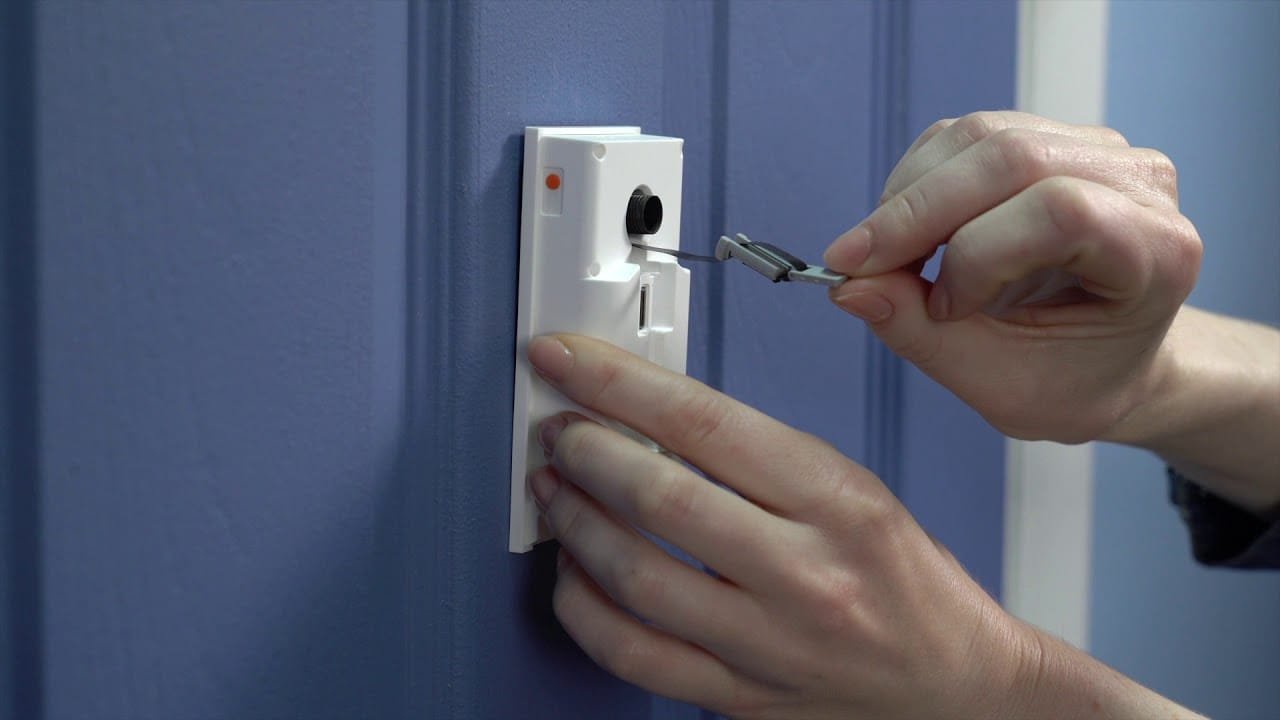 Do you want to keep burglars out of your house? Your best bet is to embrace a peephole camera or video doorbell camera.
Do you want a perfect level of security even if you are not at home? Peephole cameras are also suitable for that use.
Peephole cameras are suitable motion detectors and security cameras that are mostly mounted at the front door of your house so that you have access to your home condition whenever you are out of the house.
They are becoming more important for home security. That is why we will be explaining the eight best peephole cameras in 2023.
This guide will also teach the simple principles of buying a peephole camera.
What is a Peephole Camera?
Are you looking for a new way to keep your home secure?
Peephole cameras are an ideal solution for protecting your property from unwanted intruders. It's a peephole security camera that fits into any standard peephole, providing quality footage with motion detection and audio.
The easy-to-install peephole cam is much more discreet than video doorbells and allows you to easily double-check visitors at the door before allowing them access.
Ring Peep is the latest innovation of the peephole security camera, providing a sleek design, enhanced motion tracking, and improved image resolution for the best possible view of who's at the door.
With the added protection of Ring Peep, your home will always be safe from unwanted guests and potential thieves.
What are the Best Peephole Cameras?
The Ring Peephole Cam is an ideal choice if you're looking for the best peephole camera to secure your home.
The Ring Peephole Cam provides an easy-to-install solution with its over-the-door design while still delivering various features that make it one of the market's most popular and well-reviewed peephole cameras.
With HD video and two-way audio, users can easily check in on their front door while seeing who's outside with clear real-time video footage. It also features advanced motion detection, privacy zones, and audio privacy.
If you prefer to use your existing peephole, the Ring Peephole Cam includes a lens cover for privacy when not in use. Make sure you get the security you need by choosing the Ring Peephole Cam today.
The built-in doorbell camera allows seamless communication with two-way audio and video streaming abilities.
To keep your place extra secure, the Lockly Vision All-in-one Camera offers five different ways to unlock, including a patented PIN Genie digital keypad and a 3D biometric fingerprint reader.
The smart keypad features four virtual buttons with three different numbers that change after each use, making it impossible for someone to guess your code – even if they're watching! And no matter how tech-savvy you may be, the physical key option is always there for reliable backup access.
With the Lockly Vision All-in-one Camera's superior security measures working in tandem with its stylish design elements and ultimate convenience features, you'll be able to sleep soundly, knowing that your home is as safe as can be.
Invest in this incredibly smart product today!
Never miss a visitor again! Receive mobile notifications when anyone presses your doorbell or triggers the built-in motion sensor.
Easily start a conversation through the Ring app while having full control over who can access your property – even if they don't press anything!
Set up is easy too; simply connect it to wifi through the app and mount it with the included tools and accessories. With either battery power or an optional connection to doorbell wires for constant power, this device is always ready when you need it most.
Don't just feel secure in your home, be secure with its high-tech guardian – The Ring Video Doorbell 3!
With motion sensors built in, the motion detection feature will alert you anytime something unusual happens around your front entrance. Plus, store up to four video clips for free before deciding if a subscription makes sense.
Unlike other peephole cameras, the Remo+ doesn't require batteries or a micro USB cable like normal peephole cameras. Additionally, its LCD screen lets users see who's outside just like any other peephole camera – but now wirelessly! Unlike the ring peephole cam discontinued in 2019, multiple users are also supported.
The Remo+ Door Cam gives security and convenience without sacrifice – offering video recording options. Make sure your mobile device is connected to your home's 2.4GHZ Wi-Fi (5GHz not supported) and order your Remo+ Door Camera today – trust us when we say you won't regret it!
Equipped with a 2.7″ LCD screen, this camera will allow you to save images without your visitors or neighbors noticing what's going on. With Brinno's advanced features, you can ensure that potential thieves and vandals won't be able to tamper with your home security device without them knowing.
Thanks to its adjustable design, this camera is suitable for doors of varying thicknesses – between 1.1″ and -2.2″ (28mm-38mm).
If you want peace of mind and extra security during these uncertain times, the Brinno Peephole Camera is a perfect choice! Installation is easy, so why not take advantage of this high-tech gadget and give yourself some extra peace of mind regarding home safety?
The camera includes 24/7 monitoring capabilities that allow you to observe visitors day and night and motion detection features that will alert you when someone's at your door. Plus, this product comes with an easy one-button start-up system.
Whether for commercial or residential use, the Ezviv LCD Screen Peephole Camera can be customized with multiple users for sharing access to the entranceway footage – making it perfect for roommates, family members, and landlords alike.
Everyone gets their piece of mind knowing that their space is safe from uninvited guests or break-ins. Add this device to your home today and enjoy instant surveillance whenever you need it!
The front camera is not wireless and must always be connected to the indoor unit. Enjoy crystal clear image quality up to 3M pixels and watch your visitors even in low light or rain thanks to its weatherproof casing.
Ditch traditional doorbell buttons and go wireless with the built-in rechargeable battery. Instantly get notified if someone is at your home with motion zones and person alert features, so you can see who's there without opening the door.
Taking it one step further, receive live updates on your smartphone whenever someone presses the doorbell button or triggers one of the motion sensors. This gives you total reassurance that you're safe from unwanted guests – wherever you are!
For added convenience and security, the Digitsea Video Door Viewer also connects with voice assistants like Google Assistant and allows remote access from multiple devices for up to six months.
Plus, it has integration options for other smart tech products, such as Ring Protection Plans and their associated apps. So now you can check on things quickly and efficiently – whether for a quick hello or an unexpected visitor!
So don't put yourself and your family at risk by settling for poor quality peephole cameras. Invest in a Digitsea Video Door Viewer today and secure your home with incredible detail thanks to crystal clear imaging capabilities – anytime and anywhere!
The DV11 enables a 720P FHD resolution rate for seeing even the tiniest detail within an image, and its 4.3″ color screen on the inside provides you with crystal-clear visuals so you can always be in the know.
Although its powerful performance may make it seem intimidating, installing this front door peephole camera couldn't be easier; Tmezon designed this model to fit your door seamlessly and provides an anti-prying design to give you complete peace of mind that your family's privacy is protected.
Plus, it even doubles as a doorbell with its WiFi wireless video capability and alerts activated when someone knocks. For superior safety and convenience, get the Tmezon Digital Door Viewer today!
By recharging its battery or replacing it without dismantling it, you won't need to worry about it ever dying on you.
But that's not all! Our Video DoorBell also features a larger screen for enhanced video, as well as showing detailed video recordings directly to your smartphone. It is one of the best peephole camera or video doorbell.
The best part? It can be synced up with Google Assistant and other home security systems so you can easily access and view live footage or recordings to get updated information right away.
Secure installation over a broad range of size requirements means no drilling is required, so there's no damage done to your house when installing your new doorbell camera. With Home Cloud storage options available, you'll never worry about running out of space again!
Introducing the H-Come Digital Video DoorBell; bringing convenient and reliable home security at half the price with smarter home integration and unmatched detail in image quality. Get yours today!
What to Look for in a Peephole Camera?
When it comes to home security systems, one of the most important elements is a peephole camera.
With half the price of an entire home security system and smart home integration capabilities, it is a great sign of proper security in your home and a safe way to monitor who's at the door.
When looking for a peephole camera, make sure the inside unit has night vision capabilities, motion sensors to capture a motion-adjusted image remotely, remote viewing through a Wi-Fi connection or smartphone app control, and enough internal storage capacity to store captured images if needed.
How Much is a Regular Peephole Camera?
Peephole cameras are smart home devices that offer peace of mind and convenience for homeowners.
A regular peephole camera usually ranges between $50 – $150 and comes with all the necessary features to keep your home safe and secure. Inside the unit, you'll find no drill mounts for easy installation, plus smart home integration like wifi connectivity so you can check in on your property remotely through video.
Peephole cameras are a great way to ensure safety while keeping an eye on who's at the door at all times. They provide an easy way to upgrade an existing peephole with smart technology at a surprisingly affordable price.
Can You Talk Through the Ring Peephole Camera?
Crisp visuals and clear audio with wifi connectivity- no more guessing who is knocking at the door! Access to video recording technology is now available at your fingertips. With wifi-connectivity and video doorbells, you can now speak through the face of your wireless peephole camera.
Thanks to companies like Google Assistant, home automation isn't just for millionaires anymore; now everyone can experience the convenience of being able to talk directly through their front doors, using a video doorbell.
Take back control as you know exactly who is visiting and when with ring peephole cameras that are wifi connected and offer video recording.
Don't miss a beat; be on top of who's coming in and out with wireless peephole cameras today.
What Should I Look for When Buying a Peephole Camera?
When buying a peephole camera, there are several features to consider if you want to get the security tool that meets your specific needs.
The rechargeable battery and cloud storage are both essential parts of a good peephole camera since you will rely on them to be alert in case of unexpected situations. At the same time, don't leave out the importance of image quality, as a grainy and pixelated picture won't do you any good for monitoring your home or office.
The installation process is also key when it comes to purchasing a peephole camera because having an installation process that is too complicated can cause more hassle than it's worth. Last but not least, factor in the price range of a peephole camera especially if it comes with ring pr or voice-assistant integration capabilities.
If the price tag is within your budget and includes helpful added features, then this could be a great choice for getting peace of mind when it comes to ensuring the safety of people and property around you.
Video quality:
If you're looking for a dependable, high-quality doorbell camera, you really can't beat Ring's selection of peephole cameras with 1080p HD video.
Their image quality is a cut above the rest thanks to their 1080p resolution record video quality, making sure your family and home are as securely monitored as possible. Plus, setting up the installation process is a breeze and best of all it's included in their Ring Protect Plan.
Alongside the added level of security you get with a peephole camera, you can also enjoy all the benefits that come with using the Ring app to control your doorbell button.
This includes access to real-time notifications to your compatible devices about visitors, live video streams from motion-activated alerts, and two–way audio communication —all so that no one ever misses out on an important visitor again!
Battery life
If you're looking for an easy and convenient way to keep your home safe, then an outdoor peephole camera is a great solution.
Not only will it prevent intruders, but it'll also provide peace of mind knowing that your family is safe if it has long battery life.
When choosing the right camera for your home, one important factor to consider is battery life. You'll want a rechargeable battery that lasts at least one year so that you don't have to constantly recharge it or replace it.
Additionally, cloud storage is key to allowing access remotely and on multiple devices. And don't forget about having a doorbell button as part of your peephole camera setup – this allows you to easily communicate with visitors before deciding whether or not to answer the door.
Finding the best battery life for your peephole camera is important but there are plenty of smart features and options available on the market today so take some time to consider all of your options!
WiFi connection
The Ring Peephole Cam is a perfect option for those who are seeking an affordable and secure way to monitor their front door.
Not only does it provide ultra night vision, motion alerts, and two-way audio features, but it also comes with several WiFi connection advantages.
Setting up a WiFi connection allows you to access your camera's feed from anywhere in the world. Additionally, anyone with a Ring Protect Plan can benefit from cloud storage recordings, which can be maintained for up to 30 days.
With that being said, there is no question why having a WiFi connection is fundamental for the optimal use of your Ring Peephole Cam — you can have confidence knowing that your home is safe at all times!
Do you want complete peace of mind when it comes to your home's security? If so, consider a peephole camera/video door bell with motion sensors or any of the other ring peephole cam.
With a ring peephole cam review, you can find out more about this amazing device that grants you both visual and audio access to your front door in real time!
The degree field of view gives you an extended viewing angle – not just straight-on! In addition, ring peephole cameras also have a built-in motion sensor with two-way audio capabilities so you're always alerted to uninvited visitors.
Shop around for the perfect ring peephole cam that fits your degree field of view and light rain – it's the best way to ensure your home stays secure!
About the Ring Peephole Cam?
The Ring Peephole Cam works as an essential security tool that fits in modern homes like a glove. By replacing your existing doorbell, you can see and speak with visitors remotely with the two-way audio system before deciding whether to open the door.
You will be notified of any person standing at the doorstep even if you're not home, and surveillance videos will be stored for up to six months at no added cost.
This way, you'll have peace of mind knowing that your house is kept the safe day in and out. Furthermore, the Ring Peephole Cam offers other smart home integrations such as Google Assistant and Alexa, allowing a hassle-free automation experience from your device. Get yours today and enter into improved home protection!
Are Doorbell Mounts Better Than Peephole Cams
Doorbell mounts are the superior choice in today's world of technology. With 1080p HD video, they provide a top-of-the-line video recording experience.
In addition, this video doorbell offers motion detection with video clips as well as infrared night vision. This gives you more freedom to keep your home secure, day and night.
Smartphone notifications can be sent to alert you if motion is detected, furthering its security capabilities. Wireless peephole cameras may be cheaper but won't offer the same quality or range of features found with a video doorbell mount.
Don't let price cloud your decision when it comes to your home's security – opt for a doorbell mount for superior protection and advanced options!
Can You Put a Camera in a Door Peephole?
Yes, you can put a camera in a door peephole! With the ring's Protect Plan and two motion detectors, you can stay safe while feeling secure.
The long battery life and person detection options make sure that you're always aware of unexpected visitors. The basic features are also great and include adjustable motion sensitivity settings, 1080p video quality resolution, and two-way audio communication.
So when you think about it, it is the only way to go if you want to stay safe without sacrificing your security.
How do peephole cameras work?
Peephole cameras are an increasingly popular security innovation that makes it easier for homeowners to increase their safety.
For example, ring peephole cams offer motion alerts so you know if someone is attempting to enter your household without permission. Each ring device comes with a jeatone peephole viewer, too, so you get the benefit of both a camera unit and a digital display.
Not only can you record video footage any time the motion sensor goes off, but you also get live views of what's outside your door at any hour of the day instantly on your phone.
This unparalleled level of convenience and control can give homeowners peace of mind in ways traditional doorbells never could. It's no wonder that ring peephole cam has revolutionized every security camera!
Are peephole cameras good?
Peephole cameras are a great security solution for homeowners and businesses alike. The motion zones can be customized to meet the needs of any situation so that you will know when a person is standing outside your door.
Rather than having to go through the hassle of having someone open the door, visitors can now be greeted remotely without having to be present.
With motion zones enabled, you can record up to six months worth of video footage, giving you plenty of other security options should something not feel right. And all this in one simple package?
Peephole cameras are an unbeatable addition to any home or business owner's security arsenal.
Conclusion
A peephole camera is a security measure that gives you an extra layer of protection. It allows you to see who is at your door without opening it, which can be very helpful in deterring potential criminals.
Peephole cameras are relatively inexpensive and easy to install, so there's no reason not to have one. With their motion detector effects, and video doorbells action, they are better than existing peephole security cameras.
Be sure to buy the best peephole camera in 2023 so that you can rest assured knowing that your home is well-protected.