UCES Protection Plan Review in 2022
United Credit Education Services (UCES Protection Plan) is not your average credit repair company, offering everything from credit restoration to identity monitoring.
Borrowers who work with UCES for credit restoration will have access to a wide range of financial services, such as budgeting help, debt tracking, and even continuing net-worth calculations.
UCES has been providing high-quality credit restoration services to qualified consumers for over ten years. They provide an easy-to-use online platform that allows consumers to get live help whenever they need it and track their credit restoration progress at any time of day or night.
United Credit Education Services also offers a variety of products to help you keep your credit in line, including SmartCredit credit monitoring of all three main credit agencies, unlimited dispute letters written by credit professionals, and much more.
So, how does the dispute resolution procedure work? Is it really possible to keep track of your credit score for free? Is UCES a total rip-off?
These are some of the same questions that this post will address.
What Is UCES Protection Plan?
United Credit Education Services (UCES) is a credit counseling organization that assists persons who are having financial difficulties in repaying their debts. When it comes to who founded the company, there isn't a lot of information available on the official website. But, having said that, they look to be entirely authentic.
Do you have confidence in your ability to work from home while simultaneously boosting people's credit ratings and earning money? As previously noted, you'll need to know individuals in your neighborhood in order to accomplish this, or you can use social media to assist you.
UCESProtectionplan.com was established in 1997 and is based in Farmington, Michigan, in the United States of America.
In addition to clients in 50 states, including Washington DC, WWW.UCESProtectionplan.com also serves an international clientele. Companies that specialize in credit repair assist clients in improving their credit scores by contesting suspicious negative items on their credit reports, such as late payments, collections, charge-offs, and bankruptcy filings.
The UCES Protection Plan provides services to assist people in making financial plans for the future, as well as services to assist them in improving their credit ratings through credit repair.
We can assist you with everything from wills to estate planning, from car accident lawsuits to disability insurance, from divorce agreements to child custody cases. If you have any type of issue or question about the law and what it means for you personally, United Credit Education Services can assist you in determining what is the best course of action for your specific situation.
I wanted to learn more about this company's true identity, so I looked them up on the Better Business Bureau website and on social media to see if they had any contributing accounts. After scanning Facebook, I came across their corporate profile, which boasted over 236 Likes to my surprise. They do not have a media page on Twitter, for example.
According to the Better Business Bureau, they have a D+ rating and do not have any certifications or accreditation. Generally speaking, this is a mediocre account.
If working from home to participate in the UCES protection plan is something you're interested in, continue reading to find out how to get started.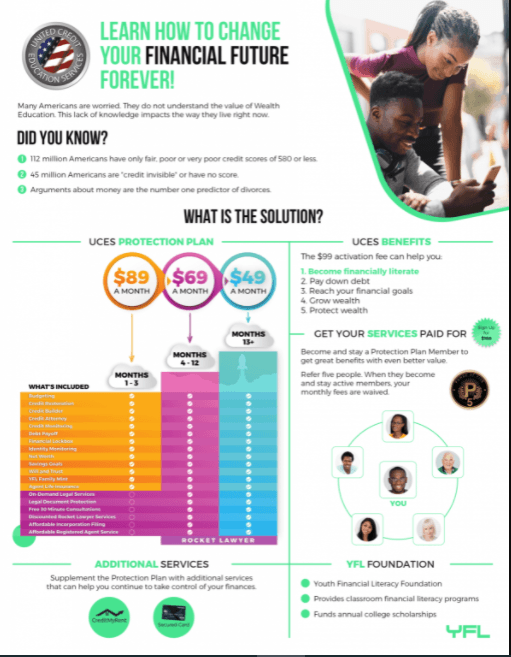 Who Are The Founders Of United Credit Education Services?
Financial Education Services, which is now known as United Wealth Education, launched the UCES Protection Plan. After working with prominent organizations like Rocket Lawyer and redesigning their entire platform, they recently changed their business name.
FES has been around for a long time, and many people are unaware that it is affiliated with United Credit Education Services.
Who Is UCES Protection Plan For?
UCES is designed for anyone who wishes to repair their credit on their own or start their own credit repair company by automating the process (diy credit repair software). It is a professional credit repair application as well as one of the best credit restoration software for businesses.
They are one of several organizations attempting to assist people in a variety of financial problems.
In summary, UCES Protection Plan is meant for the following category;
If you are in need of credit repair
If you want to keep an eye on their credit record, use this service
If you require legal assistance from a qualified attorney
If you are in need of a will and trust documentation
If you need life insurance policy
If you are managing your debt.
How Does UCES Protection Plan Work?
Credit repair is made simple with UCES. Before anything is finalized, you'll be able to review and approve your agreement terms with UCES, and live personnel will be ready to answer any questions you may have.
Qualified borrowers can access actionable credit restoration services by following a few basic steps:
After validating your identity, watching a brief video, and agreeing to begin services, enroll and initiate credit restoration through UCES.
UCES examines your credit history and prepares dispute letters to be forwarded to credit bureaus for resolution.
Once you've double-checked that all information is correct, review and return dispute letters.
Take pleasure in the results of a credit repair program aimed at rebuilding your credit and assisting you in improving your immediate and long-term financial health.
Throughout the credit repair process, UCES sends regular status updates to bring borrowers up to date on any changes in credit repair activities.
What is the Cost of the UCES Protection Plan?
United Credit Education Services offers credit restoration for a single, affordable charge. Consumers must pay a $99 startup cost as well as a $89 monthly fee to receive continuous credit restoration services.
Monthly $89 charges are automatically debited from a bank account or debit card of your choice for your convenience. Customers also receive email notifications prior to the posting of monthly UCES payments, preventing any unexpected charges to your account.
Customers that pay the above pricing model get access to not only UCES credit restoration services, but also the whole UCES Protection Plan.
Borrowers can use UCES' budgeting services, credit attorneys, fraud protection, identity monitoring, net worth projection, and other resources to help them take control of their financial destiny.
What the UCES Protection Plan Offer
UCES Protection offers more than a dozen tools to help you enhance your credit score, establish legal papers, and safeguard your identity.
Here's a rundown of the services they provide.
1. Budgeting
According to a Clutch research, 61 percent of small businesses do not have a formal budget. You may not comprehend how your firm is performing if you do not have a budget.
Making a budget allows you to see how much money you have, how much money you have spent, and how much money you will need in the future. A budget can guide crucial business decisions such as minimizing unnecessary spending, hiring more employees, or purchasing new equipment. If you run out of money, the budget can help you adjust your business plan or prioritize your spending on activities.
You can keep your firm out of debt or find solutions to lessen the debt it is already suffering with the correct budgeting plan. A thorough budget can even be used to secure business financing from banks or other financial institutions.
Budgeting is an essential part of life. Without good budgeting, you will find yourself in a cycle where it will be extremely difficult to get forward financially.
You will be able to fill in the blanks with this advantage and finish up with a budget that works for you.
2. Credit Restoration (United Credit)
Their credit restoration services include a variety of advantages such as the creation of advanced dispute letters, the removal of wrong things, and the improvement of your credit score.
United Credit is undoubtedly putting out effort when it comes to eliminating negative items from your credit report by taking advantage of legislation such as the FCRA and CROA to your financial benefit.
United Credit Education Services has been in the business of credit restoration for more than ten years, and they have an outstanding customer service team to back them up.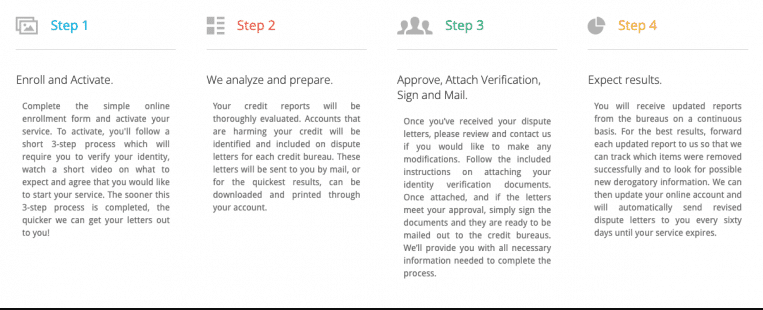 3. Credit Builder
United Credit Education Services (UCES) provides a credit education program that will assist you in establishing a credit history and improving your credit rating.
Your goal at this point is to make certain that you do not make any late payments and that you begin to establish a solid credit history.
With this tool, you will be able to track your progress and observe how your score has changed over time.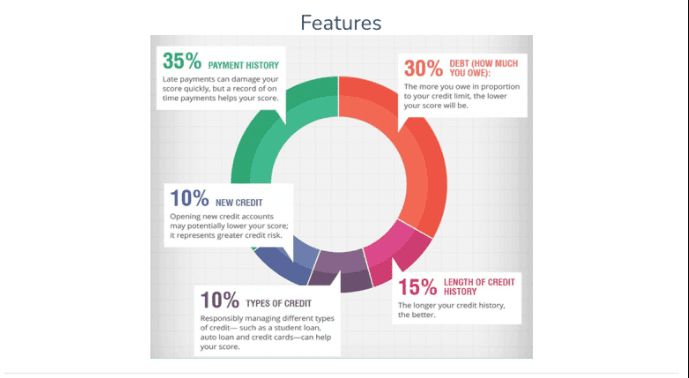 4. SmartCredit
SmartCredit is a program that will track your credit score periodically. This service would normally cost $19.99 to $29.99 per month, but United Credit Education Services provides it for free.
This is a fantastic tool for tracking your credit report and score over time and determining what you need to do to have the best credit possible.
You'll have full control over your dashboard and will be able to see your credit score, among other things. Check your credit report for updates and to discover what bad or erroneous items are showing up on your reports.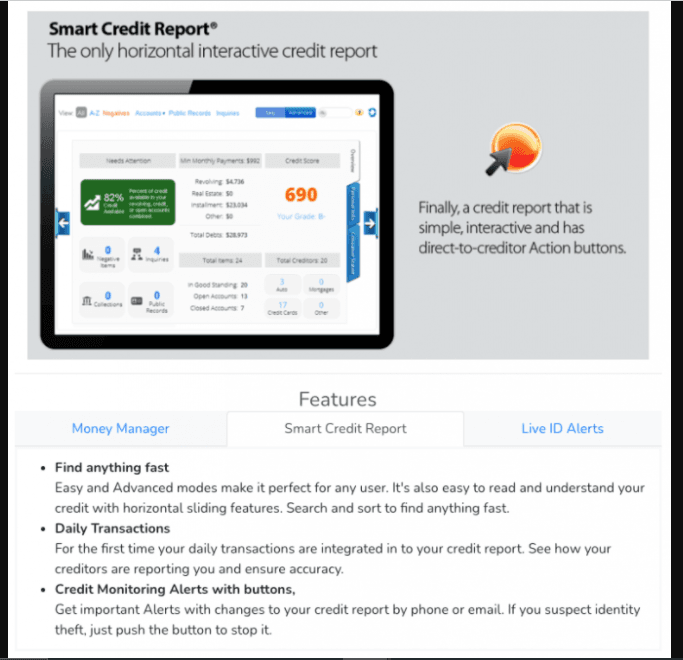 5. Credit Attorneys
Your UCES Protection Plan includes credit attorneys for you to visit with if you need to. Their attorneys are knowledgeable and professional, and they can assist you in making judgments regarding debt collection harassment. You'll have access to a credit attorney who can assist you with the law. (CROA & FRCA).
6. Life Insurance
When you enroll in UCES, you will receive life insurance coverage from Symetra, but you must be an active 1099 participating representative of United Credit Education Services.
Symetra has a long history and is well-known for its stability and dependability. To get approved, you must fill out a life insurance application, but they do not conduct a credit check and do not require a down payment!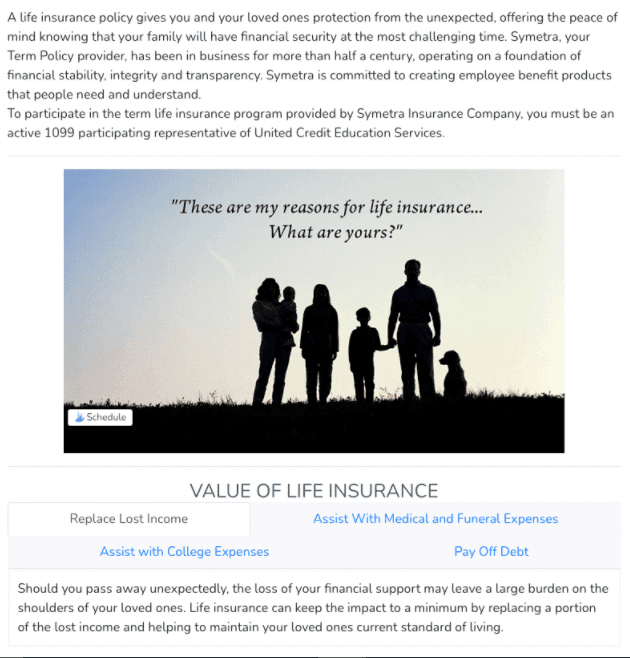 7. Financial LockBox
Financial Lockbox is an online service that allows you to keep financial information in a single, safe, password-protected location for simple access by you or loved ones you choose.
The Financial Lockbox is an online service that allows you to keep financial information in a single, safe, password-protected location for simple access by you or family members.
It allows you to access your accounts and balances from anywhere in the world, as well as update your contact information for all of your bank accounts. All of this is done through a simple interface that can be accessed through any browser or Internet-enabled device.
8. YFL Family Mint
In addition to the UCES Protection Plan, you will have access to the Family Mint financial education program, which is an award-winning online money management and goal-setting tool that enables children to learn about financial responsibility in a fun and engaging environment.
Simple to use, it connects children to real-world significance, and most importantly, it enables them to learn via hands-on exploration. As part of this service, you'll have access to the most recent versions of the financial education curriculum.
9. Will & Trust Documentation
Create your will and trust with the assistance of attorney-backed forms that are valid in your jurisdiction.
The "fillable PDF" technology will be used in the production of UCES legal forms. Fillable PDFs allow you to complete the document online, save it, and print it without having to worry about anything. The legal forms for a protection plan are straightforward, succinct, and easy to use for anybody to complete.
What exactly is included in this service? A last will, living trust, health care power of attorney and financial power of attorney.
10. Saving Goals
The UCES Protection Plan savings program will serve as a guide to assist you in setting objectives and putting money aside for each goal you have set for yourself.
The following features are incorporated in your goal setting:
Calculations are quick and simple.
Create multiple goals at the same time.
Track Your Progress Towards Your Savings Goals Using Your Savings Goal Report
Having the ability to add additional money at any point during your saving period
11. Debt Payoff
The Debt Payoff service is a comprehensive guide that will assist you in repaying all of your debts. With this program, you will be able to notice a reduction in your debt.
This is a step-by-step procedure that will allow you to track your progress over time because you will be able to apply money toward paying down one or more debts each month.
12 Identity Monitoring
PrivacyArmor, which is owned by AllState, is included in the UCES Protection Plan and will assist in protecting identification through a proactive monitoring service.
Among the features of PrivacyArmor are the following:
Insurance coverage of $1 million against identity theft
Resolving pre-existing conditions
Dark web monitoring
Enhanced identity surveillance
Monitoring of social media
Keep in mind that all of this is included in your plan at no additional cost.
Other Services Rendered by UCES
They also offer credit development items that are expressly meant to increase your score when you send out your dispute letters, on top of all the other services they provide.
Credit My Rent is a rent reporting service that allows you to submit your prior and current rent payments in order to improve your credit score.
This service includes credit bureau reporting for up to 24 months of rent. It also generates a report that details each payment, including when it was made and to whom it was made.
With a secured credit card, you may also start building credit. You can also get a secured credit card with the First Progress Platinum MasterCard. Instead of affecting your credit score, this is activated by making a security deposit.
From credit rehabilitation services to free legal paperwork, this program has a lot to offer. However, the most crucial service they provide is one that allows you to plan and save for your financial objectives without having to worry about the details.
States Where you can Find UCES
UCES is available in all 50 states of the US.
Can You Make Money With UCES?
Absolutely, if you are successful in recruiting others. Certainly, you could earn some money. However, as previously stated, it will take time, just like it does with any other business.
Another reason it may take time to enroll others is that some customers, like you, may conduct research.
United Credit Education Services Pros And Cons
PROS
A good online reputation, backed up by numerous credit improvement testimonials.
Access to a credit restoration team that works at your pace to improve your credit ratings.
Clients can agree to conditions, review dispute letters, and monitor credit score increases in a no-nonsense credit restoration procedure.
Customers can cancel services at any moment with monthly payment plans.
Additional financial management services, such as budgeting, debt repayment tools, and a net-worth calculator, are available to assist you in gaining complete control of your finances.
CONS
To further defend the value of services offered, does not guarantee credit score improvements as some competitors do.
Does not provide you with access to a credit repair dashboard, which would allow you to provide customers with real-time credit fluctuation information.
Improved explanations for ancillary financial services such as credit attorney access and identity monitoring would be beneficial.
There is a lot of misleading money-back guarantee
It still operates in the MLM business industry, which has always had problems.
Is UCES Protection Plan Scam?
Absolutely not! UCES Protection Plan is not a scam; it provides genuine credit restoration services in addition to financial items.
Numerous individuals have successfully reduced and eliminated inaccurate or negative debt by utilizing this service, and there is no explanation why you would not be able to as well.
Bear in mind that this company is not like other credit repair firms in that they will not do the work for you; instead, you must follow their step-by-step approach.
Additionally, they have relationships with SmartCredit, RocketLawyer, and PrivacyArmor, which demonstrates to me that they have aided individuals.
Is UCES A Pyramid Scheme?
No! They do not operate as a pyramid scam because they give you ethical services that are effective.
You are not required to become a sales representative or to refer others in order to benefit from the UCES Protection Plan.
A real company that assists with credit rehabilitation and educational services is represented here.
The fact that you can save hundreds of dollars by utilizing this service rather than doing it yourself indicates that the savings potential is limitless.
Spending a little time each day studying about the credit sector and improving your credit score will result in far greater success with UCES Protection Plan than if you put in no effort at all will result in significantly less success.
Furthermore, it's crucial to keep in mind that this company does not provide "immediate satisfaction." It is very usual for results to take many months to manifest themselves.
The ability to erase bad information from your credit report will not be immediate, and you will need to exercise patience while you strive to improve your credit score and raise it by a few points.
For those who find this to be too time consuming or who do not believe that their credit repair service is right for them, there are alternative solutions accessible, such as Credit Sesame, which provides customers with a free credit score.
Is the UCES Protection Plan worth it?
If you need something other than credit repair, the UCES Protection Plan is well worth the money. You will be able to obtain attorney-drafted documentation as well as financial support. The company's MLM structure is what prevents many people from getting started.
Do we Recommend UCES?
When it comes to credit repair services, UCES is a good choice because it offers actual customer care representatives and has a track record of helping clients improve their credit.
If you're looking for a credit repair firm that will take care of credit problems on your behalf, including speaking directly with credit organizations and lenders to correct inaccuracies, UCES is the place to go.
We recommend UCES to debtors who are serious about keeping their credit history intact. Credit restoration services from UCES can help you safeguard your account lifespan from day one of your relationship before flaws in credit reports have a chance to jeopardize your credit score and financial future.
Customers should be aware that UCES, like all other credit repair companies, has a limited ability to improve your credit score. They can correct inaccuracies on your credit reports and reverse the impacts of identity theft, but they can't erase valid debts or unfavourable marks from your credit history.
Their credit repair services, together with further credit monitoring and budgeting advice, can, however, assist you in taking efforts to protect your credit score and financial history.
How To Cancel UCES Protection Plan?
Before cancelling subscriptions, there are a few things you need to do and know. They are as follows:
Since you gave permission, once you subscribe to a plan and don't cancel it manually like you did when you first subscribed, the plan will automatically renew.
When you sign up for a trial period and then cancel, you face the risk of losing all of the trial content.
You must cancel a membership manually 24 hours before the trial period expires.
UCES Alternatives
There are tons of alternatives out there. Credit report errors are far more common than you may believe. While you may correct false information on your credit report manually, the process is typically time-consuming and stressful.
Credit repair businesses can assist you in this process by acquiring your credit reports, identifying flaws, and disputing any errors directly with creditors and the main credit bureaus.
The top credit repair companies are dependable, efficient, and provide excellent customer service. Late payments, maxed-out credit cards, and debt in collections may all leave unfavourable marks on your credit reports, lowering your trustworthiness. You can pay someone else to restore your credit report blemishes if you don't have the time or inclination to do it yourself.
Some of the best out there include;
Credit repair cloud
Sky Blue Credit
The Credit Pros
The Credit People
AMB Credit Consultants
Credit Saint
Lexington Law
Ovation Credit Repair
Credit Versio
Can UCES take care of bankruptcies?
Yes, UCES can handle this for you, according to one successful and active real estate developer.
Conclusion
Finally, we'd like to emphasize that UCES gives an excellent opportunity for you to expand your credit repair business and increase its overall size. We are convinced that all of the credit repair clouds reviews on our site will provide you with comprehensive and accurate information.
Starting a credit restoration business can be highly profitable, especially if you employ management software such as UCES. If you begin this endeavour, you should anticipate a high volume of "no's" and a large number of people labelling you a scam as a result of the activities of a few individuals who have ruined the industry. The first step toward success is to develop a brand and earn your target audience's trust.
Rather than wasting valuable time debating how to get started, visit UCES and get the results you desire immediately!
This concludes the review of the UCES Protection Plan.
Let us know if you've worked with them or have any queries in the comments section below.