LongShot AI Review 2023 (Best Long Form AI Writer)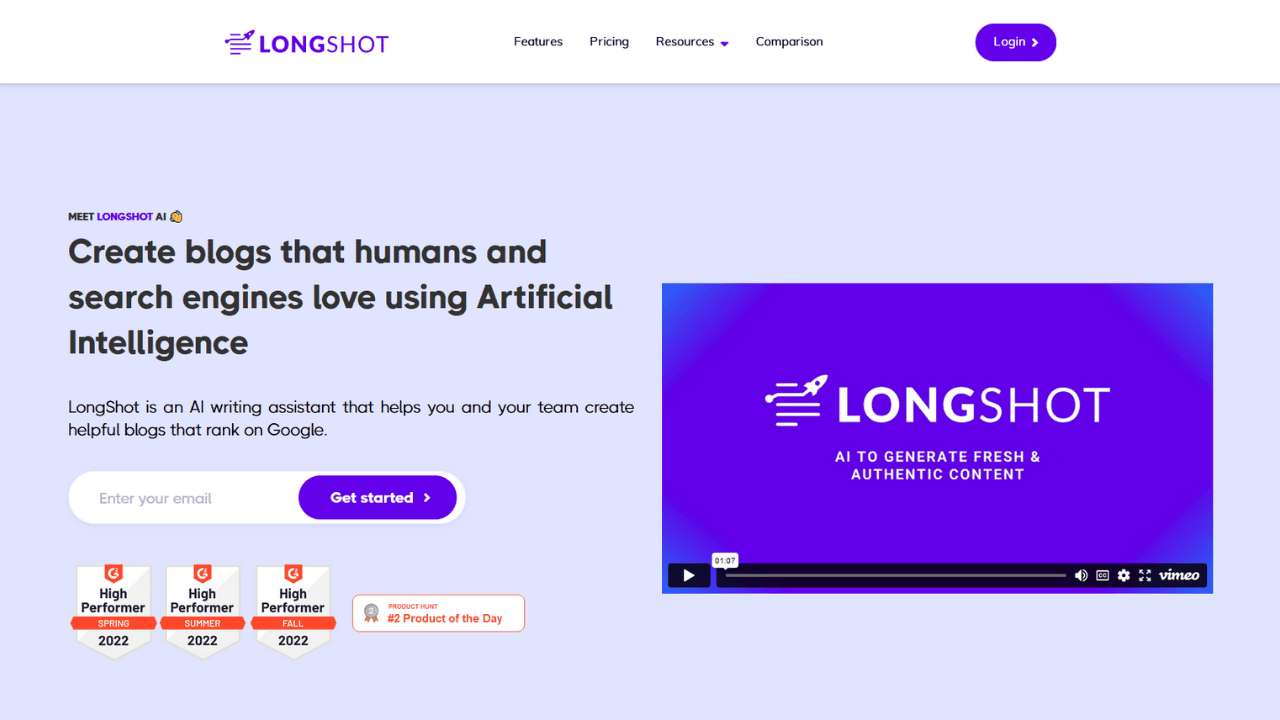 As content writers and copywriters, we understand that often it can be a painstaking process to craft the perfect article or essay. It's time-consuming, frustrating, and costly, discouraging creative work.
That's why our ears perked up when we heard about LongShot AI! This advanced artificial intelligence feature claims to take your document creation process from weeks to hours by eliminating repetitive tasks like researching, writing story outlines, and formatting.
Could this be the ultimate tool for content creators? In this review, we've tested the features and capabilities of LongShot AI 2023 so that you know if it is worth investing in!
What is LongShot AI?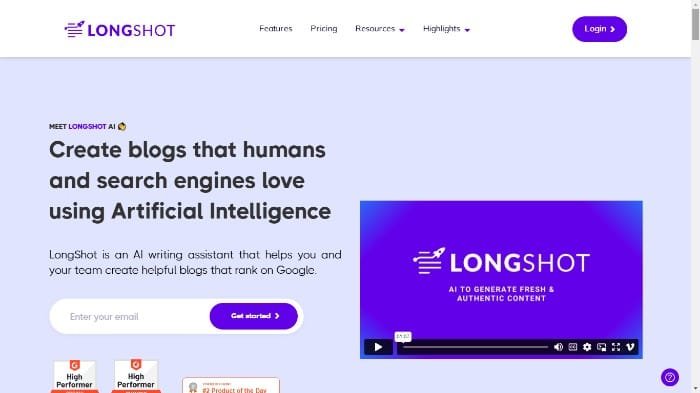 LongShot AI is a fascinating new technology, giving creatives everywhere the creative power to write like never before.
LongShot AI leverages advanced artificial intelligence and natural language processing algorithms to generate long-form content with unprecedented speed and efficiency.
The program offers powerful semantic SEO capabilities that target the most accurate vital phrases, helping your writing stand out from online noise.
LongShot AI is straightforward, requiring only minimal setup before you start writing.
It can instantly generate topic ideas, research relevant material, assemble structure and outline for your document, and even format the content into a ready-to-publish form.
This makes the process of creating long-form work much faster and more efficient.
Who Created LongShot AI?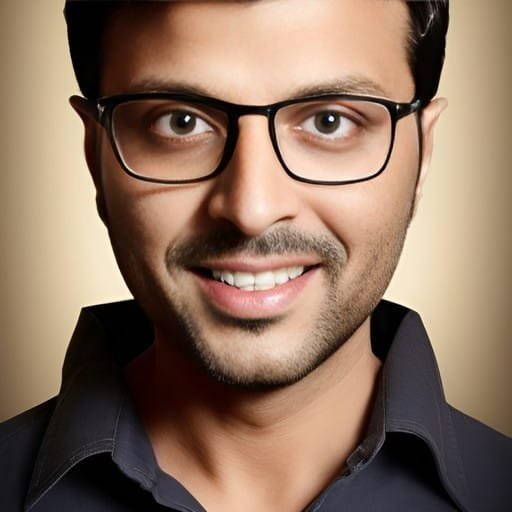 Ankur Pandey is the creator of LongShot AI, a blog wizard for producing engaging posts faster and with less research required.
By analyzing existing content on the blog, Ankur's AI system reduces manual research and fact-checking to a minimum. It also provides real-time content recommendations to ensure your posts stay fresh.
With Ankur's AI technology, bloggers can save precious time writing blog posts and focus on other aspects of blog maintenance more efficiently.
LongShot AI Pros and Cons
---
For anyone looking to make an informed decision on the idea of LongShot AI, it is essential to delve into its full potential.
This idea can be used to customize and generate content in record time and as a fast check for research processes.
LongShot AI can drastically improve how businesses tackle joint projects that require quickly produced content, allowing employees to spend more time creatively optimizing their ideas.
By researching the pros and cons of LongShot AI, one can more easily conclude whether they think it would benefit their business.
Starts at $29/month (PRO PLAN)
Best Features Of LongShot AI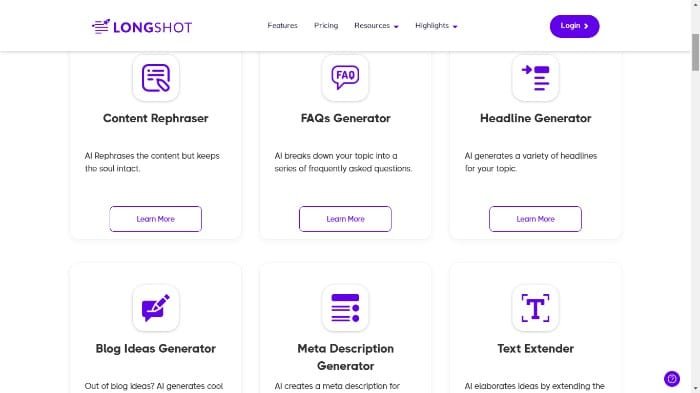 LongShot AI is a revolutionary content creation platform that lets you generate long-form content in just a few minutes.
Its advanced blogging wizard automates detailed research and personalizes the content according to your requirements, so you can quickly generate great reads.
Not only does this save you time, but it also ensures accuracy and reliability when creating engaging articles. LongShot AI's features provide everything you need to generate unique, high-quality content quickly and easily.
Here are some of the helpful tools of LongShot AI:
Headline Generator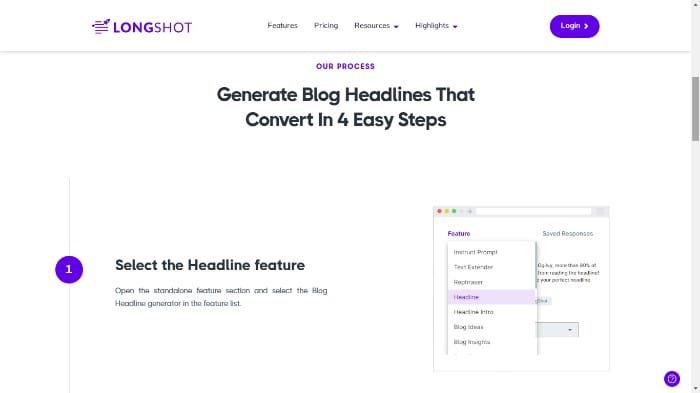 The headline generator is an excellent feature for creatives who have trouble writing a good title. It helps you create catchy headlines to attract readers and encourage them to read your post.
The research assistant tool helps you quickly find information on any subject, so you don't have to waste time researching.
Content Rephraser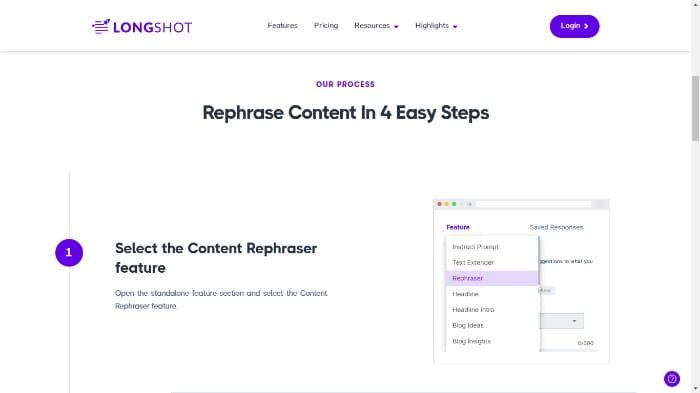 The content rephraser helps you rewrite existing articles to make them unique and more personalized.
With this feature, you can quickly create multiple versions of the same article without losing its quality.
Listicle Generator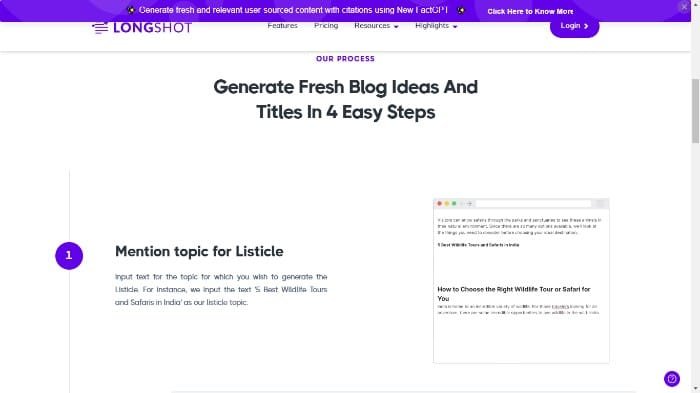 The listicle generator helps you create engaging article formats such as listicles and infographics.
This feature allows you to easily break down complex topics into bite-sized pieces, making it easier for your readers to digest information.
Fast Checker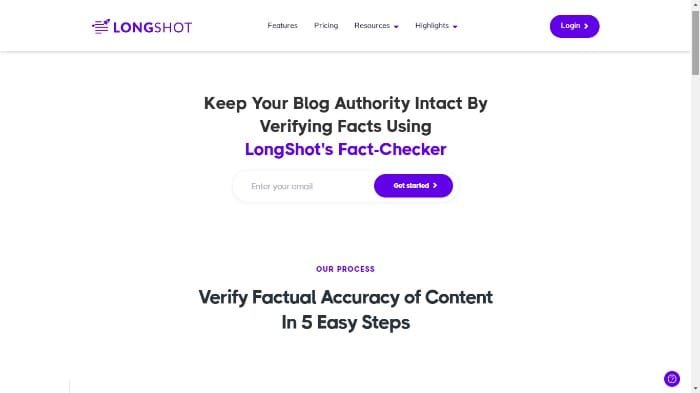 LongShot AI's fast checker verifies facts and sources in your article, so you never have to worry about making mistakes when writing.
This ensures accuracy and saves time on fact-checking.
Semantic SEO Generator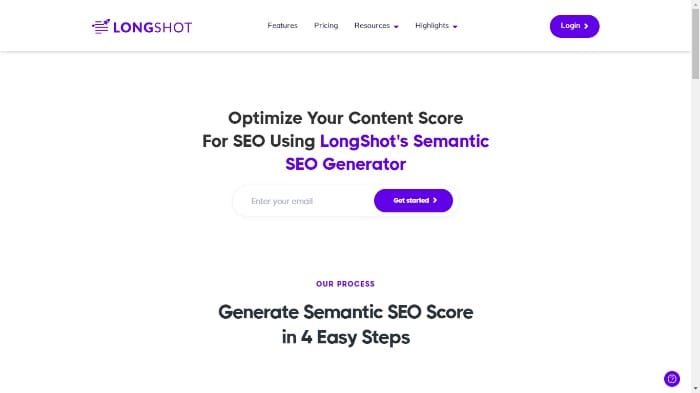 The semantic SEO generator helps you create SEO-friendly content to rank higher in search engines.
It analyzes your existing content and suggests keywords you can integrate into your posts for better visibility.
LongShot AI Pricing – How Much Does It Cost?
LongShot AI is the perfect custom AI for any business or organization looking to supercharge its SEO content!
While prices vary depending on the custom needs of each customer, signing up for LongShot AI will always be a great value.
LongShot has its pricing structure in four tiers:
Pro Plan: Starts at $29/ month, billed annually and $39 per month, billed monthly.
Team Plan: Starts at $79/ month, billed annually and $99 per month, billed monthly.
Agency Plan: Starts at $375/ month, billed annually and $449 per month, billed monthly.
Custom Plan: Price not stated on their homepage. You can contact the company to learn more about this plan.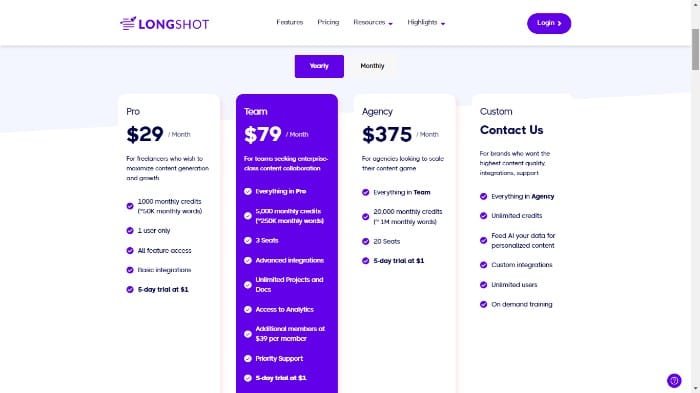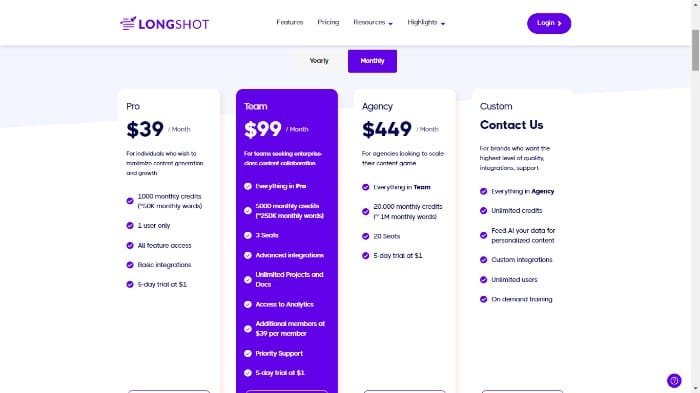 Here are the full details of the pricing options:
Pro Plan
1000 monthly credits (~50K monthly words)
1 user only
All feature access
Basic integrations
5-day trial at $1
Team Plan
Everything in Pro
5000 monthly credits (250K monthly words)
3 Seats
Advanced integrations
Unlimited Projects and Docs
Access to Analytics
Additional members at $39 per member
Priority Support
5-day trial at $1
Agency Plan
Everything in Team
20,000 monthly credits (~ 1M monthly words)
20 Seats
5-day trial at $1
Custom Plan
Everything in Agency
Unlimited credits
Feed AI your data for personalized content
Custom integrations
Unlimited users
On-demand training
My Experience Using LongShot AI For Creating Personalized Content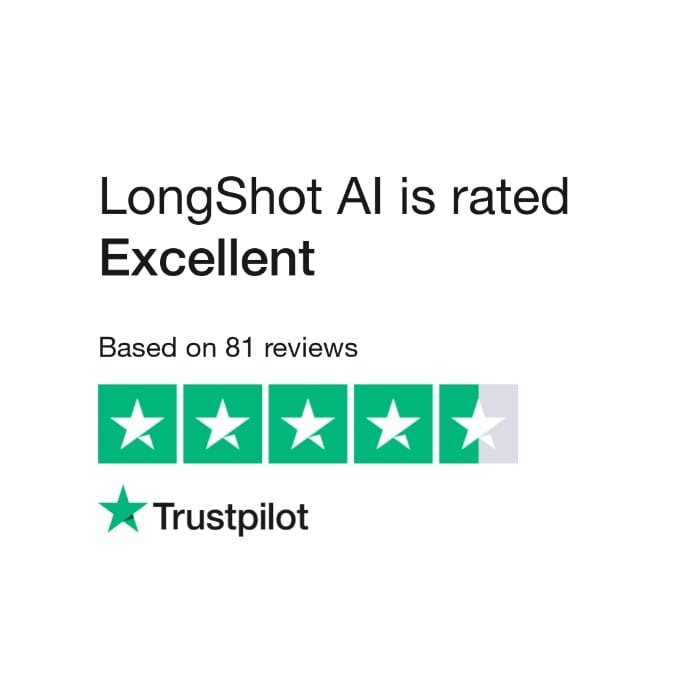 When I first discovered LongShot AI, I wasn't sure how custom Artificial Intelligence could help me with my SEO content.
After signing up and using the service for a few months, I'm convinced it's the go-to platform for creating personalized content. It all starts with inputting various data points into the platform.
From there, the AI customizes and creates content that speaks directly to the reader.
For example, one of our ads saw a 25% increase in engagement when we specifically mentioned a product in our ad copy that had recently sold out – something suggested and automated by LongShot AI!
With custom AI on your side, you can easily create content pieces with personalization on any scale.
Best Alternatives For LongShot In 2023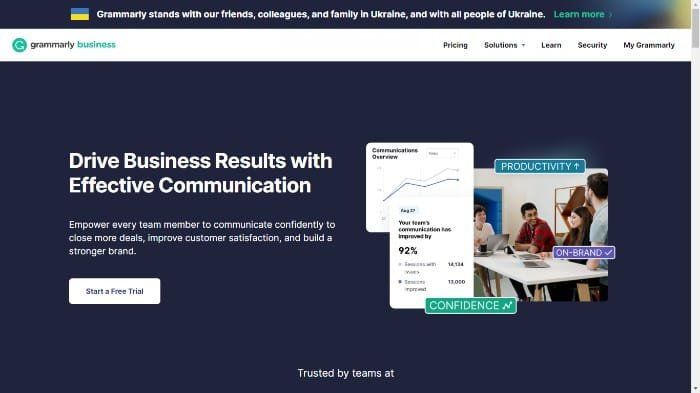 In the coming year, longShot has a formidable task ahead when it comes to digital marketing.
Fortunately, there are more competitive options than ever for businesses looking to make waves in 2023.
So, if you think the pricing option of the software is on the high side or you want something entirely different, you can try any of the alternate software listed below:
Rytr
Jasper
Writesonic
Peppertype.ai
Anyword
Semrush
Grammarly Business
SE Ranking
Simplified
Serpstat
Conclusion – Is LongShot AI Worth It?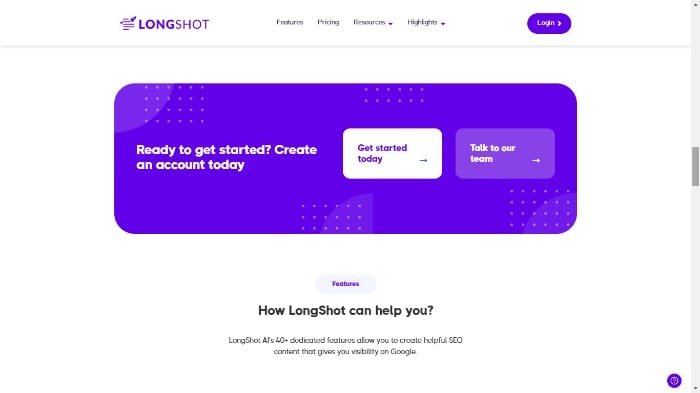 LongShot AI offers powerful tools to help you create personalized content quickly and easily. It's simple to use, and the research assistant tool makes it easy to find accurate information on any subject.
It also has useful features like the headline generator, content rephraser, listicle generator, fast checker, and semantic SEO generator that all work together to help you create engaging and SEO-friendly content.
For businesses looking for an AI-driven solution to create personalized content, LongShot AI is a perfect choice. Its reasonable pricing structure is sure to be an excellent value for any budget.
Try it out today and see how it can revolutionize.