WriteSonic Review 2023 (Powerful AI Writer)
Are you looking to take your content writing game up a notch with the latest and most excellent tools available? Look no further than WriteSonic, an advanced AI-powered text production platform sweeping the digital marketing world.
Combining the latest cutting-edge natural language processing (NLG) technology with a comprehensive suite of content creation implements, WriteSonic makes it easier to generate high-quality SEO-optimized webpages, blog posts, emails, and more!
From keyword research capabilities to detailed analytics tracking and automated promotion scheduling, this review will explore why many writers and blog owners turn to WriteSonic as their go-to AI tool for boosting productivity.
What is WriteSonic?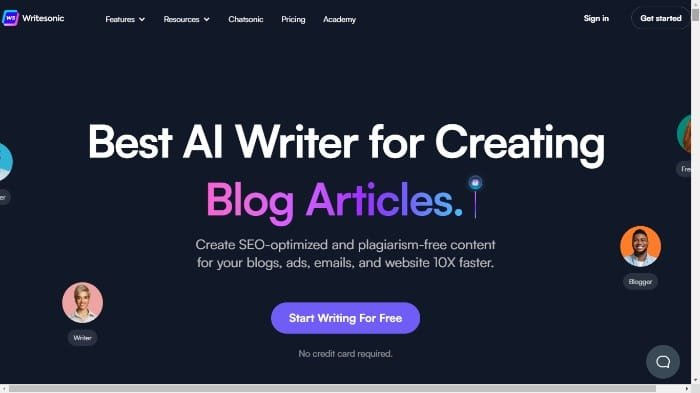 WriteSonic is an AI-powered content creation platform that enables users to quickly and easily generate optimized webpages, blog posts, emails, and more with its NLG technology.
WriteSonic is a great tool for customers looking to create and publish content quickly using the latest AI writing technology.
WriteSonic harnesses google search results to generate ideas in seconds, giving customers a stream of inspiration to work with.
It's not just users of this platform that benefit – WriteSonic also provides cost-savings compared to traditional copywriting services, making it an all-around great choice for businesses everywhere.
Who Created WriteSonic?
Samanyou Garg is the founder and CEO of WriteSonic, who came up with the vision of making a helpful tool to make writing easier.
Samanyou Garg, an enthusiast in sales and marketing, saw the need for users to become creative in their blogs, ads, and other writing processes.
Samanyou Garg pulled out a team of experts that would help him put together an app that would be an AI-powered tool specifically designed to help users write effortlessly.
After years of testing and development, the WriteSonic platform went live in early 2021, becoming one of the most popular AI-powered writing tools on the market today.
Today, Samanyou Garg and his team's vision has been brought to life with WriteSonic, which can help you write faster without losing the essence of what you want to convey.
WriteSonic Pros and Cons
---
WriteSonic provides writers and customers with a full review of their work, simplifying both editing processes.
It is a helpful tool for any company looking to write articles quickly and efficiently. WriteSonic can achieve this without sacrificing quality, making it an invaluable platform in today's digital marketplace.
Not only does it reduce time spent on editing to simplify the experience for both parties, but its stately selection of features is sure to delight any writer.
Thus, conducting thorough research on the pros and cons of WriteSonic's services will immensely benefit any entity or individual needing writing assistance.
Starts at $12.67/month (LONG-FORM PLAN)
Best Features Of WriteSonic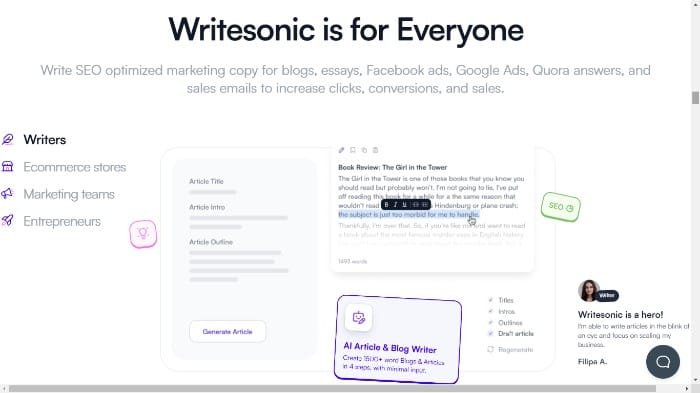 WriteSonic is an artificial intelligence-driven software and app that makes writing eCommerce product descriptions simpler than ever before.
It has some of the best features of any ai writing software out there, making it a top choice for anyone needing to create quality content quickly.
With artificial intelligence at its core, WriteSonic can easily optimize eCommerce product descriptions to be engaging yet concise.
On top of that, it offers valuable insights into the language consumers prefer when researching products. You'll be impressed by the time and energy you save using WriteSonic!
Here are some of the best features of this powerful AI writing tool:
SurferSEO Integration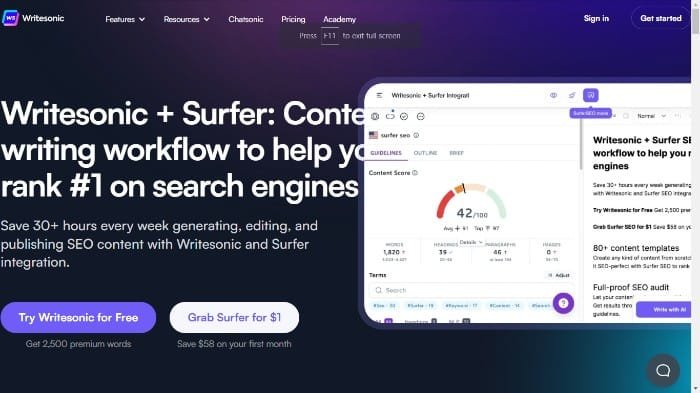 WriteSonic's integration with SurferSEO is one of its best features that truly sets it apart.
With this feature, google search has never been so easy! You have all the tools you need right at your fingertips to create content and post articles on google search quickly and effectively.
Its writing process is simple: easily upload images to bulk-post articles, allowing you to keep your online presence alive without spending valuable time manually writing more content.
In other words, SurferSEO integration makes creating content a seamless process that helps you stay ahead in the google game!
Automated Text Generation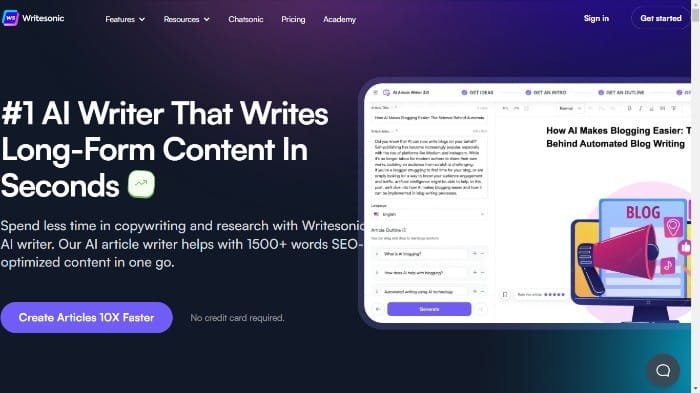 WriteSonic is an excellent tool with great features to help boost your business's website, articles, and media.
The automated text generation feature is a beneficial way to take writing off your mind and streamline the process of filling articles with words.
This feature understands images, meaning you can get articles written automatically based on visual content without having to spend time manually writing articles yourself or outsourcing them.
Automated Text Generation makes WriteSonic a great tool for automating article writing, and it can make all the difference in how quickly articles are created, edited, and published.
eCommerce Product Descriptions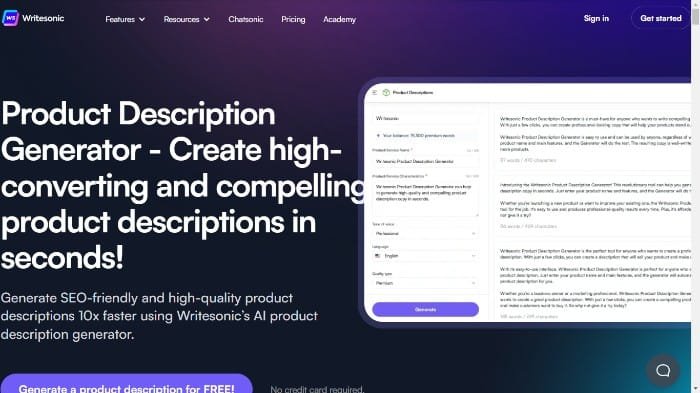 WriteSonic is the perfect tool for creating eCommerce product descriptions that are optimized to rank well in search engines.
This AI writing platform can quickly generate keyword-rich content that helps boost SEO rankings and increase visibility.
It also offers an advanced analytics dashboard that helps users identify the most effective keywords and phrases in their eCommerce product descriptions.
This helps ensure that potential customers can easily find products and services when searching online, leading to increased sales and profits.
In addition, WriteSonic's AI-powered platform automatically adds life and character to dull descriptions, creating engaging and captivating content.
Ads and Marketing Tools
WriteSonic comes with a range of powerful features that help promote products and services.
One of WriteSonic's best features is allowing users to create google ads that effectively engage with customers. Its ads and marketing tools help businesses reach their customers more efficiently.
Not only does the app feature ads, but it also makes it easy to write tweets and blogs and build documents in a professional company style.
Writers who use this feature are sure to find job opportunities that match their skills and get tips on writing content for target audiences.
Furthermore, this tool makes it easy to write content that stands out on social media platforms like Twitter, giving your company words that get noticed.
AI Article Ideas Generator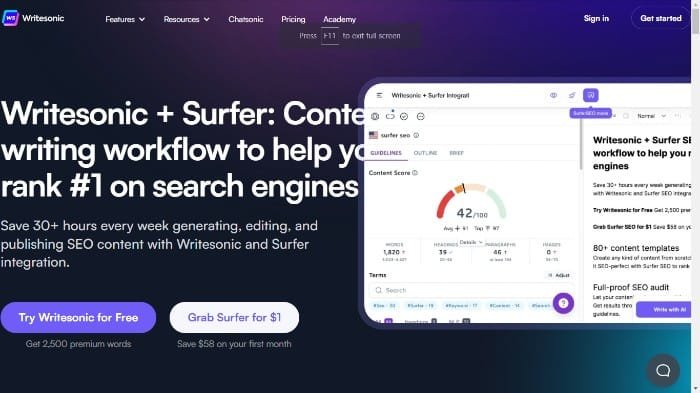 WriteSonic's AI Article Ideas Generator is an excellent feature that helps writers develop ideas for articles quickly and easily.
This tool takes user input, analyzes available data, and proposes related article ideas.
It's a great way to brainstorm new content without spending too much time on the creative process.
Plus, it can provide writers with an abundance of ideas and topics that are sure to get noticed by readers and search engines alike.
Overall, WriteSonic's AI Article Ideas Generator helps users get their creative juices flowing without resorting to manual research or labor-intensive processes.
Website Copy Generator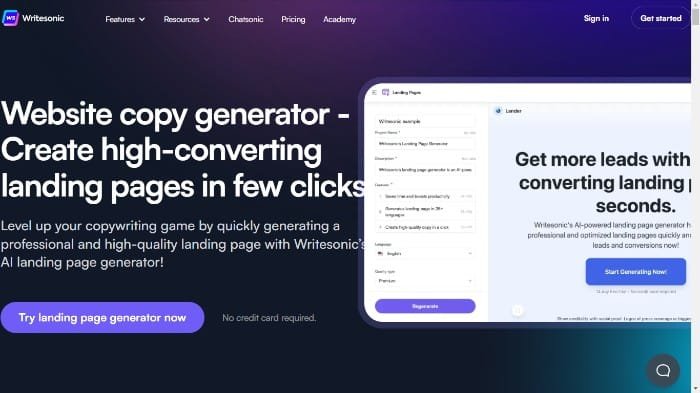 This feature is an indispensable tool for website owners and content creators, as it allows them to create copy that helps boost their SEO rankings quickly.
This AI feature works by analyzing the content on a webpage and generating relevant keywords in creative content.
The generated text is then optimized to appear on search engine results pages (SERPs), helping websites gain more visibility and clicks.
The tool also ensures that website copy remains unique and relevant, avoiding duplicate content issues, which improves web page rankings and makes it easier for businesses to attract potential clients.
WriteSonic Pricing – How Much Does It Cost?
Writesonic is an AI-writing software that simplifies your team's internal communication.
It consolidates emails, review processes, and even document collaborations into one place to simplify both company-wide communications and special projects.
Even with its powerful artificial intelligence capabilities, you'll be surprised to learn just how affordable Writesonic's pricing plans are!
With flexible options available for teams of all sizes, you can simplify how you stay connected without breaking the bank.
WriteSonic writing software has its pricing structured in three tiers:
Free Trial Plan: It is free
Long-Form Plan: Starts at $12.67/month
Custom Plan: N/A (Contact WriteSonic to learn more about this plan)
Here are the full details on the pricing options:
Free Trial Plan
ChatSonic (ChatGPT-like AI chatbot)
70+ AI Templates
25+ Languages
Landing Page Generator
1-Click WordPress Export
Zapier Integration
Browser extensions
AI Article Writer
Sonic Editor (Google Docs-like Editor)
API Access
Long-Form Plan
Everything in Free-trial, plus
Complete Article Rewriter
Research Mode (Coming soon)
Workflows (Coming soon)
API Access ($99/month plans and above)
Bulk Processing
Surfer Integration
Priority access to new features
Priority support
Custom Plan
Everything in Long-form, plus
Unlimited words
Unlimited users
Custom AI development
Invoicing options
Dedicated account manager
Training sessions
Premium support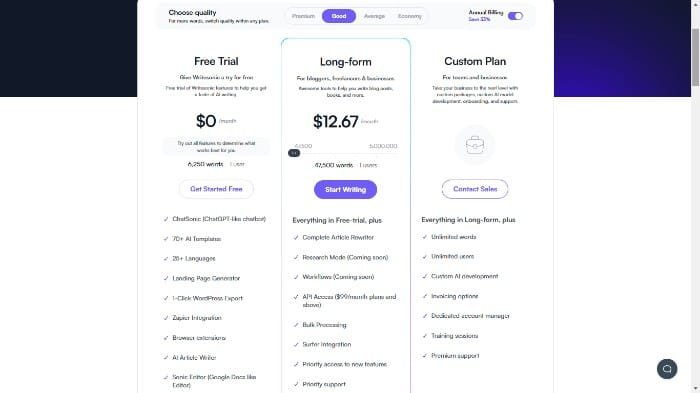 WriteSonic Case Study: Results Achieved With WriteSonic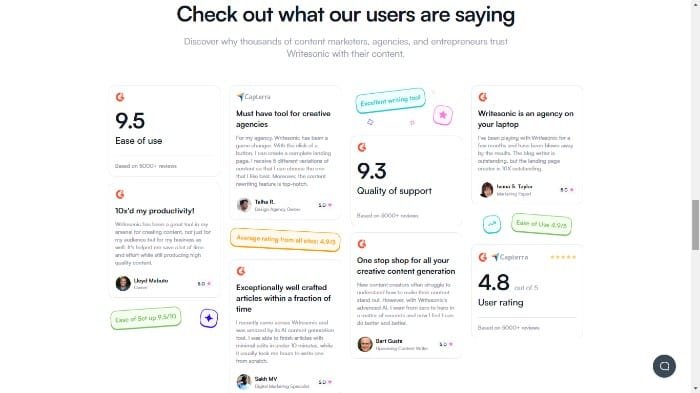 WriteSonic helps businesses create high-quality blog posts, emails, and other content using voice commands for significantly less time.
Not only does WriteSonic allow you to dictate into a microphone or a phone app faster than ever before, but it also provides a more accurate and detailed written output than possible through traditional means.
For example, one business reduced the time spent preparing customer emails by 50%.
The team at this company used WriteSonic to generate automated customer emails, which saved them over ten hours of labor each week.
The team also reported that customer satisfaction improved significantly as the automated emails provided more personalized, professional customer interactions.
Overall, WriteSonic's AI-writing tools had a positive effect on this company and its customers alike.
Another business reduced the time spent editing and formatting documents by 40%.
Using WriteSonic's AI-driven editing feature, the team could quickly and accurately review documents, eliminating the need for manual labor.
This allowed them to devote more time to other tasks, giving them an edge over their competitors.
In both cases, WriteSonic's artificial intelligence capabilities allowed businesses to save time and money and provide clients with a more personalized experience.
My Experience Using WriteSonic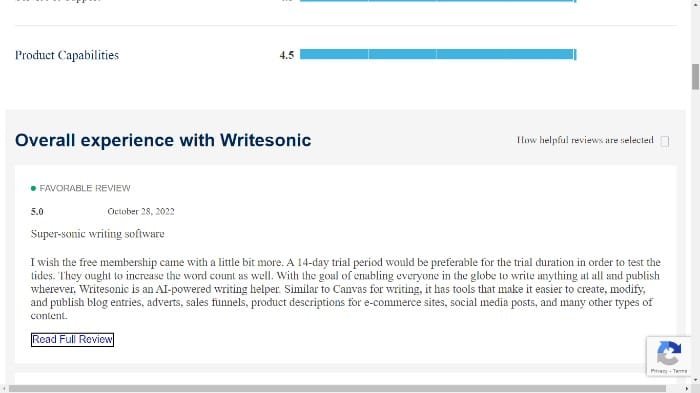 Creating content has always been a challenge for me. When I heard about WriteSonic, I thought it was the perfect solution for my struggles with content creation.
Through voice commands and intelligent templates, WriteSonic enables writers like me to create engaging blogs quickly and efficiently.
The generated templates also come with tips from experienced editors that ensure my total reviews are well-written and easy to read.
I highly recommend WriteSonic to any writer looking for a fantastic way to create content in no time.
Best Alternatives of WriteSonic For Google Search Ranking In 2023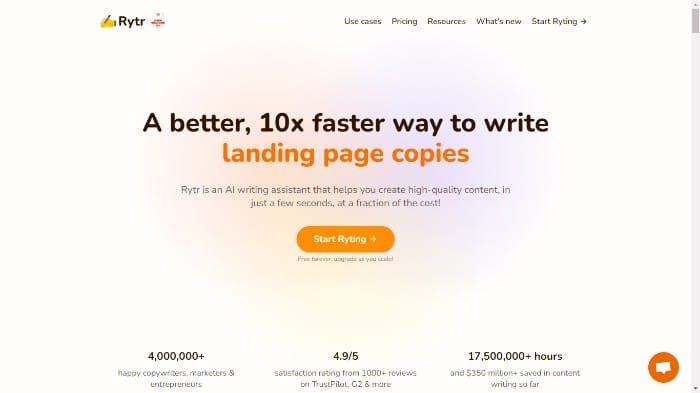 WriteSonic is an AI software that promises to help improve google search ranking.
Still, if you're looking for a better alternative in 2023, several options with lots of templates can catapult your business into the world stage.
They will save you a lot more time when creating blogs, images, forms, and other content pieces.
Here are some of the best alternatives:
Grammarly Business
Jasper
Rytr
Peppertype.ai
Copy.ai
Anyword
Scalenut
Simplified
ProWritingAid
Semrush
Can WriteSonic Be Used To Create Social Media Posts and Landing Pages?
Yes, with WriteSonic's AI tools, you can easily create professional-looking social media posts and landing pages.
The AI-driven technology automatically generates content ideas based on the topic of your choice and provides suggested pictures or illustrations to include in your post.
WriteSonic's landing page generator also allows you to design beautiful and fully responsive pages in minutes quickly.
Overall, WriteSonic's AI-driven tools make creating content for social media and landing pages easier than ever before.
Conclusion – Is WriteSonic Worth It?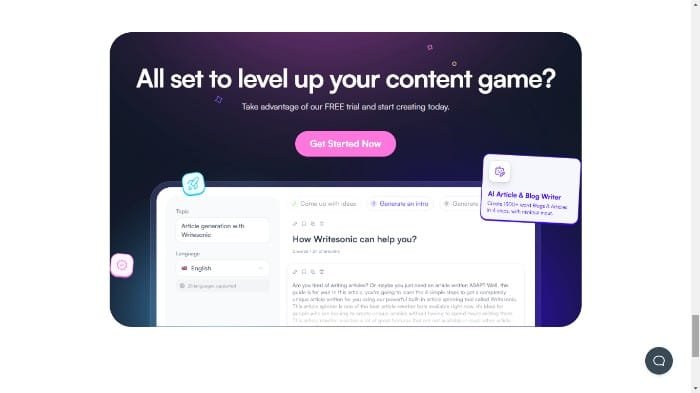 WriteSonic provides businesses with a powerful AI-driven solution for creating high-quality blog posts, emails, and other content quickly and efficiently.
It has unlimited users, custom AI development options, dedicated account managers, training sessions, invoicing options, and premium support.
It also allows you to create social media posts and landing pages in a fraction of the time, giving you an edge over your competitors.
So why wait? Try WriteSonic today and take your business to the next level.