7 Best Sublimation Ink for Printing in 2022
The best sublimation ink to ever exist is yet to be produced, but over the years there has been multiple productions and improvement in the provided sublimation inks for printing.
Despite the inception of the sublimation process of putting designs on any sublimation blank like t-shirts, caps, mugs, and glass. There have always been arguments and investigations by sublimation creators about which sublimation ink is the best for use in the market.
Although many links could be individually regarded as the best sublimation ink, they might not be suitable for use in 2022 for sublimation printing.
This article extensively reviews the seven best sublimation ink for printing in 2022. Sublimations that are not just good in quality and print outcome, but also economical sublimation inks and good business investment, also sublimation inks that are user friendly and good for new sublimation creators.
How to install a sublimation ink?
Installing a sublimation ink is as simple as any other sublimation process. It is easy to do once the exact instruction is followed. The process is far from being a complex procedure. It is as easy as installing any regular printer inkjet. But it is done with a rather high rate of observation and carefulness. It can be actualized in five phases.
Phase 1:
Ensure that the purchased sublimation ink is compatible with the available sublimation printer. Most sublimation inks are capable of printability in several sublimation printers, but you have to be sure it is compatible with your printer.
Phase 2:
Ensure to remove the former cartridge in the printer or else in cases where the printer can be used for regular and sublimation printing there might be confusion. Therefore, remove and change the former cartridge in the printer with the new one attached to the pack of new sublimation ink.
Phase 3:
Ensure to refill the new cartridge with the ink substance. Every pack of sublimation ink will always come with a syringe. Use the syringe to suck some of the ink from a particular jar and fill it in a cartridge of the same color in the printer.
Phase 4:
Refill and refill all other cartridges with the same color of ink in the jars. Do not use the same syringe for this process. Most sublimation ink packs usually come with four color jars, four cartridges, and a syringe. Therefore, use one syringe for every color.
Phase 5:
In some printers, after actualizing the previous stages, then you might have to change certain settings on their control panel to ensure that the printer is aware it has been refilled and about to continue sublimation printing. Meanwhile, in most Epson printers and Sawgrass printers, there is no need to further prompt the printer.
What are the 7 best sublimation inks for printing in 2022?
1. Dye sublimation ink
Ink overview
The Dye sublimation ink is one of the most popularly used inks of the year 2021 and still qualifies as one of the best sublimation ink for printing in 2022. This ink is usually associated by many sublimation creators as being very unique because it is mostly used with Epson printers.
If you use an Epson printer for your sublimation project, then the dye sublimation ink might be the best option for you.
It is made of 4 different jars which consist of chemically mixed inks of different colors. Each of the jars contains up to about 240ml of ink. When purchased from the right source or store, it comes with a free 4 set of refillable cartridges. The colors of the ink inside, are black, cyan, magenta, and yellow.
Meanwhile, the cartridges provided are capable of working for different printers, but they work more perfectly with Epson printers like WF7710,7720, and 7210. One of their special uses is also that they are very suitable for use in the heat transfer process. Although it is very scarce to get, it is very good and provides high usage quality. It is sold below $30; therefore, it is very economical.
Features
It comes with four different cartridges.
It comes with four different ink jars.
Its jars are refillable.
It is very compatible with basic Epson printers.
It is very good for heat transfer.
It carries up to 240ml of ink.
It has a high-quality ink color.
It is waterproof ink.
It doesn't require software for usage.
2. Printer jack ink
Ink overview
This is a very different unique ink out of the list of the best sublimation ink for printing in 2022. The printer jack ink is a larger packed ink unlike its other popular counterpart, which is the dye sublimation. This ink is packed in a longer and larger jar, the jar carries up to about 400ml of chemically mixed ink.
Just like all other best sublimation ink, it also has the main colors meant for sublimation printing which are cyan, black, magenta, and yellow. The manufacturers of this ink pride themselves in the creation of this ink such that it is capable of printing any required color, both secondary and primary from those four basic ink colors.
Most of the prints made with the print jack ink are usually fade resistant and they usually last very long and don't usually stick. Also, many sublimation creators have confirmed that the printers jack ink can be used for different sublimation blanks, ranging from T-shirts, mugs, cups, tumblers, ceramics, glass e.tc
Hence, many users prefer the printers jack because of its versatility. The printer jack is one ink you should consider when thinking of the best sublimation ink for printing in 2022. It can be used to make design prints on various personal products without regretting it.
It comes in packs of four and is sold for a bit over $20 on Amazon and other major online stores. Plus, it is very compatible with an array of printers with endless lists. Lastly, the printer jack ink is compatible with printers like WF3620 WF3640, WF3620, WF7010, WF7110, WF7510, WF7520, WF7610, WF7620, WF7710, WF7720, WF7210, WF2750, ET2650 and ET2750.
Features
It is compatible with many lists of printers
It is made of four major colors
It produces vivid colors when used to print.
It doesn't fade easily
It is very sticky
It has a refillable jar
It is water-resistant
It contains ink of up to 400ml
It is easy to install
3. CISS ink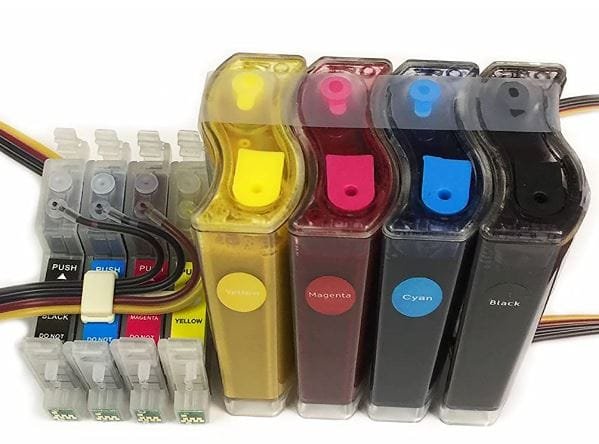 Ink overview
Another of the unique best sublimation ink for printing in 2022 is the CISS ink. This is one of the few inks that were designed and manufactured for specific purposes. This printing ink was made for purposes of exhibiting and increasing the efficiency of a particular Epson printer which is the Epson C88+ and the C88. It has a unique design. It is made in such a way that it is not suitable at all for any other printer than those.
Although, it also has the regular four basic colors that all other best sublimation ink has, colors like yellow, cyan, black, and magenta, with each bottle holding up to 100ml of the ink substance. Meanwhile, it is packaged in a very different type of bottle, that is unique and in high contrast to the other ink jars.
The CISS has recorded a lot of success when used properly, which is when it is used in either a C88 printer or a C88+ printer. Just like the printer itself, this ink provides only a little efficiency for materials that are not utilized for the printer. For example, the CISS ink is very suitable for many surfaces but manages to give a 50/50 percentage when used on cotton surfaces.
Regardless, it is a perfect ink that should be considered for use when using a C88 printer for sublimation.
Features
It has four ink filters
It has four syringes
It has two tube holders
It can only be installed externally
It uses an empty ink system
It is easy to refill
It last long when used on the exact surface
It provides outstanding colors
4. Ink owl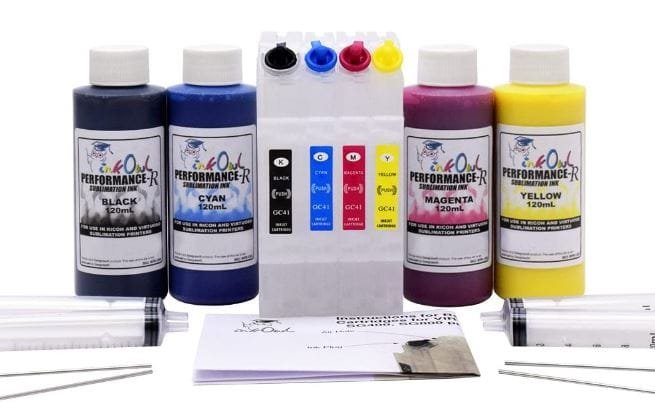 Ink overview
This is the most intuitive ink amongst the list of the best sublimation ink for printing in 2022. The Ink owl is a superb ink make. It is made in some parts of Great Britain and the USA, this ink is very intuitive such that, when it is purchased in the right store, it comes with an extensive installation guide for the user.
Hence, this qualifies the Ink owl as one of the best sublimation ink for printing and not just that but also a perfect sublimation ink for newbies in the sublimation business.
It is also unique because it works smoothly with the best productivity when used in an SG800 or an SG400 printer. It also comes with four packs of jars, with each holding up to about 120ml of the chemically mixed ink. Apart from the ink jars, it comes with an injector which Is also four in numbers.
Should in case there is a need to refill the ink owl bottle or jar, what is needed to be done is to remove the plug at the printer, and then gently use the individual injectors provided at purchase for refilling. This simply means that the Ink owl is very easy to use.
Finally, the ink owl has four bright colors that work well on several surfaces. The ink is mixed such that it lasts pretty long and does not clog when in use.
Features
It is produced in Great Britain
It comes in four colors
It carries up to 120ml of ink
It comes with an instruction guide
It comes with an injector for each ink jar
It produces brilliant colors on several surfaces
It is very suitable for SG400 and SG800 printers
It is a high standard mixed chemical
It can be easily refilled
It is very good for beginner
5. Hiipoo ink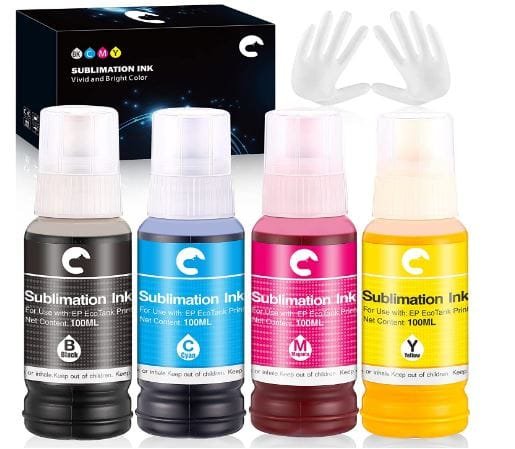 Ink overview
With a rather unusual name, the Hiipoo inkstands tall amongst the best sublimation ink for printing in 2022. This is a special ink because it has a particular ability that most of the 2022 suitable printing inks don't have. That is the ability to work well on different projects. Regardless of your print surface or sublimation method.
The Hiipoo ink is most likely to meet you at your point of need when sublimating. This ink is packaged in a bottle of four plastic jars holding up to about 100ml of the chemically mixed ink. The Hiipoo ink has had a track record of working well with printers like ET-2720, ET-2760, ET-3760, ET-4700, ET-7710, ET-7720, ET-15000, L3110, and L3150.
This ink is specifically designed to suit almost all of the Epson tank printers. It comes with the same four basic colors as all other best sublimation ink. But also, it is an ICC-free printing ink. This means that it provides an extensive array of colors of the same quality and brightness.
The ink is properly mixed such that it has a high saturation, good permeability, fast-drying ability, and is waterproof. It is sold for well over $20 on Amazon with a rating of over 4star.
Finally, the ink packaging jar is designed such that it doesn't utilize a filling syringe when refilling. It can be poured directly as a syringe-like lid has been made as to the cover of the ink jar.
Features
It is compatible with many Eco tank printers
It is made of the four basic ink colors
It dries fast
It is waterproof
It flows easily in the printer
It is used as syringe-free
It is economical considering its versatility
It is an exclusive gift shared between sublimation creators
It can be used to print on several surfaces.
It is ISO certified
6. A-SUB ink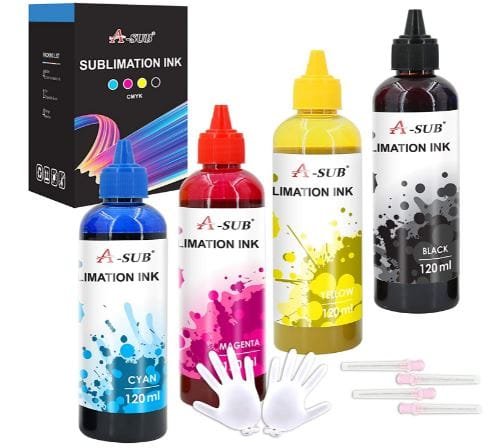 Ink overview
The A-SUB ink is a simple yet classy ink. It is the pride of expert sublimation creators and with its features, it undoubtedly passes as one of the best sublimation ink for printing in 2022.
Simply put, they are the best ink types for desktop inkjet printers. They are sometimes compared to the CISS ink by some sublimation experts. The A-SUB comes in a pack of 4 totaling up to 480ml of the chemically mixed ink, with each jar carrying up to 120ml of the ink substance.
Subsequently, this printer can be refilled easily, when the ink substance gets finished. The inks are prepared to provide a final valance of four major colors; yellow, black, magenta and cyan. Each of these colors combines in a printer to provide very vibrant colors for any sublimation design. It is most sublimation experts' choice because it can be used along with different manufacturers of printers. It can be used in some Epson printers and it can also be used income in C88 printers.
When purchased at an authentic online like Amazon or physical store like Pep, it will work when purchased printing with heat transfer on several surfaces. This might include any of the following surfaces.; Pillowcase, mask, tumbler, cloth, etc.
Features
It doesn't clog
It prints smoothly
It provides smooth colors
It dries fast
It is manufactured by A-SUB creators
It has the four basic ink colors
It has a refillable jar
7. APR ink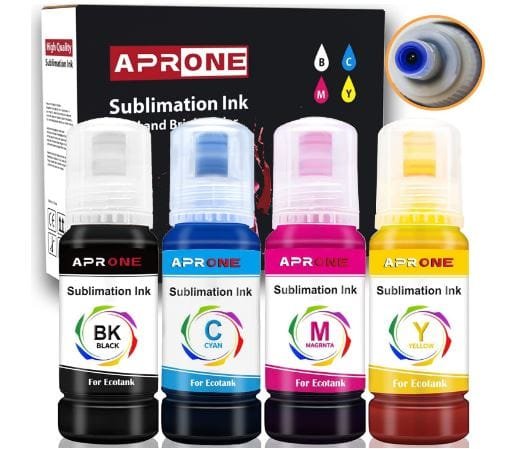 Ink overview
This is the last of the seven numbers of best sublimation ink for printing in 2022. Regardless of that, the APR ink is also a very compatible ink, with a high rate of compatibility with many Epson printers and a special feature that most inks don't possess, which is the fact that it is an anti UV or DIY ink.
Some of the Epson printers that the APR ink is capable of working perfectly with are; ET – 2800, 2803, 4800, 2720, 2750, 2760, 2850, 3760, 3850, 4700, 4760, ET-15000, and ET-16650.
In essence, it is a very versatile ink, also it has an auto-refill syringe placed on its covering lid. Just like the other best sublimation ink, it also comes in fours bottles with chemically mixed inks that are about 400ml in total.
Lastly, the APR ink is made of a reliable chemical mix and proper manufacturing method. Meanwhile, it is old for over $25 on Amazon and can be used to print on materials like phone cases, mugs, and other heat transfer sublimation blanks.
Features
It is manufactured by the Aprone creators
It comes in Aproned and black colors
It is very compatible with many printers
It has high chemical stability
It is water-resistant
It is user friendly and good for beginners
It is economical to use
It dries fast like other inks
It is suitable for heat transfer projects 
Best sublimation ink-FAQS
For every part and aspect of the sublimation process, there are always prompts of questions to ask. Such is the same for this extensive list of the best sublimation ink too.
Upon using or purchasing them, every user must have a question or the other to ask. These questions could span from just mere questions about their packaging to more complex questions like the constituents of the sublimation ink bottle.
Anyway, here are some answered FAQs about the list of the best sublimation ink for printing in 2022.
How long does a sublimation ink last?
Every product made by a manufacturer will surely have an expiry day or less a date when it can no longer give the same expected efficiency as when it was still new. Likewise, the same for sublimation inks.
Normally, a printer's sublimation ink is said to have a shelf life, meaning it functions when only when it is been used. In cases where the ink is not been used regularly, or if the ink is left for long without usage in the sublimation printer, the quality of the ink will not last through all those times.
The ink will be prone to experience many deterioration effects such as clogs and shifts in color. Usually, most sublimation creators believe that when using any of the best sublimation ink, then there might be a lesser rate of deterioration and it can be guaranteed to have the same level of efficiency for up to 6months.
How to know if a sublimation ink is the best for a project?
Any sublimation creator can get stuck between deciding if a sublimation ink is the best for a proposed sublimation project. This could take a while in the creator's creative process, hence to quickly move past this stage in the sublimation creation process, the best thing to do is to
Create a list of the best sublimation ink in any close by store.
Read reviews like this about those inks.
Compare and contrast their features with the project you have at hand.
Most importantly, to actualize determining if a sublimation ink is good for sublimation ink. The sublimation creator should check for features like the drying time of the ink, the printer compatibility of the ink, the print outcome of the sublimation ink, the blank compatibility of the ink, etc.
Can you switch between sublimation ink and regular ink?
It is certain and no more news that many printers are capable of doing both sublimation and regular printing projects. That is why the versatility effects are general in most sublimation processes.
This is the same for sublimation inks. When doing regular printing projects on a printer, you will be using a regular printing ink that has an entirely different pigmentation and saturation from a sublimation ink.
Now, if you decide to use sublimation ink in the same printer, you have to be certain that you are done with the regular printing, and that you are not switching back to regular printing anytime soon. Hence, switching from regular ink to sublimation ink is very possible. But the cartridges must be properly flushed and the lines of the regular ink have to be purged.
Can you use sublimation ink for regular printing?
No!
That is the simple and plausible answer to this question. It is possible to print in a regular project with sublimation ink, but it is not advised as the ability of the printer will be reduced, and the effects of the ink will be shown on the paper.
Most printers are capable of printing regular printing, and only a few can do sublimation printing. But this is not the same for sublimation inks when compared to regular inkjets. Sublimation inks are more chemically based with higher chemical properties that help them tweak colors at a certain quality that might ruin a regular printer paper.
How long does sublimation ink take to dry?
Sensitivity is a vital aspect of sublimation, in that every sublimation process must be done with uttermost carefulness and appropriate detailing if a particular quality is to be attained.
When handling a sublimation project and using any of the best sublimation ink, regular attention to detail is to be attained in dryness. Then the printed paper should be left for at least 15minutes before usage.
Every sublimation ink is made of strong chemicals that take time to attain the required brightness needed for any project. An A3 paper should be left for 15minutes to dry after printing with sublimation ink, while an A2 paper should be left for 30minutes to dry when printed with sublimation ink.
What is the perfect sublimation ink?
Just like every other sublimation process with its attachments and materials, the sublimation inks are not left behind. There is no perfect sublimation ink. Every sublimation inks no matter the manufacturer will have certain advantages and print outcome strength.
While at the same time, they would also portray a certain level of disadvantage which might not be profound but will also play a huge role in its branding.
Hence, there is no perfect sublimation ink, not even amongst the list of the best sublimation ink. You can get any of the best sublimation ink that suits your sublimation project, due to its color quality, brightness, drying time, or printer compatibility.
Conclusion
No sublimation creator will want to risk losing to a sublimation project or delivering a less standard product. Hence there is a need to review lists of the best sublimation ink before starting any sublimation project.
Lastly, it is not enough to use any of the available best sublimation inks but to also ensure that it is compatible with the printer in use, to ensure that it has the required drying time needed for the sublimation blank it is to be used for, to ensure that it will support heat transfer in a certain condition, and finally to ensure that it will give a bright and vivid color required to properly sell the sublimation product.