10 Best AI Video Generators of 2023 (Free and Paid)
It's no secret: artificial intelligence (AI) has revolutionized the way we interact with technology. With advancements in AI development, businesses and individuals alike are finding innovative ways to utilize its capabilities.
One of those capabilities is generating professional-looking videos that use AI to detect or create visuals like those seen on TV shows, commercials, or other digital media formats.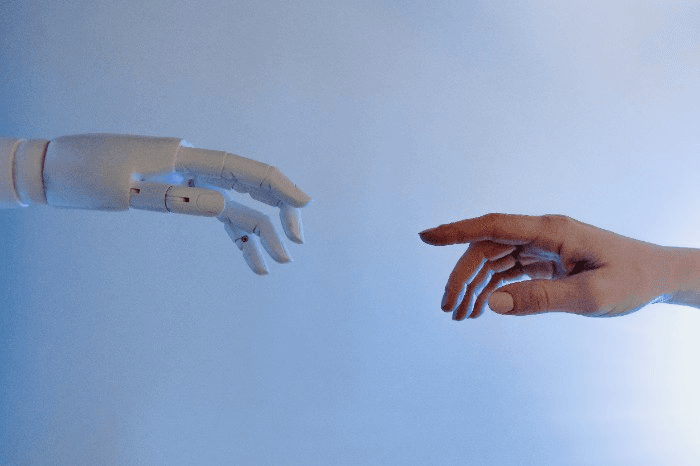 In this blog post, we'll be exploring some of the best video generators powered by their own embedded AIs. You can use them to edit high quality videos to add a little sparkle and sophistication to your projects!
What are the Best AI Video Generator of 2023
AI video generators have revolutionized the way we create videos. With a single click, AI video generators are able to create a wide range of entertaining and informative videos that are suitable for a variety of purposes.
From corporate presentations to marketing campaigns, AI video generators can create engaging custom videos at a rate and accuracy unparalleled in video software.
With a vast range of customization options at its disposal, an AI video generator is perfect for creating videos in a variety of styles and formats.
The user experience is smooth and enjoyable, making it easy to experiment and explore new ways to bring your vision to life.
AI video generators can save time, improve efficiency, and push your creativity to a whole new level—why not give one a try today?
1. Synthesia (Professional Videos)
With Synthesia, users can cut down on the time it takes to edit videos; they no longer have to painstakingly refine each aspect of their video production manually.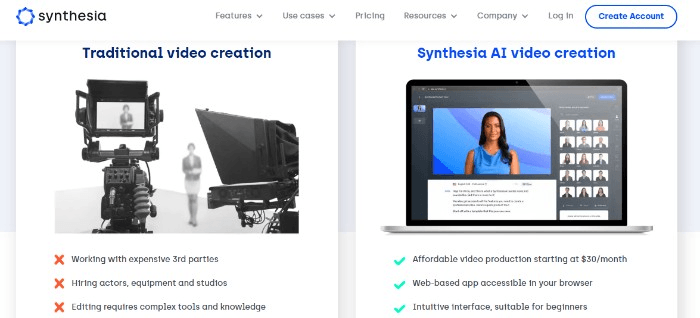 Instead, they are able to utilize professional video templates that will allow them to customize their projects with ease. This not only saves users time and money but also allows them to produce quality videos with professional graphics.
FlexClip has revolutionized how people create videos. It is the perfect solution for anyone who wants to create professional-quality videos without having to learn complicated video editing software.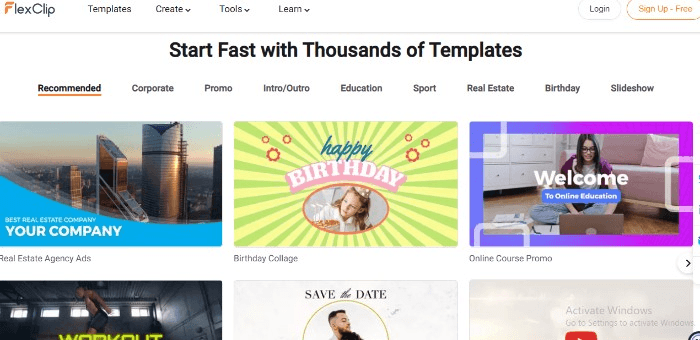 With FlexClip's easy-to-use tools, you can quickly turn your ideas into amazing videos that will stand out on social media platforms. Get started with FlexClip today to create amazing videos!
Pictory is an engaging video platform that gives businesses a cutting-edge way to create, share, and generate videos.
By harnessing key features such as up-to-date tools, analytics data, and different engaging formats, Pictory offers businesses the ability to make engaging promo videos with ease.

With integrations that include design systems and stock libraries, customers can use motion graphics and animation to craft memorable visuals that could not be achieved otherwise.
Furthermore, this video based platform allows administrators of any level of proficiency the opportunity to create stellar videos with minimal effort. It's easy to see why so many people are opting for Pictory when it comes to creating engaging visual content.
The user experience is smooth and intuitive, making it easy to experiment with different styles and formats until you find the one that works for your project.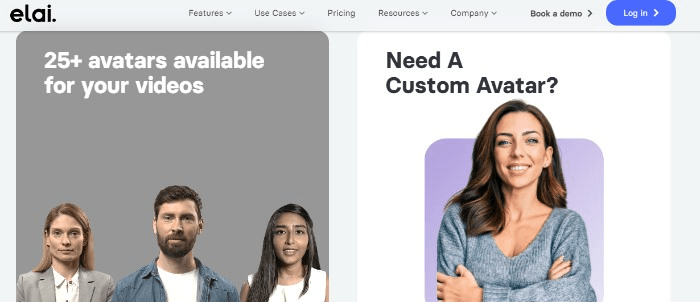 Plus, Elai's advanced AI algorithms offer real-time feedback on each step of the process, so you can rest assured that your final product will be of the highest quality.
Whether you're just getting started or already have some experience in creating videos, Elai has something for everyone!
For anyone wanting to create powerful and engaging videos, InVideo is the perfect tool.
Not only does it take away the pain of having to learn powerful video editing software, but what makes this tool even more powerful is that it also has prior knowledge about best practices for creating great videos.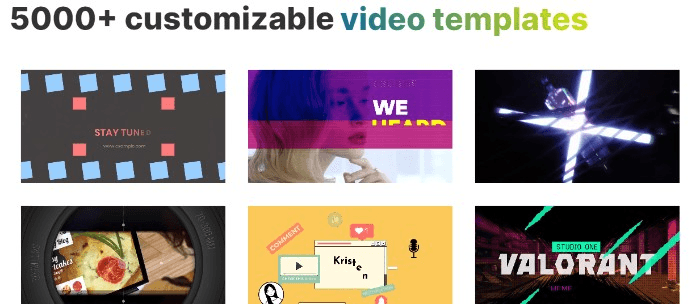 And with its AI capabilities, you don't just get simple filters or basic editing options; rather, InVideo can create captions, automatically remove noise elements from your project, and let you format your text in exciting ways.
InVideo has the best combination of AI and ease of use, which means you can always make great videos with it.
From editing simple YouTube videos to complex corporate video projects, Veed.io helps streamline the video production process while allowing users to take advantage of its AI-powered video editor to add pizzazz and flair to any project.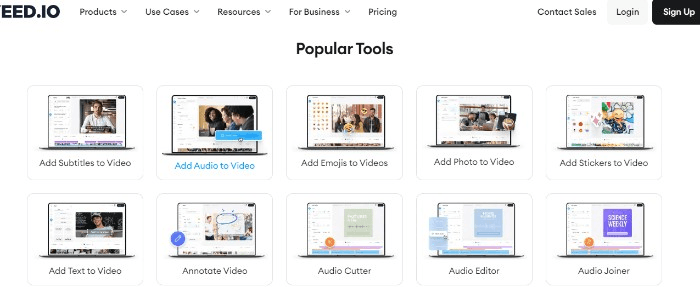 Give your video projects that extra spark they need with Veed.io's user-friendly and powerful platform!
With the help of Synths Video, you can produce amazing videos with superb quality in a fraction of the time it would take if you were using a more traditional video editing application.
The video editor is intuitive and easy to use, yet has all the features necessary for creating professional-quality videos without breaking the bank.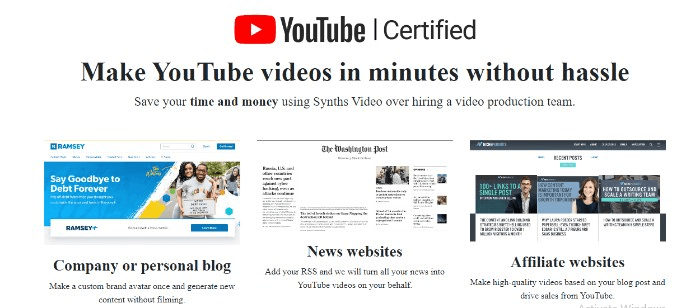 Synths Video also has a built-in video library where you can find stock footage and other video materials shot from different angles.
With its suite of professional video editing tools, video makers of all skill levels are guaranteed to get their desired results fast!
With its intuitive drag-and-drop interface, even inexperienced videographers have the ability to create their own high-definition video content with ease.
Thanks to its AI capabilities, it can also detect and optimize graphics for any video resolution, allowing you to produce top-quality videos in no time.
If you're looking for an easy yet sophisticated way to produce eye-catching videos, GliaCloud has you covered.
Firstly, its AI-powered technology enables you to assemble your content and create a video with just a few clicks.
Secondly, its free services provide access to millions of copyright-free videos, photos, and audio clips that can be used in any video created using the platform.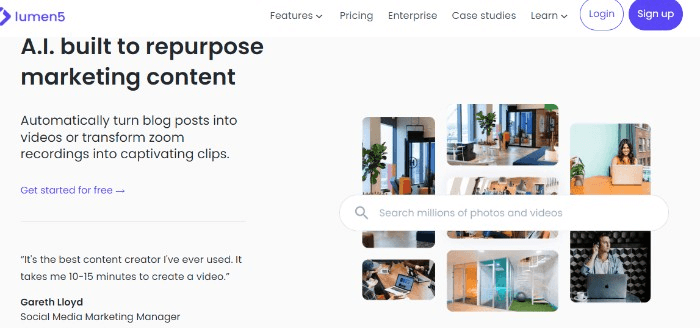 Furthermore, Lumen5 allows you to collaborate with others easily on projects by giving them access to view or edit projects in real-time, as long as they have a Lumen5 account.
All these features come together to make this an incredibly powerful editing tool for long videos; so why not take advantage of it today?
you're looking for an easy yet sophisticated way to produce eye-catching videos, GliaCloud has you covered.
If a professional-looking video is a must but you're a little shy of design skills, designs.ai is the perfect tool for you. Offering ai tools that make editing videos a breeze, it's a great way to create engaging content with ease.
Whether you want to choose from different themes or craft something completely original, designs.ai has a range of features and options to suit everyone's needs and ensure a stunning result!
With a user-friendly interface and helpful customer service team ready to assist with any query big or small, there really is no better choice for designing videos.
you're looking for an easy yet sophisticated way to produce eye-catching videos, GliaCloud has you covered.
Is there an AI video generator?
Yes! There are many AI video generators available now for creating engaging videos that can help you stand out from the crowd.
Some of the more popular AI video generator tools include Synths Video, GliaCloud, Lumen5, and Designs.ai.
Each one has its own unique features and capabilities, so it's important to do your research and find the one that best fits your needs. With the right tool, you'll be able to create high-quality videos quickly and easily!
What is the best AI video generator to create high quality videos?
The best AI video generator depends on your needs and budget. If you're looking for a free and easy-to-use option, Lumen5 is a great choice.
If you're looking for something more advanced with animation options, GliaCloud may be the right fit. Finally, Designs.ai provides powerful features at an affordable price point.
How to make an AI video for free?
There are several ways to make an AI video for free. Lumen5 is a great option, as it enables you to create long, engaging videos quickly and seamlessly with its AI-powered technology.
It also provides access to millions of copyright-free photos, videos, and audio clips that can be used in any video created using the platform.
Additionally, there are other free options available, such as Synths Video and Designs.ai. Whichever option you choose, make sure to do your research and find the one that best suits your needs.
Can I use synthesia to create videos for free?
Yes, Synthesia can be used for free. There are a variety of features available to users on the free plan, including video templates, html text overlays, effects, professional voiceovers and motion graphics.
Synthesia supports multiple languages and it's important to note that phone support is also not available with any plans.
Many AI video generators are available now to help you create engaging videos quickly and easily. Do your research and find the one that best fits your needs! ​​​​
Conclusion
You don't need years of experience or expensive video editing software to create quality videos that engage and convert your audience. All you need is a good AI video generator to boost conversion rates.
The AI video generators mentioned in this blog post offer the best features and pricing plans for businesses of all sizes. You can create engaging explainer videos, product demo videos, social media ads, and more in minutes without any prior video editing experience.
You can use their advanced tools to make it easy to customize your videos to match your brand's style and message. So what are you waiting for? Create better videos today with AI video generators.